Premium travel experiences in far-flung New Zealand
The "Long White Cloud" as New Zealand is called by the Maori is gradually turning into the next big thing in terms of sophisticated, innovative and experiential luxury travel on our rather congested planet. Remote yet refreshing, wild yet safe, familiar yet different, low key yet surprising, for the affluent, explorative traveller, New Zealand is a wonder unveiled.
The amount of effort the country puts into promoting its magnificent assets was visible at the recent LUXPERIENCE the Southern Hemisphere travel trade show, which takes place annually in Sydney. Connecting the most exclusive travel providers dealing in luxury and experiential travel, the trade show was founded by Helen Logas in 2012 and run almost exclusively by women.
Tourism New Zealand stand took the centre court at the show this year. And these, in our opinion, were some of the highlights: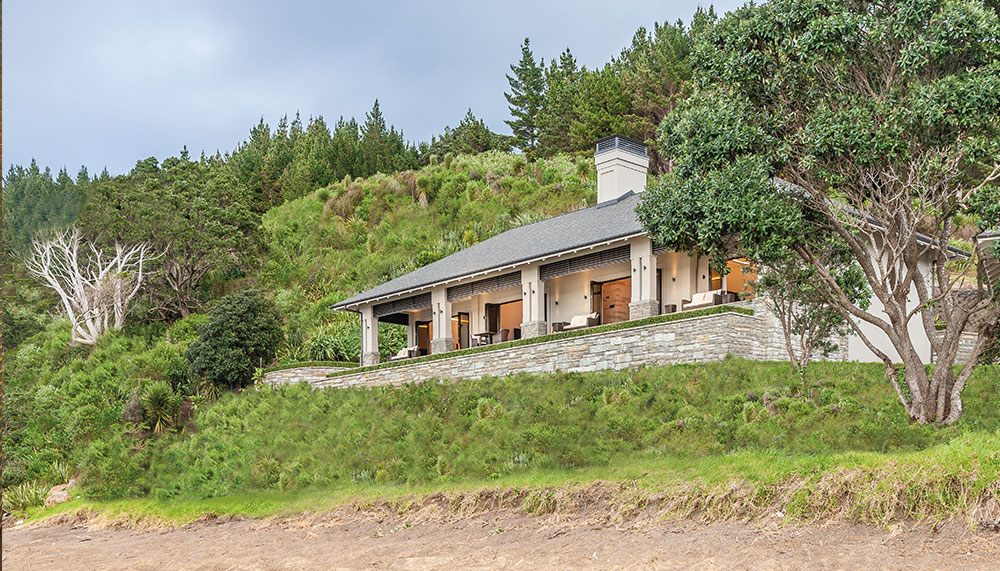 Helena Bay
The idea behind Helena Bay was to create a lodge that would meet the owners' own high expectations of comfort and style. They succeeded and now Helena Bay is open to all others that seek the same peace, privacy and the opportunity to be close to the unspoiled beauty of nature tucked away in the north-east corner of New Zealand's North Island. Only forty five minutes by helicopter from Auckland or 40 km north of Whangarei, Helena Bay's 800 acres includes 3km of pristine coastline and four private beaches.
Helena Bay
Stunning views at Eagles Nest

It might look like the French Riviera but this is New Zealand's Northlands

Eagles Nest resident chefs serve up amazing plates
Eagles Nest
The villas at Eagles Nest eclipse those in Tuscany, the South of France and Nantucket. Immerse yourself in this ultimate Southern Hemisphere villa experience, with its spectacular scenery and utmost sophistication that combine in perfect, memorable synergy. Situated in the Bay of Islands in New Zealand's Northlands, the area is world-renowned for some of the best natural water sports offerings in the world. Culinary offerings too, courtesy of the Eagles Nest's fabulous resident chefs, a superb wine cellar and fresh locally sourced foods.
Eagles Nest
All alone in the Southern Alps

Minaret Station is billed as New Zealand's first and finest luxurious Alpine Lodge

Far flung but well fed

Amazing views at Minaret Station
Minaret Station
Staying at Minaret Station, billed as New Zealand's first and finest luxurious Alpine Lodge is a chance not just to appreciate nature, but a doorway to experiencing the best it has to offer. Located at Lake Wanaka near Queenstown International Airport on New Zealand's South Island, the list of things to do here is vast. Explore the wilderness, from Minaret Station's point at the head of a picturesque glacial valley. Test your patience and endurance with fishing and hunting. Soar through the sky in a helicopter only to be deposited on a peak with nothing way down but with skis. The choices are yours.
Minaret Station
Above the treetops at Hapuku Lodge

Stunning views of the Kaikoura Mountains on one side and the surf beach at Mangamaunu Bay on the other
Hapuku Lodge
You will find your childhood dreams some 12 kilometres north of Kaikoura on the east coast of New Zealand's South Island. Blessed with stunning views of the Kaikoura Mountains on one side and the surf beach at Mangamaunu Bay on the other, Hapuku Lodge retreat is a tree house dream come true. Suspended 10 meters about the ground in a manuka grove, the rooms are light, airy and filled with bespoke furniture made from elm, ash and New Zealand timbers. Hapuku Lodge is a great base camp to set off for the region's other great adventures, including whale watching, giant albatross encounters, swimming with seals, , sea kayaking, and deep-sea fishing.
Hapuku Lodge
---