Setting hearts aflutter with Jaquet Droz's Butterfly Journey
It all began with a motif found in a quaint old book about Jaquet Droz – a cherub sitting in a small sleigh drawn by a butterfly as large as he is. It was a motif that had appeared on an automaton timepiece by the master watchmaker during the beginning of the 18th century. Though cherubs were common in European art, particularly the Renaissance and Baroque period, what really struck Jaquet Droz's modern-day watchmakers was the butterfly, which, to them, represented the 18th century naturalism that pervades the house's aesthetic.
The Butterfly Journey, Jaquet Droz's tribute to the winged insect

The white gold version of the timepiece has a more Chinese feel
Inspired by the winged beauty, the brand recently unveiled The Butterfly Journey, two sets of Petite Heure Minute models that allow the beautiful creature to take centrestage. Each set comprises eight unique 43mm watches, each with a butterfly that is one-of-a-kind and placed in a position slightly different from the last.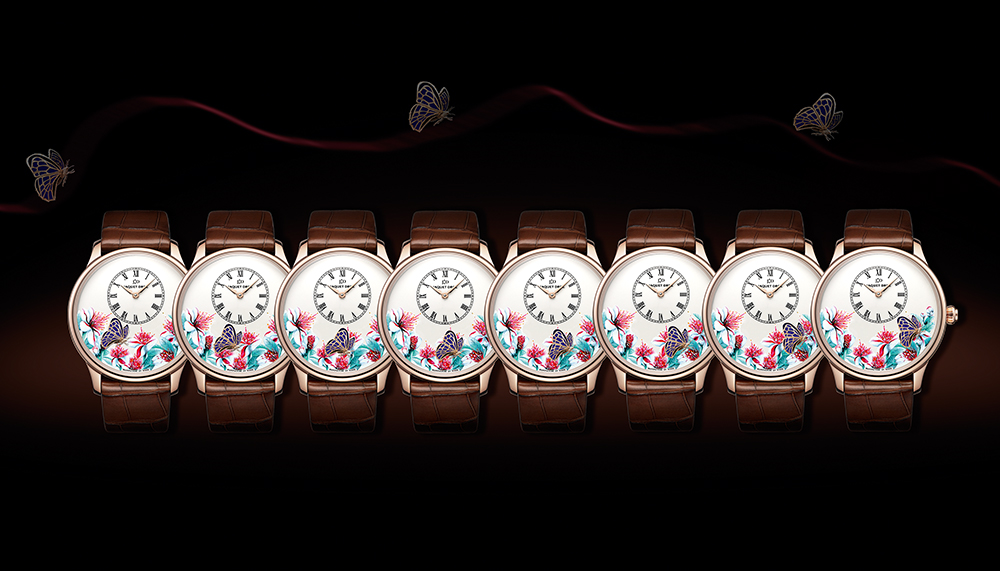 In the red gold case set (SGD 96,000/RM290,000 each), the butterflies, hand-sculpted in red gold, are fluttering among feijoa flowers with their champlevé blue wings. The white gold case  version(SGD 104,000/RM315,000), set with 264 diamonds on the bezel, takes its wearer on a journey through Asia. Here, the butterflies, with wings in a lighter blue, play among pink peonies, the flower that symbolises love in Chinese culture.
---