For an automotive brand made famous by a clinical design approach, there is a theatrical touch to McLaren's headquarters complex. VIP visitors are directed to a specific entrance at the end of a gracefully winding road. The scene on the left is that of the rolling landscape of the outskirts of Woking, a town in England not far to the southwest of London. The scene on the right is a dramatic panorama of the McLaren Technology Centre.
It is a view-filling, kidney-shaped edifice that disdains corners, fronted by sweeping glass curvature and an expansive and placid artificial lake, generously populated with fish. From directly overhead, the building and lake combine to form a perfect circle. It opened in 2004, and yet its sleekly modernist, high-tech appearance has aged little—but then again, Norman Foster's projects tend to be timelessly futurist. The McLaren Technology Centre (or MTC for short) is yet another feather in the cap of the renowned British architect, famous for other ambitious and visionary constructions such as the HSBC building in Hong Kong and 30 St Mary Axe in London (a building better-known as 'The Gherkin'). The MTC's original design brief called for '80% NASA, 20% Disney,' and today it would not look out of place in a sci-fi movie.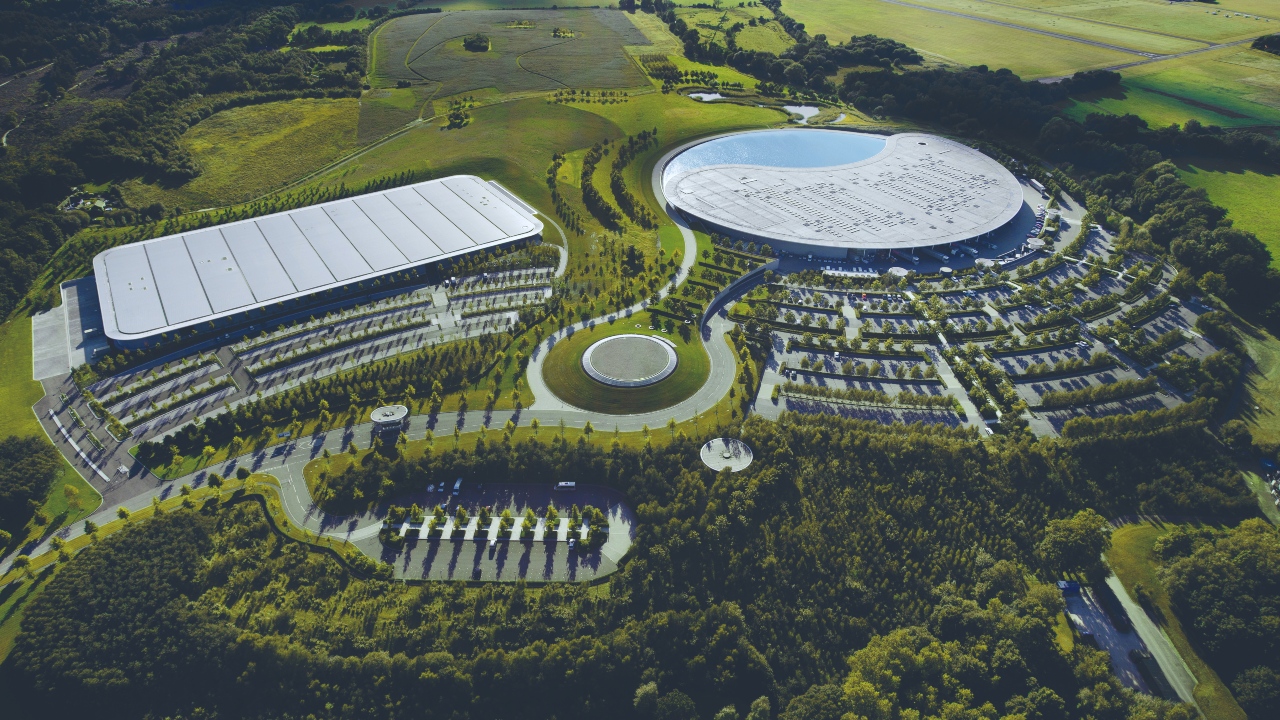 It is a building of pleasingly deliberate construction. There are few extraneous details, and everything seems purposefully to have its place—and in general it does. For instance, the artificial lake is part of the cooling system for the air-conditioning and wind tunnel. It is very McLaren. 
The main ground floor interior is known as the Broadway, which spans the building's curving length. Open and high-ceilinged, its sparseness is meditative but also feels purposeful. The floor-to-ceiling glass expanse makes best use of available sunlight. Walkways cross overhead, and the glassy openness persists throughout, allowing one to glimpse some ongoing operations: an uncluttered executive meeting room, or rows upon rows of deskbound F1 team technicians, or the Ultimate Series custom paint shop concocting a specific hue.
However, the eye will be more drawn to the arranged line of cars that stretches down the Broadway. Most of them have spoilers, front wings and open cockpits with names stencilled on the side—the likes of Prost, Hakkinen, or Senna—and are a catalogue of McLaren's motorsports expertise. They span the decades, going back to the 60s, and each has a noteworthy anecdote attached. For instance, there is a 1969 prototype with a wildly experimental front wing suspended over the axle, or Lewis Hamilton's winning 2008 car, which has some two tonnes of downforce. Or Mika Hakkinen's 1997 model, which debuted the controversial brake steer system—which, as it happens, is now standard on today's McLaren road cars. The MP4/4 is here, which won 15 of 16 races during the 1988 season—still the most dominant single-season car ever. 1981's MP4/1 is also here, which pioneered the carbon fibre monocoque chassis in F1.
Further down from the cars, on both sides of the Broadway, are rows of shelves storing an impressively shiny collection of trophies. There are over 640 trophies here, making it one of the world's largest collections of motorsports hardware—McLaren policy is that the award goes to the team, and never any individual. The F1 contribution includes 182 victories, eight Constructors' Championships and 12 Drivers' Championships.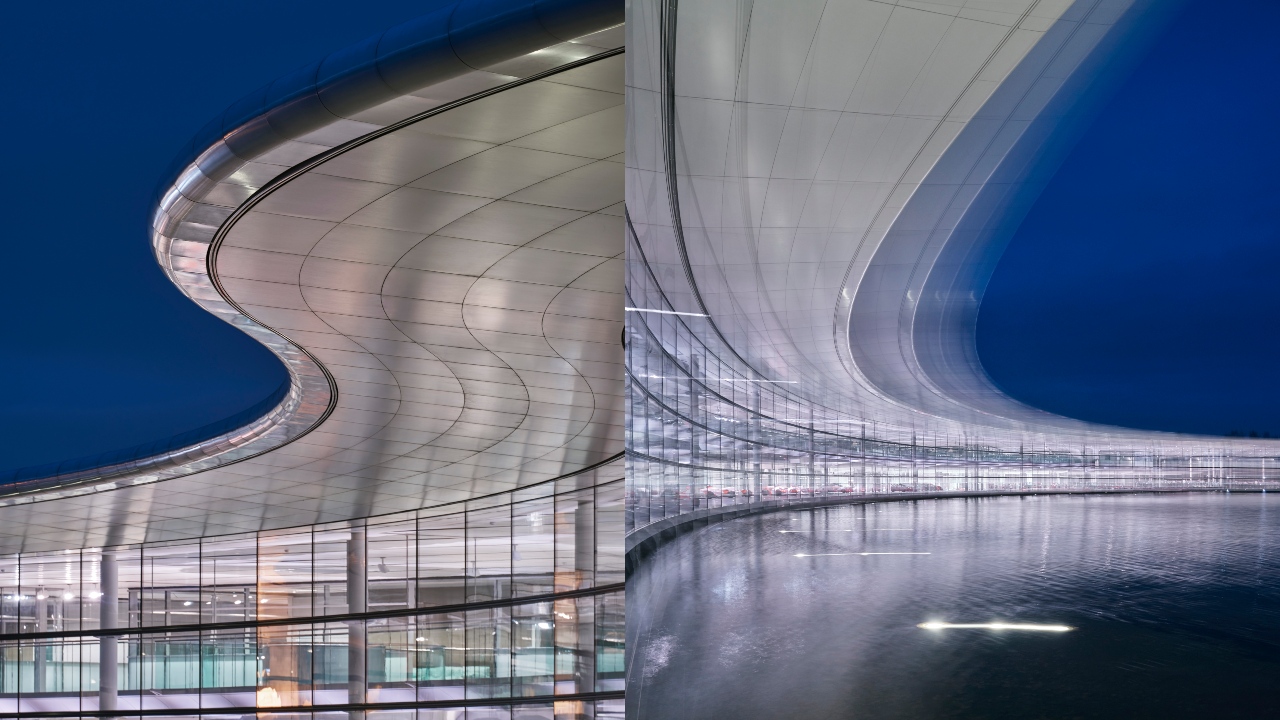 Some 3,500 people work at McLaren, over three divisions of the McLaren Group: McLaren Racing, a storied, decades-old pillar of Formula 1; the technical division known as McLaren Applied Technologies; and McLaren Automotive, responsible for road cars and which has, despite McLaren's established foothold in the segment today, a much shorter history.  
McLaren's first road outing was for the brief but phenomenal offering of the McLaren F1, which was launched in 1992. It was a hyper-performer that came out of nowhere as one of the first production cars equipped with a carbon monocoque, and its 6-litre V12 pumped out a still-impressive-today 621bhp. Only 106 were made, and three of them now sit quietly in the Broadway. For a car nearly 30 years old, it has aged remarkably well—it seems fundamental aerodynamic concepts never really go out of style. It is still the fastest-ever naturally aspirated car, hitting 386.4km/h. 
By the late 90s, the F1's production had ended, and another McLaren road car would not be seen until 2009. That year, the MP4-12C sports car was announced, and in 2011 the McLaren Production Centre (or MPC, as it is known—the company is fond of abbreviations) had been completed. The new 34,500sqm facility—another Norman Foster project—sat right next to the McLaren Technology Centre, dedicated to finally bringing McLaren's racing experience and technological expertise to the masses. In its brief history, McLaren Automotive has already made its mark with its confidently precise, yet accessible two-seaters—along with the occasional bout of insanity, such as in the P1 or the Senna.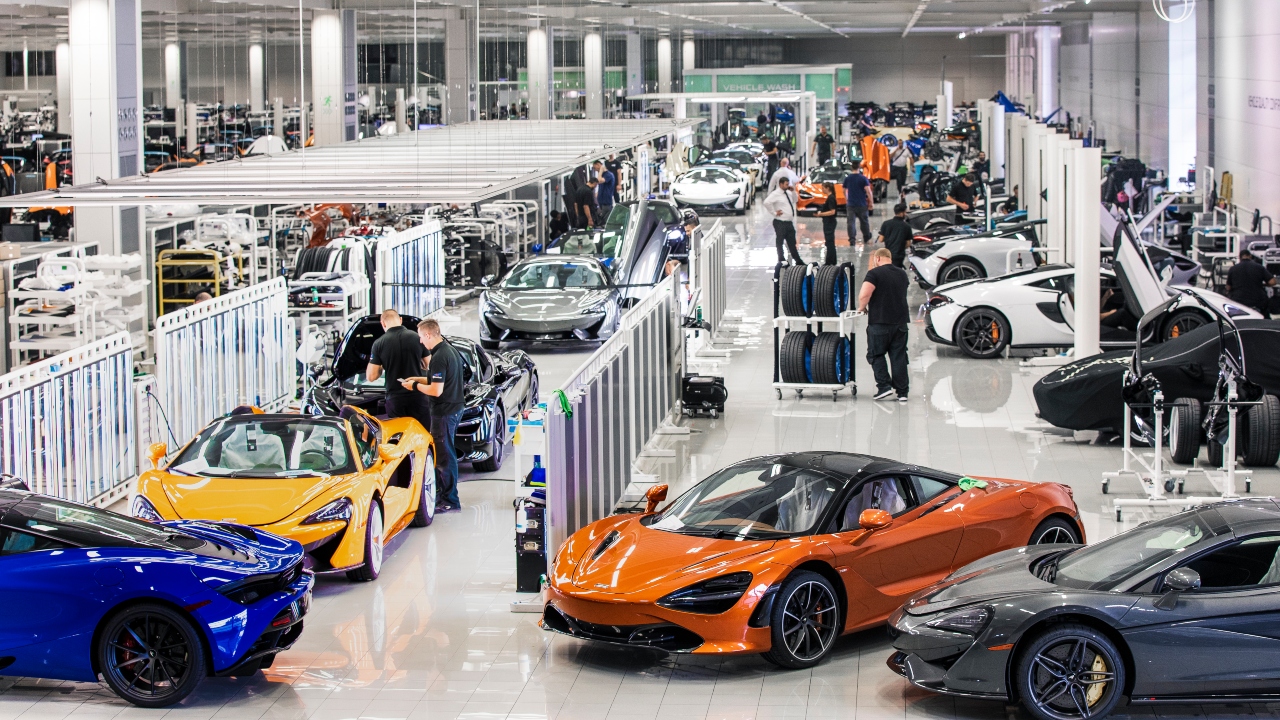 McLaren Automotive counts about 2,300 employees. In 2018, they put together just under 5,000 cars, and every single one of them was assembled in the MPC. Here, at any given time, dozens of McLarens are organised into rows in progressive states of assembly from naked carbon fibre frame to exacting body panel alignment to vicious monsoon and shakedown testing to final quality inspection. The production line is an irregular line-up McLaren's current catalogue—a 720S here, a few GTs there with the various 570 models strewn about—as they are manufactured on demand as the orders come in. The limited-production Ultimate Series does, however, have its own separate (and much shorter) assembly line, and is dedicated to only one model at a time. 
The MPC's production floor is surprisingly quiet. There is little in the way of machinery or robotics, as these cars are essentially hand-assembled. There are not even any conveyor belts. Instead, each unit is placed on a trolley and wheeled along by hand—a testament to their lightweight nature—until such time as they will do so under their own power. The area is clean, organised and just as business-like as it was in the McLaren Technology Centre —if not even more so.
The two buildings are connected by an underground walkway. The McLaren Automotive workforce walk this tunnel every day. There is a slogan on the wall: 'Never been done before is a reason to go ahead, not a reason to stop.'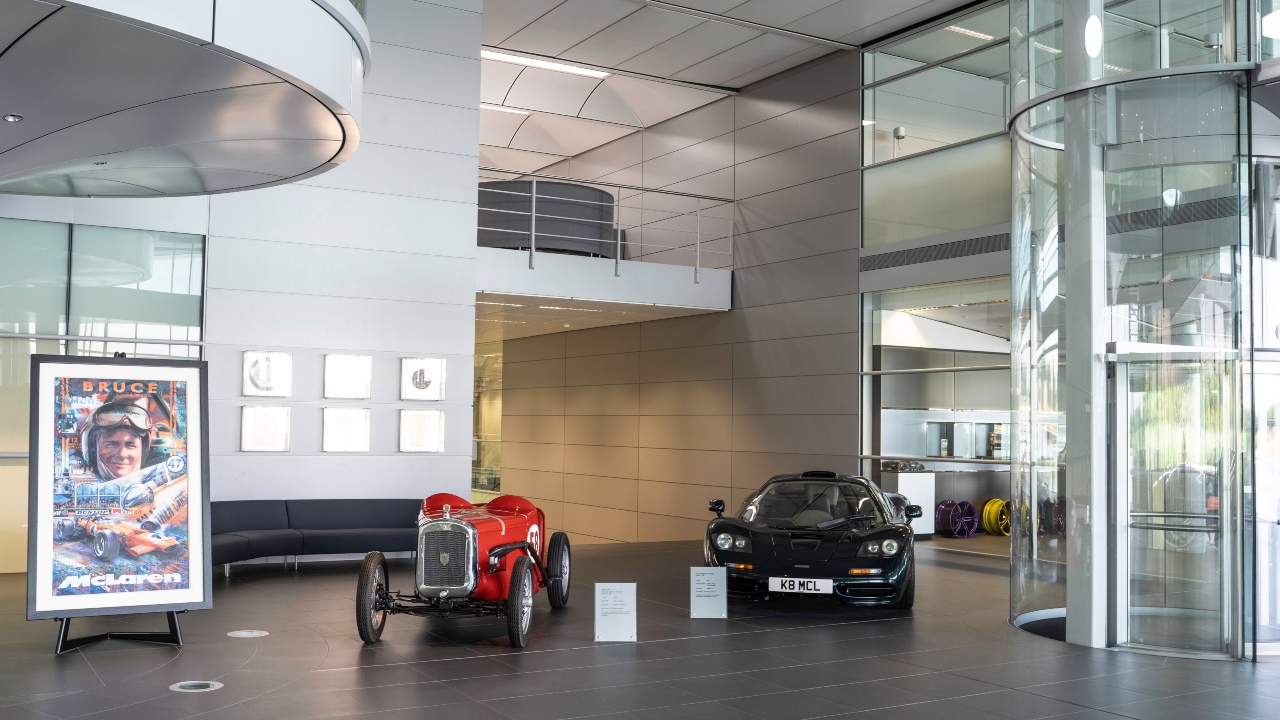 In the McLaren complex, there is a solitary non-McLaren car, one which occupies a prime position in the Broadway. It is a red 1929 Austin 7 Ulster, heavily modified—the suspension is lowered, and the fenders, doors and windscreen have been removed. These modifications were made by a then-15-year-old New Zealander named Bruce McLaren, who worked on it along with his father. As the story goes, they acquired the Austin as an entrepreneurial project, with the intent to sell it afterwards. Instead, McLaren drove it to his first racing victory at a local hillclimb in 1952. The trophy for that race is a tiny, palm-sized thing, is currently displayed on one of the many shelves of the Broadway. It looks comical next to a towering, elaborate F1 trophy—but there it sits.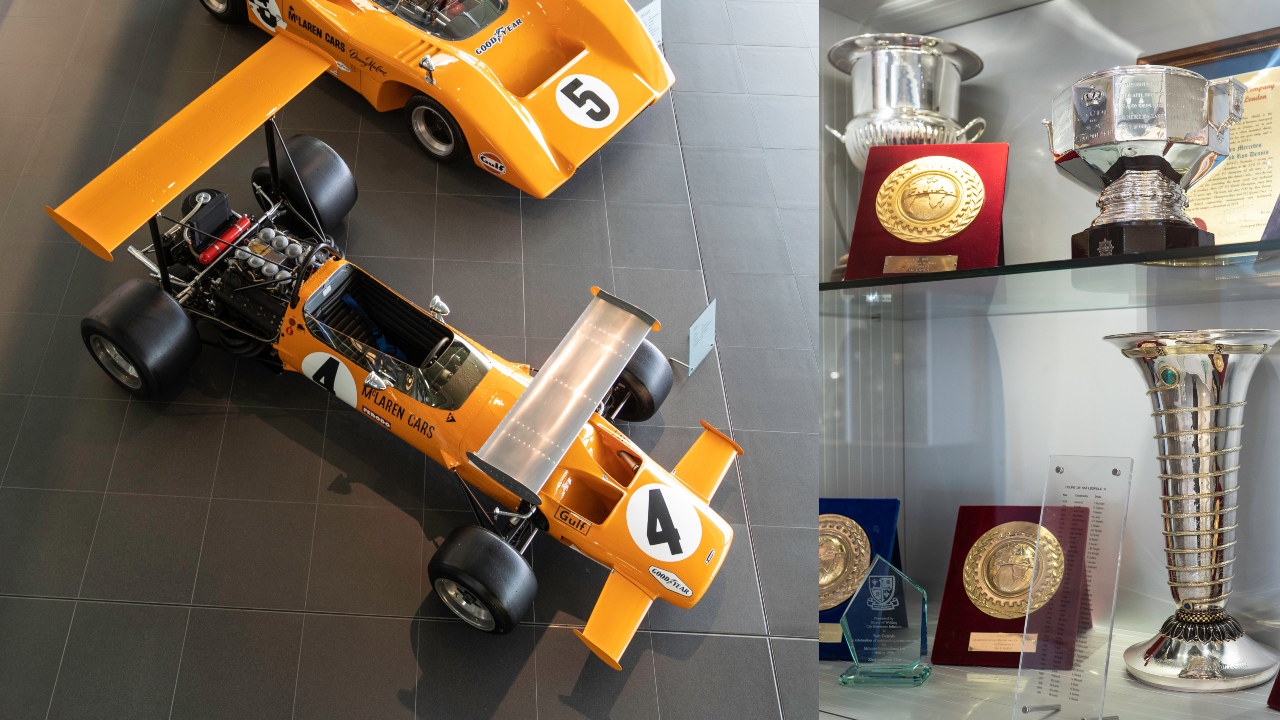 McLaren grew into a racing driver of considerable renown. In 1959 he became the youngest driver ever to win an F1 grand prix, a record that stood for over four decades. He won the 1966 Le Mans as a member of the storied Ford team. He founded his own racing team in 1963, but unfortunately spent too little time with it—he died in a testing accident in 1970.
McLaren was not just a driver, but the sort of mythical, consummate racing personality that was also an accomplished mechanic, engineer and inventor—the sort of person who cut away at car's bodywork in the middle of testing to redirect airflow in a way that would stop a petrol cover rattling. For all that it has since accomplished, the company that bears his name today is still following the example he set.