The pandemic has put many plans on hold, including for couples eager to tie the knot. Group size restrictions have given rise to more intimate ceremonies and celebrations. So go with the flow and capitalise on a new way to tie your nuptials with your nearest and dearest, be it in the socially distanced safety of a large ballroom or through the magic of a destination wedding. These award-winning hotels and resorts have a wedding package you'll love.
Emerald Bay Wedding – Pangkor Laut Resort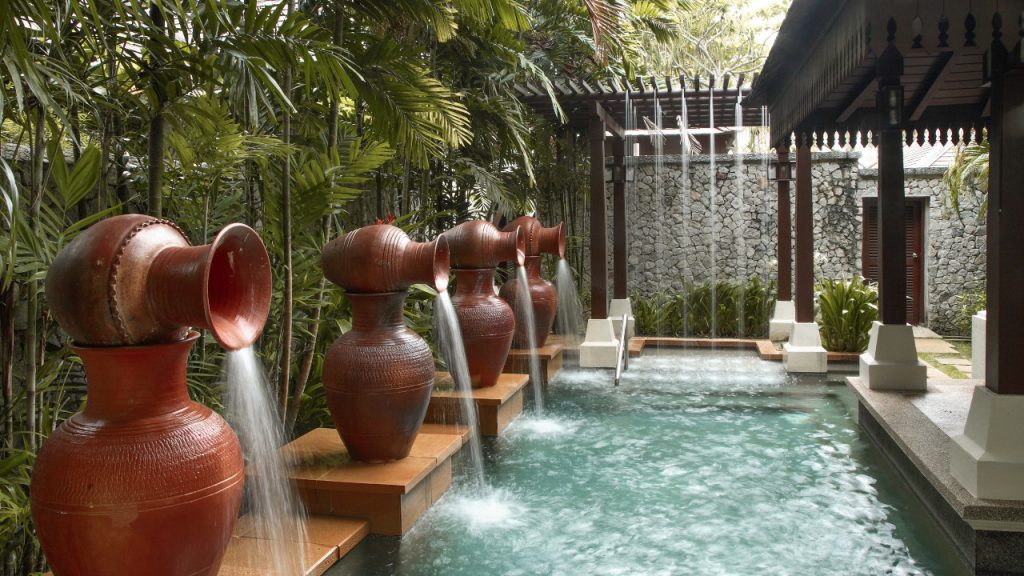 There's nothing more romantic than a picturesque petal-strewn aisle against the backdrop of lapping waves on the golden-hued sands of Pangkor Laut's Emerald Bay. The resort's wedding package covers everything from accommodation, floral arrangements, the two-tier wedding cake and more, so the couple can relax before the ceremony with a trip to the spa. To top it off, couples may commemorate the happy occasion with a wholesome symbolic tree planting ceremony and enjoy a complimentary two-night stay at Spa Village Resort Tembok in Bali for their honeymoon getaway. This beachside wedding package starts at RM28,000 for a maximum of 30 guests.
Book Now: Call +603 2783 1000 or Email: [email protected].
---
Private Wedding at the Estates – Pangkor Laut Resort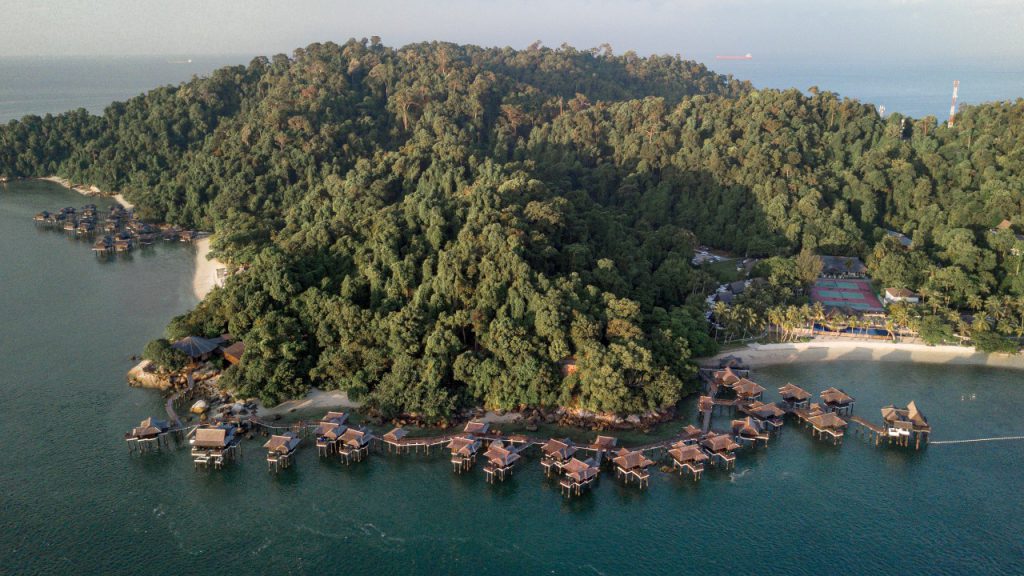 Tucked away within the private island that is Pangkor Laut Resort is its exclusive sanctuary The Estates, surrounded by the unspoiled nature of the island's rainforests. Its understated elegance and intimate setting make the perfect atmosphere for a private exchange of vows and a relaxing celebration with loved ones. A dedicated personal butler and chef will also be on call to ensure everything runs smoothly. What's better is that you and your guests may spend the night in their peaceful private Hilltop Estate rooms surrounded by lush tropical flora and fauna, a magical and dreamy getaway within an already private island space. This resort wedding package starts at RM38,000 for a maximum of 30 guests.
Book Now: Call +603 2783 1000 or Email: [email protected].
---
Cameron Highlands Resort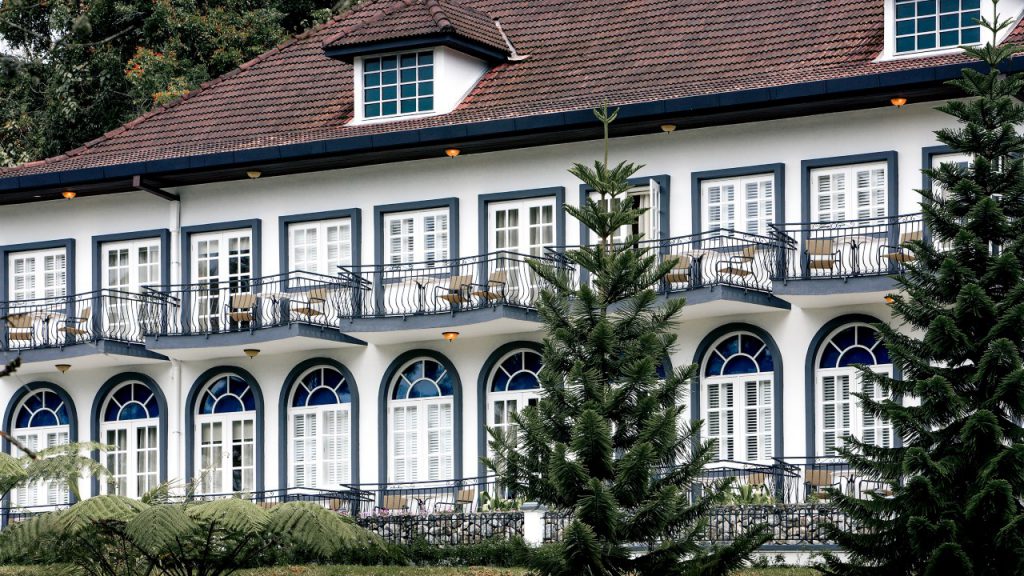 The alluring charm and cool temperatures of Cameron Highlands makes the perfect backdrop for an idyllic wedding. Picture rolling hills, lush greenery, pine forests and grand colonial heritage buildings as the backdrop to picture-perfect memories. Cameron Highlands Resort offers that and more with a bespoke experience tailored to the newlyweds to be. Whether you prefer a private garden ceremony over an indoor reception or to stage a traditional tea ceremony with the resort's Oriental Spring Wedding package – the possibilities are endless. This hilltop wedding package starts at RM15,000 per event for a maximum of 30 guests.
Book Now: Click here
---
The Ritz-Carlton, Kuala Lumpur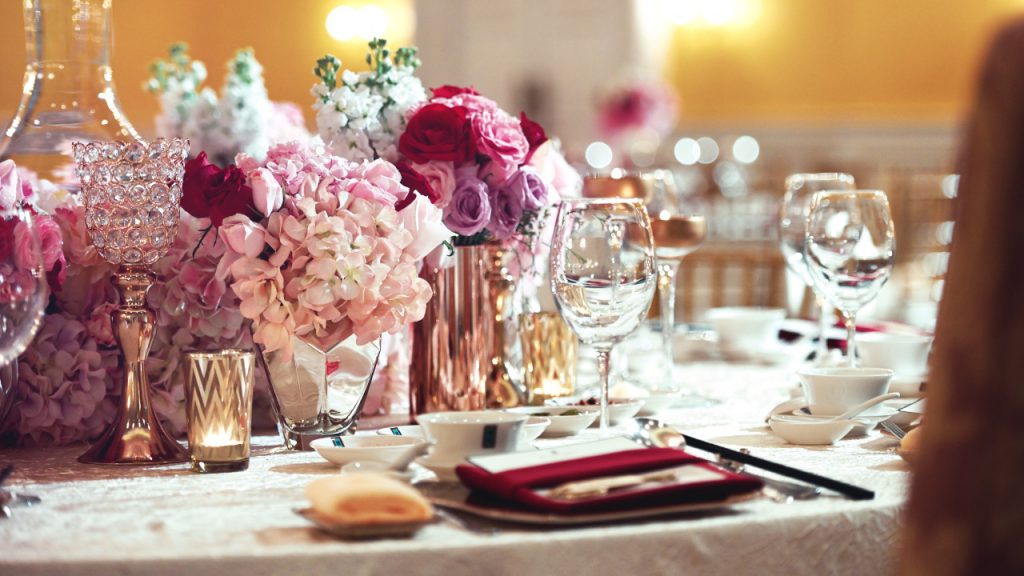 The Ritz-Carlton has established a repertoire for their extravagant Chinese wedding banquets. Invite your guests to feast an award-winning Chinese banquet curated by the esteemed chefs at The Ritz Carlton's Chinese restaurant, Li Yen. Draped in gold with ornate chandeliers, the hotel's banquet hall exudes the atmosphere of grand weddings and one-of-a-kind nights. This venue allows up to 150 socially distanced guests, and is also able to offer a selection of private and luxurious spaces available for the traditional tea ceremony and preparation rooms. This wedding package starts at RM2,488 for a table of 10.
Book Now: Click here
---
JW Marriott Kuala Lumpur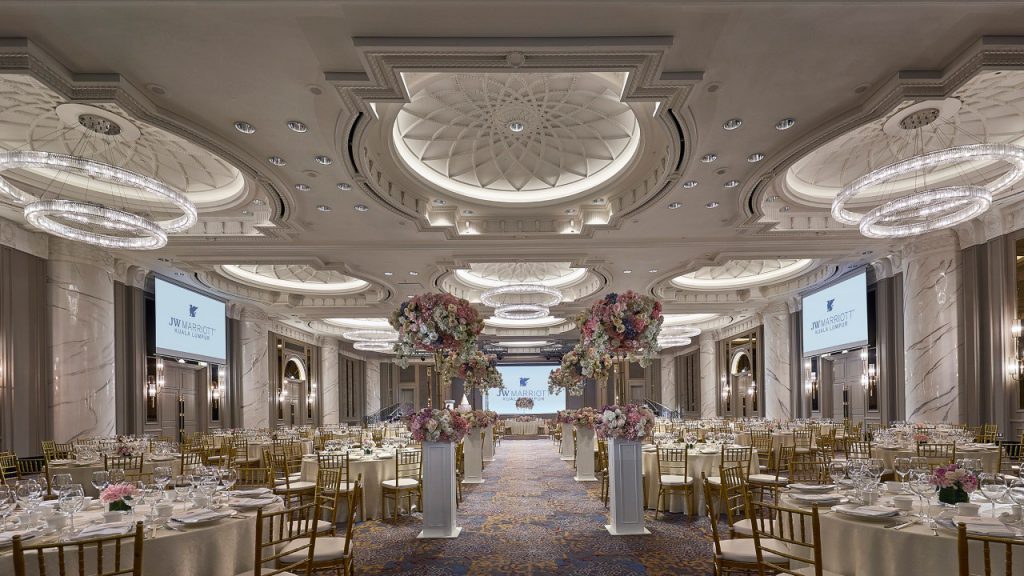 If you would prefer to stay within city limits so that your guests may also enjoy its myriad retail, entertainment and F&B delights of the bustling Kuala Lumpur, JW Marriott is the prime destination for a sophisticated wedding event. The happening hotel is conveniently located in the heart of the city, and offers intuitive and flawless service to ensure that you enjoy your special day. Couples may choose between the hugely impressive Mayang Sari ballroom, or the contemporary and intimate Bayu Hall – accommodating up to 360 guests and offering an alfresco pool areas as well as use of the cabana rooms around it. The wedding feast is also a proud feature of JW Marriott's events, with a range of top-tier Malay and Chinese cuisines to sample from. And for the after-party – just mosey down to the JW Firehouse bar for celebratory drinks in this swish gentlemen's lounge. This wedding package starts at RM2,488 for a table of 10.
Book Now: Click here
---
The Majestic Hotel Kuala Lumpur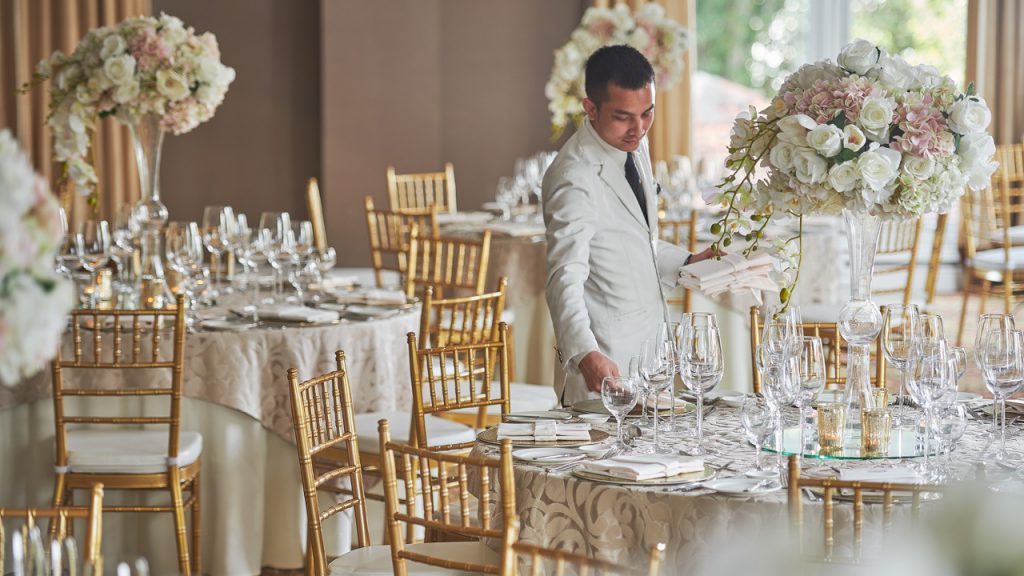 There's a certain sense of splendour that emanates from the walls of the historic hotel that is The Majestic Hotel Kuala Lumpur. Exchange your vows surrounded by orchids in full bloom in The Orchid Conservatory – a space well beloved for its fairy-tale like atmosphere and elegant charm. Or throw the garden party of your dreams, coupled with a dazzling 360-view of the city skyline at the hotel's Roof Garden with its multitude of configurations. Their spacious venues, including its huge pillar-less Grand Ballroom, allow up to 500 guests to help you fulfil your big wedding dreams while maintaining social distancing requirements. This wedding package starts at RM2,100 for every table of 10.
Book Now: Call +603 2785 8000 or Email: [email protected].