Whenever Jacques Cartier embarked on his many travels to India, his older brothers Louis and Pierre would entrust him with a number of tasks. Selling the latest Cartier jewellery to the country's wealthy maharajahs was a top priority, as was acquiring new business for the future, and finally, sourcing for top quality gemstones – of which there is an abundance throughout the subcontinent.
On his return from the first voyage in 1911, the youngest Cartier brother had checked all three, not insubstantial, boxes. In addition, he also imparted a bonus gift that would have a lasting influence on the maison's most exquisite creations to this day: an appreciation for colourful, hand-carved gemstones.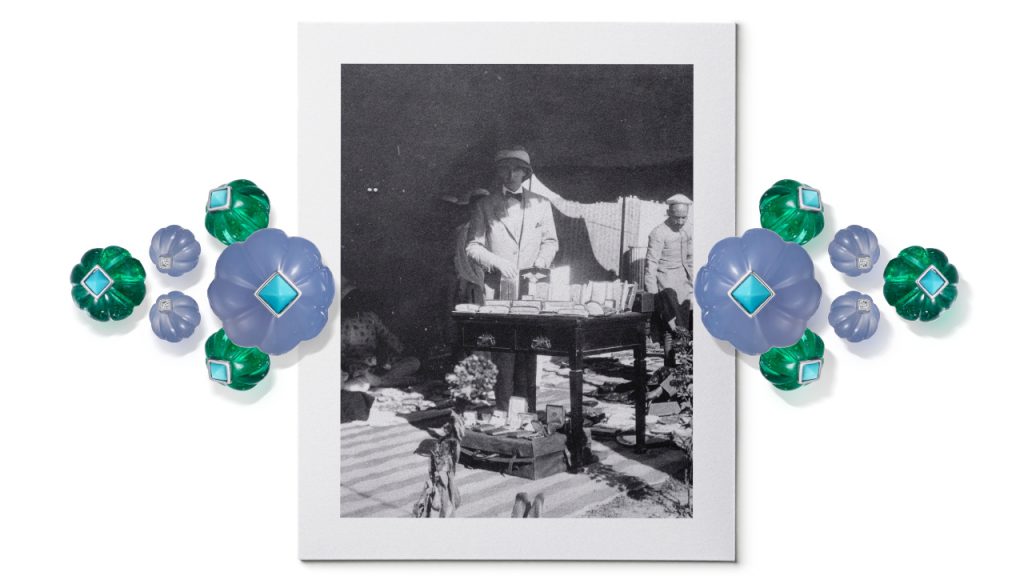 Up until then, prevailing jewellery trends in Europe leaned heavily towards bows, ribbons and florals on a colour palette that favoured order and sobriety. Stones were perfectly cut, polished, and set. Cartier had famously been a pioneer in the use of platinum in jewellery making, often combining it harmoniously with diamonds and natural pearls.
So the explosion of colour he had met with in India, along with the bounteous variety and lavish sizes, was completely astonishing to Jacques – and nothing at all like what he and his brothers had seen in the many books they owned on Indian jewellery design, where illustrations were often made in black-and-white.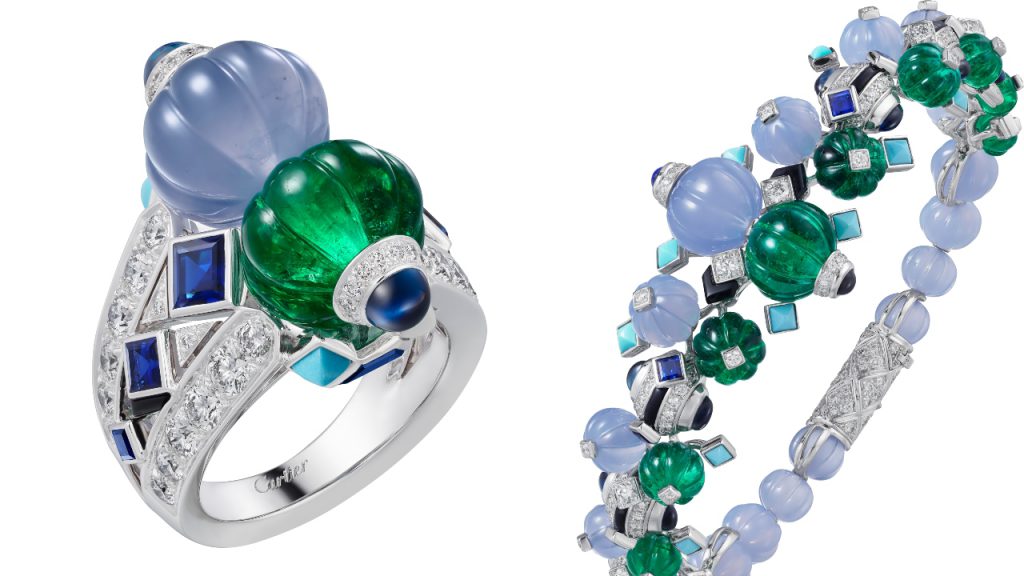 He was so completely in awe that in one of his many correspondences sent to Paris, he wrote: "Out there everything is flooded with the wonderful Indian sunlight. One does not see as in the English light, he is only conscious that here is a blaze of red, and there of green or yellow. It is all like an impressionist painting. Nothing is clearly defined, and there is but one vivid impression of undreamed gorgeousness and wealth."
As it were, Europe was increasingly enamoured by the oriental world throughout the 1920s and 30s. Indian jewellery-making inspired the Cartier brothers immensely; they always had an acute sense of style and never shied from doing something differently as long as they believed in it. So when the maison started creating jewellery pieces featuring multi-coloured carved gemstones, they were an instant hit with the biggest trendsetters of the time. According to Francesca Cartier Brickell in her book The Cartiers: The Untold Story of the Family Behind the Jewelry Empire, among the first of these avant-garde buyers had been the French socialite and style icon, Daisy Fellowes.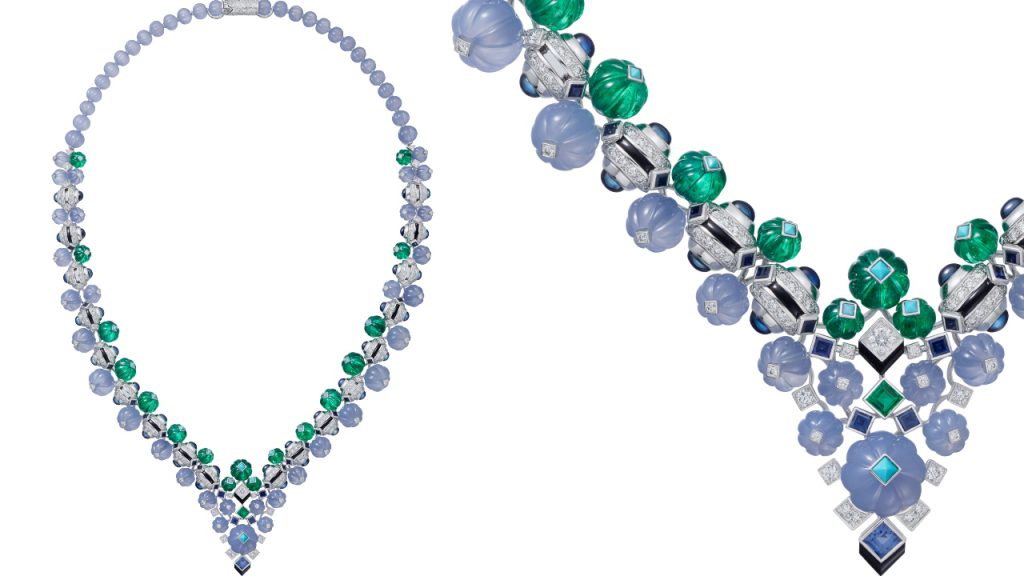 This distinctive combination of sculpted coloured gemstones, specifically emeralds, rubies and blue sapphires, in a single jewellery piece was a style that no other European jeweller had attempted before. Indeed, some might argue that it was rather more jarring than what high society ladies of the time were used to.
But for Cartier, there is much more to this artistic style which eventually came to be known as Tutti Frutti. Indeed, as Jacques Cartier acknowledged: "Many of the Indian gems are not so flawless as those used here." But he was determined to focus on creating an impact through bold mix of colour and bringing an entirely new aesthetic to jewellery making, something that had never been seen before.
Cartier's penchant for bringing bold colours together, and for combining the exotic with the modern, enabled the maison to establish one electrifying look after another. In addition to the red-green-blue palette of Tutti Frutti, which is undoubtedly one of its strongest design pillars, Cartier is also renowned for another equally exotic colour pairing known as the peacock motif. This combustive interplay between vivid greens and rich blues is simultaneously clashing and yet harmonious if you consider how perfectly they sit together on a peacock's plumage.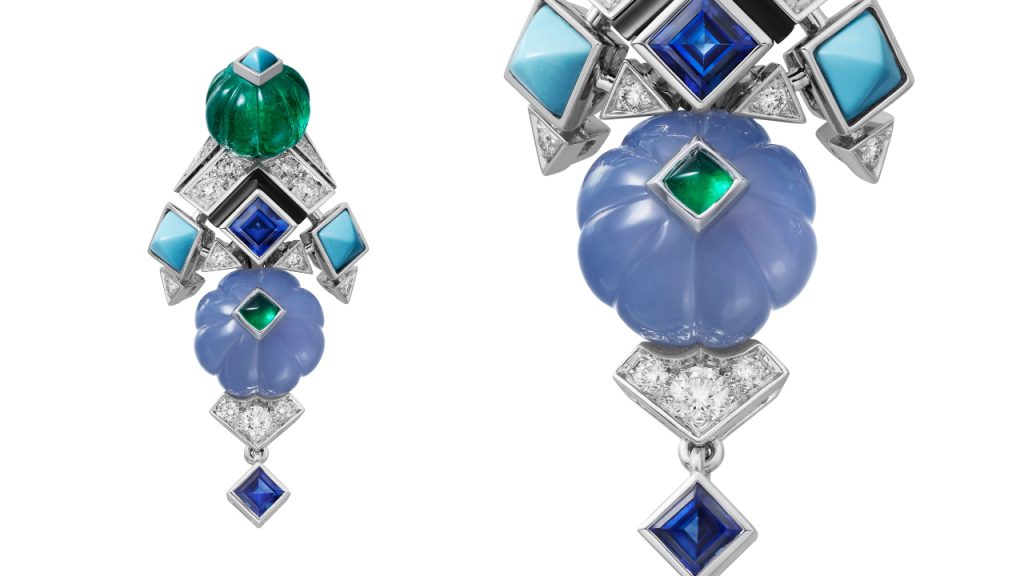 Inspiration came to Cartier from the famous Ballets Russes who had all but completely taken over Paris during the early 20th century with its game-changing choreography, modern music, extraordinary costumes and dramatic sets. The blue and green combination was nothing like the monochromatic style of the time but Cartier believed in creating trends rather than following them. Over the years, it has worked with a broad palette of emeralds ranging from light to dark shades, intense and vivid to the subtlest tones.
Today, the maison continues this rich tradition of sculpted gemstones in the peacock motif with a new high jewellery parure for the ground-breaking Sixième Sens collection. But this time, instead of saturated blues and greens of sapphire and emerald, it plays around with tonality to achieve a markedly different effect. Setting intense emerald green against light blue chalcedony, Cartier masterfully revisits the peacock motif while paying homage to an ancient Indian glyptic technique and yet updating it for the 21st century.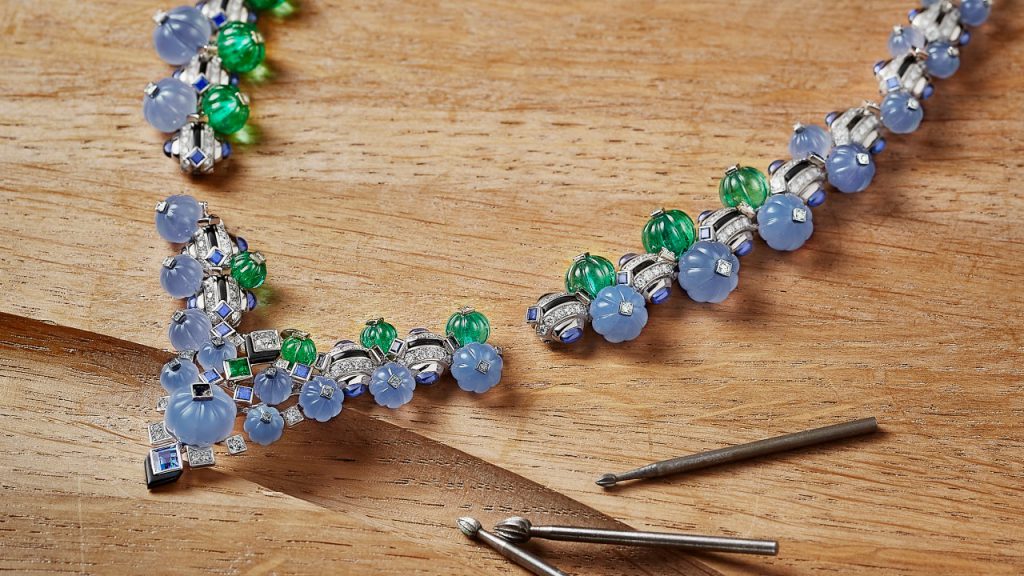 The set comprises a necklace, a ring, a pair of earrings and a bracelet, all of which are made up of tiny but luscious melon-cut emeralds and chalcedonies. Punctuated by turquoise squares and lined with shards of black onyx, the pieces also utilise a clever setting that alternates between sapphires and diamonds to create the illusion of movement. Like precious fruits sprouting from a jewellery tree, these pretty fluted balls transport us back to that fateful day when Jacques Cartier boarded the Le Polynésien bound for Bombay.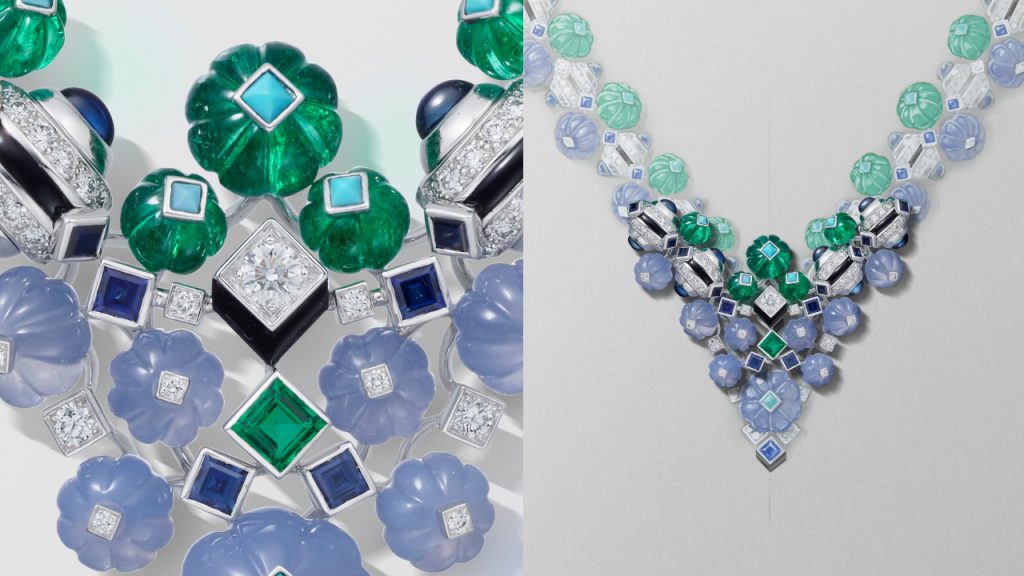 One final important note is that carved gemstones such as these melon-cut emeralds typically contain a lot of inclusions – indeed this is generally understood of all glyptic stones. But the ones used throughout this collection exhibit unparalleled clarity as selected, and insisted upon, by the maison's experts. Jacques Cartier should be so very proud.
---