For Malaysian contemporary artist Red Hong Yi, the pandemic has enabled her to turn to some personal projects which has yielded some very heartfelt responses. Hong, or Red as she is popularly known, has received continual acclaim around the world for her eye-popping and often large-scale artworks and installations which have been featured in exhibitions at the Asian Art Museum of San Francisco, Davos' World Economic Forum and H Queens in Hong Kong, among others. She was also named as one of "11 art world entrepreneurs you should know" by Sotheby's Institute of Art. She speaks about how the pandemic has led her to create an outlet for her followers and creative types to express their dearest wishes in a post-Covid world.
---
During the Movement Control Order, I decided to jump on some personal projects right away because my immediate response to this super unprecedented situation was to document it through art. The first was a community project called "When This Is Over I Will" and I invited my followers to submit their artwork to talk about what they would like to do after the pandemic. To give it context people wrote down their age, name and country and the responses varied from those who said that when this is over they would, "dance with her" to "rehire my staff". 
More and more, I want my art to talk about things meaningful to me; heritage, culture and ethnicity. With the bouts of racism in April that were directed at Asians – I create a series called "I Am Not A Virus" of 10 different portraits of victims and advocates of anti-racism. It was made of what I could find in my kitchen since I couldn't go out to get materials, which included matcha leaves, cake sprinkles, fennel seeds, purple rice, coffee powder, goji berries, peppercorn, chilli flakes, eggshells, pink Himalayan sea salt. The entire exercise was very positive and I think the moment which made me think this was interesting was when someone outside of the Asian community commented that it helped him develop a perspective of how these attacks were affecting the Asian community. 
By the end of this year, my first ever permanent outdoor sculpture will be up on the Star Walk of Fame at Star Development. The idea behind this is to offer a reflection of Malaysian history and culture – and also to produce something which could withstand the weather, wind load and people touching it. So I decided tiffins would be excellent, because it's made of stainless steel and has a sense of nostalgia for most Malaysians. It also connects to our history as it was brought in by the British via India during colonial times. It will comprise exactly 2,020 tiffins to represent the year, and will be shaped like a bicycle flying up – a commentary that although we respect our past, we are also looking forwards into the future. The playful red and copper colours were a suggestion by Alan Koh, the CEO of Alpine Return (the developer of Star Development) to give it more dynamism.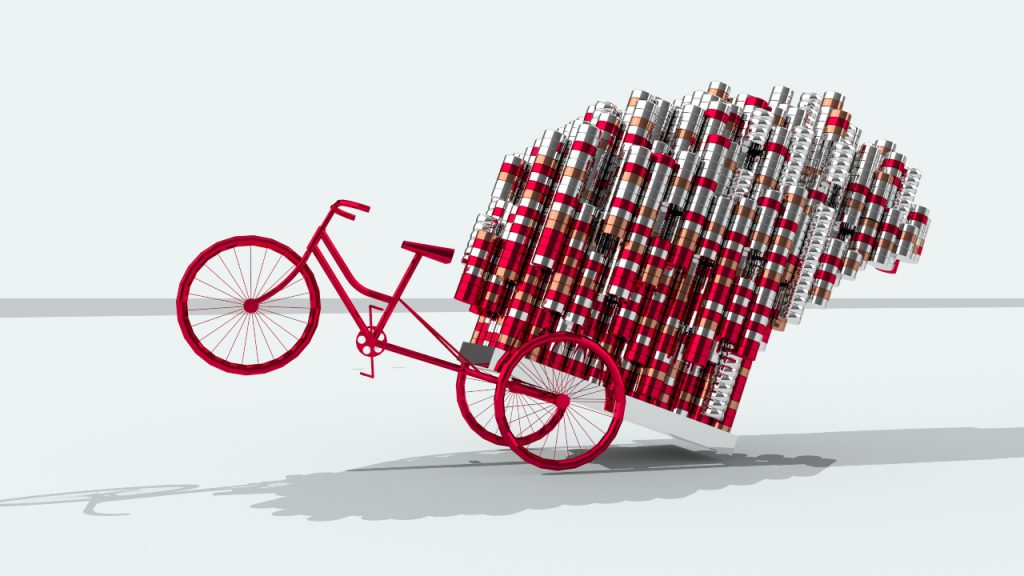 I do miss travel because I was living out of my suitcase for a bit prior to the border restrictions. At the start I was a bit restless and frustrated but now I do feel grounded to one spot. I've spent the time with family and close friends, and I find that lifestyle-wise it has improved because I am able to keep consistency in exercising, sleeping and eating patterns.
Now the corporate projects have been revived so that is keeping me busy as well. I think being an artist and entrepreneur is two sides of the same coin. To be a successful artist, you have to be an entrepreneur which means being strategic with planning finances. But an entrepreneurial mind also needs to be creative, so it all goes hand in hand.
---
To see more of Red Hong Yi's art visit her website here.