When Chef Azli Ahmad stepped into The Gulai House to begin his residency at The Datai Langkawi over 22 and 23 April, his arrival for the third instalment of The Chef Series 2022 was somewhat of a homecoming for him. Born in the Kedahan town of Sungai Petani, this was a chance for Azli – who revives forgotten Malay recipes at OpenHouse in Kuala Lumpur – to continue his mission within his home state.
Plenty of time, research, and networking went into the creation of the five-course dinner (priced at RM280 per person, or RM450 per person including wine pairing) by Chef Azli Ahmad, which took a heritage-based approach towards the 'Eclectic Malaysia' theme of this year's Chef Series. The collaboration between The Datai Langkawi and OpenHouse also gave the resort's Malaysian and international guests the opportunity to sample the traditional Kedah cuisine, which carries centuries-old Siamese and Indian influences.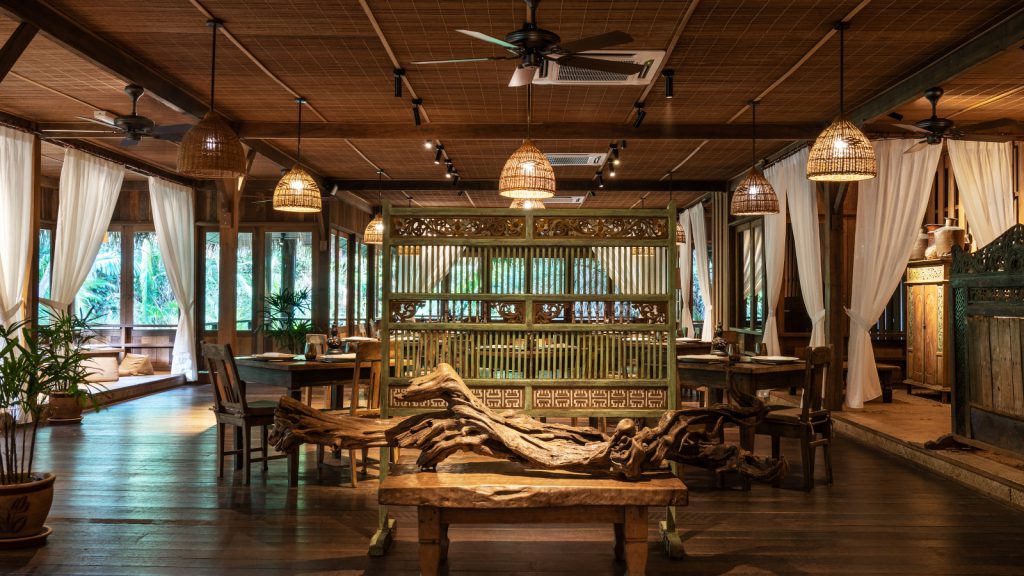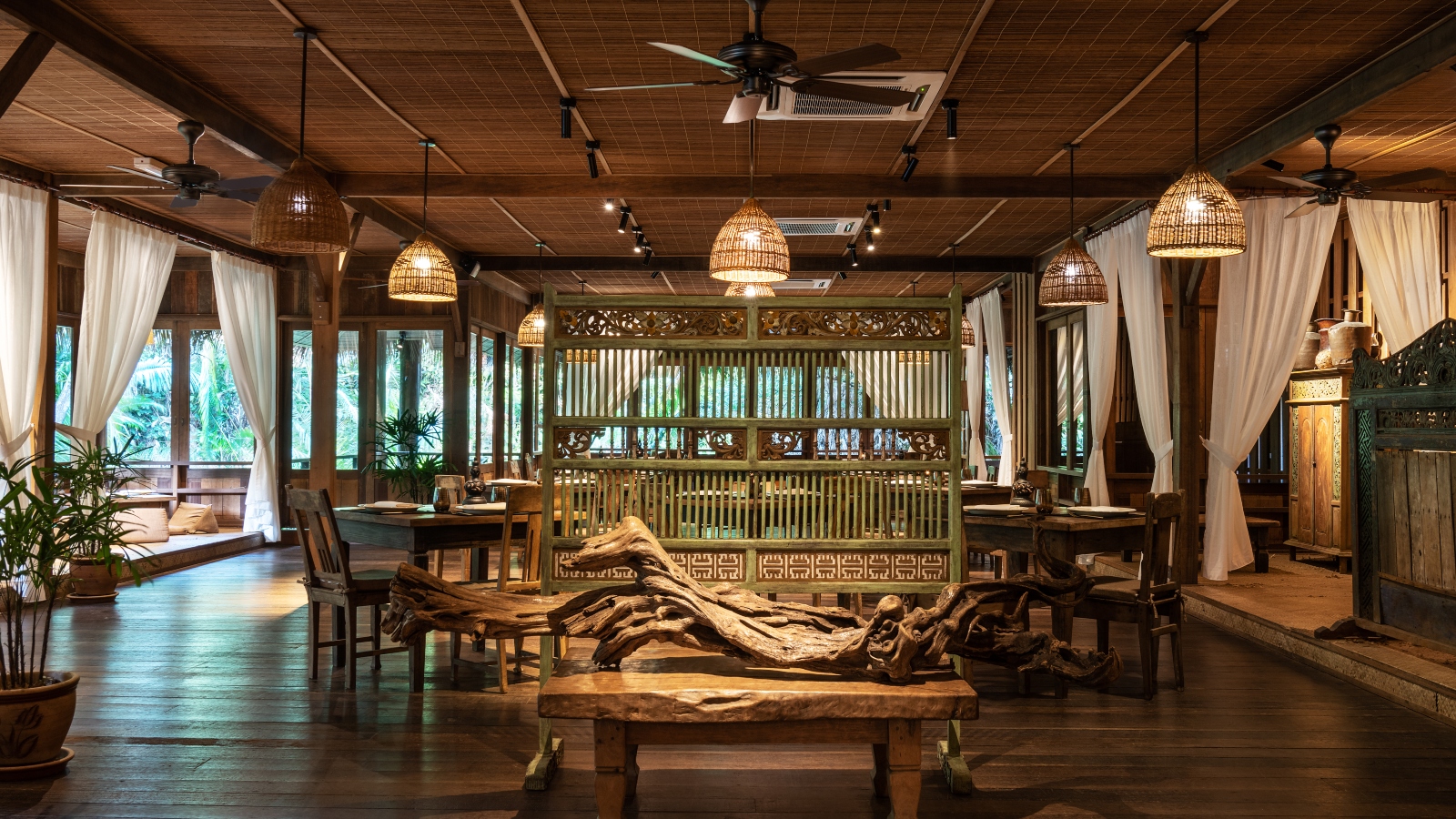 Diners first sharpened their palates with a tamarind-infused welcome cocktail before moving onto a crisp glass of Moët & Chandon Ice Impérial champagne. This was accompanied by a plump medjool date and a ball of yellow glutinous rice topped with sambal nyior – a Kedahan farmers' breakfast comprising coconut, chilli, and dried shrimp, capable of delivering a spicy energy boost. Taking the edge off the heat, a refreshing Shichiken Yamanokasumi sparkling saké was served with a crunchy kerabu umbut kelapa salad, presented appealingly in a halved coconut shell.
Azli's connections with rural villagers and Orang Asli played a key part in obtaining obscure ingredients, such as the young coconut pith incorporated into the kerabu along with shrimp paste, palm sugar, and lime. Closer to home, local sea cucumbers were paired with chicken stock, mushrooms, and ginger to make a warming sup gamat, buoyed by a citrusy 2018 Stags' Leap Viognier from the Napa Valley.
The main course – an array of scrumptious, full-flavoured gulai curries – was shared at the table hidang-style in a woven basket typical of a Malay kampung village house. Wild figs gathered from the riverbanks of Kuala Perlis went into a stew of slow-cooked lamb or chicken with coconut milk, lemongrass, and galangal, tempered by a gentle dalca sayur of aubergines, lentils, and curry leaves. Dipping into the archives of Tunku Abdul Rahman's household – himself a prince of Kedah – fresh prawns, tamarind juice, and ginger were combined to make an aromatic udang asam jawa favoured by the Malaysian statesman.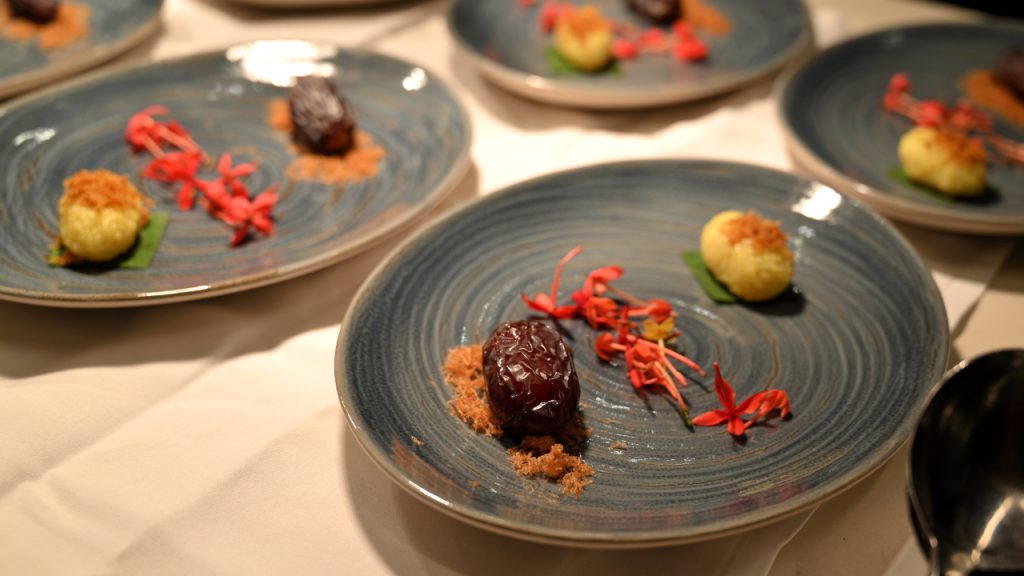 Luck was on Azli's side when it came to the gulai kering semilang: a velvety eel-catfish curry simmered with daun kesum and turmeric leaves plucked fresh from The Datai Langkawi's garden. "Semilang live in rivers and estuaries, and the fish can't be bred – they have to live in the wild, so they're not readily available," he said. With these four gulai came fragrant rice infused with kulim nut oil, heirloom red rice, steamed raja udang plantains, and a cherry-toned 2015 Pommard, Les Cras Vieilles Vignes by Domaine Lucien Muzard that withstood the strong spices.
Underlining his quest to unearth rare dishes from northern Malaysia throughout his menu, Chef Azli Ahmad served two desserts already in danger of being overlooked. Gedung chak – a glutinous rice cake of Acehnese origin, cooked in a nipah palm leaf – and ubi kelempong, a Ramadan specialty belonging to the Thai jitra community of Kedah, consisting of young tapioca cooked slowly in sugarcane water. A sweet porridge of pengat pisang raja (made with sago, palm sugar, coconut milk, and 'the king of bananas') completed the trio of desserts, with a fruit-heavy 2015 Offley Porto Late Bottled Vintage mirroring their notes of caramel and palm sugar.
The Chef Series 2022 continues at The Datai Langkawi on 17 and 18 June with a guest appearance by Chef Raymond Tham from Beta and Skillet.
---