Blurring boundaries with Australian designer Marc Newson
"My job is to find solutions, so I have to know the problems – so the more exposure to the problems out there the better my response will be," as Marc Newson summarises his job.
"Travel helps. Go to Japan, for instance, and see how they solve even mechanical problems – it's very contrary to the way we in the west are brought up to tackle the same problems. But I work across such a broad space, many different types of industries that it's important, as I think it is for any designer, to have a comprehensive understanding of contemporary culture."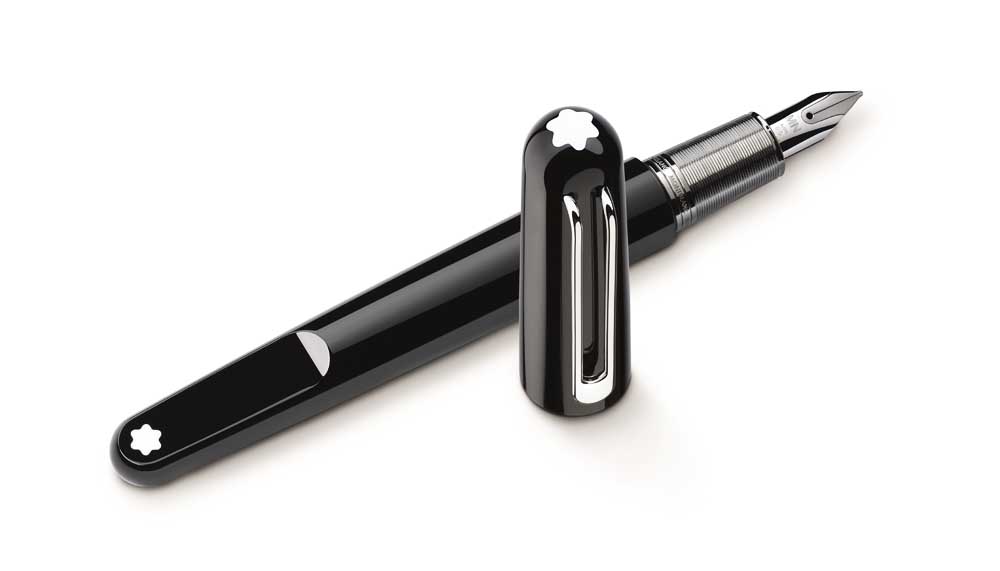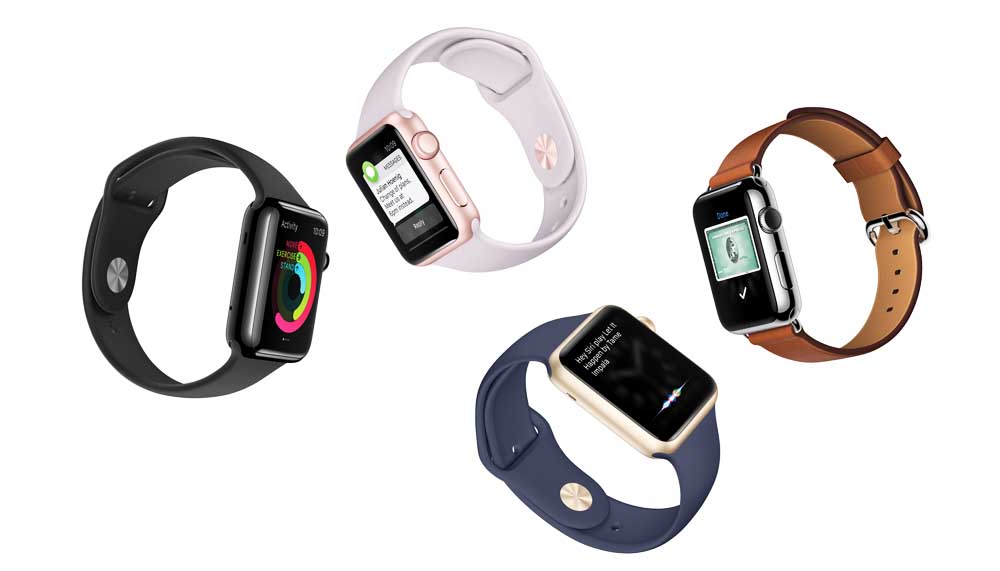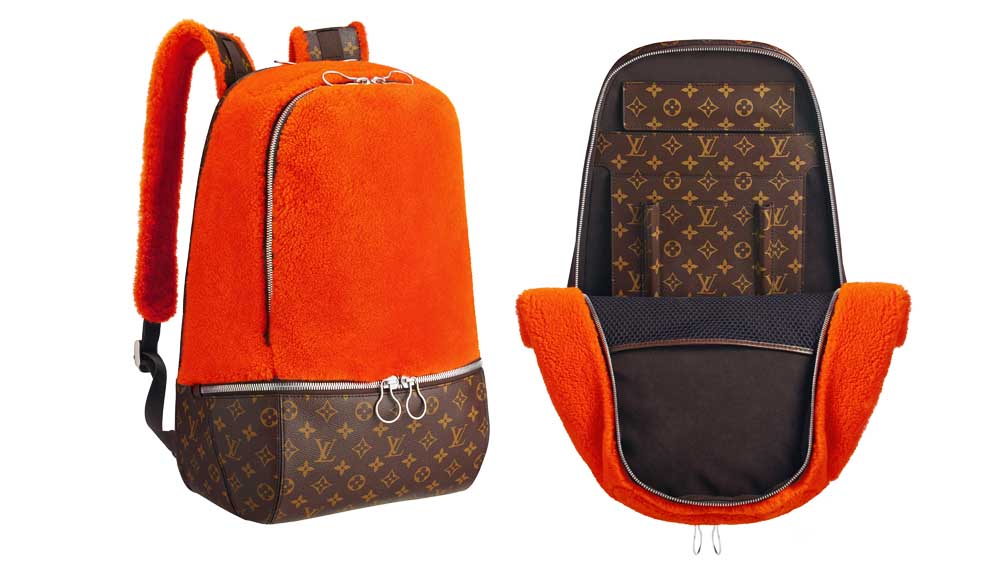 It is this, perhaps, that has allowed Newson, 52, not only to design pens and a bunk-bed, jets and dish-racks, rocking horses and champagne bottles, kettles, torches, cellphones, restaurants and shops, mirrors, taps, chairs, cars, coffee cups, lights, shotguns and clothes for some of the world's leading manufacturers of both high-end and more quotidian products, but arguably to become the most important industrial designer of his generation. He has pieces in the permanent collections of over 20 museums around the world. His Lockheed Lounge – one of his very first, self-built products, an aluminium-clad chaise longe – sold last year for US$3.7m (RM15.4m), becoming the most expensive piece sold at auction by a living designer to date. Those who want to spend less might buy the Apple Watch he co-designed with Jony Ive, or to fly with Qantas; he's the airline's creative director.
He's as busy as ever, which is saying something for a man who insists on working hands-on with each project he takes on, rather than leaving the grunt work to an assistant. He's working on an office chair for Knoll, as well as many other projects that, inevitably, he can't talk about in detail. He's just designed a toaster and a new clothing collection for G-Star Raw – "the first problem I wanted to solve with that was the problem of my wardrobe," Newson jokes. Indeed, he's so in demand that these days, he says, "I tend to pick projects based on what I want or need, on purely selfish terms. And I've always wanted to decent toaster. A wheelie-bag too. I'm a consumer like everybody else. I acquire things and sometimes even in this world the choice is not available and that irritates me. I try to look at things from the perspective of a consumer too. What could they want? What do I want? And the list is getting smaller."
Most of his designs reflect his distinctive, colourful, curvy, organic, materials-driven aesthetic, in which everything and anything from shagreen to carbon fibre to polyethylene to steel might play on his palette. This is the man who made a shelf from a five ton block of marble and decked a speedboat in micarta – made from layers of resin-laminated linen. But, he suggests, he has also had good timing on his side: the fact that many manufacturers and consumers are only now, it seems, waking up to good design's potential.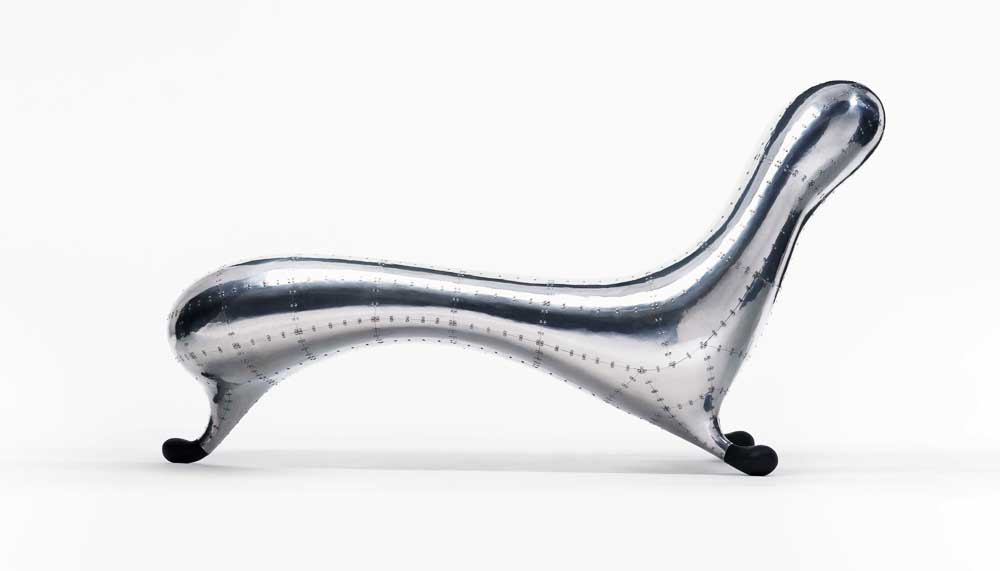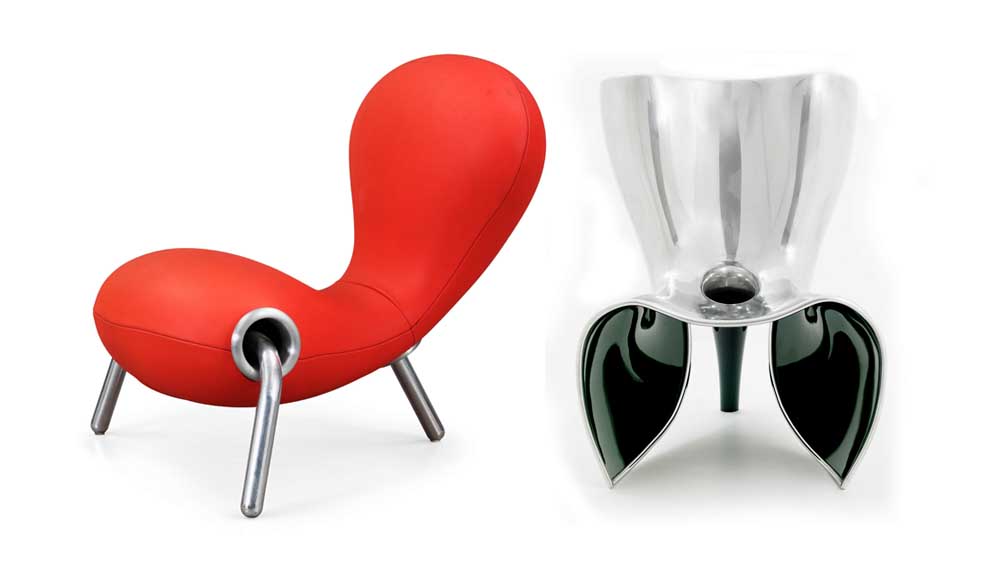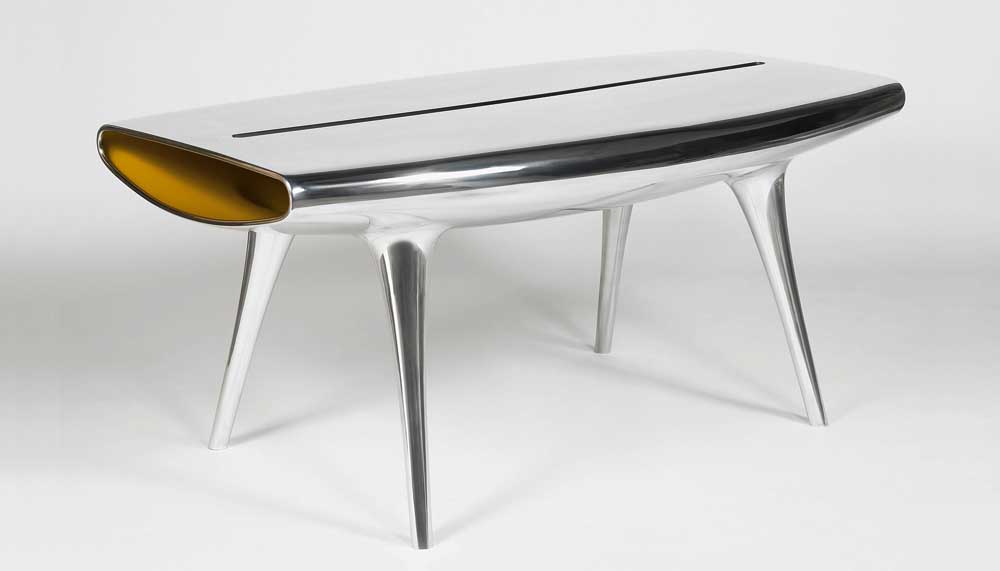 "I've spoken with Jony [Ive] about this and we've both said we think a pent-up anger [at the design around me] is our greatest source of inspiration – looking around and saying 'that's horrible!'," he says. "And it's just as well I can – if everything around me was wonderful I'd be out of a job. That anger is inspirational because you understand that it doesn't cost any more energy to do something differently, better. Of course, everyone has different taste and there are many solutions to a problem, so I'm only talking about when it's really bad. And design doesn't always result in quality. After all, there's a lot of lip-service paid to the idea that something is 'designed', especially when you're working within the imperative of the market, which is about offering choice for choice's sake."
A keen collector of vintage cars, he is particularly disappointed by car design today, blaming designers' over-dependence on computer software to find solutions rather than merely to enable ones they might have come up with out of their own experience and imaginations. This is why Newson refers to himself as "very much a pen and paper man" – he carries a big yellow, sketch-stuffed notebook with him wherever he goes.

"[Computers mean] a lot of industrial designers are really stylists, and increasingly so," he says. "But the thing is that a computer is just a tool. What's missing is the sense that the best ideas still come from deep within your head. If you're always working with computers your thinking is subject to that piece of software. I can look at a car and tell you what software it was designed with. I don't think that's a phase – I think my generation are last of a breed. We represent an old way of working that will be lost, at least until software becomes much more intuitive."
Not that he is opposed to computers per se. Indeed, while the layers of management and marketing has historically made some of his work for corporate clients "like hitting your head against a brick wall" – he is very much of the school of thinking that it is his job alone to dictate the design solution, and if you don't want his ideas, don't hire him – working for Apple has given him new hope. Of course, Newson is not about to reveal what his next project for the tech giant will be, but he will say that his work for it – which takes up some 60% of his time now – has been reassuring. Here, he says, is the biggest company in the world right now and its primary message is the desirability of good design.
"It vindicates design's importance," says Newson. "And that gives me cause for a sigh of relief."