Embroidery is enjoying a fashionable renaissance but who sews for who?
In a small, unassuming workshop off London's Oxford Street, three embroiderers are hunched over wooden frames, feverishly hand-stitching designs on to silk. It's solitary work that requires a great deal of patience and accuracy.
Hand & Lock, established in 1767, is one of the few remaining embroidery companies in the UK and its young female embroiderers (all in their twenties) have stitched pieces for Tom Ford, Louis Vuitton and Chanel. For Chanel, they created a gold badge for a blazer; a beaded crest with interlocking Cs. Usually, they charge £40 (RM235) an hour; the badge took 24 hours. Embroidering can be a costly enterprise.
It's perhaps surprising, then, to find this highly specialised skill flourishing in ready-to-wear. At Dolce & Gabbana SS15, vivid red carnations adorned chiffon dresses and A-line leather skirts; at Valentino, whisper-thin slips and gowns were intricately finished with beading, while Mary Katrantzou's amphibian dresses were spun with glinting crystal.
While these designers face increasing difficulties sourcing embroiderers who can produce large volumes of ready-to-wear garments at a realistic price, all of them are still manufacturing by hand. Dolce & Gabbana's embroidery is done in Italy. Valentino's feathered tribal dresses and beaded maxi-gowns are hand-stitched in France and Italy. Jean Paul Gaultier, Pucci and Delpozo employ embroiderers in-house in Paris, Florence and Milan. Mary Katrantzou employed a team of 15 interns and freelancers to complete her spring/summer collection in London.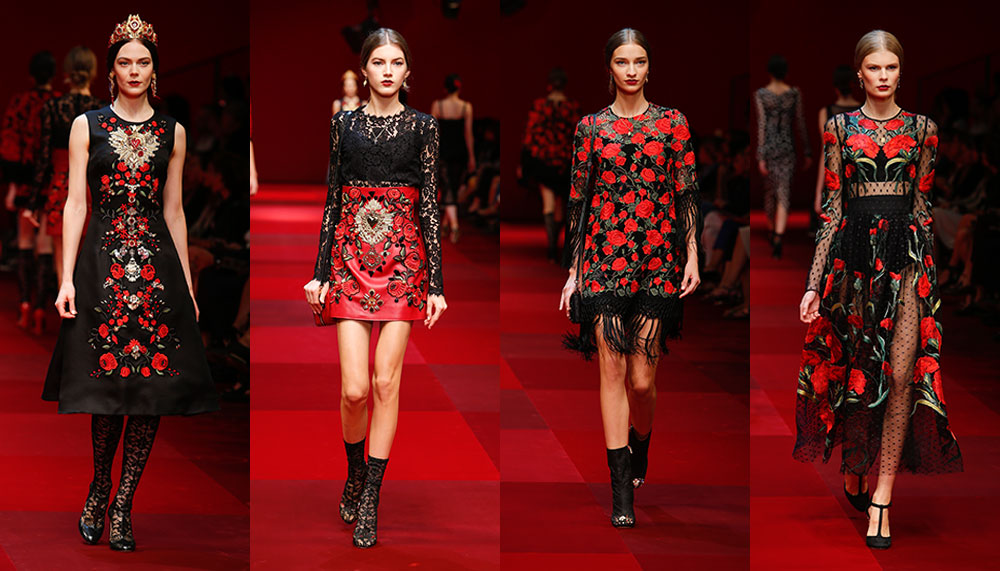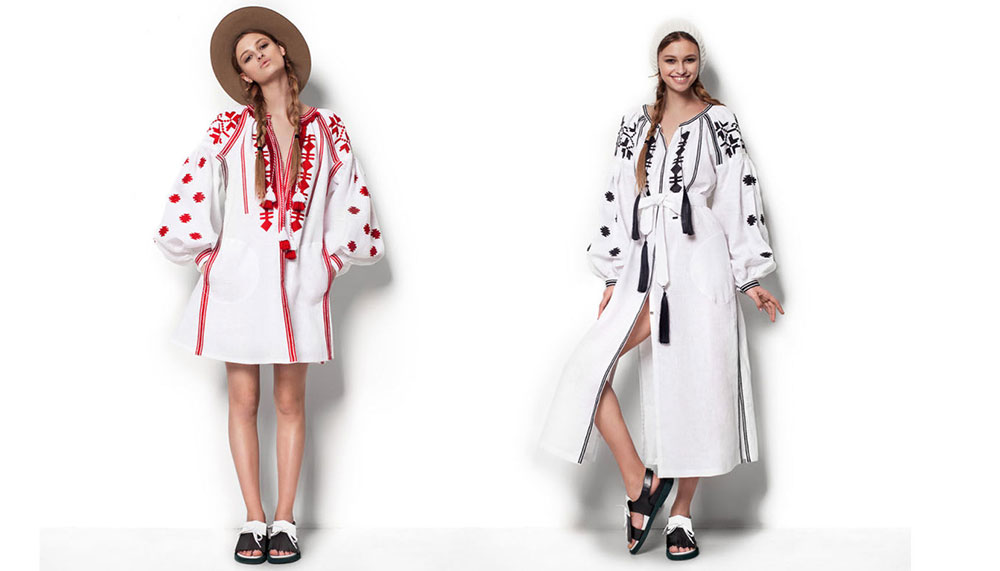 "The finish hand embroidery offers is something a machine cannot create," says Katrantzou, who retains two full-time embroiderers in her London studio. "Embroidery allows you to weave a bespoke story, with each piece unique. We want to make embroidery innovative, to change people's perceptions of it." Her oceanic-themed collection featured sheer metallic mermaid dresses finished with coils of serpents and primordial sea creatures.
Few brands have the resources to have embroiderers on staff. And there's a shortage of skilled labourers. The French atelier, Lesage, is perhaps the best known embroidery workshop. Founded in 1868, it was bought by Chanel in 2002 and today, in addition to Chanel, it produces couture and ready-to-wear for several other houses, including Schiaparelli, Bouchra Jarrar and Alexandre Vauthier. But even Lesage, which started a school in 1992 to help preserve the skill, employs only 45 staff.
Many brands including Dries Van Noten, Vilshenko and Aquazzura outsource production to "India, or other countries where handcraft is cherished," says Van Noten. "We've been working with our embroiderers for more than 25 years and they're happy to source and train new talent for us." In India, where embroidery is more widely practised as a hobby, workshops can employ whole "villages" of men, says Van Noten; and labour costs are up to 15 per cent less than in Europe.
For the luxury brand Aquazzura, "a shoe can take anything from six to 20 hours of work," says creative director Edgardo Osorio. "Sadly, there are not enough young people who want to do this kind of labour. Finding good embroiderers in both India and Italy is becoming increasingly difficult. They're all dying out." As well as outsourcing to India, the Florence-based brand also works with a group of independent, local craftswomen in Italy. (While workshops are staffed by men in India, in Europe it's women's work.)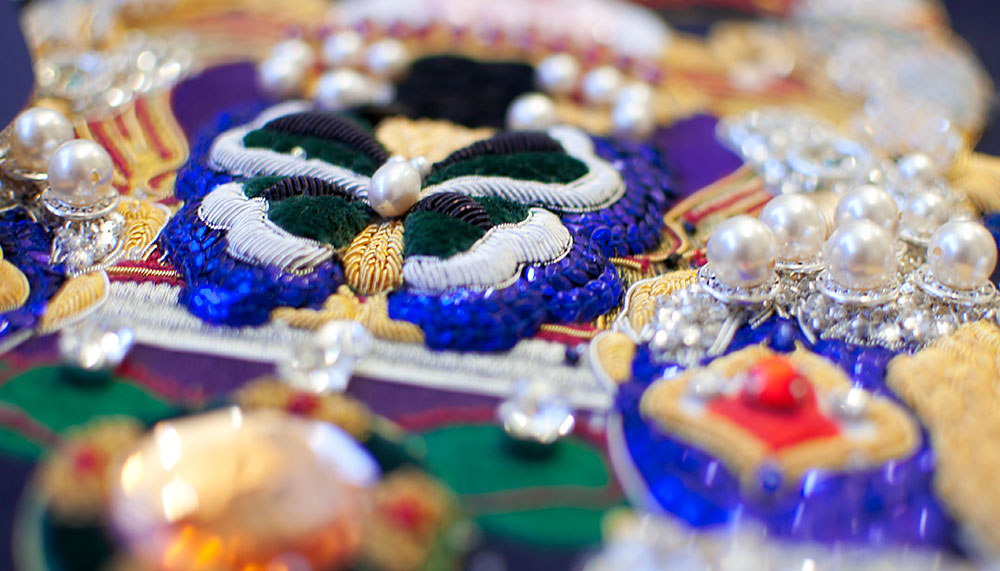 Hand embroidery has its pitfalls, though. Vita Kin, the Ukrainian designer whose folksy designs were snapped up by Matches Fashion after the label became an Instagram sensation, fell victim to the supply and demand problem. Handmade in her studio in Kiev, a Vita Kin cape takes three weeks and more than 100 metres of hand-sewn decorative cord to produce. While the collection will be available on Matches and Net-a-Porter in July, Kin, who is working "day and night" to prepare for store orders, has closed her book for single orders.
Even at the luxury end of the market, there is hesitancy among consumers when it comes to buying embroidery because of questions over provenance. "In high fashion, the working conditions are very good and very comfortable," says Shon Randhawa, co-founder (with Kim Kersov) of the luxury vacation-wear label Talitha, which currently employs around 400 in-house embroiderers in Gurgaon, New Delhi, and is working with village collectives in rural Lucknow and West Bengal that offer women opportunities to work. "My place is not a sweatshop," Randhawa says. "The ladies work part-time – after their daily chores they do needlework for us. It's when you're doing mass market there is a tendency to fudge it, to make things not as ethical. But that business is not fashion, it's not design – it's trading."
It can take up to five months for the collectives to produce an order, and Talitha uses the pieces to supplement the work done by its own artisans. "The crafts industry in India is male- dominated but, if you want to bring up a family, then educate the women, give her choices."
The skills are worth nurturing. "We are moving closer to a period where uniqueness is increasingly valued and appreciated by consumers," says Van Noten. Embroidery is the antithesis of mass production; each piece a labour of love, and one of a kind.
Aquazzura's Osorio agrees. "Embroidery can make something very simple and banal, unique and ravishing. It brings it to life."