Exploring the Alaskan Frontier
The tourist boat chugged into the inlet, bumping and grinding against the chunks of ice. Then the captain cut his engines, and we were almost still; but there was no silence.
Instead there came from inland the noise of a war zone. This being Alaska, it might have been something to do with hunting season, but the Harding Icefield is not the obvious place to take aim at moose and bear. Anyway, this did not sound like rifle fire – it was more like an artillery bombardment.
And some of the firing came from the foreground, where the Aialik Glacier met the sea. There was no killing, just "calving" – the annual rite of spring whereby the warming sun sends cliffs of glacial ice tumbling into the waves, to eventually be replaced (in theory) by the next winter's load of snow. And our timing was perfect; an ice cave that had taken shape by the water's edge had chosen this very moment to start its disappearing trick.
But now the process has acquired a more worrying pattern. Alaska has just had a very unAlaskan winter. Dog mushing's classic race, the Iditarod, had to be moved north to find enough snow; Anchorage had its lowest snowfall on record, with only two of its normal six feet. The ice on the Tanana river officially broke at 2.25pm on April 24, which is significant because Alaska has a statewide sweepstake to guess the exact time the event will occur. The break-up has come earlier only five times in 99 years. Normal variation? One can't help noticing from the list that most of the early springs have been recent ones. In a state whose prosperity depends almost wholly on oil revenues, this is a sensitive subject. "There are three things I don't discuss," one tourist guide told me, "politics, religion and climate change."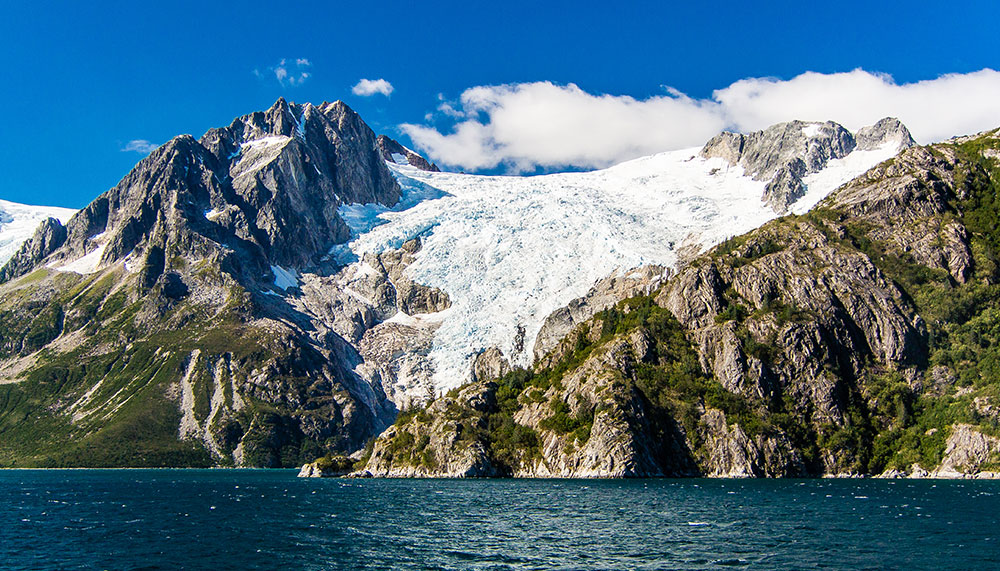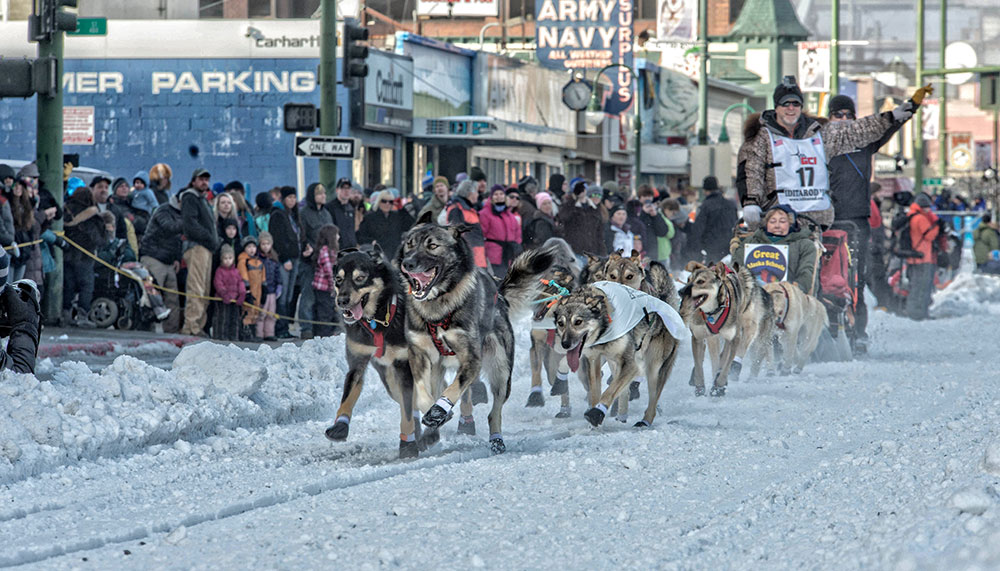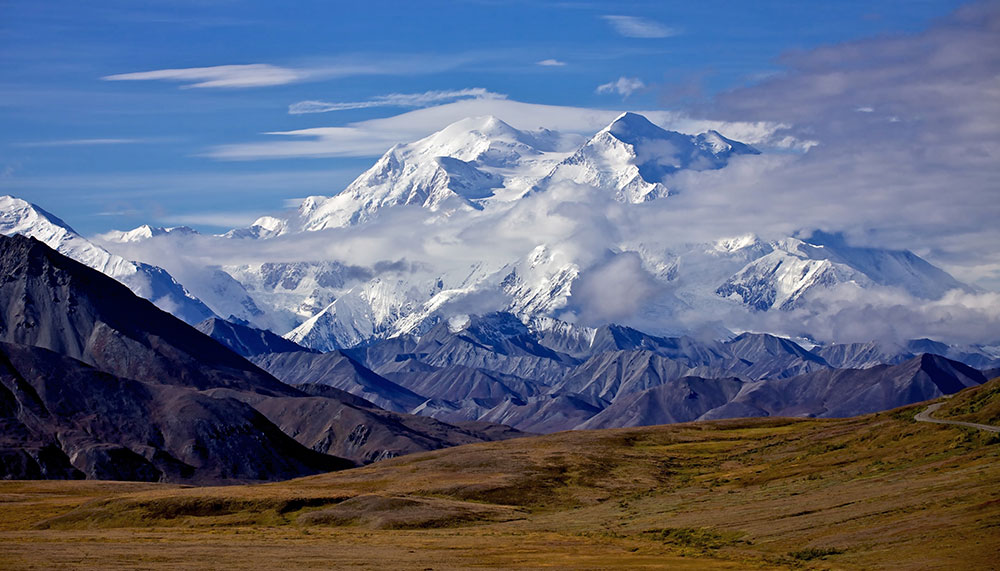 There are about 100,000 glaciers in Alaska; only 616 of them named. Nearly all those under study are shrivelling, hit by a triple whammy of more heat, less snow and more rain. And I saw the process at even closer quarters. The next day, it rained and I heard the artillery, which was just as loud inland, on the outskirts of Seward, close to the sign dated 1815 that marks the furthest recorded extent of the Exit Glacier. It has been retreating towards its own exit ever since: a fifth of a mile in the past decade. Across the bay, our party flew in by helicopter to be the first of the year to walk, armed with poles and crampons, on the Godwin Glacier, which was 20 feet further back than last year.
The state's tourist industry observes this with mixed emotions. In the Alaska of the imagination, it is always bleak midwinter: the wolves howling outside the beleaguered log cabin as the snow piles ever higher. Very few visitors ever experience this, and the richer locals do their best to avoid it (49th-staters are very fond of winter trips to No 50, Hawaii).
Summer may arrive a little earlier now, but it remains a brief surge of activity in which every living thing from the hoteliers to the 17 trillion (an authoritative guesstimate) mosquitoes pack all of their vigour into four frenzied months of beguiling warmth and long daylight.
Indeed, the weather was full of surprises long before anyone mentioned climate change. In July 1923, when President Harding arrived to drive in the golden spike and complete the Alaska Railroad, the press party were warned to wear coats and thick underwear; in fact, the temperature rose to 95F.
I have touched every one of the lower 48 states in my time, but I have never seen anywhere like Alaska. Bigger than Mongolia, or seven United Kingdoms, it is a riveting place, full of character and characters: some imaginary, like Dangerous Dan McGrew (created by the poet Robert W Service); some historical, like the prospector Tarantula Jack Smith; some still extant, like Sourdough Joe, a fishing fly-tyer and second world war buff, whom I met over a hot dog at a truck stop near Chitina.
It remains a place of big, bearded, self-reliant, eccentric men. As an old advert for Tonsina River Lodge, a remote hotel not far from Chitina, put it: "We're all HERE 'cause we ain't all THERE." The gender ratio is no longer 2.5:1 as in the frontier days, but there are still nearly 108 men to every 100 women (according to a local saying among women: "The odds are good but the goods are odd"). And it is a long way from anywhere: Anchorage is 2,000 miles even from the nearest big city, Vancouver. The short season and isolation mean prices are high. Alaska grows hardly any fruit or veg; even petrol, the state's main crop, is dear since it has to go out of state to be refined. Against that, there is no sales tax, which is a pleasant surprise.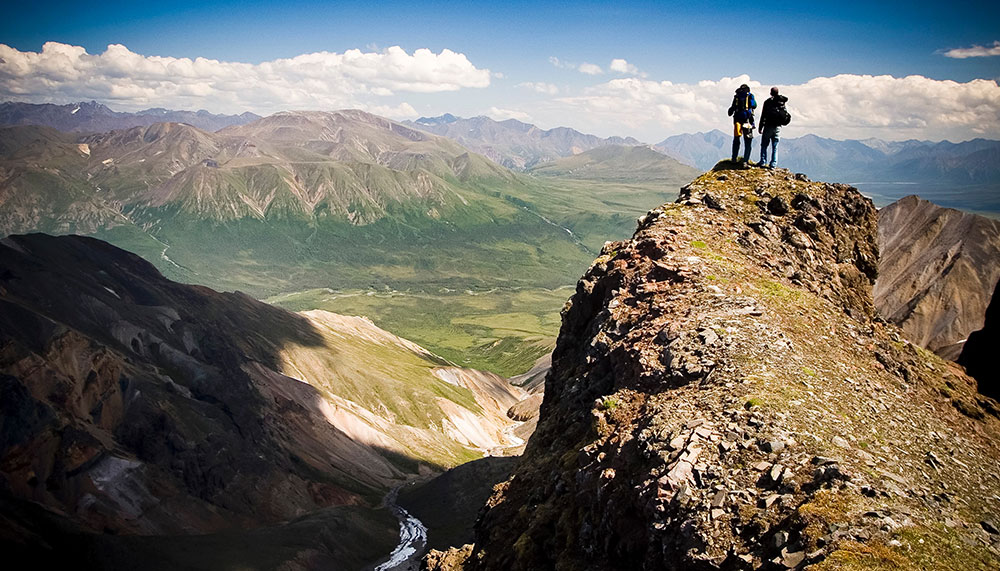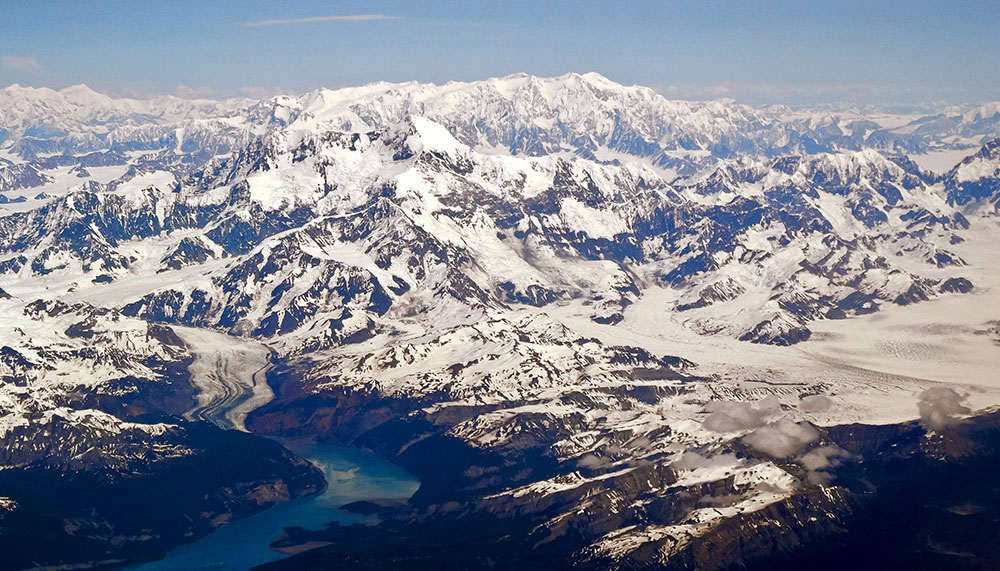 The state tourist board had invited a handful of international journalists on a week's whistle-stop trip, focusing on its great outdoors, ahead of next year's centenary of the US National Park Service. Alaska has more parks than any other state – 17 in all, including the most famous, Denali, home of North America's highest peak (aka Mount McKinley).
Aspiring members of the Seven Summits club have to tackle all 20,322 feet of Denali en route to ticking off the highest on every continent. I found it quite thrilling enough, thank you, just flying overhead on one of the flight- seeing floatplane trips run by Rust's in Anchorage, and seeing the dots below trudging upwards.
For those of us at the somewhat less adventurous end of the scale there are challenges enough. I still have a pang about wimping out of the "supping" – stand-up paddleboarding – (fearing that for me it would be fall-off paddleboarding). My bolder companions all told me it was brilliant. I performed respectably enough, though, at kayaking and scaling a small iceberg.
Anyone can spot moose, bald eagles, and maybe a bear, most charmingly from the outside viewing platform of an Alaska Railroad train. We rode it from Anchorage to Seward, its southern terminus and the jumping-off point for Kenai Fjords National Park, home of the Aialik Glacier. After our adventures on ice around Seward, we returned to Anchorage and set off for our final park, Wrangell-St Elias – which just might be the largest place in the world you have never heard of.
The simple facts about Wrangell are mind-blowing. It has been called "Little Switzerland", which would do, were it not actually larger than Switzerland. It is by far the National Parks Service's biggest property – 17 times the size of the Yosemite National Park, though it gets as many visitors in a year (75,000) as Yosemite gets in a week. To get there, we drove five hours east from Anchorage to Chitina, where we boarded a small Cessna operated by Wrangell Mountain Air for a 25-minute hop to the McCarthy airstrip, deep in the wilderness.
Wrangell includes nine of the US's 16 largest peaks; many of its mountains are unnamed and untrodden. It also has – 100km from the nearest paved road – two places that are among the most amazing I have ever seen.
Touring an old copper-mining town did not immediately strike me as the most thrilling item on the itinerary. But Kennecott represents a matchless blend of history and landscape. Perched above the old railroad and yet another retreating glacier is what is described as "the tallest freestanding wooden structure in North America", which almost appears to be tumbling down the mountainside.
This was the Kennecott copper mill, in full cry from 1911 to 1938 while a consortium led by the Guggenheims and JPMorgan extracted the earth's wealth from this unforgiving landscape. It was supposed to be demolished years ago but mercifully the contractors failed to do the job – it is as awe-inspiring as a Transylvanian castle.
It is impossible to come to Kennecott without being overwhelmed by the grandiloquence of the project and the harshness of the conditions. Workers made their way up the mountain to the pits themselves by "tram", actually a cable car with no cabin; the men clung on like limpets in temperatures that might be down to minus-40 or less – but only after signing a waiver absolving the company of any responsibility.
There were some consolations. These came a few kilometres along the valley in McCarthy, where a town sprung up specialising in providing leisure, liquor and succour to the miners. At one time it was home to more than 1,000 people but when the mines closed, McCarthy's population fell to one. But it never quite died, and has now been revived thanks largely to the energy of a hard-driving Bostonian entrepreneur, Neil Darvis.
Revived, but not restored; this is Alaska, not Williamsburg, and the process is rough and ready. It still looks more ghost town than theme park, with abandoned cars falling apart as relentlessly as the old hardware store. Even in winter some 35 people live here and in summer, when the population swells to several hundred, it's positively lively.
Not just lively, in fact, even urbane and genteel. There is some debate as to whether Ma Johnson's, where we stayed, was a lodging house or merely the best of the brothels. It is now a B&B in the best American tradition, and guests wander over the road to eat dinner in another Darvis-owned property, the McCarthy Lodge.
Darvis offered us a five-course taster meal, cooked by his chef Scott Whitus, which peaked with "Copper river red salmon with preserved lemon couscous, multi-coloured carrot ribbon salad and tarator sauce". I doubt if the lemons or olive oil were local but, hell, it was amazing.
Sourdough Joe, trained as an entomologist, came up here from Missouri years ago. "I got Alaska fever," he explained simply. "You just can't fight it, boy." I understand: I've got a touch myself. It's a bug that trumps 17 trillion mosquitoes.