The timeless appeal of the brooch
Brooches have been in vogue recently, with both vintage ones by the big maisons and one-of-a-kind pieces by established independent designers attaining high prices at auctions. In September 2014, a butterfly brooch featuring a 26.26-carat cushion-cut brown diamond, designed by Cindy Chao in collaboration with actress Sarah Jessica Parker, was sold by Sotheby's for US$1.21million (RM4.75 million). Two months later in November, a yellow diamond, diamond, onyx and emerald Tiger Clip Brooch which Woolworth heiress, Barbara Hutton commissioned Cartier to create in 1957, went under the hammer at Sotheby's Hong Kong for more than twice its estimate at US$451,282 (RM17.65 million). In the same month, a brooch of provenance once belonging to Empress Eugenie, the last Empress of France and wife of Napoleon III, was sold by Christie's Geneva for US$2.3 million (RM9 million).
While some younger people may associate the brooch with grandmothers and twinset-wearing older ladies who lunch, this form of jewellery enjoys an affinity with designers such as Chao who shares that the brooch is her favourite design form, and women who have made their mark on history and society. Think Jacqueline Onassis or Elizabeth Taylor, and the blue-bloods such as Kate Middleton, the Duchess of Cambridge and Princess Firyal of Jordan. Former US Secretary of State Madeleine Albright's collection of quietly political brooches is such a legend that she has written a book about them – Read My Pins: Stories from a Diplomat's Jewel Box. While there may be differing views on Albright's suitability as a style icon, most will agree she's not a lightweight personality.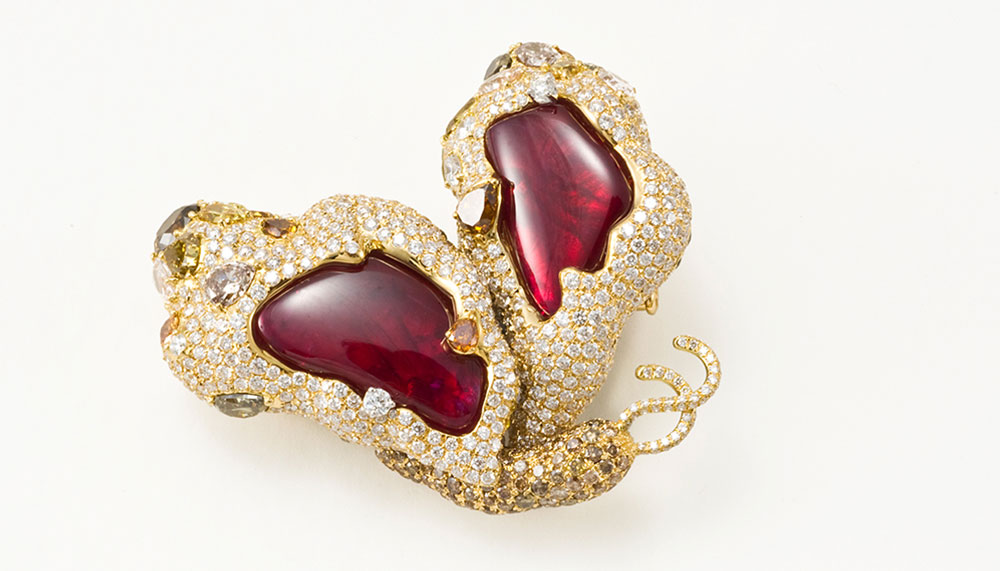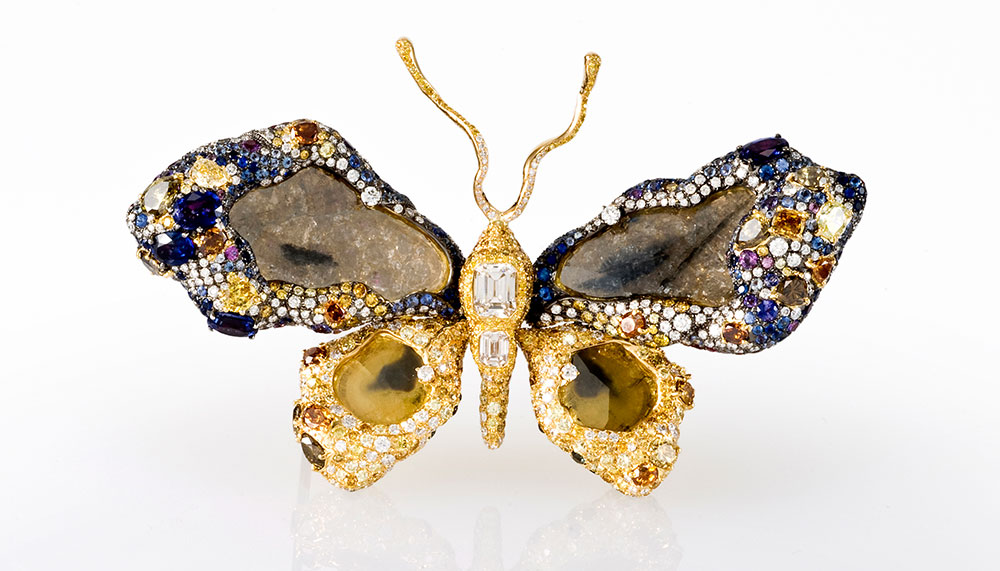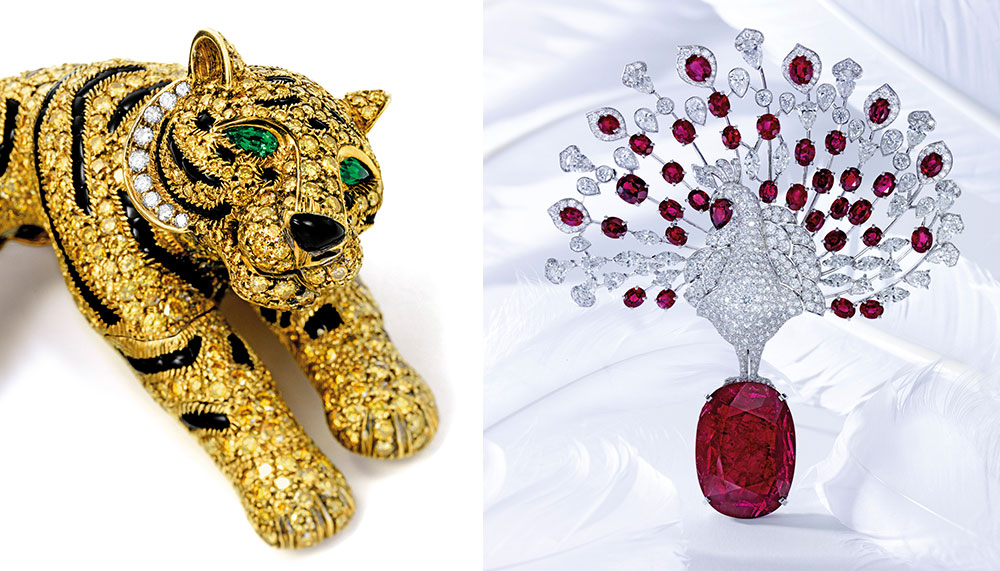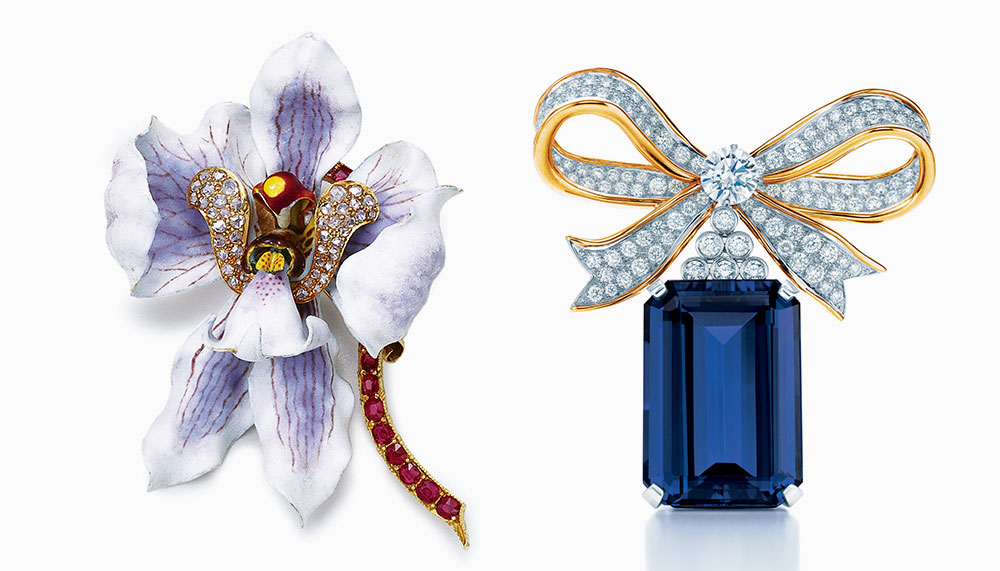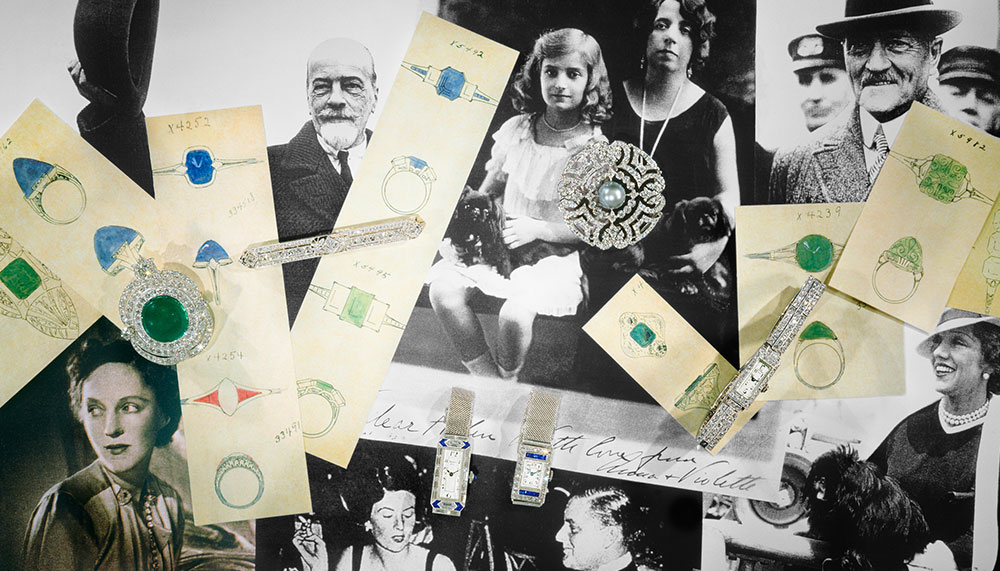 Both designers Cindy Chao and Anna Hu agree that their brooch collectors tend to be women of a certain stature. "The modern brooch collector is often an established, confident and sophisticated man or woman who needs only one piece of jewellery to make a statement or use as a personal signature," says Chao. Hu shares that her clients who collect brooches usually have more personality and have achieved a certain status in society.
Since the 10th century, the brooch has been seen as a badge of honour, especially when incorporated with a family crest. It tells the story of a person's heritage, life journey and, especially in modern times, personality and predilections. Barbara Hutton, for example, preferred Cartier's tiger to the brand's more iconic panther. More than any other piece of jewellery, a brooch has the potential to take on a symbolic character for the owner and is thus often seen as an heirloom-worthy item. Middleton herself has worn the Queen's brooches on occasion. As Hu puts it, collectors usually view brooches as a legacy.
Given its long-standing appeal among society's creme de la creme, it follows that venerated jewellers to the rich and royal like Cartier, Van Cleef & Arpels and Tiffany & Co would have an extensive collection of brooches in their archives. Van Cleef & Arpels, in particular, has always used the ballerina or fairy as a subject – a figure of litheness and grace, qualities that even female powerhouses wish to project. In its 2014, Peau d'Âne Enchanted Forest collection, it narrates a classic French fairytale of the same name, which tells the story of a princess escaping from a father who has been driven insane by her mother's death, to an enchanted forest. The vivid bursts of colours that convey the rich imageries in the story speak to collectors, for even high-flying women seem to have a weakness for the romantic and whimsical.
The love doesn't stop at the women who collect brooches. The fact that the brooch is so versatile – it can even be worn as a hairpiece, as actress Jessica Chastain did with Elizabeth Taylor's Bulgari En Tremblant brooch at the 2013 Cannes – means it counts men among its collectors. "My male clients are usually entrepreneurs and art collectors who would wear the brooch as a tie pin or on top of a pocket square," says Chao.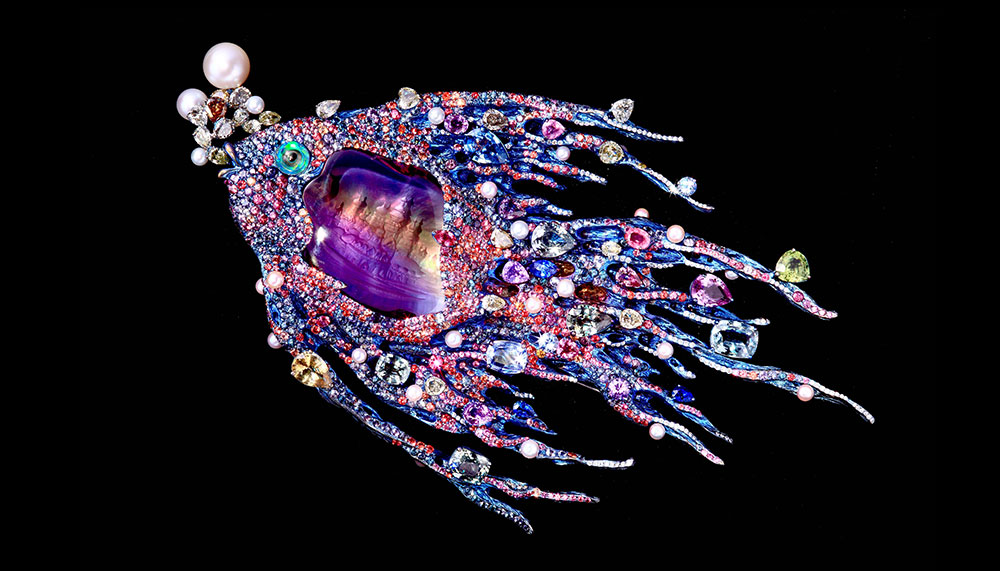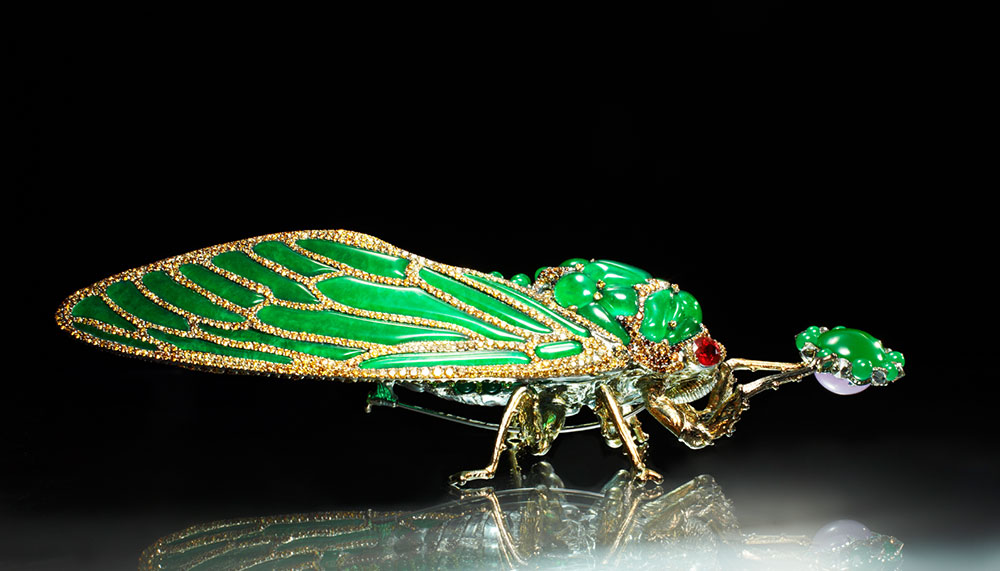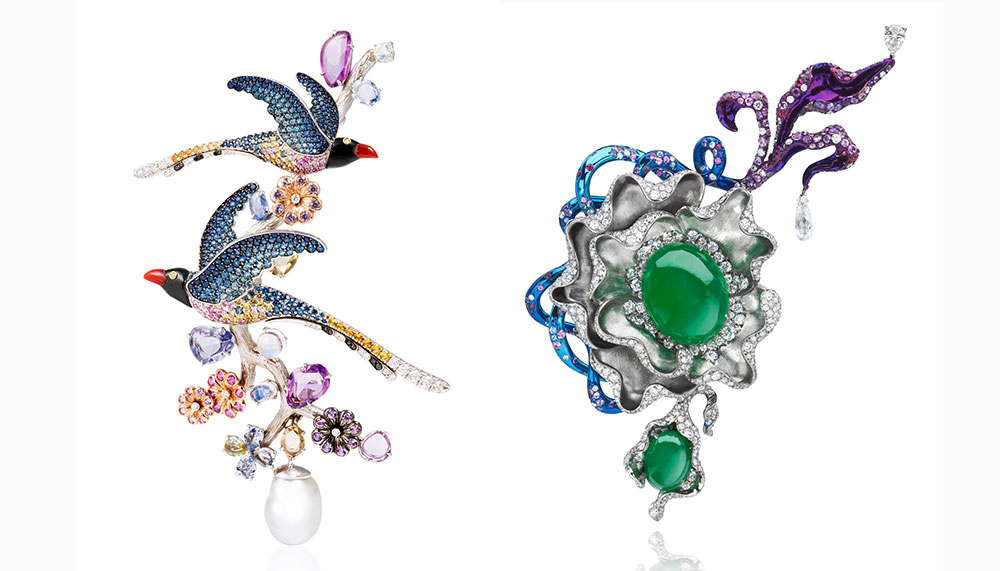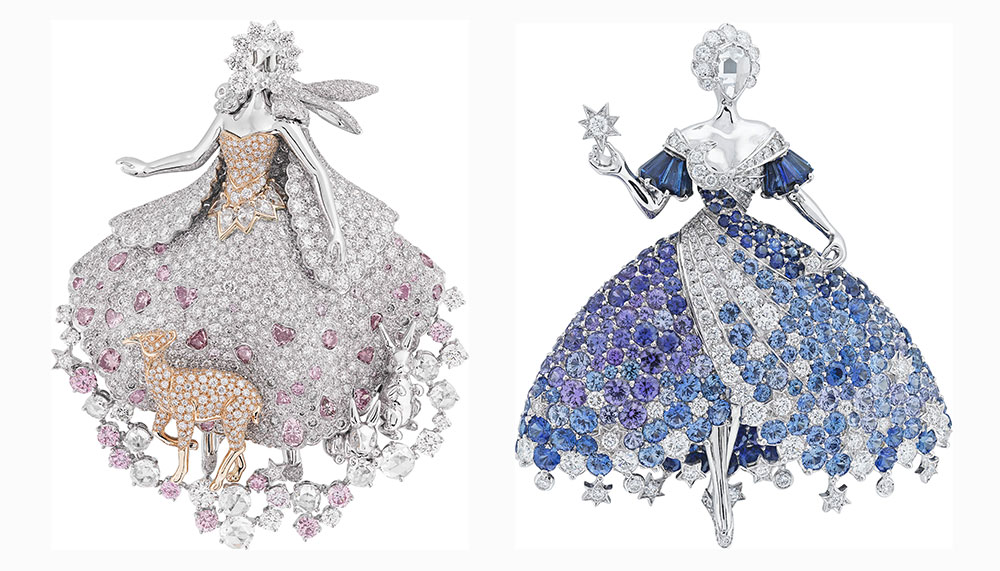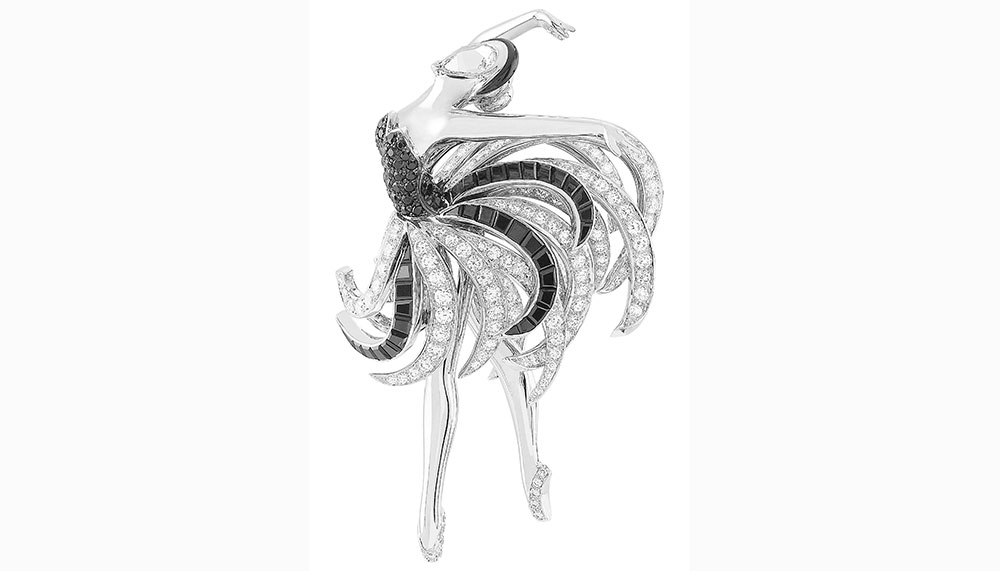 Designers, too, have a bias for the jewellery because it lends itself well to creativity. While stressing that he treats every piece as a sculptural presentation, whether it be a ring or a necklace, Wallace Chan, who trained as a sculptor, admits that it's easier to treat the brooch as sculptural art, simply because "its shape is not limited by its function or the body part that it's meant for." This allows the designer to exercise his creative chops and show off intricate craftsmanship. Chan, who is the first Asian designer invited to exhibit at the Biennale des Antiquaires in Paris in 2012, has been repeatedly wowing followers with his brooches at every Biennale since then. The most famous is Stilled Life, a jadeite cicada, a finely calibrated piece of art.
Chao has also achieved significant recognition with her 2009 Black Label Masterpiece, the Royal Butterfly brooch, which was inducted into the Smithsonian National Museum of Natural History in 2013, taking pride of place in a collection that consists mainly of period pieces and gems. Likewise, Hu's Cote d'Azur brooch set global auction records for the highest price paid to a creation by a contemporary designer.
Hu candidly shares that brooch's maritime symbolism resonates with her – her star sign is Pisces and she loves the ocean. In fact, the idea for the brooch was born when Hu visited Côte d'Azur in southern France. Though the brooch now belongs to another, it's clear that Hu had poured part of herself into its creation. If a single piece of jewellery could give away so much about a person, to say that to wear a brooch is like "wearing one's heart on one's sleeve" is not out of place.