Perth Ascending
Australia speaks to a more adventurous traveller who enjoys its rough-around-the-edges charm. But the times they are a-changing and on this continent blessed with natural wonders, Western Australia's capital, Perth, leads a charge to sophisticated, cool experiences.
Perth has been gradually shedding its reputation as a mining city with exciting developments, abundant business opportunities and the attendant creature comforts and finesse from the economic prosperity wrought by mining.
Droves of Australians have made the trek from the east coast to make their home in Perth, lured by the booming economy but staying for the unique charms of a city on the cusp of greatness.
Alex Hotel

The roof terrace of Alex Hotel

Alex Hotel, a boutique establishment in Perth

Hanging out at Alex Hotel

Vittles at The Standard Northbridge

The menu at The Standard Northbridge

Let's drink!

The State Theatre Centre

Designed by Kerry Hill

The State Theatre Centre

The State Theatre Centre

Urban Vibes
As the City Link project involving the sinking of the railway that once bisected the city moves ahead, one of Perth's least attractive urban environments, Northbridge, will soon be connected to the city's central business district.
Independent restaurants, bars and boutiques have already started popping up. Particularly noteworthy is Alex Hotel a boutique establishment that looks like it fell out of the pages of Kinfolk. Another design landmark is Kerry Hill's stunning State Theatre Centre, an elegant jewel box of a building housing the Heath Ledger theatre.
Swan and Only
While Margaret River has captured the imagination of wine lovers everywhere, Swan Valley has its own charms and an added bonus of being only 25 minutes by car from Perth. Do not be fooled by the rustic setting of Lancaster Wines. Although tastings are held at its vine-covered shed, its wines from some of the oldest vines found here are pure class. Living up to the hype of being Western Australia's most awarded boutique winery, Mandoon Estate's beautifully appointed restaurant has fine dining Aussie-style down pat – expect delicate plates of the freshest produce thoughtfully paired with the estate's wines.
Lancaster Winery in Swan Valley

Mandoon Estate

Mandonn Estate

Perth Fringe World

Perth Fringe World

Perth Fringe World

Perth Fringe World

Perth International Arts Festival

Perth International Arts Festival

Perth International Arts Festival

Culture Craver
Western Australians take their culture seriously. The Perth International Arts Festival, created in 1953, is the oldest international arts festival in the country and a great reason to visit in February. For almost a month, the city is transformed into a stage with performances spanning theatre, dance, music, film, visual arts and literature by local and international artistes. This year, a theatrical spectacular named Home celebrated Perth's history via an epic musical and visual journey. At the tail end of summer, Fringe World Festival is a chance to catch new and established artists performing at unusual venues.
Raising the Bar
Something as seemingly insignificant as a small bar licence about eight years has given birth to a buzzing scene rivalling London's cool Shoreditch area. Sprinkled among the laneways of Perth, these outlets ooze character and, to distinguish themselves, tend to be extremely specific. Examples include The Flour Factory which combines a New York-style deli with a Spanish bodega cocktail bar, Varnish on King which pairs whisky with bacon, and Uncle Joe's Mess Hall, a barber and eatery. Meanwhile, 140 Perth markets itself as an urban destination where food, art and retail collide.
The Flour Factory

Varnish on King

Sue Lewis Shop

Petition Perth

Petition Perth

Moore and Moore Cafe

Moore and Moore Cafe

The Mantle

Cappucino Street, Fremantle

Bathers Beach City, Fremantle

Elizabeth Quay

Elizabeth Quay

Elizabeth Quay

Quay to the City
Opening to much fanfare in January, Elizabeth Quay has transformed the former Esplanade Park into a new waterfront precinct. This area features a water park for children, a new ferry terminal, an island playground and a suspension bridge across the water. The precinct also features a number of large-scale and significant public artworks, the biggest being the 29m-tall Spanda by internationally-renowned artist Christian de Vietri and already the city's most recognisable landmark. Another arresting sculpture is by acclaimed Noongar artist Laurel Nannup, which tells the story of the Noongar's first impression of the settler's sailing boats.
A State of Grace
A cluster of former government departments have been reinvigorated as a vibrant hub of hand-picked retail, dining and hotel offerings. Known collectively as State Buildings, Fremantle design outfit Spaceagency combines industrial with sexy at Petition Beer Corner, Petition Kitchen and Petition Wine Bar & Merchant which offer an 18-tap craft beer bar, a contemporary bistro and an inner-city wine bar respectively. Long Chim is David Thompson's ode to Thai street food served in a cheeky convivial atmosphere. The Australian-born Thompson, who founded metropolitan Bangkok's renowned Nahm restaurant, makes no concessions for those who cannot tolerate spiciness. Don't miss out on artisanal cake shop The Honeycake and Telegram Coffee, which houses a 135-year-old dumb waiter crank wheel salvaged from the original site.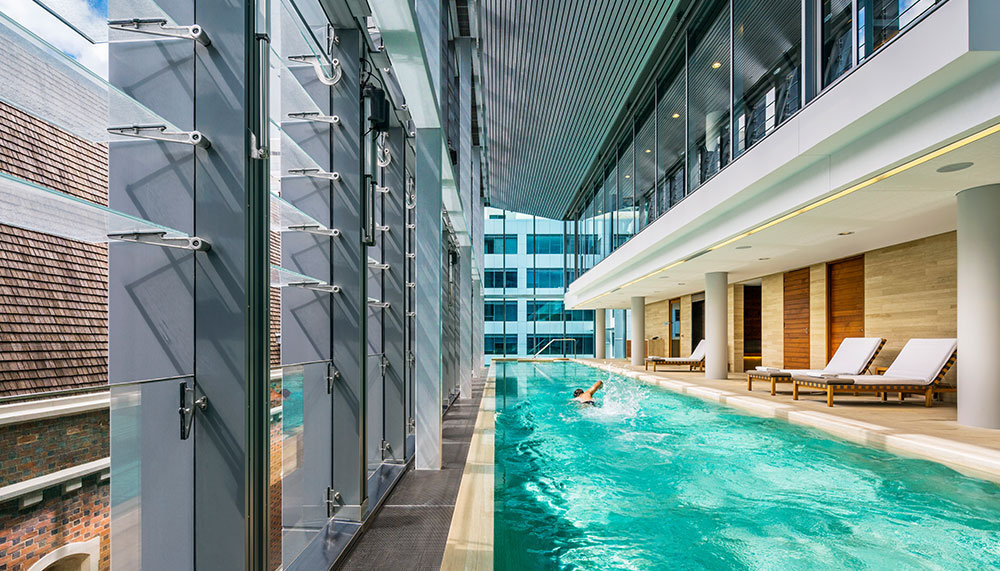 King of the Hill
The impetus of State Buildings' restoration was to create a sophisticated hub serving the needs of residents and visitors stemming from Perth's burgeoning economy. In all respects, Kerry Hill's Como The Treasury represents the apogee of that trend. Housing only 48 rooms and suites, this impeccably elegant hotel embodies the words of Terry Fripp, an associate at Kerry Hill: "Heritage is the art of saving what is useful and beautiful but also updating it for modern use." Guestrooms are a symphony of pleasing textural contrast in a creamy white scheme accented with grey-greens and bronzes seen in Western Australian foliage. The property's all-day dining Post has a conservatory feel courtesy of its skylight, while the dark velvet and woody interior of Wildflower commands sweeping views of the skyline. Como Shambala's fabled spa treatments and yoga studio are the perfect way to complete a stay at Perth's most desirable destination.
Como The Treasury

Como The Treasury

Como The Treasury
---