Living the life
With the first production models of the Rolls-Royce Dawn hitting the roads, one wonders how the newest model range from the venerable marque elevates the act of driving. As Rolls-Royce's long-standing ethos dictates, the carmaker had to ensure that this two-door luxury drophead coupe needed to hit all the high points of an open-top driving experience. 
In this, the vehicle – modelled after Rolls-Royce's Silver Dawn of 1952 – had to achieve luxury benchmarks which the carmaker set for all its car models: unique, handcrafted, exclusive, comfortable and above all, rare. A recent drive through the desert landscape of Dubai didn't disappoint, with highly engaging changes in road conditions displaying the fullness of Dawn's abilities.
Starting off at the dazzling white promenade of The Palm Jumeirah, Dawn's early promise was adeptly demonstrated by the 'silent ballet' of its fabric roof being lowered in a neat 22 seconds – a function which may be operated at speeds of up to 50km/hr. A tailored French Seam minimises wind noise over a raised roof, and is abetted by six layers of fabric for a cabin insulation level that's quieter than any other convertible in its luxury market segment. (The choice of a fabric roof over metal clamshell tops was derived from conversations with customers, who felt there was great romance in listening to the pattering of rain drops on the fabric roof at night.)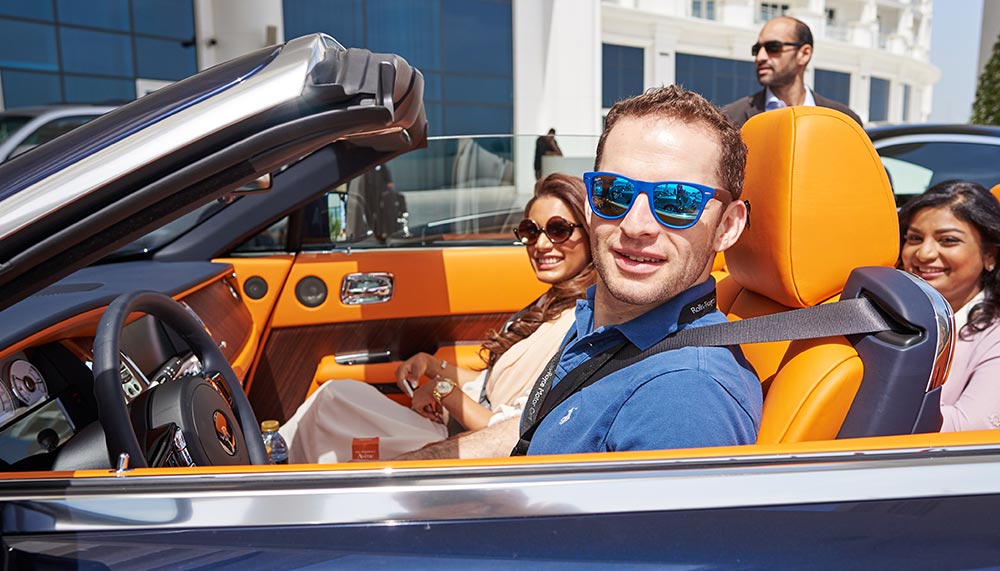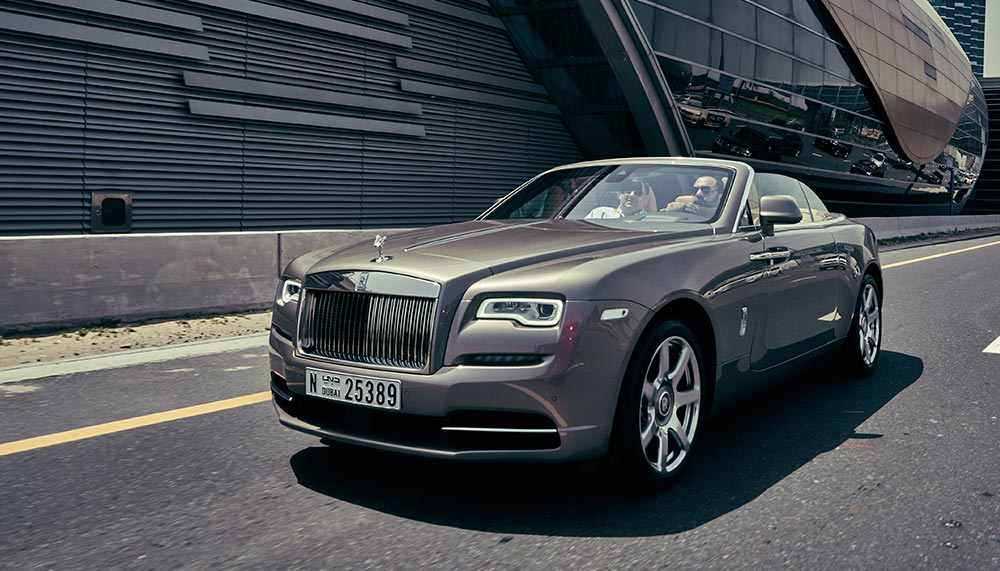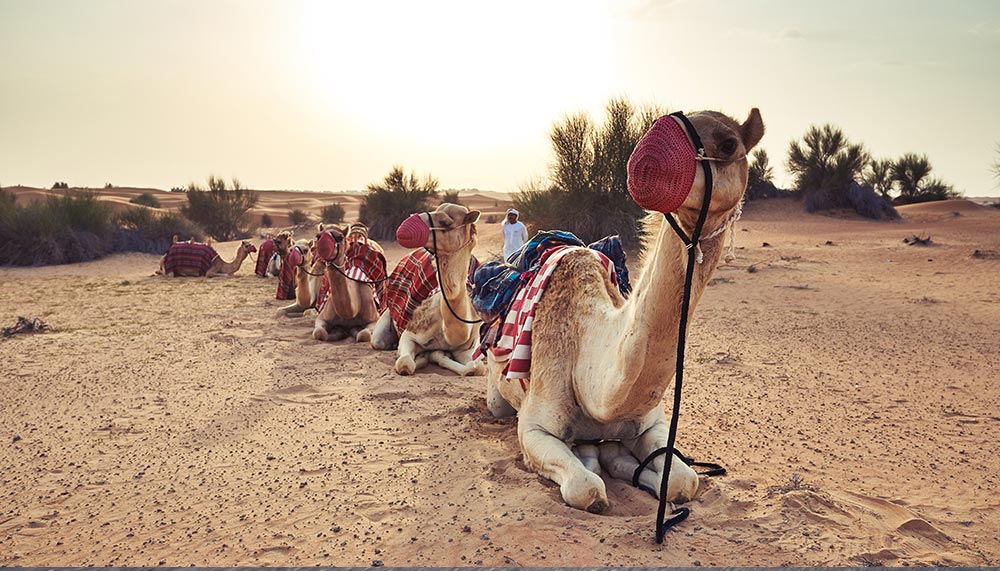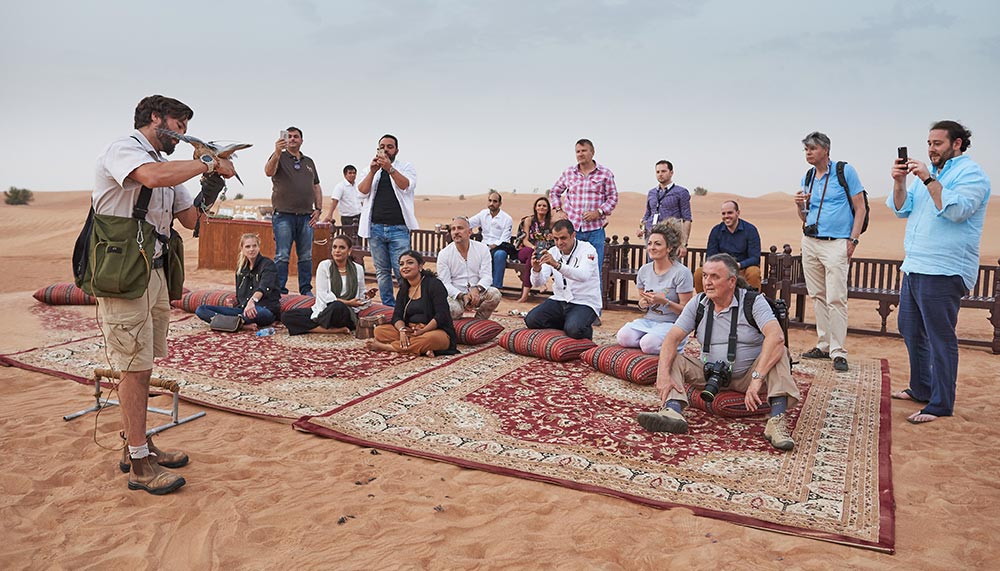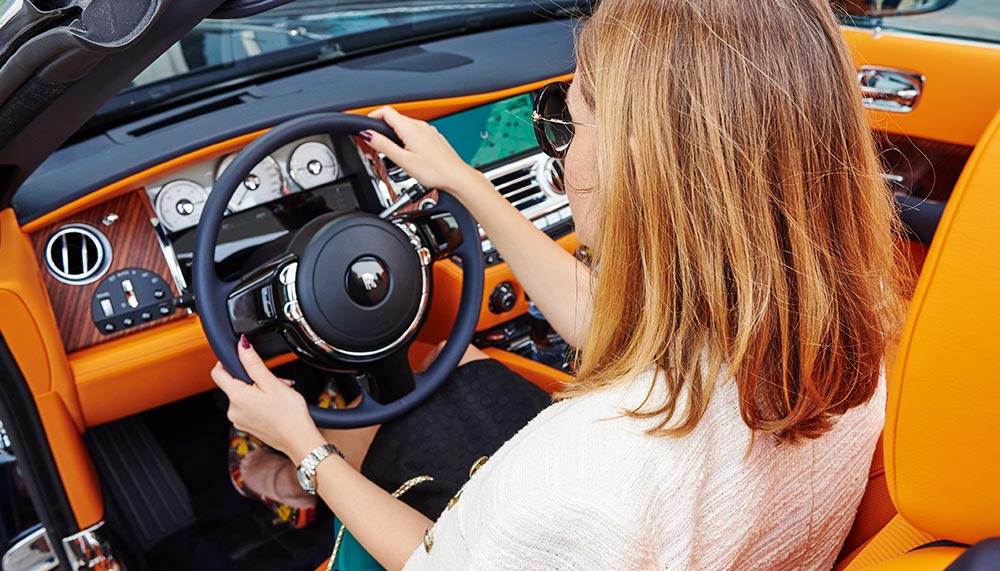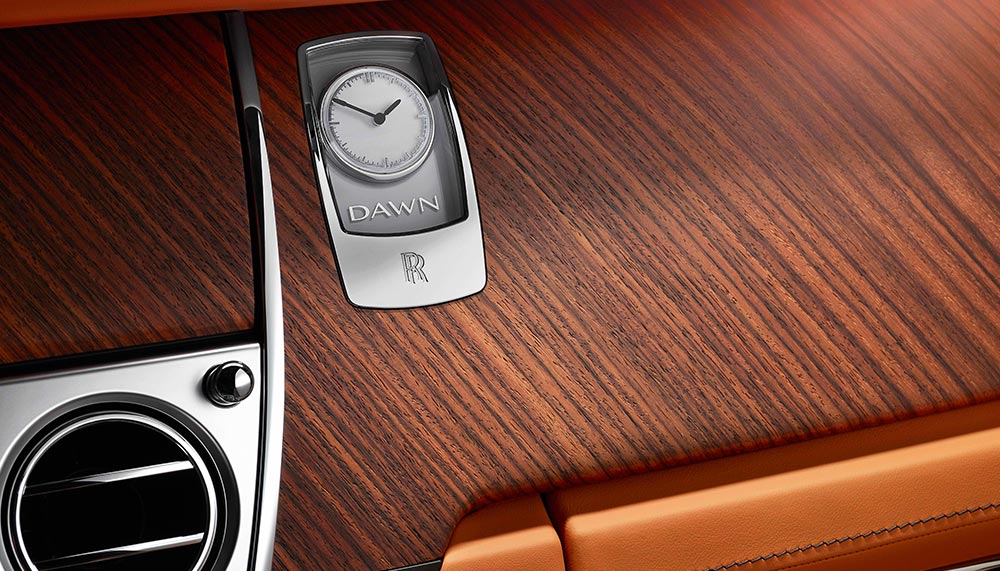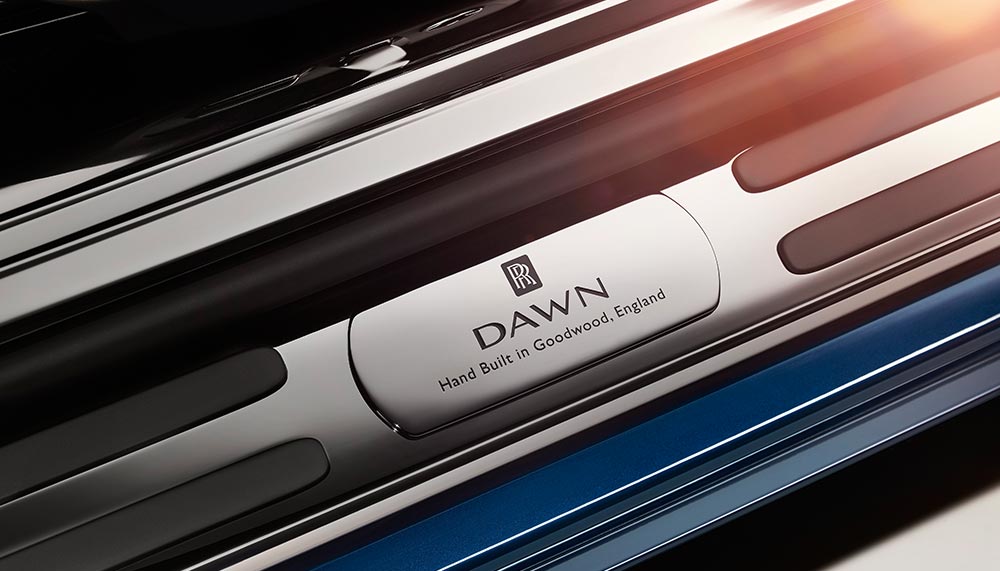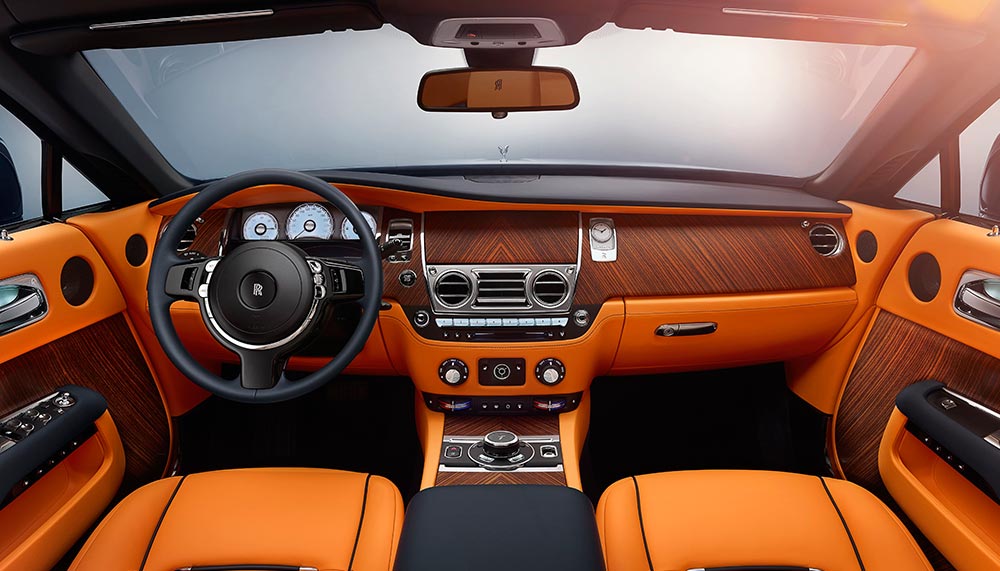 Dawn's magic carpet ride was ably delivered by the twin-turbo V12 powertrain, with its power output capable of 563bhp and a torque of 780Nm. An eight-speed ZF gearbox works in tandem with the same Satellite Aided Transmission (SAT) technology first introduced on the Wraith in 2013. This technology, which comes as standard on Dawn, utilises GPS data to help the car see beyond the driver, providing for seamless shifting and giving you maximum power at all times, for example, holding a lower gear upon exiting corners even if you had lifted your foot off the accelerator prior.
Once out of the city, the highway showed just how athletic Dawn could be. Conceived for a younger and more mobile type of client, Dawn is 30 per cent more responsive than its Rolls-Royce brethren at medium throttle, courtesy of its dynamic accelerator pedal mapping. Despite being 5.28m in length, the vehicle maintains its agility through a tuned suspension with air springs and active roll bars. The carmaker's intention of creating that low-slung 'hot rod' visage on Dawn is achieved through a redesign of four-fifths of its exterior body panels, and wrapping the canopy around the rear seats and over the window tops – thus optically lowering the roofline. The resulting architecture hints at sensuous curves, sweeping shoulder lines and a rumour of edginess in the recessed grille and extended front bumpers. The jazz strains of 16 individually tuned speakers served as a reminder of yet another technological breakthrough in convertible engineering; microphones which constantly monitor ambient noises to automatically adjust volume and tone to eliminate dead spots.
Comfort too, is uncompromised with a two-plus-two seating configuration ensuring capacious legroom for front and rear passengers, even with the added challenge of required space to pack the convertible roof.  The elegant solution by Rolls-Royce to conceal its fabric top was to have its own wood shop craft a horseshoe-shaped wooden deck, to further augment the boat tail design by recalling the elegance of 20th-century British military vessels.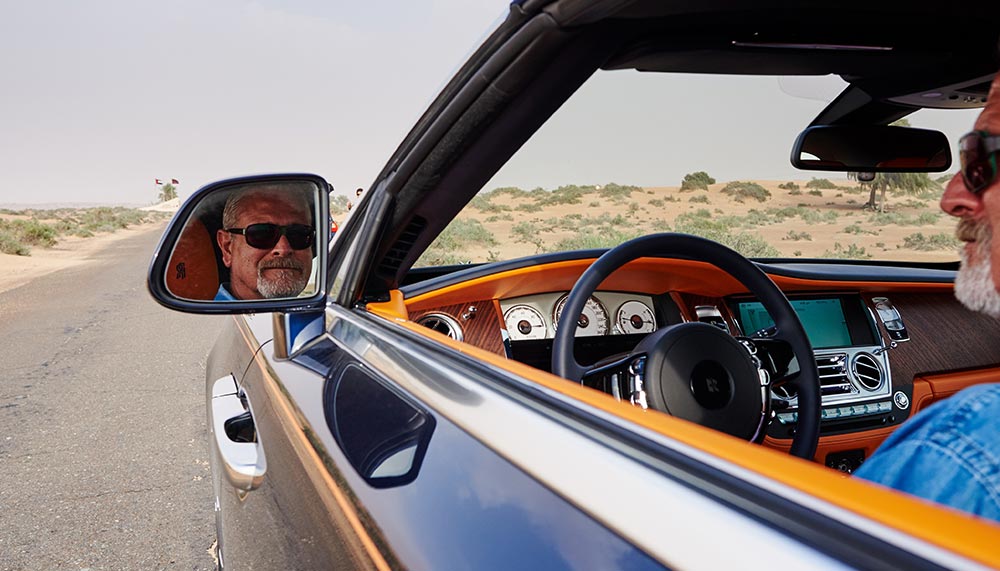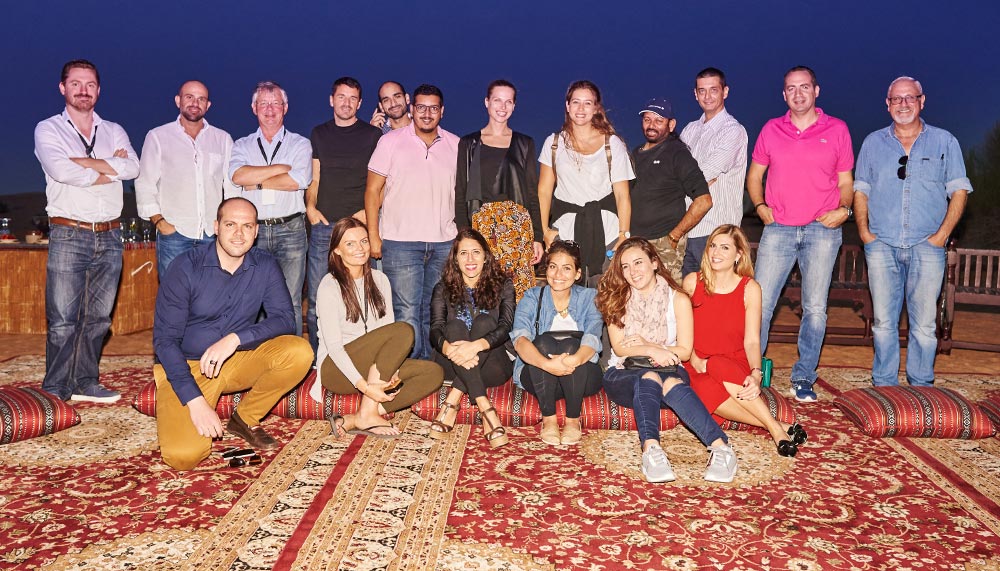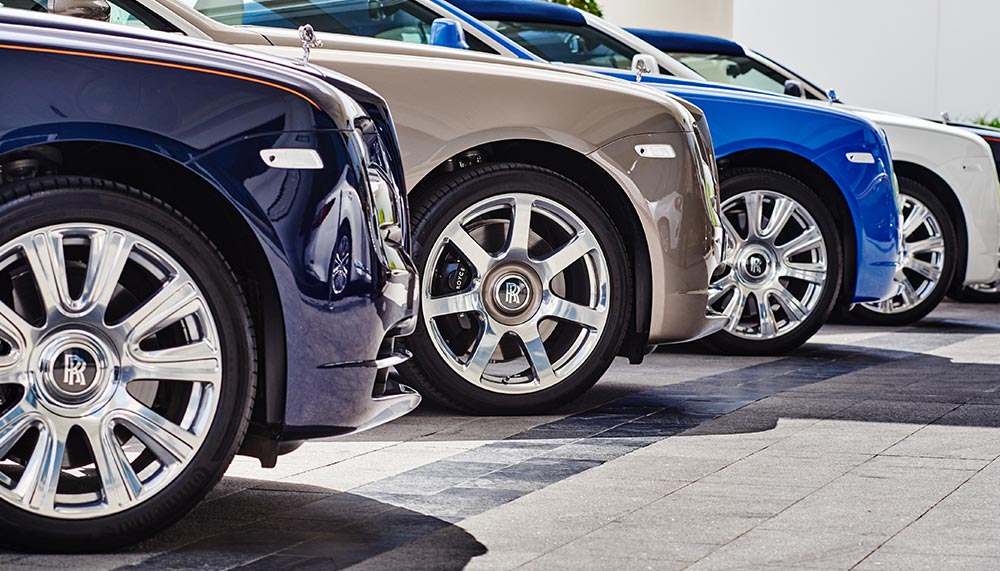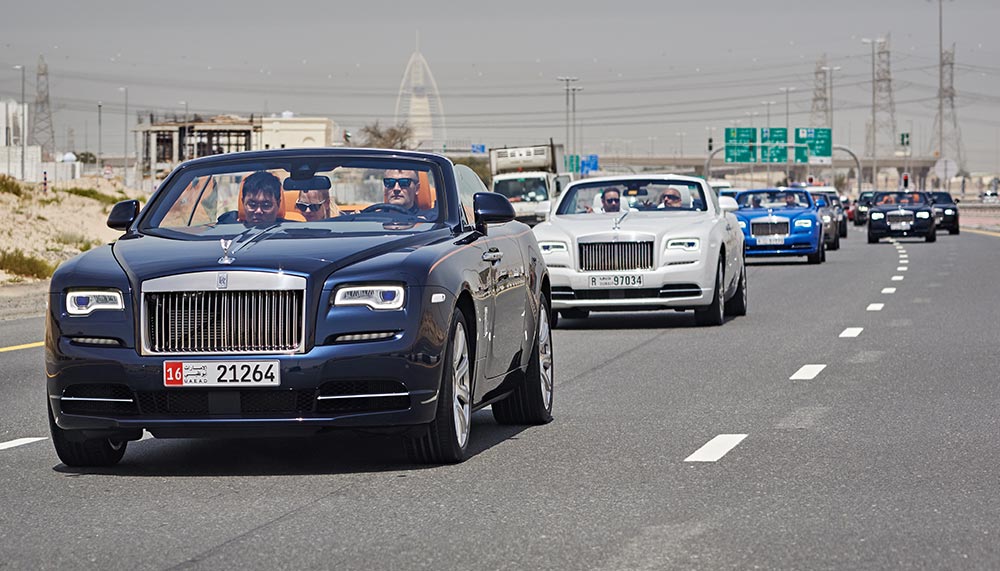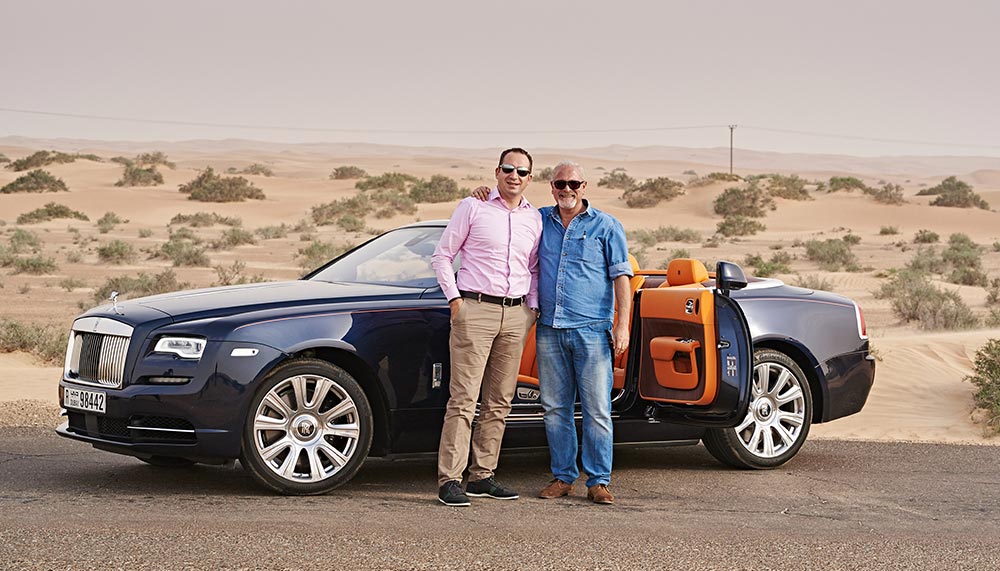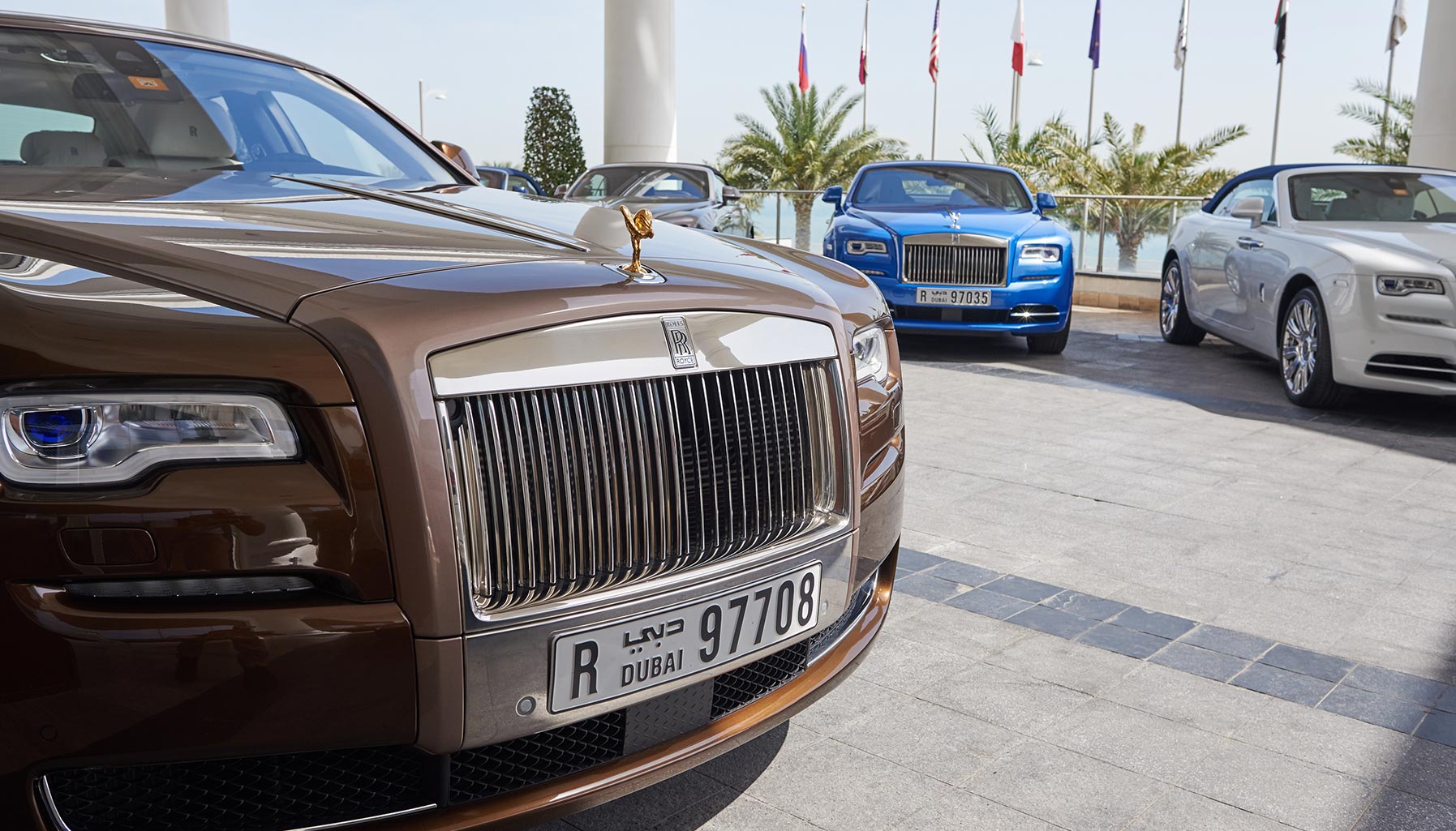 Inside the cabin, the opulence of details is best exemplified by the prowess of its bespoke services. Polished chrome and satin-finished touches abound, from gimballed air vents and tread plates to ashtrays. Automotive tailoring by Rolls-Royce, as it were, guarantees that 'no request is left unexplored'. Thus prospective owners of Dawn may personalise their unique version from over 44,000 external paint hues, countless wood veneer options and leather styles – with the only hard limit being one's imagination.
Soon the convoy of Dawns were on the sand-crusted trail of Murrqquab, an area of desert which had been turned into a conservation area to provide sanctuary for the endangered Arabian oryx. Even with the rougher, sandier road conditions, Dawn never wavered from its imperious, smooth drive. The credit for this lies in exhaustive developmental work on the chassis which created the ideal rigidity – minimising the scuttle shake found on most convertibles.
Raising the top to avoid sweeping desert winds immediately manifested a personal space and quickly hushed the external stimuli. In this suddenly discreet interior, you begin to appreciate the new 10.25-inch high-definition screen, as well as a touch pad that is enabled for finger writing – recognising Latin, Arabic and Mandarin. Just as the car rolled up to the resplendent Al Maha Desert Resort & Spa, an oryx was sighted basking in the shade of a Ghaf tree – a timely reminder of the rarity of its species and perhaps, in some small relation, to that of the Rolls-Royce Dawn convertible.