Sailing back in time
"There's more pagodas than you can count," says Alex, a British passenger standing next to me on the top deck of The Strand's luxury cruise ship. On several hillocks, gold-plated crowns on top of white pagodas glow in the mid-morning light against a deep blue sky. It is day three of a four-day trip up the Irrawaddy River, and we are passing Sagaing, just outside Mandalay, the last royal capital of Myanmar.
The journey begins in Yangon, with a night in the city's iconic hotel, The Strand Yangon. Early the next morning, we take an hour-long flight to Bagan, in central Myanmar. Breakfast is served in the garden of Bagan's oldest lacquerware house. The shop includes a workshop where I watch the intricate, step-by-step process involved in making the handmade lacquerware products. Next, we explore extraordinary pagodas and stupas, of which 2,300 of the original 4,450 remain after centuries of looting, neglect and earthquakes. Still, the temple-studded plain is breathtaking. Marco Polo, who may or may not have journeyed here, described Bagan as "one of the finest sights in the world". It remains true.
We then board the 61m-long Strand Cruise, the colonial-styled luxury ship that is anchored in the Irrawaddy River. The ship mirrors the heritage and elegance of the hotel. I am escorted to my cabin, one of the 28 air-conditioned en-suites ranging up to 40sqm. Mine, like the others, includes floor-to-ceiling windows, a sun deck, king-sized bed, flat-screen TV, rain shower and 24-hour butler service. The rest of the ship is equally impressive, with an outdoor pool, a spa, bar and wine-paired gourmet dining in an elegant setting.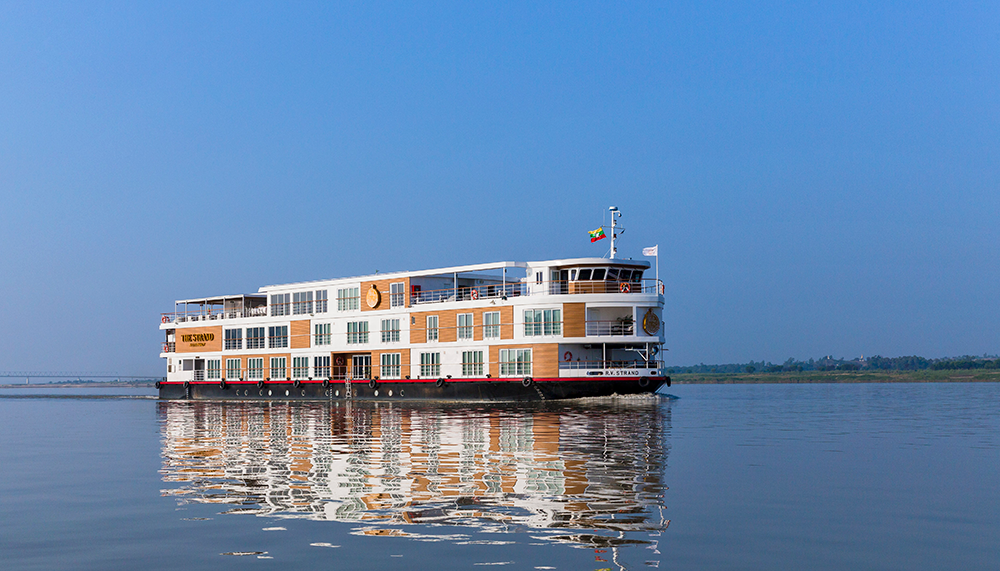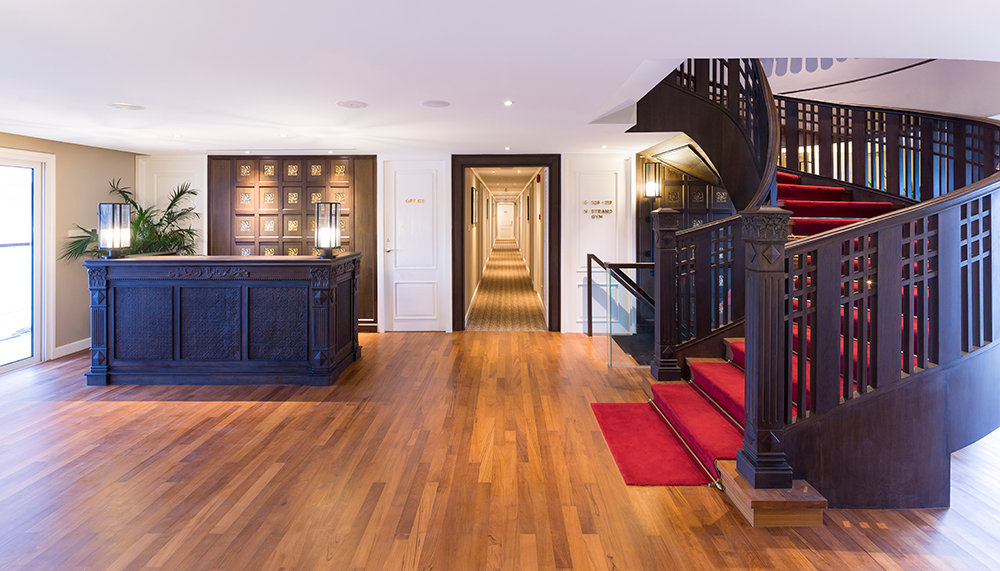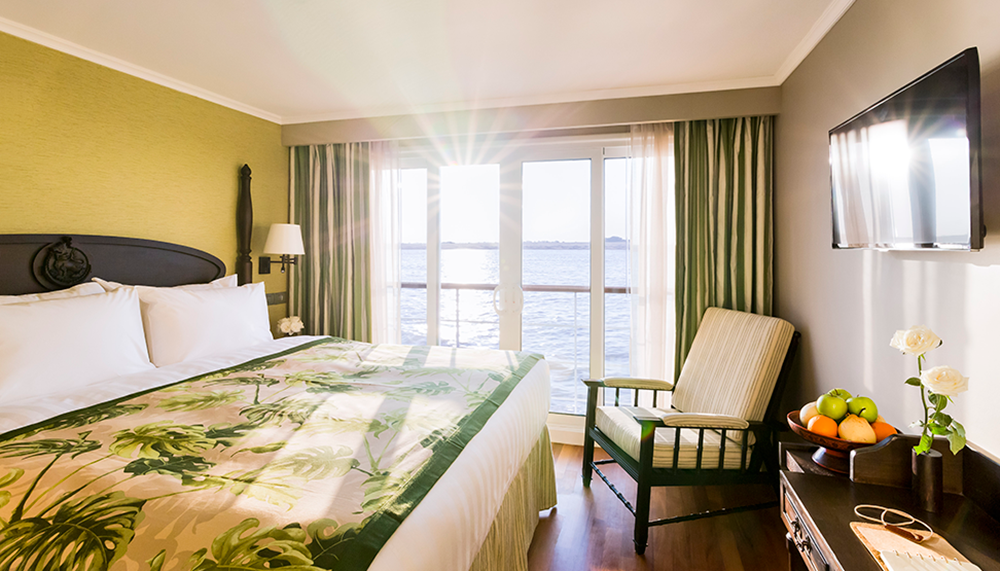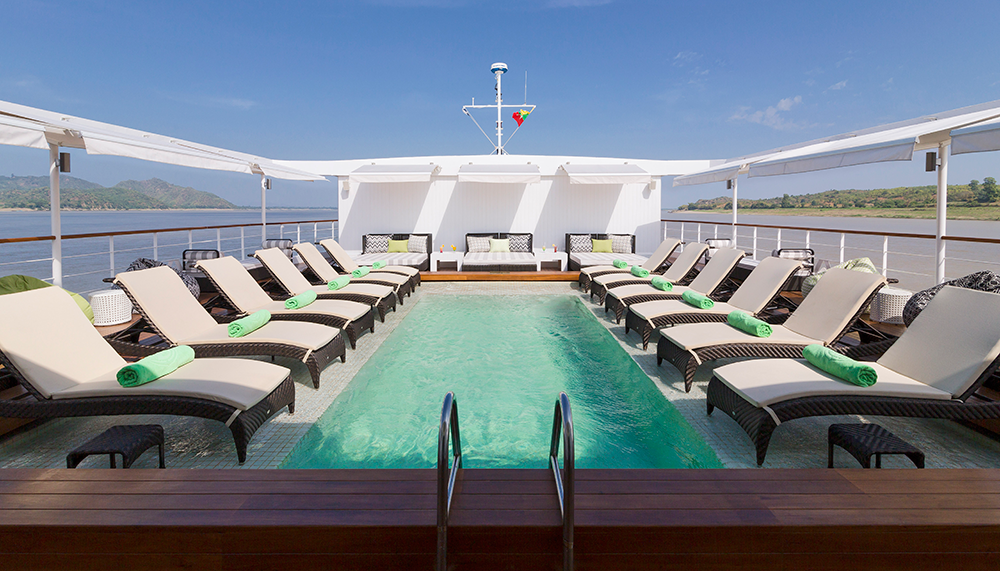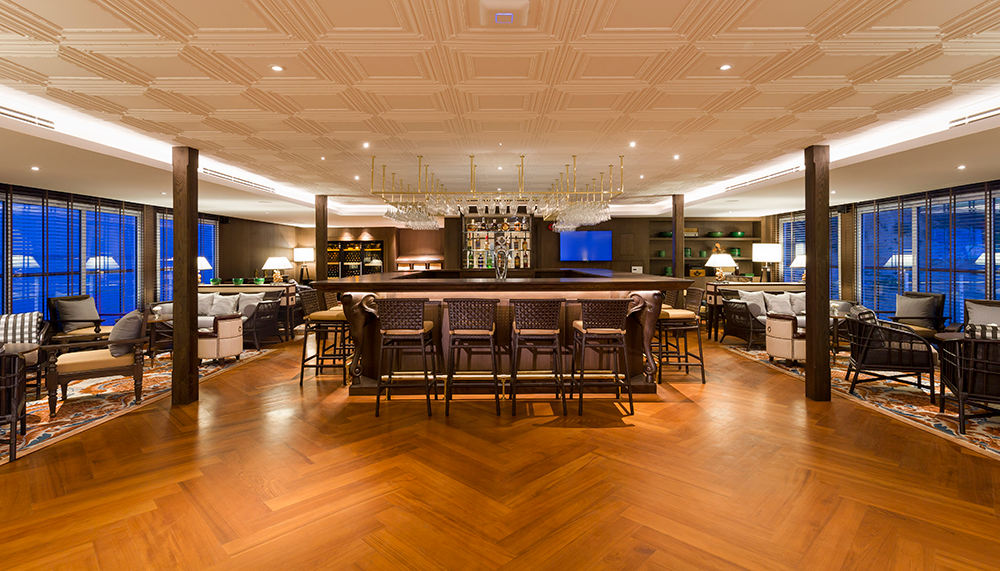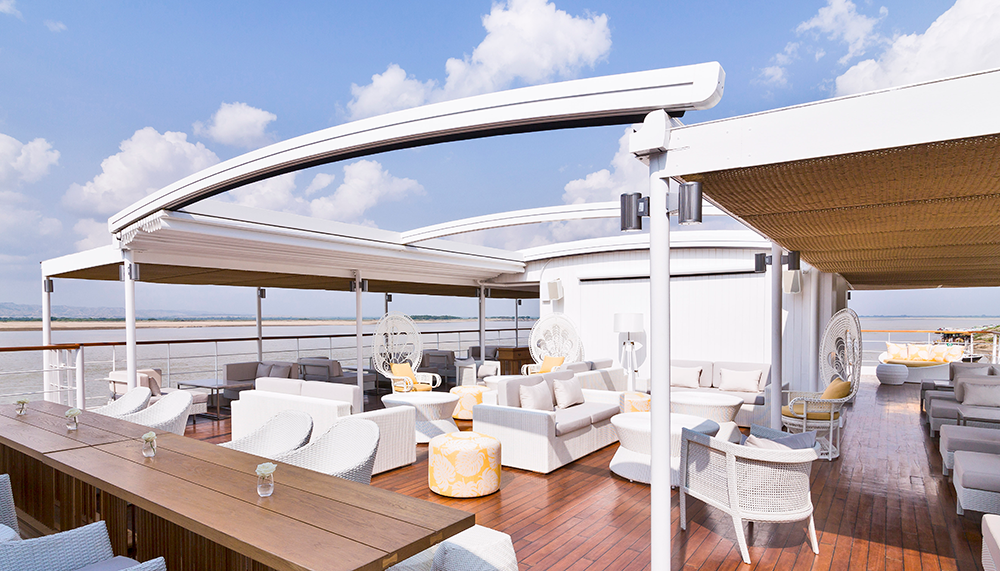 In the evening, we are treated to one of the nightly cultural shows performed onboard. Tonight is traditional dancing, followed by gourmet dining, which we experience throughout the trip.
Day two, for early risers, is an opportunity to see a sunrise from the top of Shew San Daw temple. It contains five terraces, topped with a stupa and bejewelled umbrella. It's a breathtaking 360-degree view of Bagan's ancient pagodas growing lighter in a deep-orange dawn.
After breakfast we sail up the river toward Mandalay. This is a day to enjoy the comforts of the ship. So, from a comfy chair, I watch a landscape of villages and temples that inspired authors and artists throughout history. After sunset cocktails – I opt for a Strand in Paradise – we enjoy an after-dinner puppet show performed by one of the country's puppet masters and his wife. Returning to my room, I find a surprise: a lovely elephant string puppet. Each night is a gift representing the day's activities.
As we sail to Mingun on the third day, there are some onboard activities, including the traditional use of thanakha – swirls of yellow powdery paste which Myanmar women and children wear on their cheeks and foreheads as a sunscreen and cosmetic – and how to wear the sarong-like longyi, patterned and tied differently for men and women.
The little town of Mingun has a trio of unique sites, with the most famous being Mingun Paya, also known as Mingun Pahtodawgi. This massive, incomplete structure, roughly a 73m cube of russetcoloured bricks on a 140m lower terrace, was meant to be the world's largest stupa. But work stopped when King Bodawpaya died in 1819, leaving only the bottom third complete with several deep cracks caused by an 1838 earthquake. Mya Thein Tan Pagoda in Mingun is modelled on the physical description of the Buddhist mythological mountain, Meru.
Next is the magnificent four-metre-high, 90-ton Mingun Bell, said to be the world's largest uncracked hanging bell, and Paya Hsinbyume, a pagoda built in 1816 that rises in seven whitewashed terraces representing the seven mountain ranges around Mt Meru, which, according to Buddhism, is the centre of the Buddhist universe.
On our final day we arrive in Mandalay. Our first venture is to Kuthodaw Paya, at the foot of Mandalay Hill. This large 19thcentury complex has an eight-metre-tall Buddha carved from a single block of marble. It houses 730 marble slabs inscribed with Buddhist teachings. Each slab is 1.07m wide, 1.5m tall and 13cm thick.
Next is Mahamuni Paya, a popular place for pilgrimages and religious celebrations. The highlight is a highly venerated sitting Buddha, claimed by some to be 2,000 years old. Over the years, the faithful have thickly coated it completely – except for the face – in pure gold leaf. Then we visit Shew In Bin, a beautiful monastery built entirely of teak.
After lunch, we travel in horse carts along rural paths to Inwa (Ava), the country's ancient capital for over 650 years. It's a quiet place of ruins, stupas and open fields. We then stop at a local tea house for some traditional tea before returning to the ship. Next morning I fly back to Yangon for another night at The Strand, before returning to Bangkok.
I leave with souvenirs given and bought. But the most precious takeaway is the unforgettable memories of a fabulous trip and the friendly staff that made it possible.