A match for masters
Finding the right timepiece to fit a personality is easy. Richard Mille's brand ambassadors, however, don't pick an existing piece – one is created for them. Each sporting icon chosen exists at the pinnacle of their respective fields; as such, wearing anything less than the best would be unbecoming of their prestige. 
The zenith of Richard Mille's fantastical timepeices lies in their highly robust and seemingly impervious tourbillons. The oft-repeated anecdote to this is Theodore Diehl – the spokesperson for Richard Mille today – who recounts his first meeting with Mille at Baselworld as a watch journalist, and was subsequently challenged to hurl one of his tourbillons across the room. Diehl declined but Mille decided to do it himself. Impressive and impervious, words that capture the spirit of both the watches and the sportsmen who wear them.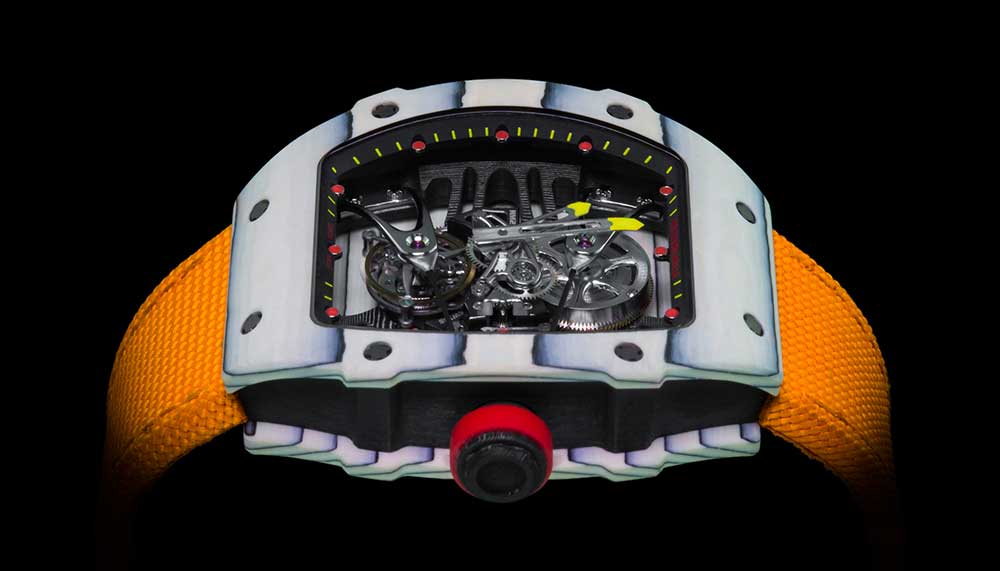 RM 27-02 Rafael Nadal
Unveiled in the run-up to the 114th French Open, this manual winding tourbillon was the first instance of caseband and baseplate being formed of a single piece. The primary material itself is unique to horology: layers of quartz sandwiched between carbon at various orientations and heated, a method of case construction from the aeronautical industry.
This unique construction endowed the RM 27-02 with exemplary rigidity, high temperature resistance, transparency to electromagnetic waves and overall high strength. The true test of these claims, of course, happens when 14-time Grand Slam singles champion Nadal adorns it on his wrist for international matches.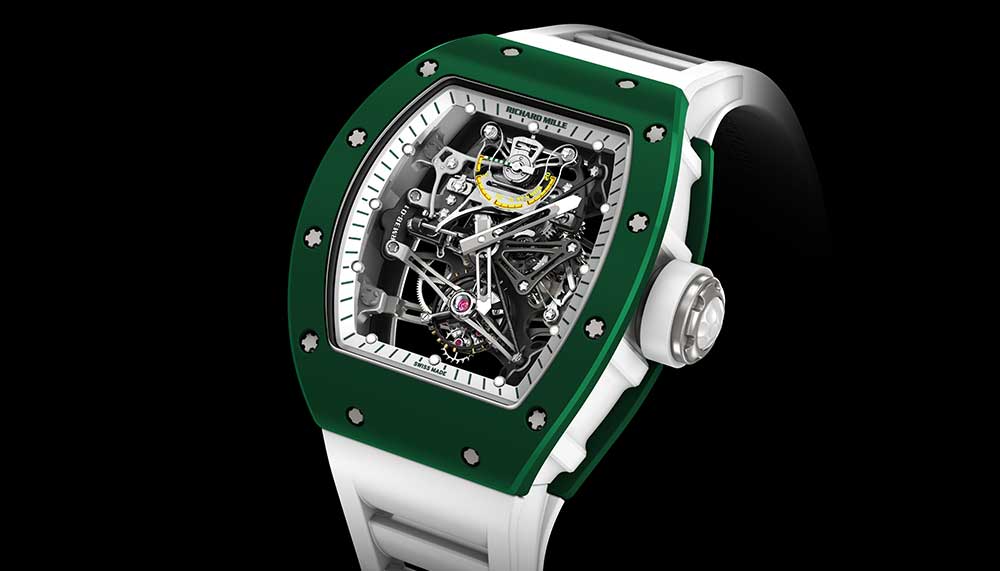 RM 38-01 Bubba Watson
Two-time Masters Tournament winner and southpaw Gerry Lester "Bubba" Watson, Jr's latest timepiece matches the striking green of the coveted jacket from Augusta. After the initial RM 038 and RM 055 collaborations, the RM 38-01 adds a G-force sensor to measure and display the power of Watson's swings. A figure likely to be substantial, given that he can drive a ball over 320m at up to 305 kph.
The sensor measures a scant 17mm despite being composed of over 50 parts. A needle on the scale at 12 o'clock indicates the G figure attained — up to 20 Gs through the principle of weight displacement, and is reset via a push-piece at 9 o'clock.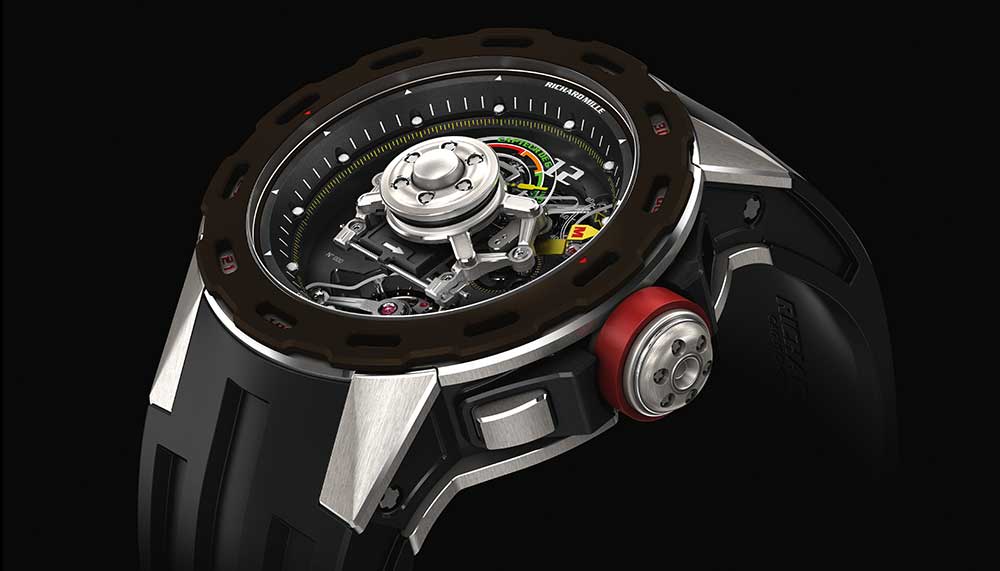 RM 36-01 Sebastien Loeb
Motorsport's elder statesman and off-road specialist Sebastian Loeb is no stranger to the thrills and spills of a bone-jarring rally. On his wrist, one finds the RM 36-01 that is equipped with a G-force sensor. Unlike the RM 38-01, this timepiece enables a manual rotation of the sensor to more accurately measure forces in different directions, necessary for the constant vector changes.
The most successful driver of WRC history however need not fumble for the reset pusher, as it protrudes out of the centre of the sapphire glass. At the 2 o'clock, an analogue power reserve indicator ensures that Loeb, or any other owner, knows how much longer he can keep track of time as he decimates the competition.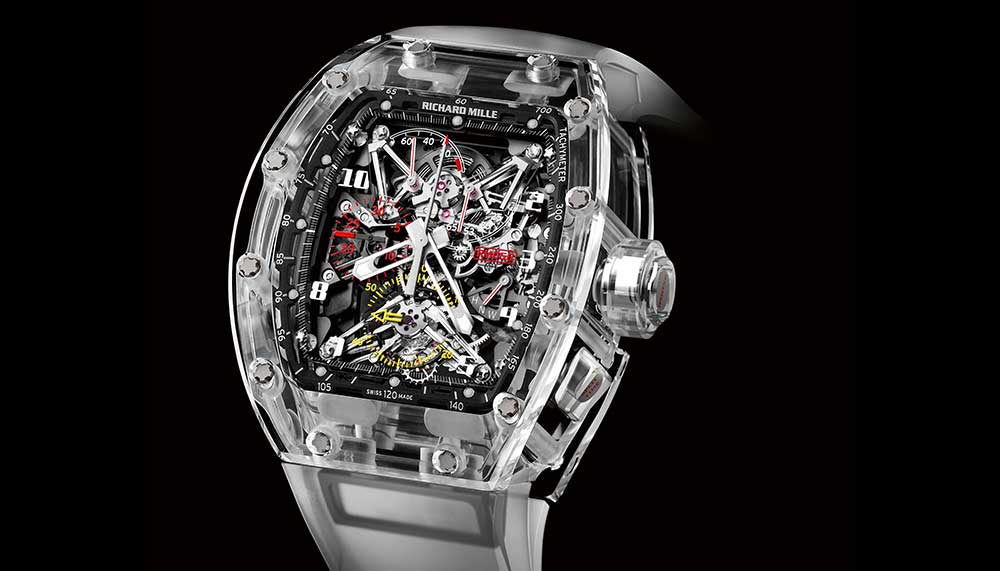 RM 056 Felipe Massa
Williams ace and Richard Mille's first-ever brand partner Felipe Massa's day job as a Formula 1 driver almost mandates a racing machine on the wrist. The inner workings of the RM 056 are visible through a sapphire crystal case — a construction that requires over a thousand hours of machining — with a function selector reminiscent of an automotive gearbox. The result is an almost completely scratch-proof piece. Its high-performance calibre also ensures the chronograph hands are unerring, without the initial jump when the seconds hand is started.
The most well-known anecdote concerning Massa and a Richard Mille timepiece is undoubtedly his crash at the tail end of the 2004 Canadian Grand Prix. Telemetry shows his car undergoing a record-approaching 113 G of deceleration; but he walked away with his RM 006 still keeping accurate time.
---