Historic time
The emerald cut has always had a special place in the house of Harry Winston. When Mr Winston founded his eponymous boutique in 1932, his business was based on acquiring estate jewellery, then re-cutting and re-setting them to create wholly new and exceptional masterpieces. He had a definite favourite cut – the emerald cut. Winston deemed it the most flattering for the precious gems he acquired and used it so often that it soon came to be strongly associated with the brand. Today, even the Harry Winston logo hints at this preference, with the letter "H" and "W" framed within a rectangle that has its four angles truncated so that it is reminiscent of the outline of an emerald-cut gem. 
At this year's Baselworld fair, the American jeweller unveiled the Emerald collection, a new range of timepieces that uses the house's favourite shape to great effect on elegantly proportioned cases. Measuring nine by 15.55mm, they come in 18-carat white or rose gold and sparkle with 53 brilliant-cut diamonds.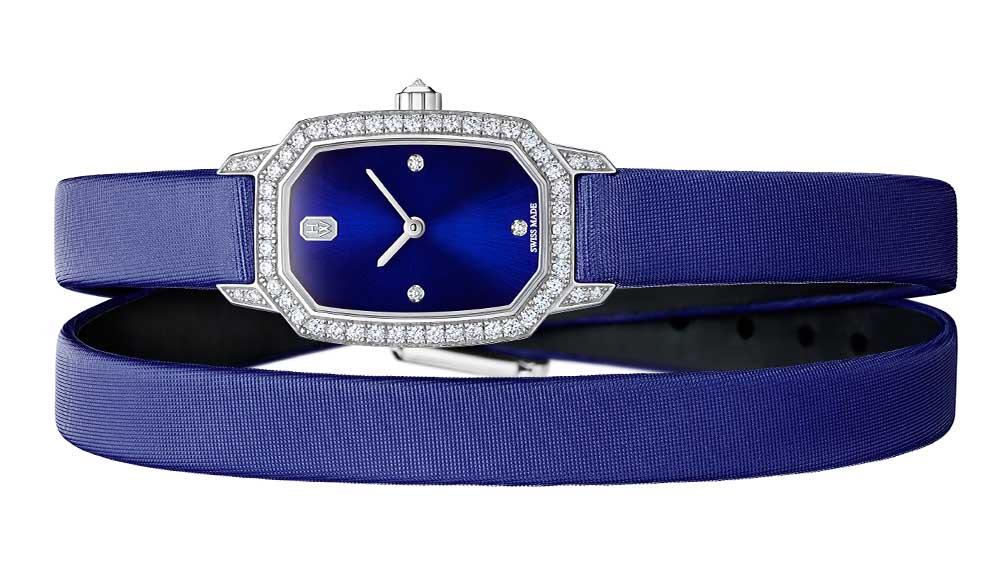 Most significant is the variation with the blue satin sunburst dial. Like the emerald cut, blue is a colour that is important to the Harry Winston legacy. As an avid collector of the world's most prized diamonds, Winston acquired the notorious Hope diamond from the estate of American socialite Evalyn Walsh McLean in 1947. The diamond was notorious because while it won the hearts of many a wealthy collector with its rare vivid blue hue, almost every one of its owners came to a bad end, prompting people to believe that the gem was bad luck. Winston, however, had little regard for the rumours, and famously brought the diamond with him on his travels – and survived every single trip without a hitch.
It is this extraordinary story that the brilliant blue of the specific Emerald timepiece alludes to and when combined with the unique emerald-shaped case, the result is an elegant watch that encapsulates Harry Winston's rich heritage.
Harry Winston Emerald Collection