Island chic
This month, the cruise line collection by eight emergent Malaysian designers will debut on fashion racks, in particular, at the plush five-star resort boutiques of Langkawi. This range of apparel and accessories was previewed at a Langkawi fashion cruise line presentation, with royal patronage by Her Highness Tunku Panglima Besar Kedah, Brigadier-General Tunku Puteri Intan Shafinaz Sultan Abdul Halim.
At The Datai in Langkawi, its award-winning Malay restaurant Gulai House was transformed into a catwalk for the cruise line presentation to specially invited trade partners. "As the fourth installment of this fashion cruise line, we hope to give a platform to champion Malaysian labels and designers, enhancing their commercial viability through marketing and developing products which are commercially viable," says Faisol Abdullah, managing director of Alfa Creative, which organised the event.
First up on the catwalk was the fantastical jewellery and accessories collection of 108, named after a particular villa at The Datai. Designer Yume Kuribayashi drew inspiration from her numerous visits to The Datai and its rich biodiversity. Her Mother Earth collection comprises semi-precious stones sourced by suppliers in Tokyo and realised as colourful combination necklaces and medallions at ateliers in South Asia.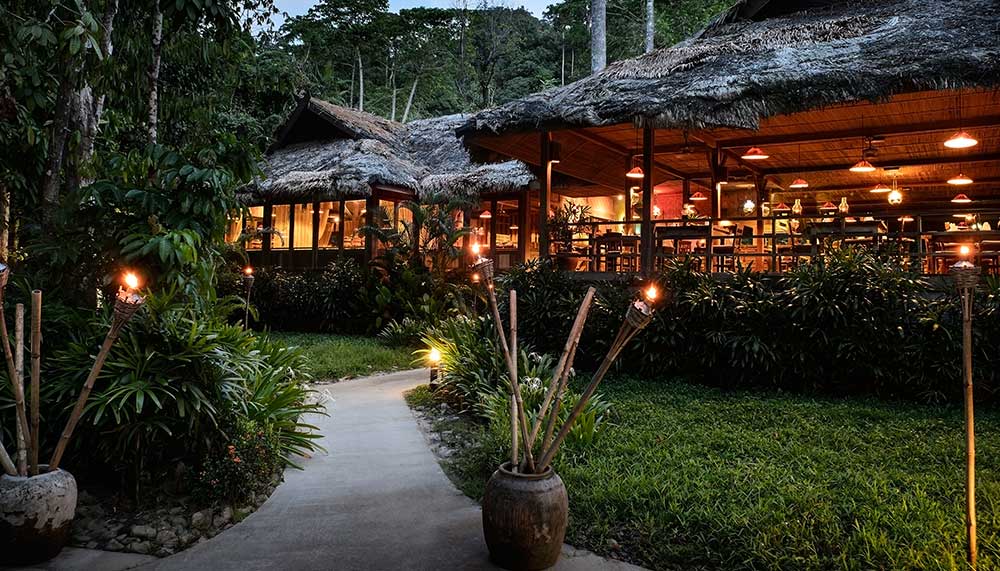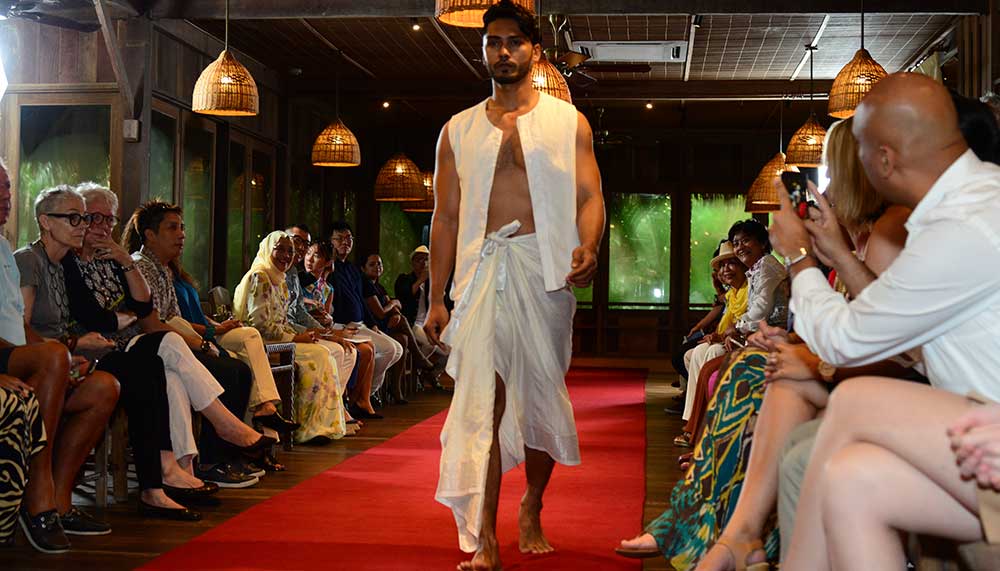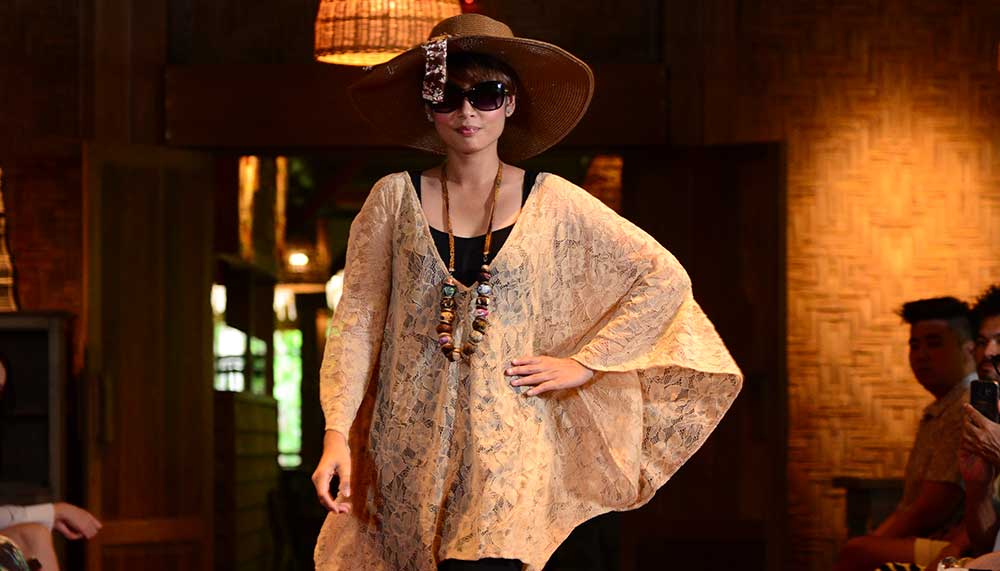 Ruzz Gahara, one of the biggest names in Malaysian fashion, was up next with Gilded 2017 – which also showed at last month's Paris Fashion Week. Both its ladies and men's offerings (from RM800) showcase contemporary batik motifs, referenced from a trip to Brazil. Designer Hanifi Triff was greatly influenced by the architectural genius of Oscar Niemeyer and the panache of flamenco dance. Triff – a trained architect himself – says Gilded 2017 is purposefully composed to offer a unisex appeal, with the fluid swirl of patterns and shapes on the apparel.
An entire spectrum of white is explored through Arjuna (Sanskrit for clear or white). Chef-cum-fashion designer Adu Amran – who also featured on the jury of MasterChef Malaysia – originated this collection under his Aduh! by Adu label.  Arjuna is a series of six looks created out of Italian linen, sea island cotton and silk, all of which are painstakingly hand-sewn by Amran's sister – an accomplished seamstress with over 20 years' of experience. Malay elements of tailoring appear in Arjuna, such as collar stitching and also skull crochet, alluding to Amran's lineage of sea pirates.
A stalwart of the Malaysian batik scene, Pink Jambu's three decades in fashion design has refined hand-painted fabrics as unique masterpieces. Its Teratai resort collection – drawn from founder Tengku Marina Ibrahim's fascination with a relative's lily pond – is an assured execution of floral patterns on cotton voile, satin silk, chiffon and crepe de chine, matched with espadrilles and batik-lined water hyacinth bags.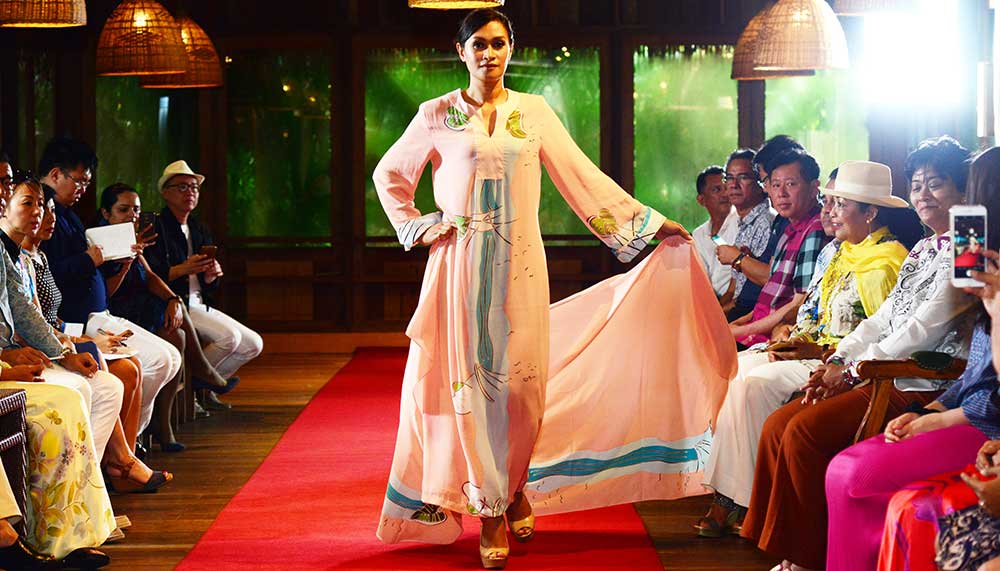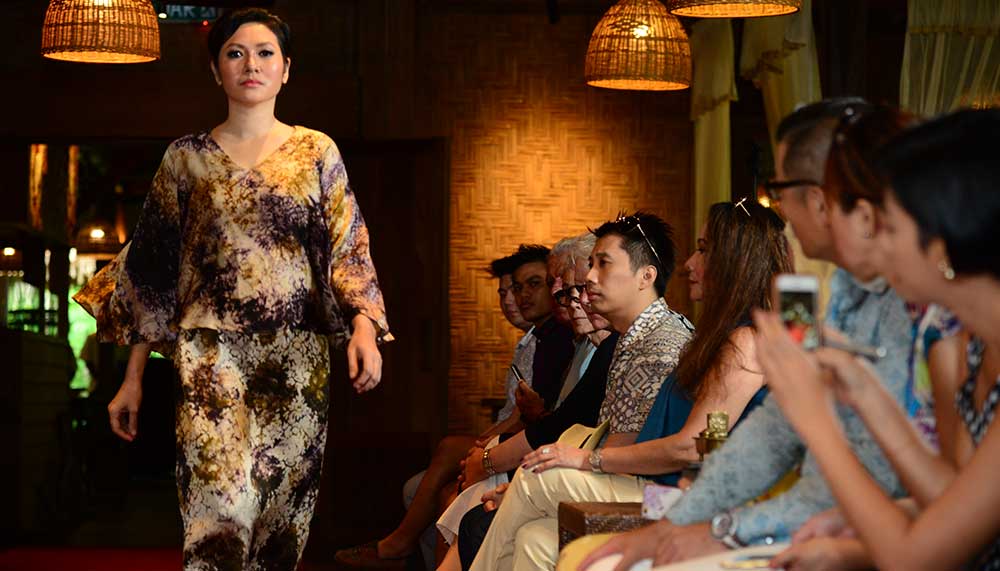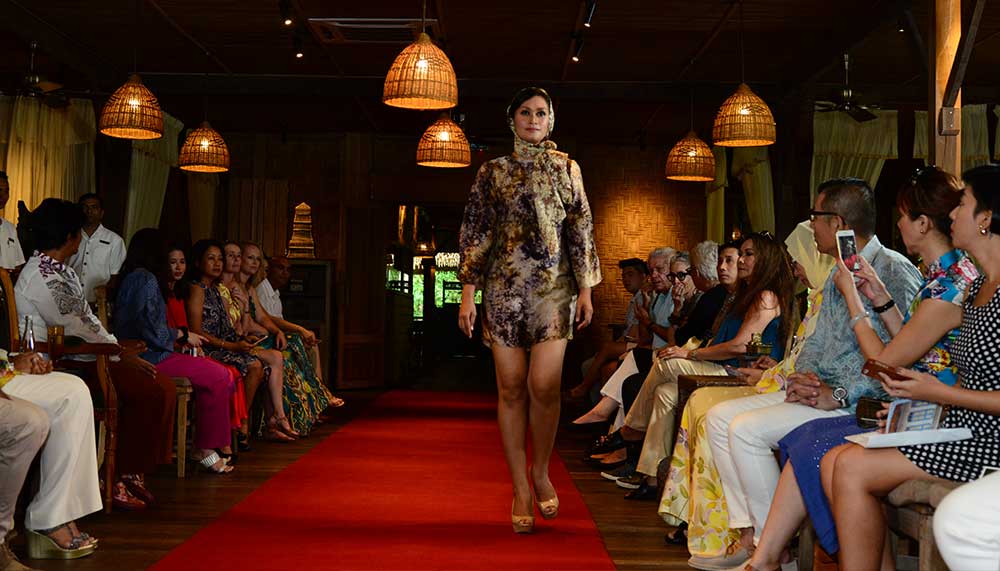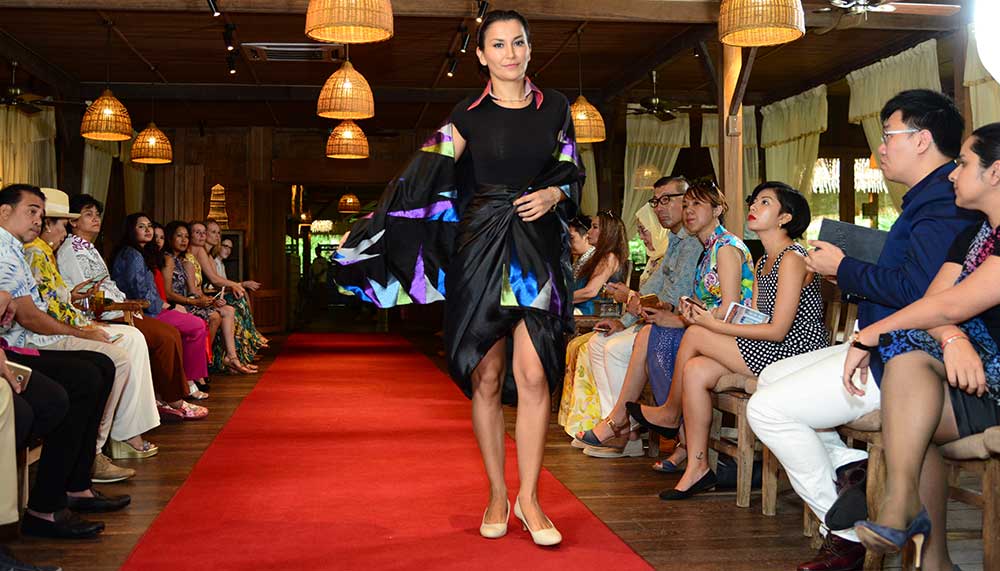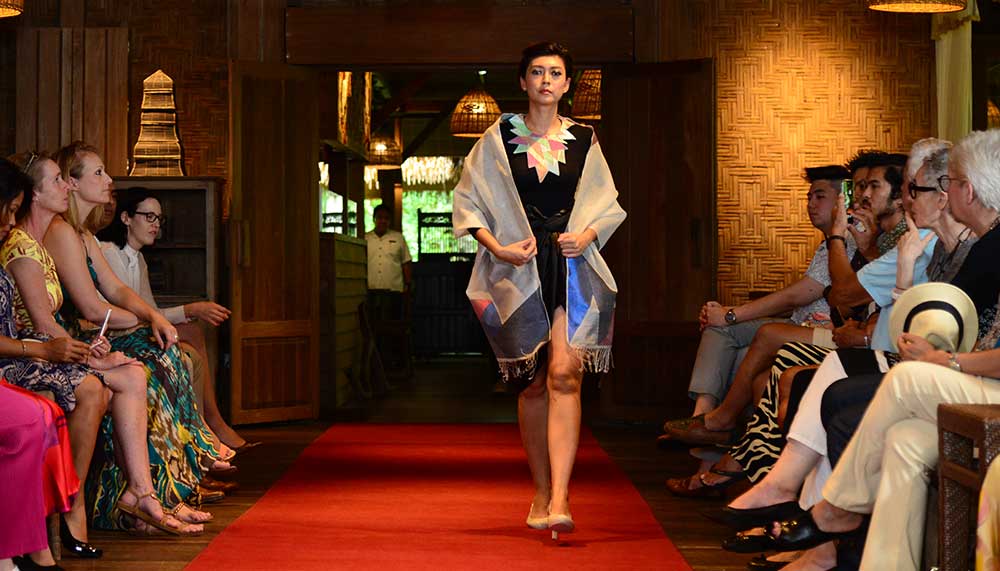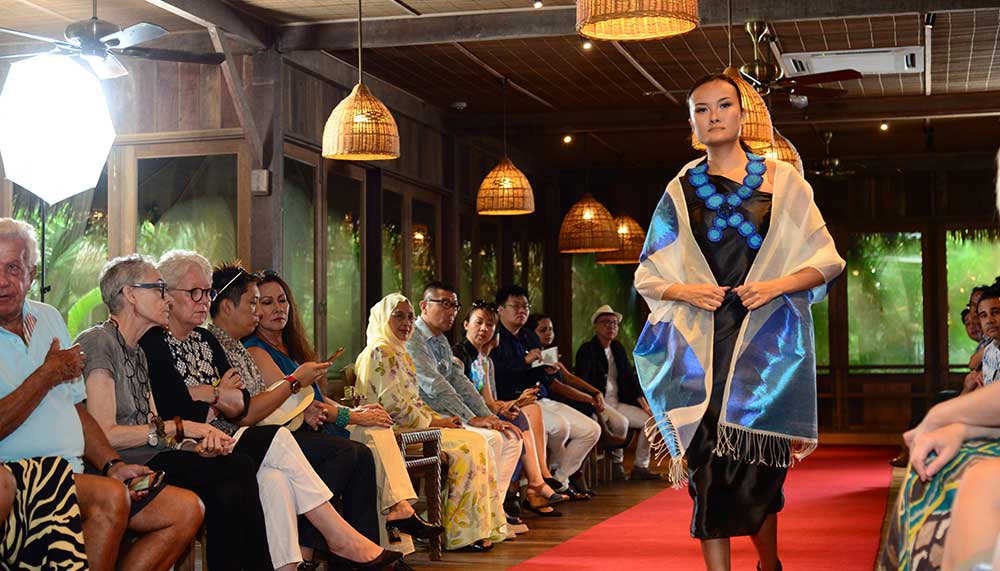 Hollywood glamour is recalled in the line of kaftans and resort wear by Cherita. Its designer Mohd Zulkifli Mohd Yunus is a Kuala Lumpur native who has adopted Langkawi as his home since 2004. His cruise line Cherita for the Beach prioritises Langkawi style through chiffon and cotton to suit tropical island weather. He then adds lace, dramatic sun hats and bags to create the total look, even with the sand between your toes.
This season's Bajau Swim Sports from O.lanun is derived from its understanding of South-east Asian cultures – ranging from straits Chinese to Indonesian batik. This melange is then incorporated into its Bajau shorts, an above-knee polyester construction with internal drawstring and zipped rear pockets. The quick-drying nature of this apparel also enables seamless transitions from the beach to the bar.
The precocious talents of Nur Hidayah Saad, who founded the Ked Depo label, comes to the fore in Sejambak, her cruise line offering. A Langkawi native, Nur Hidayah started her own tailoring outfit and Sejambak, like her collections before, channels the island spirit through inspired tourist wear; loose cutting for free-sized and flowing outfits – ideal for packing and the weather.
Rounding off the Langkawi cruise line is Tanoti – a Kuching-based boutique songket atelier. Its community of about 20 artisans and the direction of creative and technical director, associate professor Dr June Ngo, has contributed to Tanoti's meteoric rise and market cachet, which most recently saw it winning the World Craft Council Award of Excellence this year. A dextrous use of filament silk and cutting-edge designs in its latest Luminesque collection weaves the colours of peridot, aquamarine and sandstone into a shimmering array of shawls, collars and necklaces. The same collection was also presented to fashion mavens at last month's Paris Fashion Week.