Sublime Beauty
In January this year, award-winning journalist Christoph Scheuring debuted his new book 'Signs of The Times'. This novel is set in Saxony circa 1830s and was inspired – in part – by the inspirational figure of Ferdinand Adolph Lange, celebrated in Saxony's history as an entrepreneur, watchmaker and visionary. In Scheuring's prose, he credits Lange with this quote: "Clock making is the marriage of feeling and calculation. Of passion and clear thinking. And at the end you have a piece of work in your hand whose perfection you can measure and whose silent beauty only reveals itself to the expert eye. And then there is the miracle of the moment that comes when you have been working on a clock for many hours and a piece of metal suddenly springs to life. There is nothing like it in the whole world."
Revived following the interregnum of Germany's partitioning, A Lange & Sohne's uniquely constructed timepieces – in the vein of its historical predecessors – led to newfound appreciation amongst the watch-collecting cognoscenti.  Blued screws, gold chatons, Geneva striping and hand-engraved balance cocks on its present-day pieces recalled Ferdinand Adolph Lange's original pocket watches of inordinate beauty.
In the wooded town of Glashutte, picturesque with cobblestones, conifers and gabled roofs, Walter Lange, the great-grandson of Ferdinand Lange had reclaimed his family legacy in 1990. Its stratospheric success since included six successive record years in the lead up to this year. August 26 last year saw the manufacture unveil its expanded wing, in a glittering event inaugurated by German Chancellor Angela Merkel.
The A Lange & Sohne facility in Glashutte

The expanded wing of the manufacture was opened last year by German Chancellor Angela Merkel

A history of A Lange & Sohne
Today, its 5,000 sq metres of production space and 600 employees work in an optimised environment for watchmaking. Wilhelm Schmid, the company CEO, is justifiably proud of the geothermal heat and cooling system which has been installed. "It's fully sustainable and produces zero emissions." The genius behind this is 57 boreholes, each of which reach into a depth of 130 metres. Here, it comes into contact with stone that possesses the capability to store heat. In summer, electric pumps transfer heated water from the manufacture into the cooler rock while in the winter, the extra few degrees of heat stored in the rock is recuperated to heat up the building. Even the electricity to power the pumps are purchased from utility companies generating from renewable energy sources. "It will take 25 years for this to pay off – but it's such an easily operable system that will work forever," Schmid enthuses.
This sort of long-term thinking is a clear sign of Lange's intent to stay, just as it reckoned with the new building. "Having everything in one place means we have less to deal with, in terms of dust and virtually no particles, as we eliminated unnecessary transfers," Schmid points out. "In future, this enables us to further streamline our checkpoints in quality control."
Lange's lofty position in fine watchmaking is, in part, due to its anomalous state of being able to develop and engineer all the important components of a timepiece. Its mastery over the critical balance spring is a feat which is shared by only a handful of its contemporaries – Nivarox, the industry giant in balance spring production, holds a virtual monopoly. This capability alone is high achievement given that a thousandth of a millimetre variance on the balance may result in up to 30 minutes of deviation in a day.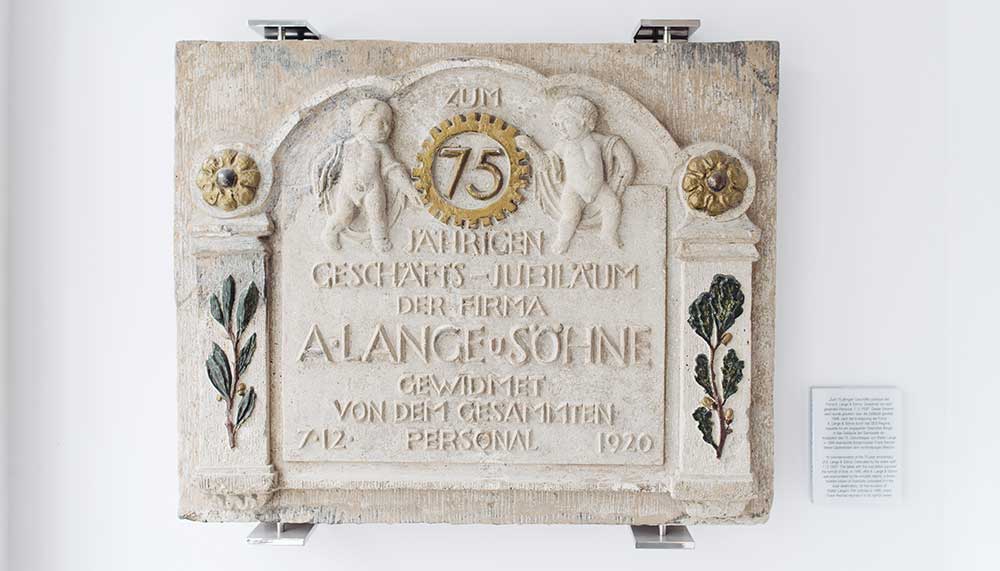 A cursory observation of Lange's self-sufficiency points to its geographical location – away from the Swiss cradle of watchmaking. This is also why it has been able to accomplish some singularly unique feats such as developing a balance screw three times finer than a human hair. The reward of this lies in its freedom to focus on great ideas. "We don't need to think about starting from a movement or adding modules when developing a new piece," Schmid starts. "We begin with the best, the craziest ideas and that slowly becomes a watch, involving in-house designers and constructors."
Welcoming guests at the production facility is the bust of Ferdinand Adolph Lange, a one-time mayor of Glashutte. Next to his bust is a notebook of his, filled with tiny inscriptions and observations from his journeyman phase when he visited Paris and other European capitals. In one area of the facility, the Zeitwerk department is composed of 14 watchmakers and two specialists who are tasked specifically on the minute repeaters. This watchmaking team is also charged with servicing.  As one of the most resolutely powerful timepieces around, the Zeitwerk relies on a rementoir system to gather, hold and release energy needed to precisely move each digital disc in 60-second bursts. Such perfect operation necessitates 250 oiling points, most of which occurs in this room.
On the third floor, the high complications department sees individual watchmakers spending between a fortnight and up to six weeks to complete each movement – depending on the severity of the piece. The Terraluna – with its orbital moonphase and perpetual calendar – averages about six weeks in assembly.
Of course, the key to this – and a satisfaction guarantee for clients – is that assembly doesn't occur once but twice for every single timepiece by A Lange & Sohne. Once full functionality has been ascertained, the entire movement is disassembled and cleaned. Gold chatons take the place of screws and a fine polish eliminates any possible scratches incurred during first assembly.
At this point, finishing takes over, adding its coup de grace. The detailed work contained within a Lange timepiece even covers the hidden surfaces – those not visible through the sapphire crystal. For Lange, it is vitally important that finishing is always done by hand. The first reason is technical – no machine has yet been invented to apply a circumferential polishing. This graduated 45-degree buffing (bevelling) which creates a rounded edge is not merely aesthetic, but also plays a part on certain components, such as an adjustment device on a perpetual calendar function. The second reason for hand-finishing, as supplied by a long-standing employee of polishing department, is that: "hand-polishing confers the feeling of liking and loving your watch."
The famous hand-engraving on the balance cocks – which are traceable to individual artists at Lange – also has its provenance in old floral patterns found in Lange pocket watches of yore. The department occasionally receives requests for customisations, such as engraving a dragon on an order from a Chinese client.
The entirety of this production process is a testament to the watchmaker's forethought. "We have always made our timepieces the star," Schmid says. "Which is why even in these challenging times, we have been able to provide a genuine excitement with three unique models this year." For him, the majority of his costs is not one he may easily dispense with. "We continually invest in our watchmakers, upgrading their skills. It means a lot to us that next year, we shall be celebrating the 20th anniversary of our watchmaking school. Since it was founded, we've had 120 watchmakers who graduated and are working for us. And most of them originate from the surroundings of Glashutte. They grew up with watchmaking in this valley – and they see it as an opportunity."
---