Dragons in the mist
Most of us take such a blasé approach to air travel these days that we switch our phones back on even before the plane touches the tarmac. But the landing into the Land of the Thunder Dragon – Bhutan's Paro airport deserves some trepidation – is worthy of an extra coating of sweat on your thermal socks. Our DrukAir Airbus A319's sharply angled descent into Paro, situated 2.4km above sea level, zipping through craggy cliffs was a seat-clenching 10 minutes that won't be easily forgotten.
On the ground, things were less stress-inducing. I was met by my guide Younten and driver Tshering (visitors are not allowed to drive in the country), both of whom were to be my companions for the next five days.
We began one of many drives, a quick ride up to COMO Uma Paro, the first of two COMO properties in the Himalayan kingdom. The Cheong Yew Kwan-designed 29-room hotel curls round a hilltop that looks across Paro valley. In fact, it's at Bukhari, the glass-fronted ocular-shaped restaurant that I get my introduction into the country's diverse beliefs and day-to-day regard for the metaphysical. Munching on flaxseed crackers and warmed up by honey-flavoured ginger tea, I found myself listening, quite curiously – rather impolitely – to the conversation at the next table. The diners, including a group of shaved-head teenage boys, who were as I later found out, monks respected as reincarnations of revered rinpoches from centuries and decades past. The mood was light and happy, and punctuated with laughter and subtle, unpretentious wisdom; it was quite unlike any other restaurant anywhere else in the world.
To satiate more worldly appetites, Bukhari's menu as devised by Chef Imade Arsa, offers dishes like yak burger served with Bumthang gouda, roasted beetroot and pears in a blue cheese and walnut dressing. There are also Bhutanese staples like the cool yet spicy hogay salad – house-made dates, cheese, tomato, cucumber, dried chilli with lime and Szechuan pepper dressing.
Uma Paro's interiors are the work of Kathryn Kng that flow beautifully in one aesthetic vein: the designer's muted cream tones, mixed with shots of punchy orange, complemented by a dominance of rich woods and one-of-kind Bhutanese floral murals in every room. Beyond Kng's curated spaces stand a more visceral beauty: Paro as well as Taktsang or Tiger's Nest, the latter of which is one of the most sacred – and exhausting – ways to explore the country's rough and tumble terrain.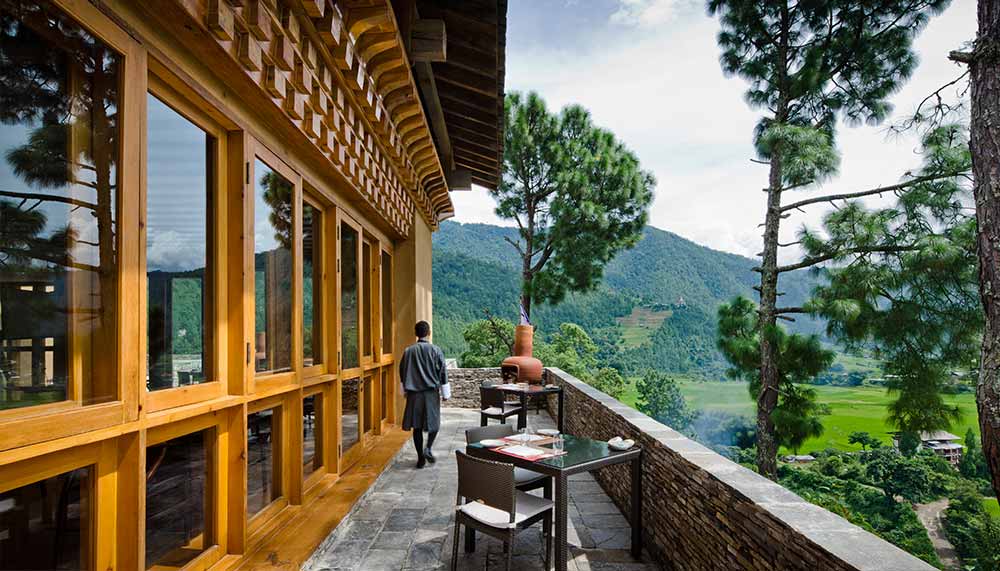 On one of the mornings, Younten and I, armed with bamboo walking sticks, flasks of coffee, and ample supplies of cookies and trail mix, embarked on a 135-minute journey up to Tiger's Nest, a series of ancient temple compartments that crisscross snakes and ladders-style. With its 3,120 metre elevation, the location is so named after the 13 tiger lairs in the area where it was said the revered Guru Padmasambhava meditated in during the eighth century when Tibetan Buddhism was introduced to Bhutan.
At the halfway point, a cafeteria that fans out onto the mist-encased hillscape, Younten and I met and chatted with Tschering's father who works there. While the trek up to Tiger's Nest isn't a leisurely stroll by any accounts, it wasn't too difficult either. After the initial 25-minutes of breathless exertion, made more challenging by the high altitude, our climb became, thankfully, easier. It's said that a journey up to Tiger's Nest must be one taken with respect and walked in quiet. Our hike up, however, was filled with Ang Lee movie scene banter – some parts of the bamboo forests were definitely more "Crouching Tiger, Hidden Dragon", while other locations recalled the Wyoming terrain of "Brokeback Mountain".
As it turned out, the Hollywood references were not entirely said out-of-context. For off-duty film directors, movie stars and their entourages who prefer travelling by helicopter, COMO Uma Bhutan recently introduced its Scenic Heli-adventures, composed of two trips across the country, traversing its four different valleys – Laya, Punakha, Paro and Labatama, each of which embodying terrains and peoples unique to its respective locations. Instead of the four and a half hour car ride on curving, uneven roads from Paro to Punakha, guests can get from door to door in an hour, with ample opportunities to explore the country's remotest regions in the process.
But any trip, either by air or land, is amply rewarded at the COMO Uma Punakha, a 10-room property built on a hill outcrop overlooking the snaking Mo Chu River and the inspiring Punakha valley below. Resembling a well-appointed home, albeit one with staff almost at every corner asking how they might help, the property melds stylishly into its location. An expanse of glass windows keep the local environment up-close-and-personal, while warm wood tones and elegant seating along with inviting fire places evoke an easy home-away-from-home vibe. The property's restaurant Bukhari serves a heartier style of cuisine compared to its COMO Uma Paro counterpart. Here, expect creamy piping hot pumpkin and butternut soup, delicious beef fillet in Bearnaise sauce, tender pork sausages with bean Cassoulet as well as desserts like butterscotch custard with salted toffee and whipped cream.
Another highlight of my stay at COMO Uma Punakha was a lingering soak in its spa's hot stone bath, prepared in sukiyaki fashion using stones that heat up the combination of river water and Artemisia leaves. Again, the experience was an exercise in contrasts between the scorching bath water and the 12-degree Celsius Punakha evening temperature when I got out. But just as the teenage rinpoches I met at Bukhari in COMO Uma Paro have learned to balance the sacred and the worldly. I, too, just had to deal with it.
Prices start at from US$7,305 (RM32,295) in a Valley View Room for the five-night Himalayan Explorer package.
Druk Asia is the general sales agent of Drukair as well as Bhutan's premier travel specialist. Drukair operates flights to Bangkok (seven times a week) and Singapore (three times a week).
---