FLash (Water)Dance
Streaking across the water at 193 kph in an open-cockpit boat is one of the most exhilarating – and terrifying – rides anyone can experience. Doing it in the wrong boat, with the wrong driver, could be a disaster. Riding in Cigarette Racing Team's new 50 Marauder AMG powerboat with pro driver Jeff Ware, however, was a no-fear adrenaline rush that climbed with the speed, surging from 128 to 160 kph, then leaping to 193 kph. To sweeten the experience, Gorden Wagener, chief designer for Daimler AG, was in the seat next to Ware, clearly having the ride of his life.
The 2017 Cigarette boat, inspired by the Mercedes-AMG GT R, was a powerful beauty, with its long forefoot, slender 8-foot beam, and staggered 1,550 hp Mercury Racing engines under the rear engine hatch. The minimalistic design of the cockpit, with black-and-grey leather seats and green hand-stitching, eight stereo speakers, and speedos on the rear of the front seats, was perfect for a boat inspired by the production car that holds the fastest-ever lap time on Germany's Nürburgring racetrack. On Miami's Biscayne Bay, with more than 3,000 horses unleashed, the Cigarette was a well-behaved beast.
"This is the best AMG boat yet," said Wagener back at the dock, his hair spiked after out-sprinting every other boat on Biscayne Bay. "We've worked well together since the beginning, but this Marauder was the most perfect yet in design and engineering."
The "beginning" was 10 years ago when Cigarette and Mercedes decided to do joint marketing presentations. That evolved into a formal design agreement where Wagener and his team, working with Cigarette president Skip Braver and his team, designed a new AMG boat each year. The collaboration started in 2010 with the SLS AMG, inspired by the Mercedes-Benz car of the same name, and progressed to last year's Cigarette Racing Marauder AMG Monaco, which debuted at the Monaco Grand Prix.
"The boat that really brought us together was the Electric Drive in 2013," says Wagener. "It was based on the SLS AMG Coupé Electric Drive, the most powerful electric car in the world. We went beyond exterior design into technology transfers on that boat."
This year, Cigarette also tapped into Daimler's high-tech composites brain trust for its Marauder, using carbon-fibre weaves and other advanced techniques to reduce hull weight by 590kg. Thanks to the lighter hull, Cigarette says the new AMG boat reaches 225 mph with 100-octane race fuel. (Mercury's "race" fob below the steering wheel lets the driver switch between the 1,350 hp mode when using 91-octane fuel and the full 1,550 hp for race fuel.
Despite big weight savings, Braver made sure the new Cigarette kept its all-important "ride" – that ability to stay rigid but also flex in big seas. "There's a fine balance between a boat that's too rigid and one with the flexibility to absorb the loads the ocean throws at high speeds," said Braver. "The last thing you want is a boat as brittle as a potato chip." The Marauder got the flex it needed through its stringer system, while also benefitting from weight reduction.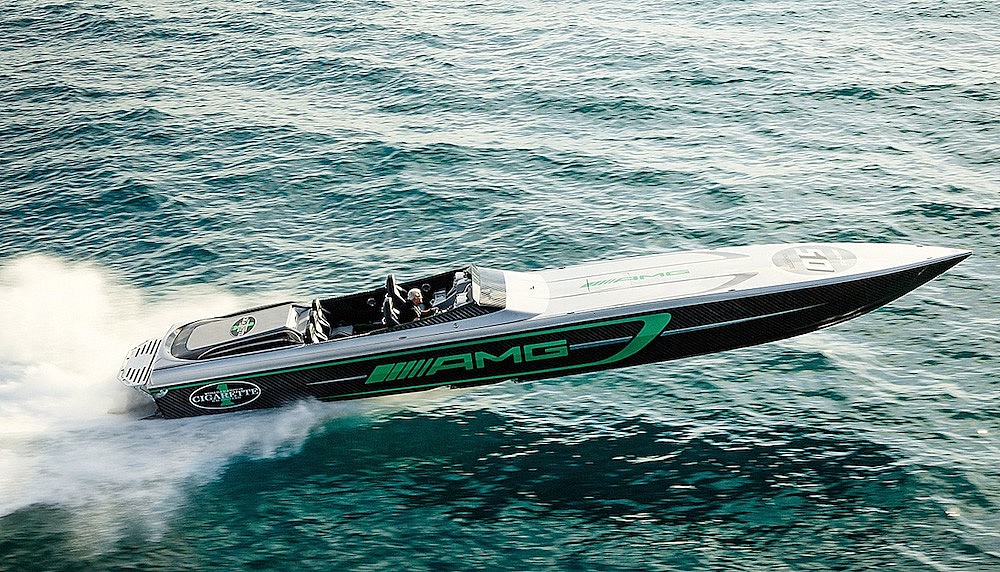 Braver, who bought Cigarette out of bankruptcy in 2002, has turned the Miami-based builder into a world-class brand with sizable investments in R&D and a production facility that looks more like a high-tech, hot-rod shop than a boat assembly line.
After eight years of collaboration, Braver and Wagener clearly respect each other. In a sit-down interview, both said the professional relationship has deepened over the years. Wagener praised Cigarette's "iconic" heritage, while Braver spoke of Mercedes's "passion, perfection, and performance." Both loved the new boat. "Less is more in any design," said Wagener. "You can see that on the new Marauder or GT R sports car. They don't need scoops or appendages to prove themselves. Timeless beauty lies in simple lines and curves."
The only quibble Braver had was with the bright green of the Mercedes-AMG GT R, named Green Hell Magno after the forested north loop of the Nürburgring racetrack. Wagener's team used "green hell" accents, along with carbon-fiber-print sides and silver topsides. "Even if you don't understand design language," said Braver, "you'd intuitively understand that this boat is fast, even at the dock."
The partners would not reveal which AMG boat would be released next year. "Let's just say we're going to do many cool things together," said Wagener.
---