Family Fortunes
Nearly 100 years after her great-grandfather founded the Buccellati jewellery house in Milan, 28-year-old co-creative designer Lucrezia Buccellati is imbuing the world-renowned brand with modern vitality. Best known for its richly detailed designs, Buccellati is looking ahead and creating opulent yet contemporary pieces for today's discerning jewellery lovers. This summer, the brand is poised to debut colourful additions to its Macri and Hawaii collections and unveil a newly renovated Beverly Hills boutique.
We caught up with Lucrezia, an on-the-go mother of two, to talk jewellery trends, her go-to pieces, and more.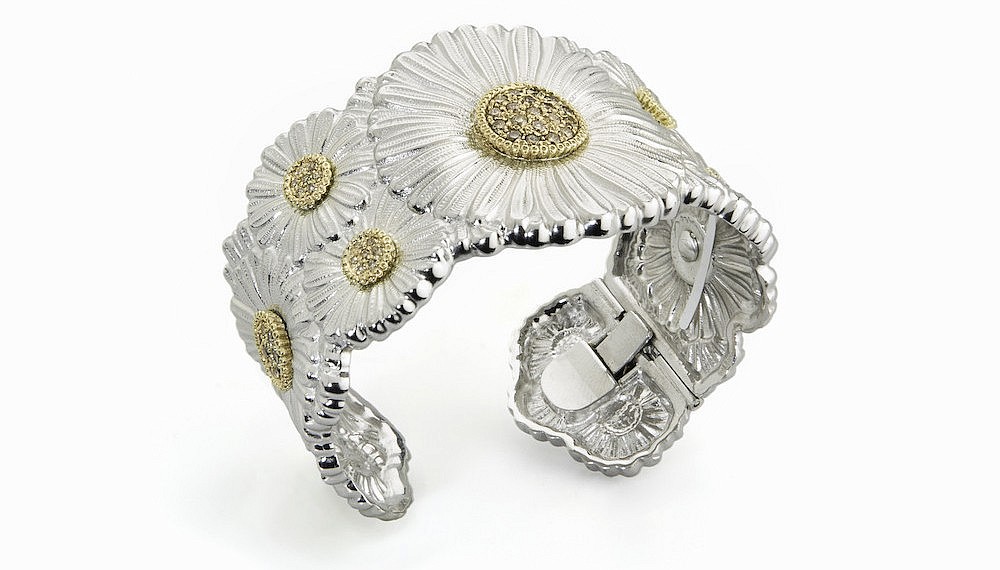 Buccellati is a legendary brand, and you represent its next generation — what kinds of designs do you want to see going forward?
"In a sense, we are aiming at more wearability, but at the same time, a certain level of craftsmanship is expected of us — everything is still made in Italy by artisans. We have lots of client that buy all the little bracelets. Our [Macri] bracelet is so unique, and it's not guaranteed that you'll find them in a store — sometimes they go so fast and it takes time to make more!"
What are some of your everyday jewellery pieces?
"I like to wear things that have a story behind them. I always wear this pendant that shows my sign, Aries. I wear it when I sleep, swim, bike — I only take it off for massages. I wear a bracelet I got after the birth of my first son, and another I got after my second son. My grandmother also gave me this vintage bracelet, which was designed by my great-grandfather. And these flower earrings are from our Opera collection, which is one of the first collections I designed with my father for the brand."
What is your must-have piece of jewellery?
"I always have a pair of nice earrings in my bag, just in case. They're great to have on hand if you're at the office and have to go to a lunch. Earrings bring a brightness to the face. Always pack a pair in your bag! Maybe not super expensive, because you never know — if you're like me and forget the bag everywhere, then you're in trouble."
Do you notice different jewellery trends in different cities?
"I think it all really depends on the weather conditions. If I'm in New York, I'm always covered up in sweaters and coats. If you're always in warm weather, like in L.A., I see more earrings and necklaces, a lot of chokers, bangles, and pendants. And I can see how jewellery can really make someone's overall look — even if they're just wearing something casual, like jeans, a T-shirt, and a blazer."
What advice do you give your friends when they are choosing jewellery?
"For me, there has to a story behind the piece. It has to mean something to you."
Where do you find creative inspiration?
"Fashion inspires me, for sure. I get inspired by the cut of the dresses and how designers drape the fabric. But I'm artistic in the sense that I try to create my own inspiration. For me it's not so much about designing, but creating. I have to be very hands on."
Do you have any other side projects right now?
"I'm going to a masquerade ball next week, and I said, 'I'm not going to buy a mask, I'm going to do my own!' So now I'm designing all these masks with lace that go with all these necklaces…I'm putting it all together. I hope I finish it in time!"
What are your go-to jewellery pieces for summer?
"Our Macri bracelets. You can wear them with a long sleeve or a bikini. I wear them to the beach. I also love little ankle bracelets for summer, I have one with three little pearls. We will be launching designs this summer that use all different colours of semi-precious stones — lapis lazuli, opal, onyx. The best colours for spring and summer jewellery are bright and anything pink or turquoise. I think my next challenge is to find the stone that is shocking, bright pink. Like super strong pink. Even if we don't sell it, I just want one for me!"
---