french finesse
Sporting a tri-coloured collar and with two Michelin stars under his toque, French Chef Stéphane Buron is a heavyweight in the highly competitive world of fine cuisine. The tri-coloured collar marks him as a recipient of the Meilleurs Ouvriers de France, the highest and most prestigious award among all professional craftsmen in France and he's also known as the "Crowning Touch" of the two-Michelin starred Le Chabichou.
Buron's steady ascent began as a mere apprentice at the Hotel Bragard in Gérardmer, to wowing the elite in Le Chabichou, the oldest and most established hotel in Courchevel. His culinary flair had caught the eye of Le Chabichou's owner Michel Rochedy – who went on to mentor him. Rochedy's instinct for talent was amply rewarded as Baron has won prizes from numerous prestigious international events and today, travels the world sharing his passion for gourmet cuisine when Courchevel is not in season.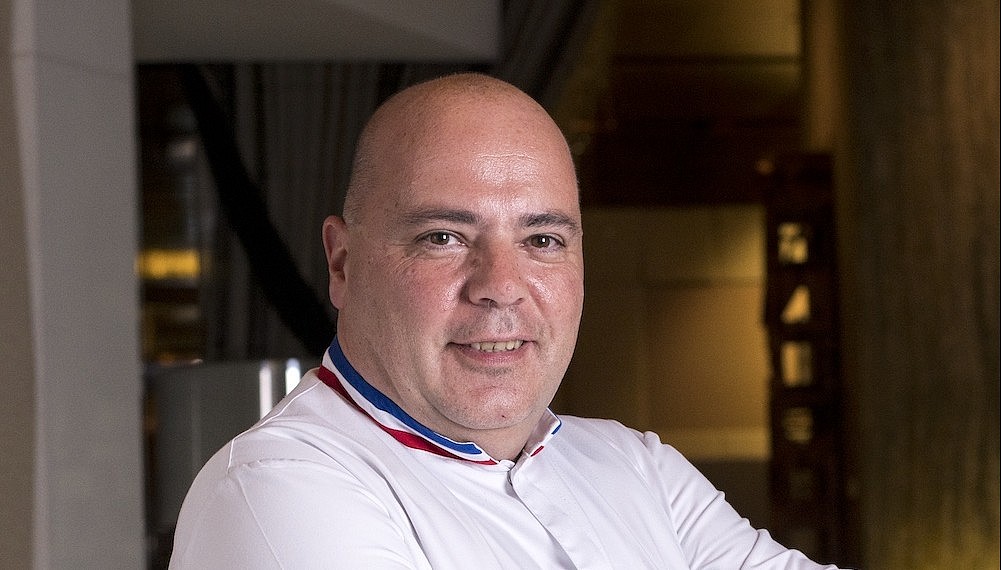 In this age of gimmicky cuisine, Buron continues to champion and be known for classical French cuisine, a path he is unapologetic about: "We have always brought a lot of finesse to our kitchen, and that is why we are at the forefront of French cuisine. It's a combination of simplicity of execution and technicality. I prefer to say my food has a simple purity about them."
This clarity of taste and flawless execution was in fine form over a seven-course dinner tasting menu at the Mandarin Grill. The dinner was part of an all-too-brief showcase for Buron, conceived by the Mandarin Oriental, Kuala Lumpur across a space of five days. These series of dinners were further enhanced by an intelligent selection of wines by Head Sommelier Victoire Desvigne of Castel Fréres.
Duo of green pea and mint pearl with herb sorbet

Boite de Caviar Oscietre

Cauliflower soup with fresh langoustine

Chilled duck foie gras with Granny Smith apple

Tropical fruit tartare with fruit meringue
Buron's series of dinners here started on a refreshing note with a duo of green pea and mint pearl with herb sorbet. This paved the way for the extravagant second course, Boite de Caviar Oscietre, a generous serving of caviar on top of a bed of cream jelle and crab, a moreish paring which went perfectly together like champagne and strawberries. Chilled duck foie gras with Granny Smith apple swiftly followed, where the foie gras was whimsically encased in what looked like a miniature apple. And while it was only too easy to be swept away but its prettiness, the course dazzled with its perfect balance of the richness of the foie gras with the sharpness of the fruit.
The soup course was a velvety delight of cauliflower paired with a beautifully cooked piece of fresh langoustine. It was the ideal understated precursor to the dazzling main course of Roasted Black Angus Beef tenderloin with liquorice stick and red wine sauce – which wowed not just with its dramatic plating but with how Buron made these potentially overly assertive components sing in harmony.
Two desserts closed this decadent meal, the first, Tropical Fruit Tartare with fruit meringue was a nod to the Far Eastern location of the meal while the Valhorna Choclate Mousse, perfectly encapsulated Buron's ethos – classically French, elegant, and incredibly delicious.
Mandarin Oriental Kuala Lumpur
---