history repeats

Forget Puglia. Italy's best-kept secret is the southeastern corner of Sicily known as Val di Noto. Rather new to tourism, it's still unspoiled, with a wealth of early-Roman ruins, baroque monuments and white beaches spread across a serene countryside. And now, with the arrival of Dimora delle Balze, the region has a new benchmark for hospitality.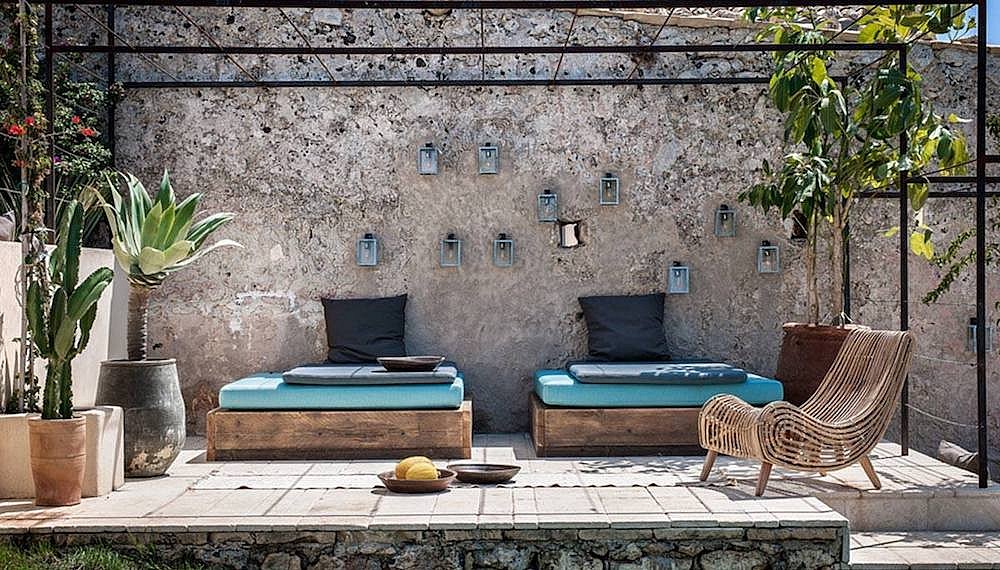 Located in the countryside between Noto and Palazzolo Acreide, the long-abandoned 19th-century masseria (traditionally, a sort of farmhouse or lodging found within a larger estate) has been given new life thanks to fashion and design entrepreneur Pinon Lops, who purchased the property in 2009. Eight years later, the estate is at last a masterpiece complete.
Opened as a luxury hotel in June, Dimora delle Balze features three cortiles, or courtyards — each part of the original masseria and masterfully renovated according to the local rural architecture. Interior designers Draga Obradovic, Stefano Guidotti and Cristina Piccinelli modernised and updated the crumbling structures but took great pains to retain the historic atmosphere throughout. The rustic cobblestone pavement and stone benches evoke a sense of history.
Dimora delle Balze

Dimora delle Balze

Dimora delle Balze

Dimora delle Balze
The square-shaped main courtyard is surrounded by seven suites, each with its own furnished terrace. A second courtyard, adorned with hand-painted ceramics from Caltagirone and dubbed the Winter Garden, is secluded, quiet and perfect for an afternoon of relaxation among exotic plants in terra-cotta pots. The third courtyard, scattered with beautifully restored classical columns original to the space, is now the Manor Garden, overlooking the magnificent Manghisi Valley's olive, almond, and carob trees.
The Manor House was in complete ruin when Lops purchased the property in 2009. The surrounding field was wild, except for a few massive carob trees that thrived despite decades of abandon. Today, the field is home to a sleek pool area, lined with chaise lounges and sofas, and — farther afield — an orchard with lemon trees and jasmine. The swimming pool was designed by Piscine Castiglione, while sleek furnishings come from such renowned designers as Kettal, Vincent Sheppard, Paola Lenti and Dedar.
An outdoor living area near the swimming pool occupies the masseria's old manger and features a cool color palette intended to blend seamlessly both with nature and the original architecture. Still, the space is contemporary, featuring custom pieces by Lops's wife, Elena, and vintage objects found in the antique shops of southern Italy. Furnishings throughout the exterior spaces reflect this sense of eclecticism, with details like Moroccan lanterns, vibrant patterned pillows, and colorful succulents creating a casual yet refined setting.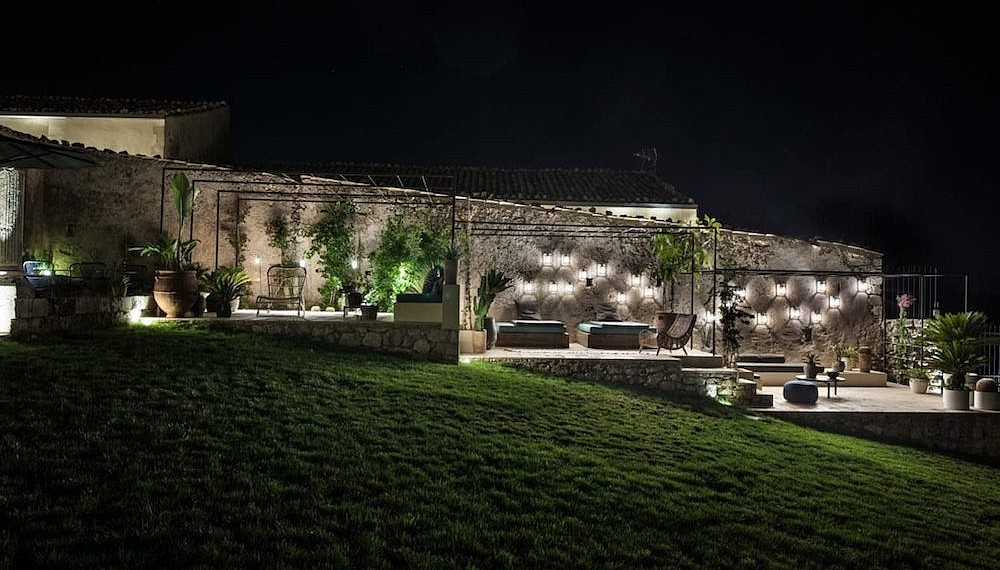 All 14 guest rooms are individually designed, and each features a private garden or terrace that takes advantage of Sicily's year-round sunny weather. Inside, the décor includes vintage furnishings alongside custom pieces by designer Draga Obradovic, who describes her work as "a hymn to nature, ruins, and ancient splendors." Obradovic's influences for the rooms are vast, focusing on overlapping cultures to styles from Byzantine remains to modern details.
The Manor House is a similar mix of styles, featuring custom pieces by Caravane Vizir and Draga Obradovic alongside Moroccan pottery and Portuguese painted trays on the walls. Original plaster, wooden doors, and frescoes have been meticulously restored, transporting guests each morning when they arrive for breakfast. The daily buffet is slow and local, featuring Sicilian sweets — cannoli, cassata, and almond cookies — as well as a selection of local cheese with fresh ricotta and homemade bread with jam.
---