full of grace

Embracing new challenges is key to the success of any business. Resting on your laurels – even if they are very fancy, highly respected laurels – is for the less ambitious. When Robert Swade joined Grace Hotels, part of international conglomerate Libra Group, in 2016, it coincided with a dramatic expansion programme for the hotel management firm. Grace Hotels now has eleven properties open for business and under development across four continents, and is pioneering new offerings for guests that cling loyally to its brand of sleek luxury. With Grace St. Moritz, its first venture into the Alps, it is also introducing a concept more familiar to Asia than Europe – a hospitality/residential scheme that is part of the larger Grace St. Moritz hotel.
With 17 apartments serviced by the hotel, scheduled to open in 2019, this allows non-Swiss nationals to acquire freehold property in Switzerland. Located right in the heart of Europe's winter sports paradise, owners will have access to the legendary ski slopes of St. Moritz (and beautiful hiking trails in summer) and luxury avenue Via Serlas, with the apartment made available to hotel guests when not in residence. In Europe, such schemes are rare. But success comes from being bold. Here, Robert Swade tells us about Grace St. Moritz and how he intends to lead Grace Hotels in seeking new horizons and embracing new challenges.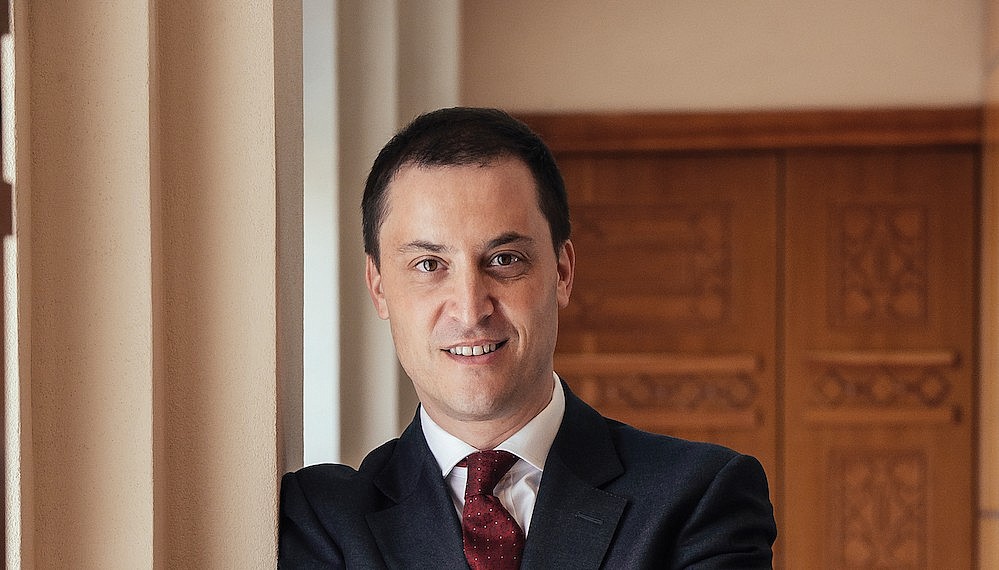 Tell us about Grace St Moritz.
Grace St. Moritz is the group's third hotel with a residential offering. It follows the successful sale of our first residences at Grace Cafayate in Argentina and our second project, La Dolfina Grace, currently under development on La Dolfina Polo Ranch, just outside Buenos Aires, which also includes residential villas and apartments.
Our expansion to St. Moritz felt like a natural evolution, as the area has been synonymous with international jet-set glamour, royalty, celebrities and high net-worth individuals for over 150 years. St. Moritz presented an exciting opportunity for us to enter the Swiss market and create an attractive residential offering within a luxury boutique hotel. Our aim is to grow and develop the Grace group, focusing on key destinations which enhance the brand and our global footprint.  Our growth plan is not about a defined number of hotels; it is about ensuring that we have the right product, in the right location, with the right owner relationship structure.
The idea of blending hospitality with residential has been developing quickly, particularly in Asia. How does this compare to the market in Europe.
The serviced apartments sector has seen rapid growth over the years across the globe. It is an aspect of the hospitality industry that we believe in strongly and we see this blending of hotel and residential as a response to the growing demand from homeowners in Europe and around the world who seek additional benefits of a luxury residence which come with the service levels and amenities of a world-class hotel brand.
In addition to the lifestyle and services available at Grace St. Moritz, we are also offering a rare investment opportunity by creating a unique ownership concept, which enables non-Swiss nationals to acquire a freehold apartment and earn revenue by renting all or part of it back to hotel guests. With Switzerland's strict Lex Koller and Lex Weber regulations on foreign ownership, the Grace St. Moritz Apartments project has huge appeal to overseas buyers looking to own a home in one of the world's most glamorous all year-round resorts.
Branded residences are increasing in popularity amongst wealthy international buyers, offering the best of convenience, desirable locations and first-class facilities. The hotel-branded residences market has developed significantly and is currently emerging in Europe, likely to become mainstream in the next few years in line with growing consumer demand across key European regions including holiday resorts.
Both owners and guests will have access to the full range of exceptional facilities at Grace St. Moritz Hotel, including a spa and fitness centre, restaurants, bar and a 24-hour concierge. There is also underground parking available.
Our promise at Grace is to ensure supreme service and amenities for everyone who stays with us, whether they are visiting for the first time or the owner of an apartment.
Grace St. Moritz

Grace St. Moritz

Grace St. Moritz

Grace St. Moritz
What type of buyers are you targeting with Grace St. Moritz?
St. Moritz is one of the world's most glamorous summer and winter destinations. It has a fascinating history and is regarded as the birthplace of winter tourism since the 19th century – it is also one of Switzerland's highest resorts at 1800 metres. Buyers are drawn to the iconic resort for its premium all-year round activities, leading ski schools, 217 miles of piste, world-class boutiques on the Via Serlas and vibrant gastronomic scene with several Michelin star restaurants.
Since the launch we have received high levels of interest from a variety of nationalities including Asian, Middle Eastern, European, Russian and British – the project has huge global appeal. The reasons vary among purchasers; however, they tend to share common interests in dual season alpine pursuits including skiing, hiking, mountain biking, sailing and windsurfing. Our purchasers are also drawn to the prospect of owning a home in one of the most exclusive locations in the world – the rarity of the opportunity is clearly a driving factor in the interest that the apartments are attracting.
What price range are we looking at?
Prices start from CHF740,000 (US$768,643) for a studio and CHF9,900,000 (US$10,280,00) for a penthouse.
We have worked closely with the local authorities to secure the necessary permits enabling foreign nationals to buy an apartment here. This unique proposition means that buyers can benefit from long-term capital growth, whilst earning rental income throughout the year, with Grace Hotels managing the entire process on their behalf.
Prior to taking on this role, you were heading up the hotel division at the Jumeirah Group. What was the appeal of joining Grace?
I am very proud of what was achieved during my 11 years at Jumeirah group and I thoroughly enjoyed my time there. I have watched the Grace Hotel group's evolution with interest and I am impressed by its commitment to providing truly bespoke, luxury experiences. Ever since Grace Hotels entered the luxury boutique hotel market in 2007, it has been winning awards and breaking new ground.  The properties are unique, elegant and beautiful, and each one has its own character and charm, whether it is Grace Santorini, 363 metres above the volcanic caldera, Grace Cafayate in the heart of Argentina's Calchaqui Valley or The Mayflower Grace situated in 58 acres of landscaped gardens in Washington, Connecticut.
Tell us about your plans for Grace going forward. What's next and what about Asia?
Asia is an area of great interest to us as Grace Hotels continues to expand globally across key regions such as the Mediterranean as well as Africa and South America. We believe that several locations in this region (notably Malaysia, China and Singapore) offer the scope for us to bring our boutique brand and its authenticity to the market. We look forward to exploring opportunities in Asia soon.
---