Cool ticks

Tucked away in Linköping — halfway between Stockholm and Gothenburg, Sweden — master watchmaker Patrik Sjögren and master bladesmith Johan Gustafsson toil away in their workshop like they have since founding the company in 2007. GoS Watches (pronounced as G & S) is effectively a two-man operation, plus an assistant that helps with assembly. The duo produces between 30 and 40 watches per year using Swiss-supplied calibers, which Sjögren then modifies before assembly.
Focusing primarily on time-only pieces, the brand sets itself apart from the pack by using often vibrant-patterned dials that Gustafsson forges out of Damascus steel. Having mastered the craft making high-quality knives of the same material over the course of his 20-plus-year career, Gustafsson has achieved bold patterns and colors that no one else has come close to replicating since the brand's inception. And now GoS has unveiled this new dial variant of the Sarek, dubbed Ice Blue (US$9,500/RM38,000) – a model launched by the brand at Baselworld in 2016 – which has us all tingly with excitement.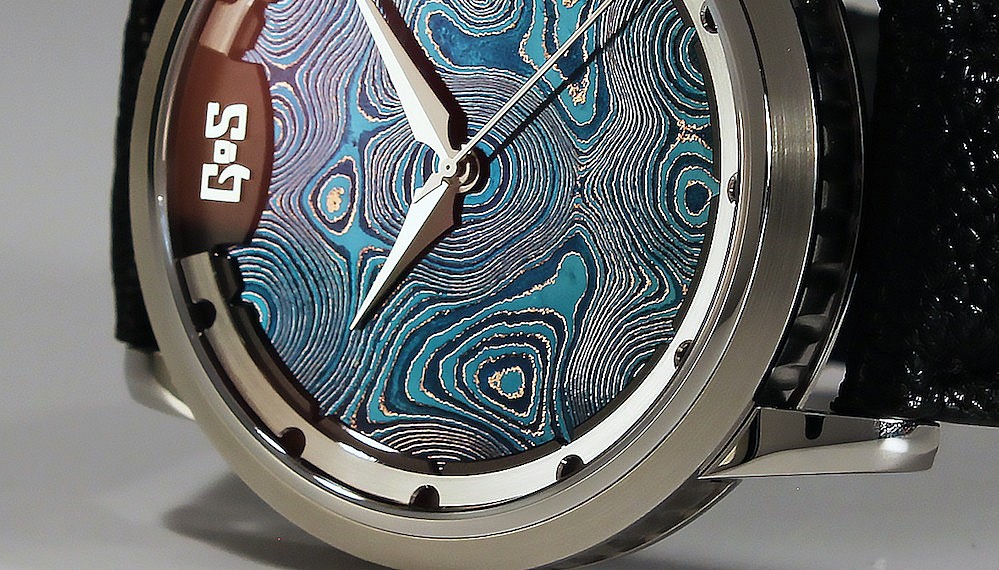 To be fair, Damascus steel is an acquired taste. Laden with texture and natural and asymmetrical curves and undulations, it is unlikely to tug at the heartstrings of enthusiasts who are fond of the perfection of enamel or other more congruous materials. That said, there are many (myself included) who will instantly bond with its lack of conformity. While no two dials will be the same, Gustafsson ensures his patterns include both wide and narrow graining of the layers of material, allowing each dial to reflect light in a variety of conditions. After a week on the wrist, I was repeatedly shocked by how significantly the Sarek's dial colour would vary depending on lighting. Though the colour is named Ice Blue, undertones of amber and purple shine through in varying degrees—  especially in incandescent or sunset lighting.
The dial of the Sarek is certainly its spotlight feature — though the fine detailing of its case is by no means second-rate. Its slender case is uniquely fluted, featuring primarily brushed finishing. The only polished details are its lugs, parts of its crown, and a very thin inner edge of its bezel.
As we noted above, there isn't much to tell about this watch from a mechanical perspective. That said, this isn't a bad thing. Powering the Sarek Ice Blue is the much-loved Soprod A10 automatic caliber seen in a wide range of timepieces from independent brands. The caliber sports a GoS triskele rotor fitted with an additional German silver counterweight. While not breaking any new ground in the movement department, the caliber is a sound choice that has proved itself wonderfully bulletproof time and time again.
Pairing the Sarek yields no shortage of options. At 10.5 mm thick, it is easily tucked underneath the sleeve of a dress shirt and would be well matched to any pattern or solid color of a similar hue. Given the nature of its dial, texture is as equal a complement as colour, meaning thick and cozy sweaters would make a fine pairing, as well. The Sarek Ice Blue is available through the brand's limited retailer network worldwide, online via Skolorr, or by reaching out to the brand directly.
---