pure imagination

Rolls-Royce specialises in high-tech propulsion systems for superyachts, jets and even space shuttles. The company introduced a bold new concept called Crystal Blue, which marries a 12-guest, 203-foot/62m superyacht to a state-of-the-art hybrid power system. To up the ante, the design team also included a 138-foot remote-controlled  support vessel called Blue Shadow as yachting's coolest dynamic duo.
"Crystal Blue has been designed to show how new technology can meet yachting's increasing demand for higher performance, greater ranges, and increased levels of comfort," says Oskar Levander, Rolls-Royce's senior vice president of concepts and innovation. "And it accomplishes all these without impacting the environment."
The concept employs the company's hybrid LNG/Battery SAVe-CUBE system technology. The system employs twin 16V 4000 MTU diesel engines fueled by liquid nitrogen gas (LNG). Beyond providing power to the yacht's carbon-fibre Azipull thrusters, the LNG-powered generators also charge the yacht's battery banks for overnight stays. The electric power is a far cry from a superyacht's typical diesel generator power, which not only creates unpleasant fumes, but also produces high levels of vibration across the yacht. This technology is not just some pipe dream: Skyler, a recent launch from Italian builder Benetti, is the first superyacht to use the carbon-fibre thrusters.
Adoption of LNG, while common among ferries and other commercial ships, has been slow by the yachting world. The required size of fuel tanks and the need to find LNG bunker stations around the world have been its two greatest roadblocks.
"This is where Blue Shadow comes in," says Henrik Alpo Sjöblom, project manager of the Rolls-Royce Blue Ocean team. The support vessel will be used not just for carrying tenders, a helicopter and multiple toys like submarines, but it will also serve as the Crystal Blue's LNG refueling station.
"Burning LNG has clear advantages over marine diesel for the superyacht sector," said Sjöblom. "There is no smoke, it doesn't emit any unpleasant odours or fumes, and it meets stringent emissions regulations, allowing yachts to enter ecologically sensitive waters that are otherwise prohibited.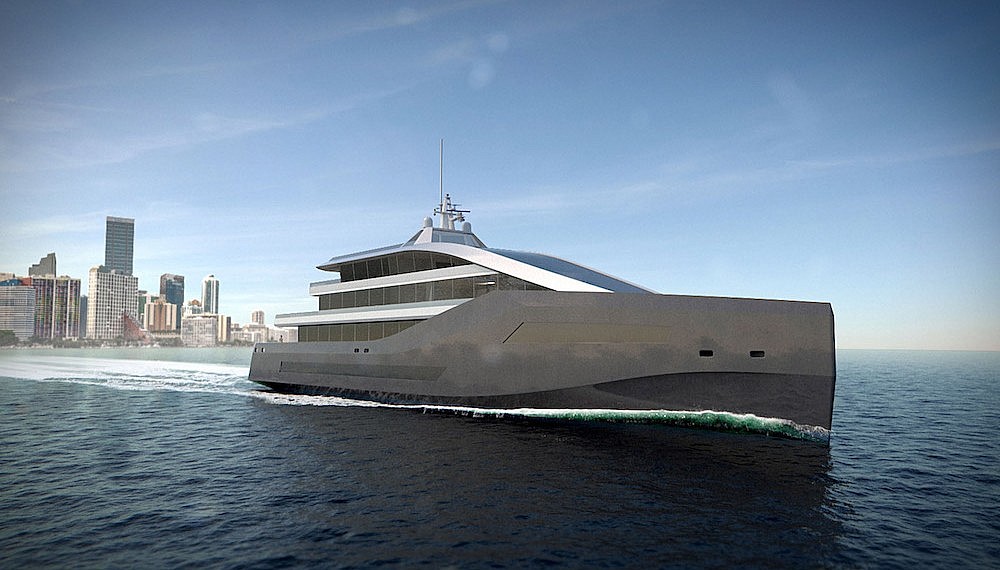 Crystal Blue also has another unique feature — no bridge. Or rather, it has been moved from the upper deck into the bow of the vessel.  "Our ship intelligence and remote-control concepts have allowed us to design a yacht for the future," says Levander. "The crew is able to monitor and control the vessel using sophisticated sensors, cameras, display screens and situational awareness technologies. An internal bridge frees up the traditional area of the bridge in the forward part of the superstructure to let owners and guests enjoy a panoramic vista traditionally only enjoyed by the crew."
One of the technologies is Rolls-Royce's intelligent dynamic positioning systems. The GPS-based system can keep a yacht firmly in place for hours or days, without being anchored. Crystal Blue will also have a safe room, like those in many luxury homes, allowing owners, guests, and crew to seek refuge during any unauthorised boarding. The crew can override controls from this room and operate Crystal Blue remotely.
"We have designed Crystal Blue's fuel tanks for a range of 3,000 nautical miles without refueling," says Levander. "But with the Shadow's additional fuel capacity, the range increases to 4,400 nautical miles, so transatlantic crossings and voyages to even remote yachting areas are now possible."
Levander said the Crystal Blue concept is more than just a bunch of geeks showing what they can do. "We can effectively showcase how new digital-based ship intelligence solutions can offer unique possibilities, greater capability, and added value to the luxury yacht market, both for new and existing vessels," he says. "The systems and technologies Rolls-Royce has available can bring 'green' values and previously unheard of levels of comfort to a yacht owner."