sky high

Designing a luxurious, comfortable and functional interior for a private jet is both an art and a science. The technological challenges are formidable — all the furnishings and features in the cabin must meet or exceed the exacting safety standards for commercial aircraft enforced by government agencies around the world. Also, every feature — whether it's a floor covering or doorknob or video monitor — must do its job while minimising weight, because more weight requires more fuel, and every mililitre of fuel burned translates into a shorter range capability for the airplane. And every square centimetre of the interior must not only be safe and useful, it must also be reliable and easy to maintain, to be sure the jet can maintain its busy schedule. But jet makers are eager to compete, so cabin technologies are continuously innovating and evolving.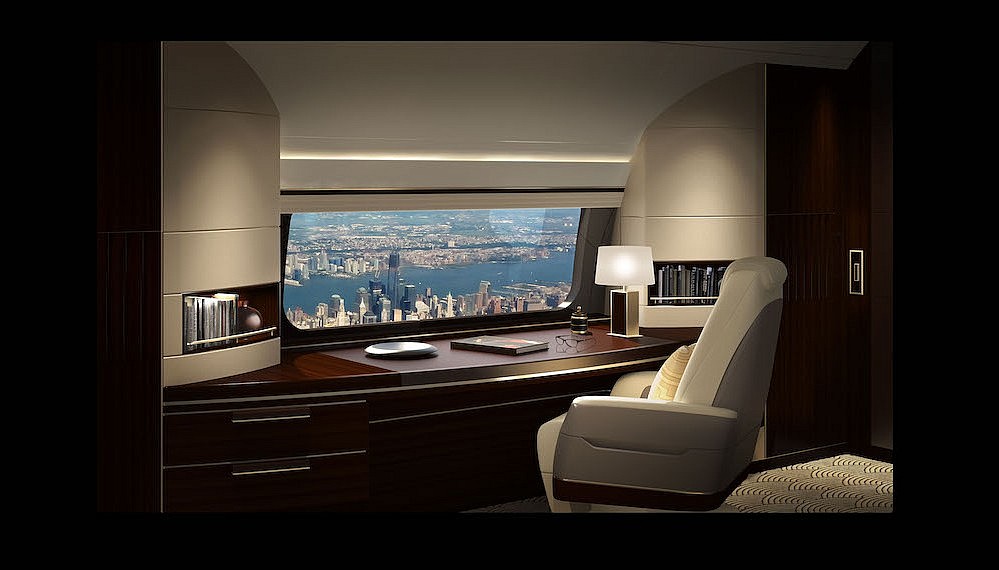 Extra Large Windows
Nothing creates a feeling of space in a room like a big window, and that's especially true when you have an expansive view — and it's hard to beat the view from a jet, ten km or more above the planet. But installing windows in a jet is an engineering challenge. The windows must be able to withstand constantly changing pressures, from sea level to 10,000m or more, plus substantial differences in the pressures inside and outside the cabin. The bigger the window, the more difficult it is to make it work.
That challenge was taken on by Fokker Technologies, a division of GKN Aerospace, based in Worcestershire, England. Fokker worked with Boeing Business Jets to develop the SkyView Panoramic Window, the biggest window available for jets. At 54.5 inches by 19.5 inches, the window is about three times the width of a standard window, and 40 percent taller. Up to four of the windows can be installed, in locations aft of the wing.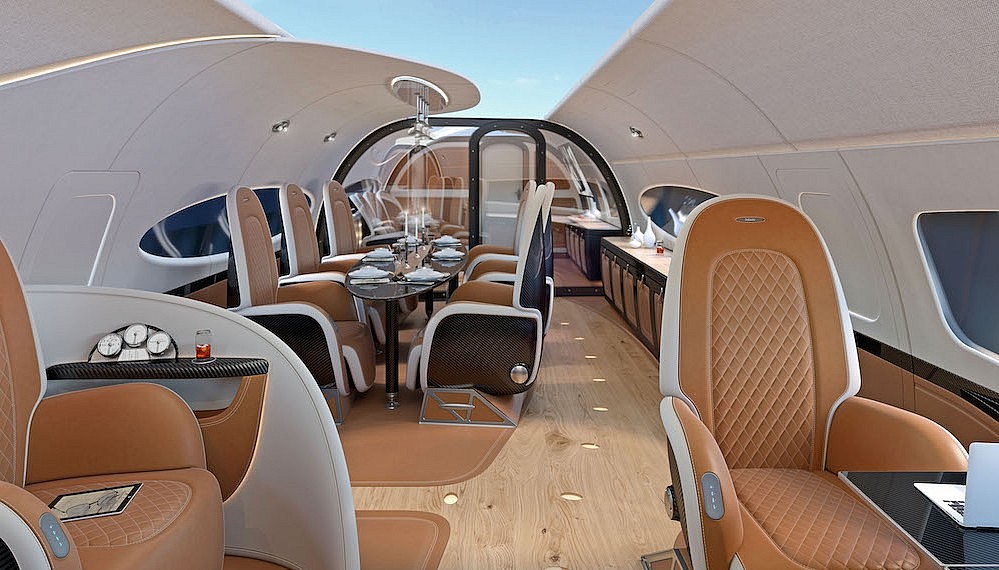 Sky Ceilings
There's something special about driving with the top down, with the wide-open sky all around us — it creates a feeling of freedom and connection to the world and to nature. It's not possible, of course, in a private jet, but Pagani, a boutique design studio based in Italy, has created the next-best thing. The Airbus ACJ319neo Infinito jet offers a "sky ceiling" that creates the illusion of flying with top down, with a clear view of the sky and clouds and stars above.
The ceiling is comprised of a series of video screens that project images collected by small cameras placed on the outside of the jet. Together, they create the illusion that the ceiling has disappeared and travellers have a window on the universe. The ceiling can also be used as a screen to view any images. The Infinito cabin is the first aviation project for Pagani, which specialises in custom hypercar design.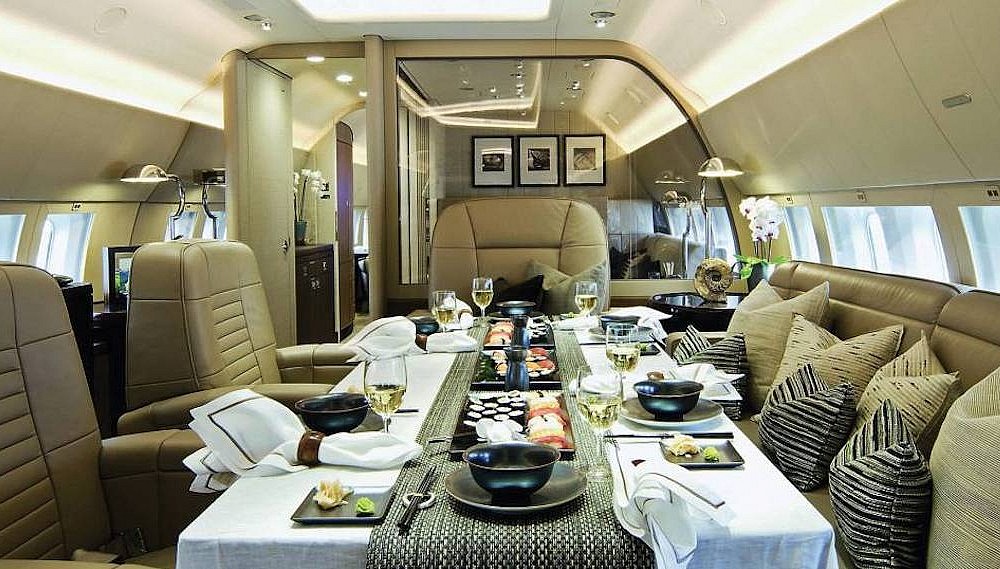 3-D Printing
It's the little things that make a house a home, they say, and the same can be said of the places that are our temporary homes while travelling — including the interior of a private jet. "Our customers want a relaxing space with a residential feel," says Jim Dixon, head of aviation for the Winch Design Studio, in London. "Almost every single customer of ours has requested this." In other words, they want the jet cabin to feel like home.
One way to achieve that, says Dixon, is through the use of 3-D printing technology to create unique features. "With this technology, we can design incredibly elaborate items like lamps, latches and other small details," she says. "This can enormously improve the sense of quality and fabrication on board the airplane." Dixon said the studio also has been using new techniques that make it possible to install paintings inside the cabin that meet strict fire-safety standards — another small thing that contributes to a feeling of being in a place where you belong.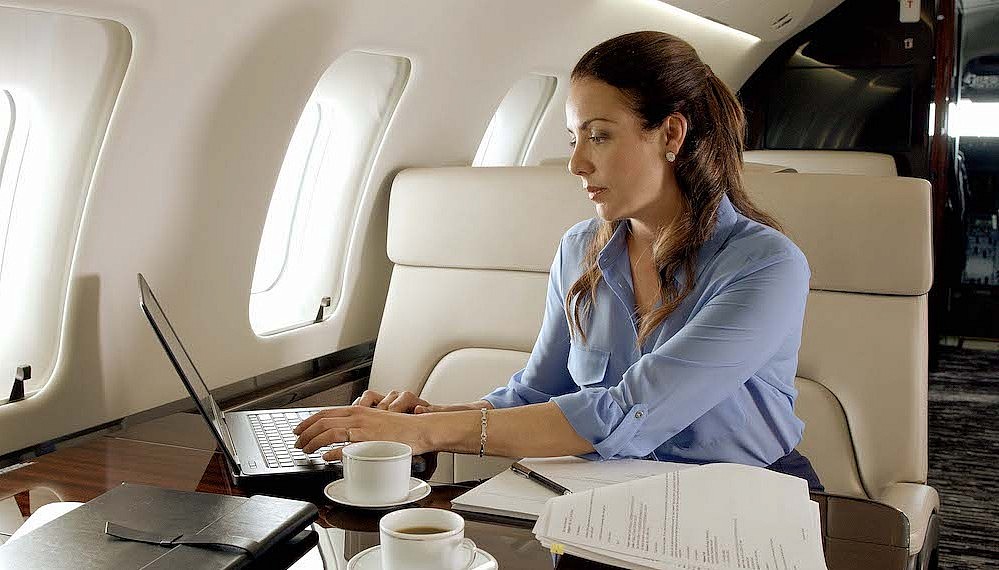 Cabin Connectivity
Everyone wants to be connected, all the time, at the highest possible speeds and security levels, and that has always been challenging for travellers, even on private jets. But the technology is evolving to enable more jet passengers to experience the same level of access aloft that they would expect while on the ground. Travellers want access to current news and streaming video, they want to be able to videoconference while flying, and they want wireless connectivity.
Bombardier this year expanded the availability of its high-speed Wi-Fi satellite-based worldwide internet system, Ka-band, offering it not only on new Challenger 650 jets but also as a retrofit for the fleet. The service provides access to the Internet that's just as quick and effortless as at home or in the office, according to Bombardier. It's been certified for installation by aviation authorities in both the U.S. and Europe.
Dimmable Windows
Big windows are always a welcome addition to any space, for letting in lots of light — except there are times when you don't want all that light, so you can watch a movie or take a nap. For those times, some private jets now are featuring electronically dimmable windows. Windows by Vision Systems are featured in the HondaJet. They can be controlled from a touch panel on the window, a control panel or a wireless tablet. They also can be integrated with light sensors to operate automatically. The dimmable windows even keep the cabin environment cool, by controlling the solar influx, and quiet, thanks to their acoustic insulation properties.
A dimmable window by Vision Systems also has been installed as a skylight in a mockup of the forthcoming Dassault Falcon 5X jet, which will start deliveries in 2020. This year, the company introduced its newest technology, Nuance V2. The V2, with fully integrated electronic operation, saves up to 30 percent of the weight of standard windows with motorised shades, the company says.
---