Food haven

"It's worth the journey just to eat the vegetable tostada," said Noma chef René Redzepi, referring to the secret, off-menu dish at Laja, a restaurant in Mexico's Valle de Guadalupe. But 16 years ago, when Laja's owner and executive chef, Jair Téllez, opened the place — in the middle of nowhere as he describes it — he never imagined it would become a food destination loved by the likes of Redzepi, Nancy Silverton and Anthony Bourdain.
Valle de Guadalupe, the wine country of Mexico's Baja California peninsula, is a four-hour drive from Los Angeles. It got its start in the 18th century when priests first planted wine grapes there. Baja's Mediterranean climate and porous soil eventually proved fertile, and wineries began to sprout in the 1970s. The first tourism boom was in 2006, and now the region has upward of 100 wineries. With Laja, Téllez inspired many more chefs to open their own farm-to-table restaurants, including David Castro Hussong, who once worked for him and then left for prodigious kitchens such as New York's Eleven Madison Park and Blue Hill at Stone Barns. Castro returned to the valley last year to open Fauna, a restaurant inside the sleek new resort Bruma, adding the flavours of his own journey to this burgeoning gustatory destination.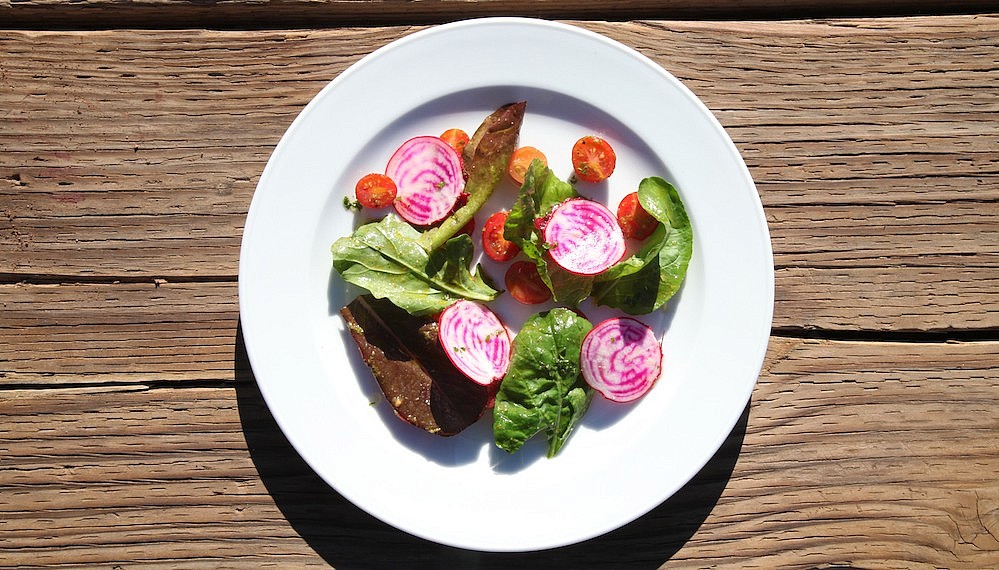 Laja
"The greater the adversity, the greater the creativity." It's a quote from legendary French chef Michel Bras that chef Jair Téllez holds dear. Téllez, who grew up in neighbouring Tijuana and apprenticed at Daniel in New York, believes that the beauty of Valle de Guadalupe's cuisine is not in the plenty but rather in making something great out of whatever they can get. And it wasn't always easy — when Laja opened, and for many years that followed, most of the ingredients came from San Diego. Now, Téllez sources from local farms and Laja's on-site garden and says that the vegetable is his restaurant's thermometer, clock and reference. And his self-described "crazy nonsense of an idea" to open Laja worked: it now sits at No. 42 on the list of the 50 Best Restaurants in Latin America. Housed in a stone and adobe building, the restaurant allows diners to choose from a four- or eight-course tasting menu. The offerings constantly change, but one dish that appears often is Vuelve a la Vida — sea urchin, lime, cilantro, and cucumber with smoked corn, and served brothy. Translating as "return to life," it truly delivers on its name.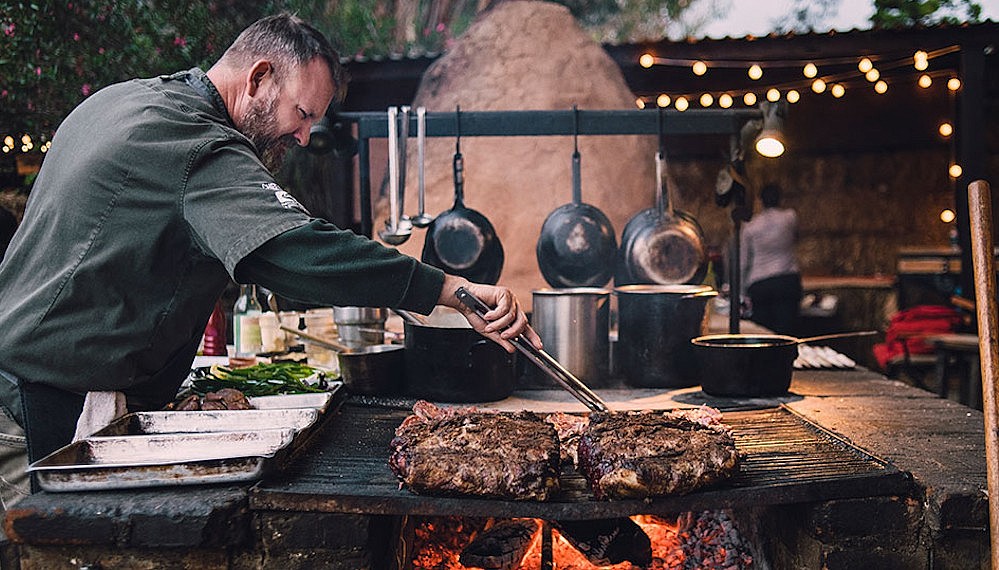 Deckman's
Wine bottles dangling from strings, dogs roaming the dirt grounds for scraps and hay bales for walls — such is the backdrop of Drew Deckman's restaurant. While the menu changes seasonally, Deckman's focus is on sustainable Pacific Coast seafood, so you'll often see dishes such as Spanish mackerel carpaccio or mussels in dark beer with blood-orange reduction and gooseneck barnacles, all swimming in Asian sauces. Heartier dishes such as marrow bones — stacked like fire logs and sprinkled with San Felipe sea salt — may appear in colder climes, and waiters are well-versed in wine pairings. Deckman himself can often be seen grilling meats in the open hearth, another detail — besides the sprawling vineyard views and twinkling white lights above — that makes this place arguably the hottest restaurant in the valley right now.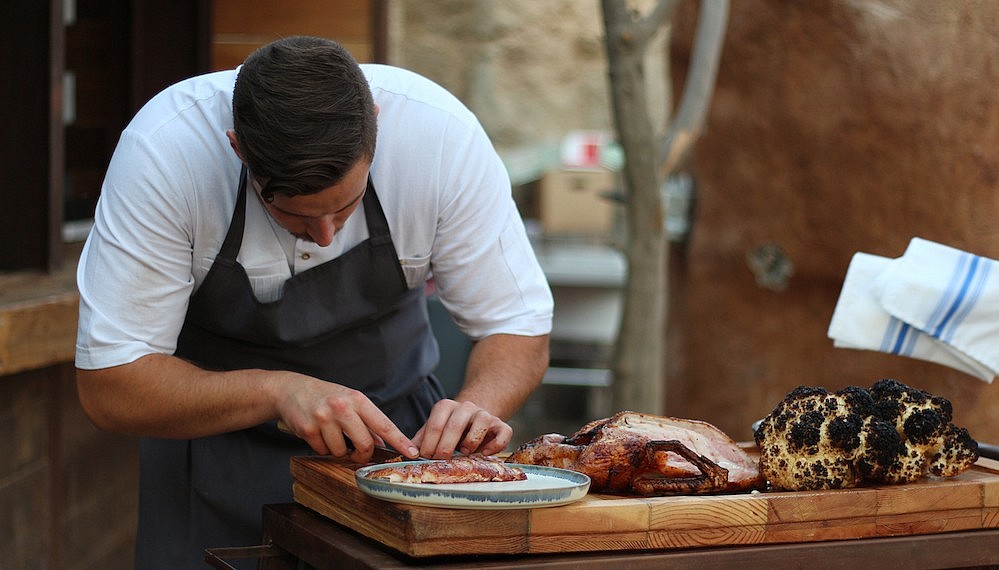 Fauna at Bruma
"We're not trying to be modern or cool," says David Castro Hussong, chef of Fauna, the just-opened, book-in-advance restaurant inside Bruma, a resort with architectural inclinations. "We're not doing foam; we don't care about cooking something for 3 hours, 2 minutes and 50 seconds." Hussong's belief is that being modern is being honest, and that belief is held up in the simple, traditional Mexican dishes he prepares, which came from a childhood of watching his dad prepare daily barbacoas. Hussong might also prepare a seaweed and chia-seed soup that you stir with chopsticks and sip with two hands, or a variation on traditional aguachile, where the habaneros are fermented. "Sometimes it's just a cut of meat in the oven with garlic and salt, and sometimes we break all the rules," Hussong says. Consider Fauna a stunning homecoming for a chef returning to his hometown after a first-class world tour.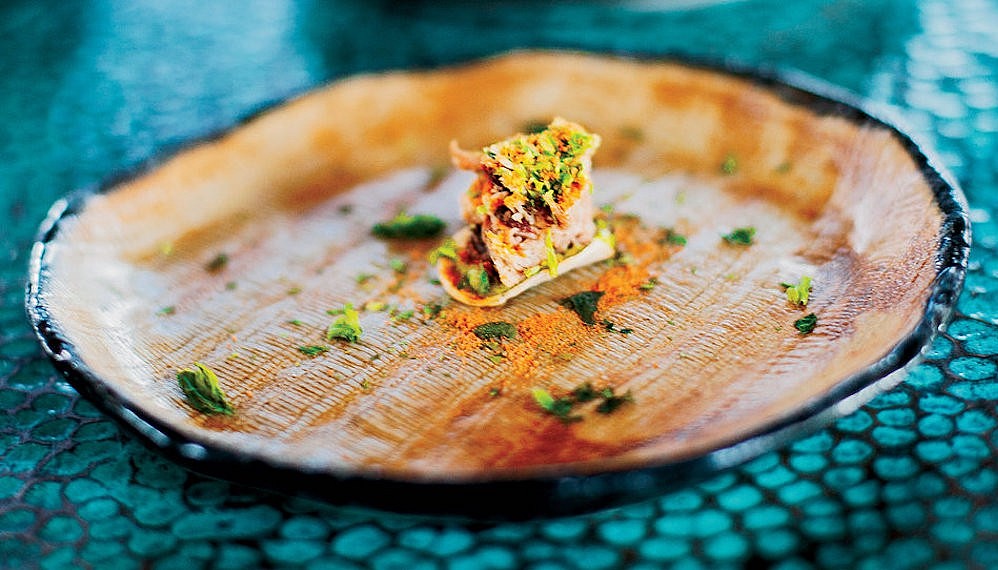 Corazón de Tierra
Another restaurant with no menu, Corazón de Tierra lives beside the bucolic gardens that are likely to produce the greens that wind up on your fork. Chef Diego Hernández Baquedano — who grew up in nearby Ensenada and trained with great Mexican chefs, including Enrique Olvera and Guillermo González Beristáin — opened Corazón in 2011. He has always subscribed to the idea of letting nature decide what he will create, be it a single grilled oyster, smoked tuna with avocado puree and onion ash atop a cake of corn dough, or a dollop of scalded milk ice cream with guava jelly. Currently ranked No. 34 on the World's 50 Best Restaurants in Latin America, Corazón de Tierra is often called "The French Laundry of Baja" and is a staple for those who come to experience its five-course tasting menu in the valley.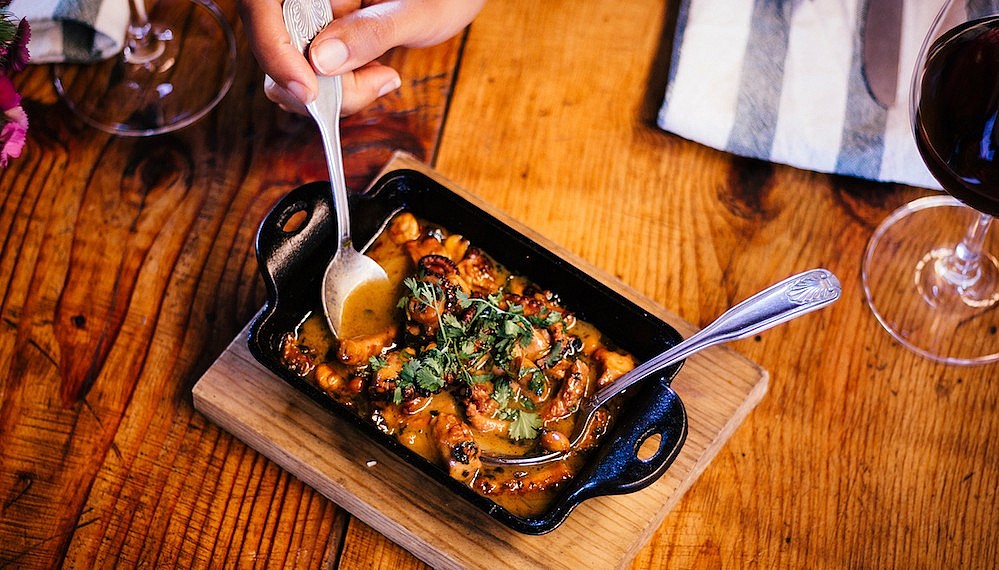 Finca Altozano
Javier Plascencia is one of the most prolific entrepreneurs in Valle de Guadalupe, and Finca Altozano is his popular, open-fire restaurant that overlooks acres of vineyards. Here, Plascencia has perfected "asador campestre," or country grill, where a suckling pig might be roasted in a caja china (a roasting oven that cooks the whole animal) or a wood-fired quail is prepared with chard, portobello mushrooms and pancetta. Sweetness and acid are the perfect balance to all the smoke, so start with an appetiser like the mini tostadas with octopus ceviche verde. And, depending on what time of year you visit, you might arrive in time for the Valle Food & Wine Festival, which Plascencia inaugurated and headlined last year with guest chefs like Nancy Silverton, Dominique Crenn and Josiah Citrin. Plascencia also hosts a pop-up every year called Animalón, featuring an eight-course progressive meal inspired by Baja's ingredients and terroir and held under the canopy of Finca Altozano's 100-year-old live oak tree.