new look

At the Salon International de la Haute Horlogerie in Geneva this January, boutique Swiss watchmaker H. Moser & Cie., a rising star on the independent watchmaking scene, introduced a wristwatch bearing a display that mimics a digital watch, marking the first time in the brand's history it has bucked the traditional analogue style, which uses hands to tell the time.
"We developed 12 movements in the last 12 years, all using hands and even the 70 movements developed between 1828 and 1874 by Heinrich Moser were all using hands," says Edouard Meylan, chief executive of the historic brand, which the Meylan family acquired in 2012. "Therefore, this particular movement opens doors to a new world of creative expression for our engineers."
Housed in a 42mm 18-karat white gold case, the Endeavour Flying Hours (US$32,000/RM125,775) is a striking watch, beginning with its Funky Blue fumé dial — a brand signature. The digital time display relies on a new disc-based mechanism inspired by the planets. The main disc at center indicates the minutes. It is surrounded by three smaller discs showing the hours. Each of these rotates on its own axis, in a graceful ballet-like sequence, revealing the hour in a white display at the top of the dial. In keeping with H. Moser's sleek, minimalist style, the hour discs appear to blend into the dial.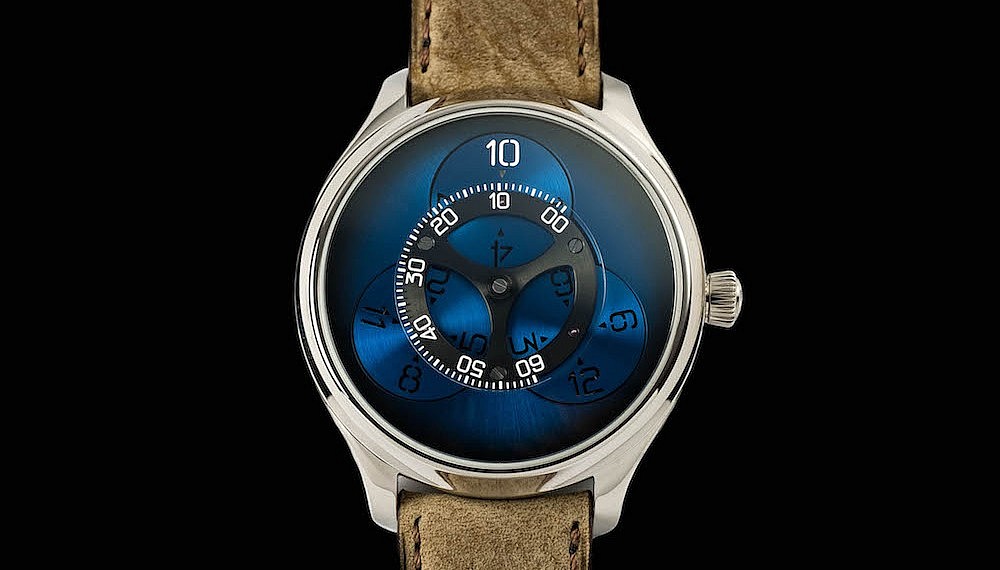 The model's automatic C806 caliber, developed and produced in conjunction with sister brand Hautlence, boasts a minimum power reserve of three days. Meylan says its namesake complication, the wandering hours, appealed to him for a chiefly symbolic reason.
"Even though it's almost 200 years old, it triggered the rise of modern watchmaking with the Star Wheel from Audemars Piguet and the Urwerk developments of early 2000," he says. "Being able to reinterpret this complication à la sauce Moser is essential to expressing our unique identity, as Moser builds the bridge between traditional and modern and independent watchmaking."
Moser & Cie. has become something of an agent provocateur. It was founded in 1828 by industrialist Heinrich Moser, a native son of Schaffhausen — a town on the Rhine River in the German-speaking part of Switzerland. But since the Meylan family revived it six years ago, the upstart brand has introduced a number of timepieces that playfully address issues of significance to the Swiss watch trade, from the rise of smartwatches to this year's controversial — and ultimately discontinued — Swiss Icons Watch.
Described as a "Frankenstein homage watch" for its tongue-in-cheek mishmash of features reminiscent of some of the watch trade's most popular models, the piece was pulled before the start of SIHH in response to criticism.
On the other hand, the Endeavour Flying Hours model is very much available — in a limited edition of 60 pieces.