The limited edition timepiece is dedicated to Russian cosmonaut Alexey leonov

Louis Moinet is a brand that certainly isn't afraid of venturing out into space – having painted a cosmos of galaxies and nebulae in the past – but this recent Baselworld, the Swiss independent has taken outer space more literally. The Louis Moinet Spacewalker is dedicated to a man who performed one of the greatest feats in the space race – Alexey Leonov, the first man in the world to perform a spacewalk on March 18, 1965. Leonov also made one of the most symbolic gestures of the Cold War, shaking hands with his NASA counterpart Thomas Stafford on a spacewalk in 1975.
Many elements on the Spacewalker are linked back to Leonov, both overt and subtle. The oversized tourbillon at 12 o'clock represents the Vokshod 2 – the spaceship that carried Leonov into orbit – and the diamond revolving around the tourbillon represents Leonov himself, a reference to his codename for the mission – Almaz-2, almaz being the Russian word for diamond. The aventurine dial depicts an artistic impressions of the stars on the day Leonov drifted at will in space for 12 minutes and 9 seconds, spliced with a dramatic red nebula. The handpainted celestial artwork is another discreet reference, to Leonov and the father of the maison Louis Moinet, both of whom were avid painters.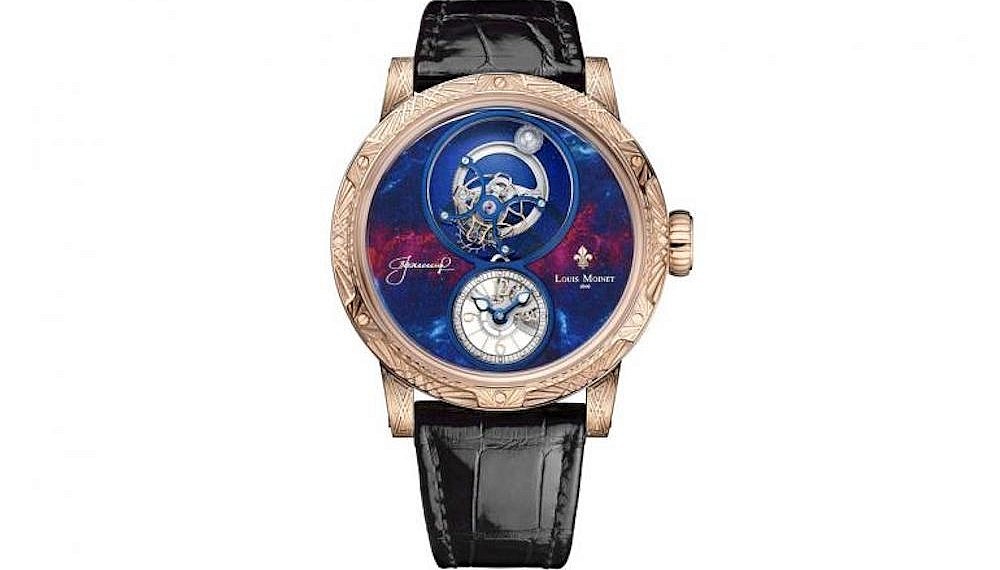 Unlike the unending vastness of space, the Louis Moinet Spacewalker will be more limited. To honour Leonov's groundbreaking 12 minutes, there will be two limited editions of 12 engraved Spacewalkers in rose or white gold, alongside the main two limited editions of 18 non-engraved pieces, also in rose or white gold.