the credenza is made from 50,000 year-old kauri wood from new zealand

The new DeKauri credenza-inspired vanity gives a chic revision on first impressions. A collaboration between high-end Spanish surfaces brand Cosentino and Italian furniture company Riva 1920, the fetching piece, with its slender legs and simple lines, conceals a complex design inside. Open the doors and you reveal the unexpected: a self-contained vanity with an integrated washbasin, a mirror, ultra-slim tubular LED lighting, and storage shelves tucked into the sides.
Designed by Daniel Germani, the DeKauri is also a story about material. One version of the design (US$25,000/RM99,800) is made with kauri wood from New Zealand, harvested from giant trees whose genus dates to the Jurassic period. Stands were felled by forces of nature 50 millennia ago and buried in peatlands near present-day Auckland. The massive logs — some nearly 70m tall — were wonderfully preserved, with a rough beauty that seduced Germani.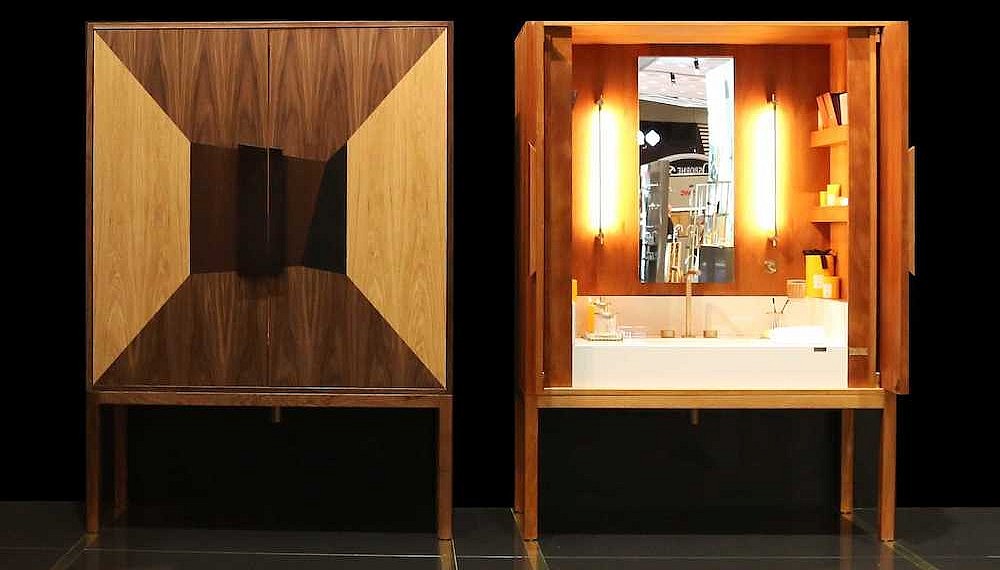 "[They] are true natural sculptures," says the Argentinian architect. "How often does one get to work with 50,000-year-old wood?" The transformative material "sparked my vision for a freestanding piece of furniture that both houses and conceals a bathroom vanity," he says.  Germani chose Dekton by Cosentino for the sink, Fantini Rubinetti's Aboutwater faucet by Naoto Fukasawa in matte British gold, and Juniper Design lighting for ultra-minimal illumination.
A second version of the cabinet (shown, US$20,000,RM79,800) has the same interior fittings, but its exterior is a geometric patchwork of wenge, walnut, and cedar, completing the "modern-day heirloom" of Germani's vision. "It's almost like a private sanctuary," he says, "where you can be messy or organised as you wish."
---