the rm 25-01 is a muscle-bound timepiece
Richard Mille has seriously beefed up its latest timepiece, the RM 25-01. The souped-up tourbillon was created in collaboration with Sylvester Stallone, and it comes with an impressive array of Rambo-approved bells and whistles.
The RM 25-01 (US$983,000/RM4.03 million) is the ultimate tool watch — packed with survival gear like a compass, a level, and a secret compartment containing five water purification tablets. It's no surprise Stallone wanted to put his own stamp on a Richard Mille. The actor and director has been a longtime fan and friend of the brand and even wore a RM 032 in the third installment of The Expendables franchise.
Naturally, it's a lot of watch, with a 50.85 mm Titanium and Carbon TPT case measuring — but one would expect nothing less from this watchmaker and action film hero pairing. Fitting onto the case is a separate removable bezel that attaches the compass onto the watch via a bayonet mount. The compass also comes with a Carbon TPT cover and titanium mount, including a mirror to better read the compass.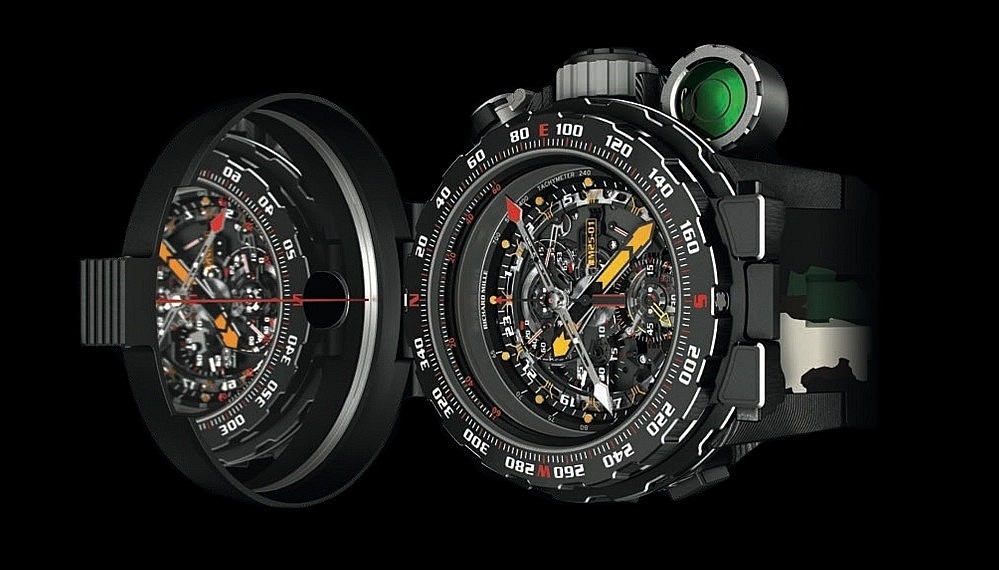 The watch is also outfitted with a level on the side of the case at 4 o'clock so that the compass can be accurately positioned. When it's not affixed to the watch, the compass fits onto a Carbon TPT plate (included with the timepiece) that has lines indicating the direction when following a course on a map.
A separate bidirectional Carbon TPT and titanium bezel with a 24-hour scale, a 360-degree graduated disc, and direction indicators is provided to replace the compass for a relatively more traditional timepiece. The compass is coated so that its magnetism doesn't interfere with the movement.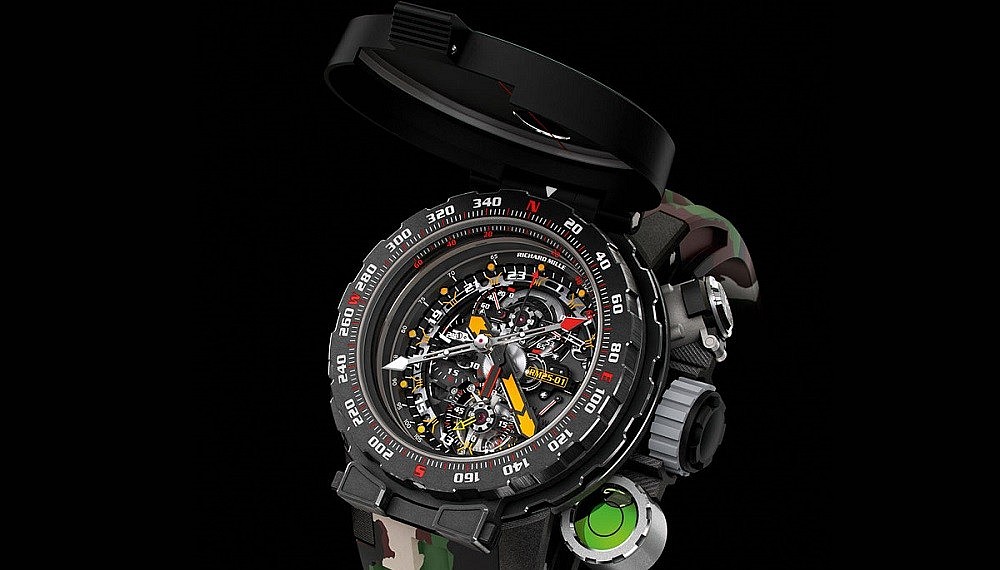 Inside, the tourbillon complication and chronograph movement are supported by a baseplate and bridges machined out of grade 5 titanium. It took months for Richard Mille to develop a movement that reduced the weight of the watch while increasing its precision.
To top it off, a hidden compartment at 2 o'clock holds five water purification tablets that can each make a litre of water safe to drink in roughly 30 to 120 minutes . . . you know, just in case you're stranded somewhere dangerously remote in your six-figure Richard Mille.
The watch comes with a camouflage rubber strap, is water resistant to 100 meters, and is limited to just 20 pieces  — minus the one already on Sly Stalone's pumped up wrist.