play that funky music
"If music be the food of love, play on," goes Shakespeare's most famous line in the Twelfth Night – and there was plenty of music and food to go around at The St. Regis Kuala Lumpur's Guest Chef Star Series in August. The Brasserie played host to chef Thomas Bühner – who previously headed La Vie in Osnabrück, Germany, which held three Michelin stars prior to the restaurant's closure this year – from 15 to 18 August.
Adding another dimension to his guest appearance, The House of Martell, Maison Perrier-Jouët and Lillet stepped in to host the dinner in the spirit of Martell's 'Be Curious' maxim. There to complement Bühner's progressive cooking techniques and multidimensional, avant-garde cuisine was a playlist of Bühner's favourite jazz tracks, as a nod to St. Regis Hotel & Resorts' lifelong association with America's quintessential music genre.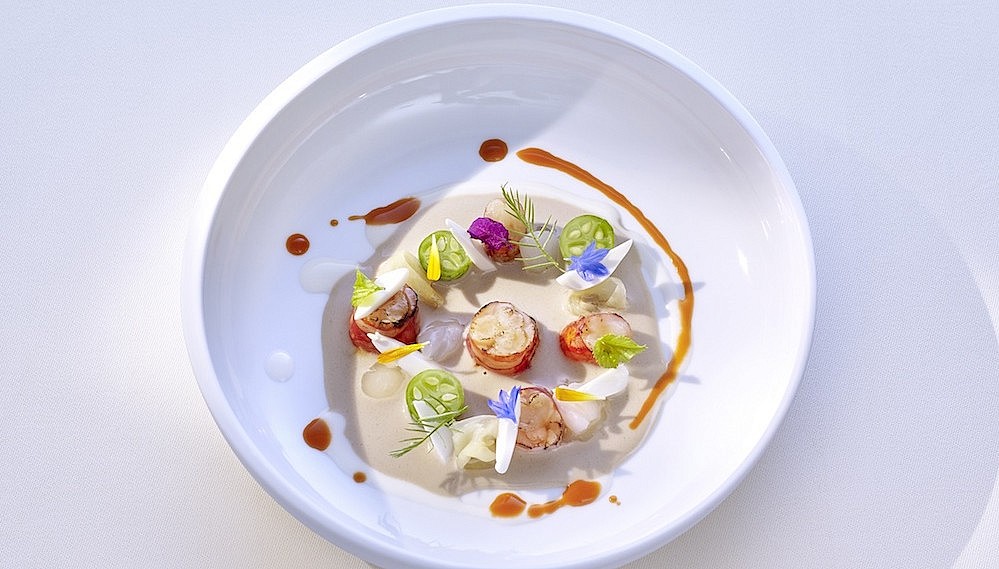 The six-course dinner began to the strains of Herbie Hancock's 1962 classic, 'Watermelon Man', played by The Brasserie's live band. An amuse bouche of melon, water kefir and caviar appeared, sprinkled with Danish sea salt ("For me, it's the best in the world!" the chef exclaimed enthusiastically) to render it smoky, sweet, and salty all in one mouthful.
A portion of steamed wild cod blanketed with a thin layer of Australian wagyu tenderloin ("The opposite of surf and turf," Bühner remarked) was bathed in a gentle consommé of kombu, soyabeans, and kohlrabi to Roberta Flack's 'Compared to What'. Ella Fitzgerald and Louis Armstrong's famous 'Summertime' duet accompanied a red mullet poached in spiced oil, whose rich sea urchin cream and piquant fennel paired well with a light, yeasty glass of Perrier-Jouët Grand Brut champagne.
The fragrant, honeyed notes of a terrific glass of Lillet Rosé set the stage for a Thai-inspired red gamba confit, which featured peach, fermented plums, almond slivers, crab oil, and Louis Armstrong's 'Struttin' With Some Barbecue'. Then came Bühner's signature dish: a clever potato foam and pumpkin curry ice cream that was hot on the outside and cold in the middle. "What have we done to deserve this?" a fellow diner murmured rapturously, between sips of an exotic Oriental Lillet cocktail infused with saffron and cinnamon.
'Come Fly With Me' by Frank Sinatra made for an amusing accompaniment to a now-flightless duck magret in exotic stock with cabbage and celery cream, bolstered by Martell's intense, spicy X.O. Cognac. Finally, Etta James' 'At Last' rounded off the evening with a doughnut-shaped white chocolate dessert infused with the flavours of banana milk and tamarind, heightened with a splash of the complex and opulent Martell Cordon Bleu.
---