The Scotch specialist releases whiskies that are two halves of a whole
Gordon & MacPhail is known among whisky connoisseurs as the curators of some of the world's finest and rarest single malt Scotch, presenting them in unique ways that honour the legacy of the liquid. This month, the Urquhart family (which owns and runs Gordon & MacPhail) takes things to a different level with a new release from its Private Collection – a pair of decanters selected by identical twin brothers Stuart and Richard Urquhart. Containing the oldest single malts from the Longmorn distillery in Strathspey, Speyside, the family connection runs even deeper – the whisky contained within was laid down by the brothers' grandfather George Urquhart in 1961.
With only 97 sets of the twin decanters available worldwide (£30,000/RM163,950), this is a liquid prize indeed. In 1961, the ambition of George Urquhart for these casks was to understand the effects of European oak over American oak in the maturation process. Like identical twins, the whisky started life with the same DNA, but Cask 508 was matured in first-fill Sherry hogshead casks while Cask 512 used American oak. Professor David Purdie, a fellow of the Royal College of Physicians, assisted Gordon & MacPhail in paralleling the effects of heritage, environment and location on biological twins, and transposing that knowledge to explain the gestation of the twin whiskies. Cask 508, selected by Richard Urquhart, is a deep mahogany with red highlights, bursting with complex aromatic notes and a rich, abundant nose – representing his drier, and spicier, sense of humour. Cask 12, selected by Stuart Urquhart, on the other hand, gleams with a rich chestnut sheen with amber and ruby highlights, and a slightly sweeter and fruitier flavour with notes of forest stone fruits and dried vanilla – a nod to how the twins' lives have diverged after sharing an almost identical upbringing all the way to university.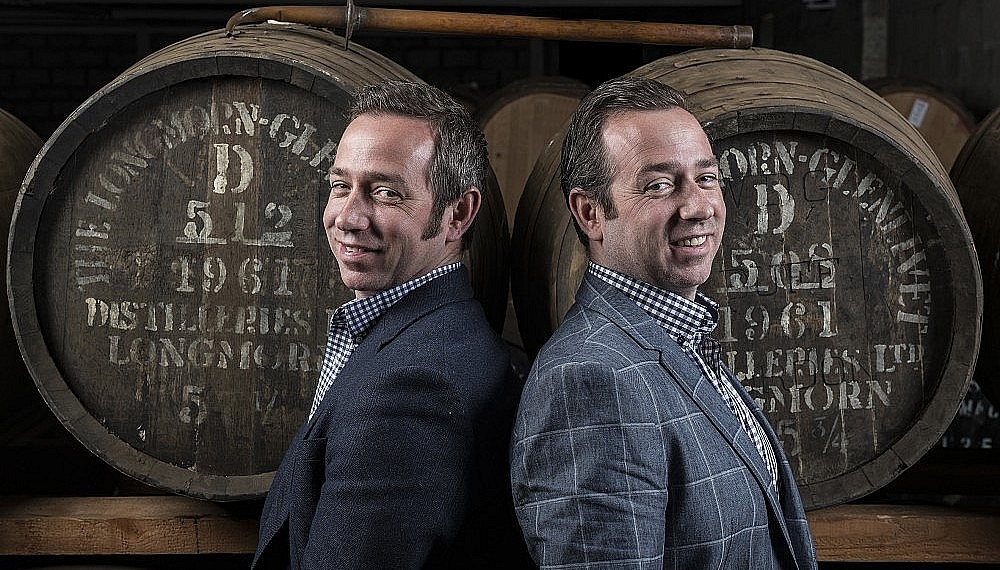 "Like human identical twins, both whiskies share the same make up," said Professor Purdie. "They were born together, but matured separately. It is remarkable to observe how the identical spirit filled into the casks all those years ago has been altered by the natural environment of the casks themselves – one crafted from European oak and the other from American oak. Just like twins who start life at the same time and place, each whisky has then been shaped and developed by a multitude of separate factors to create these subtle differences."
The twin release from the Gordon & MacPhail's Private Collection from Longmorn Distillery is individually numbered in hand-blown decanters. Along with the decanters, buyers will also receive a book from rare whisky specialist Jonny McCormick and a personally-signed certificate of authenticity from each brother.