when terroir is everything
Located in Southern France, the Rhone Valley is a mecca for wine devotees who hold the influence of terroir especially close to heart. This region contains at least eight wines with Appellation d'origine contrôlée designations. These badges vouch for the virility of the ancient earth, wind and waters, as well as that of the toilers who transform berry into vin extraordinare.
In this era of the region's 2000 year old history, the M. Chapoutier name has grown to represent the eminence of the Rhone Valley. Current owner, Michel Chapoutier continues to expand the vision of his great, great, great, grandfather, Marius Chapoutier, who decided to follow his instincts and vinify his own fruit. Michel himself broke conventions by insisting on purely biodynamic viticulture, vintage dating for all of the estate's wines, and the elimination of fining and filtration.
In a one-off collaboration with Le Meridien Kuala Lumpur, M. Chapoutier export director for Africa, Asia and Middle East, Edouard Payot, brought several cases of the family's most popular vintages for an eager crowd to sample. Paired exquisitely with the sublime palate of Executive Chef Antoine Rodriguez of Prime restaurant, this was a dinner event that saw plates polished clean before being returned to the kitchen.
As invited guests mingled at cocktail tables, glasses of sprightly M. Chapoutier Luberon "La Ciboise" 2016 were served. Accompanying morsels included the Igor Caesar Salad, Beef Tartar-Lobster-Foie Gras, and a Mayo Foam-Celery-Micro Herbs assembly.
A starter of Torched Hiramasa Sashimi and Trout Roe Bottarga drizzled in an Extra Virgin Olive Oil Honey-Lemon dressing with Shiso Cress, was accompanied by the M. Chapoutier Cotes Du Rhone Blanc "Belleruche" 2016. This was followed by a Tartiflette Ardechoise of potato 'Au Gratin', smoked duck and shallots fondue, with a cheese crust. This savory dish went down with an oily and fulsome M. Chapoutier Cotes Du Roussillon Occultum Lapidem 2015.
The main course was of course a Prime specialty of Grilled Aged Beef, served with Horse Radish Butter Milk, Onion Wedges, Truffles, Sauteed Mushrooms and Ciboulette. In keeping with pairings of like and like, the M. Chapoutier Crozes Hermitage Les Meysonniers Rouge 2016 of Shiraz and Syrah was a delicious choice and once again, guests voiced their approval as Chef Rodriguez made his rounds.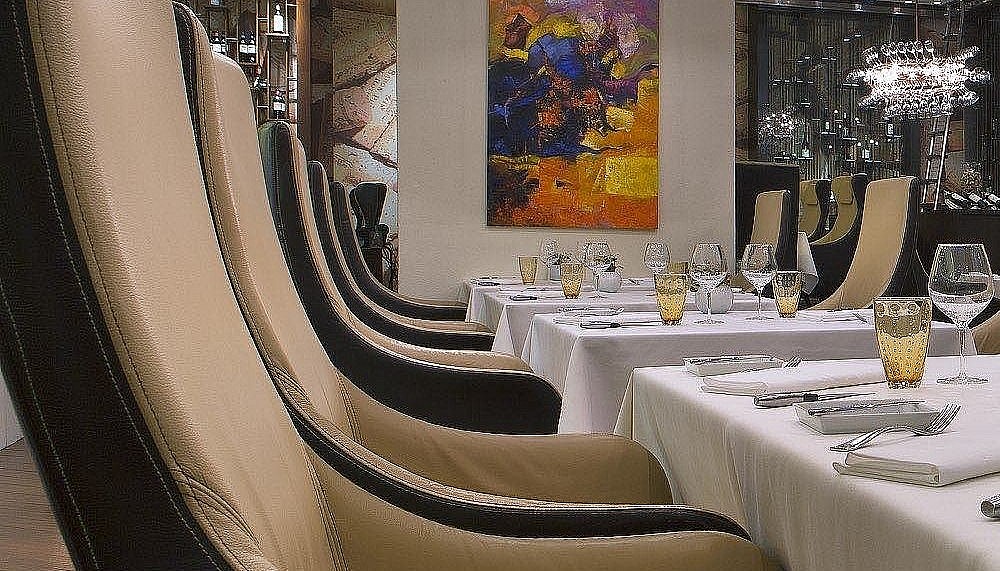 The closer was a Caramelised Apple Cheese Cake with Fresh Berries Coulis and Almond Milk Ice Cream. A sticky sweet M. Chapoutier Muscat Beaumes De Venise 2015 was matched with the final plate. All throughout, both food and wine took paired well and made for an excellent introduction to some of the best produce of the Rhone Valley.