Strengthen your culinary skills and expand your cookbook with five new recipes straight from the kitchens of luxury hotels such as The Datai Langkawi, Armani Hotel Milano, Baccarat Hotel New York, Trisara in Phuket, and Badrutt's Palace in Switzerland. With news of the lockdown extending until mid-May there's no better time to get into home cooking.
The Datai Langkawi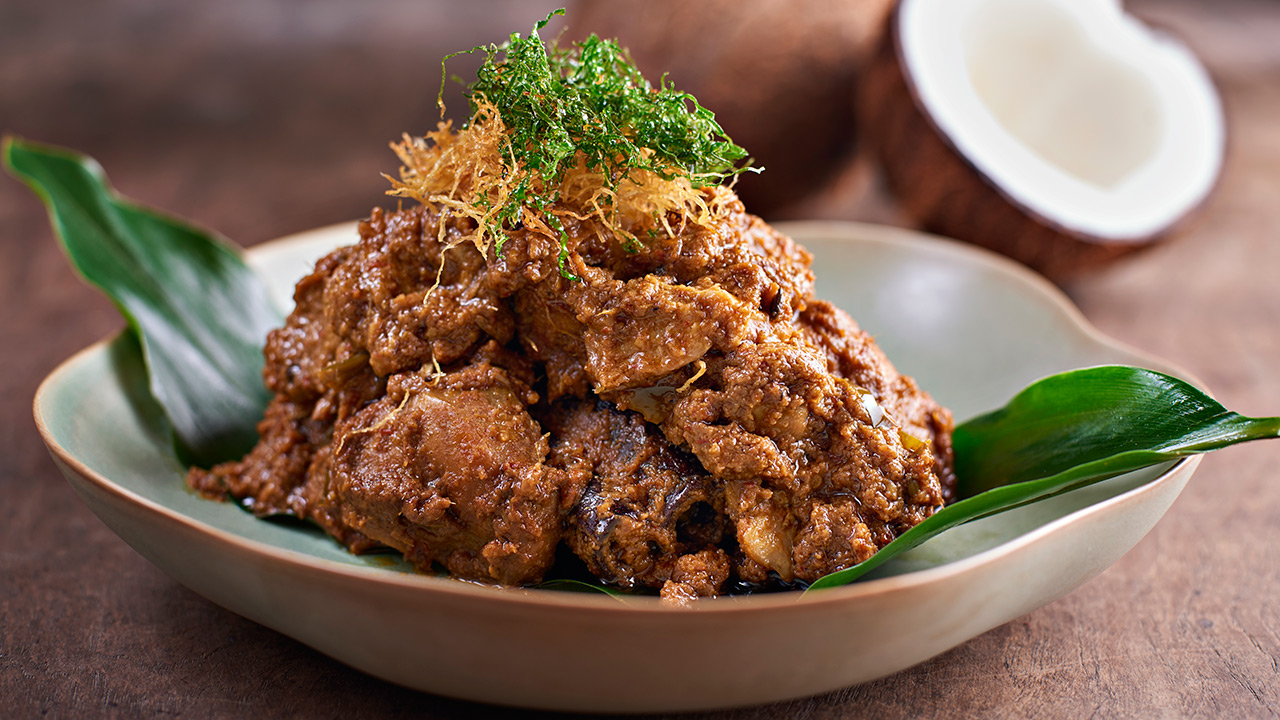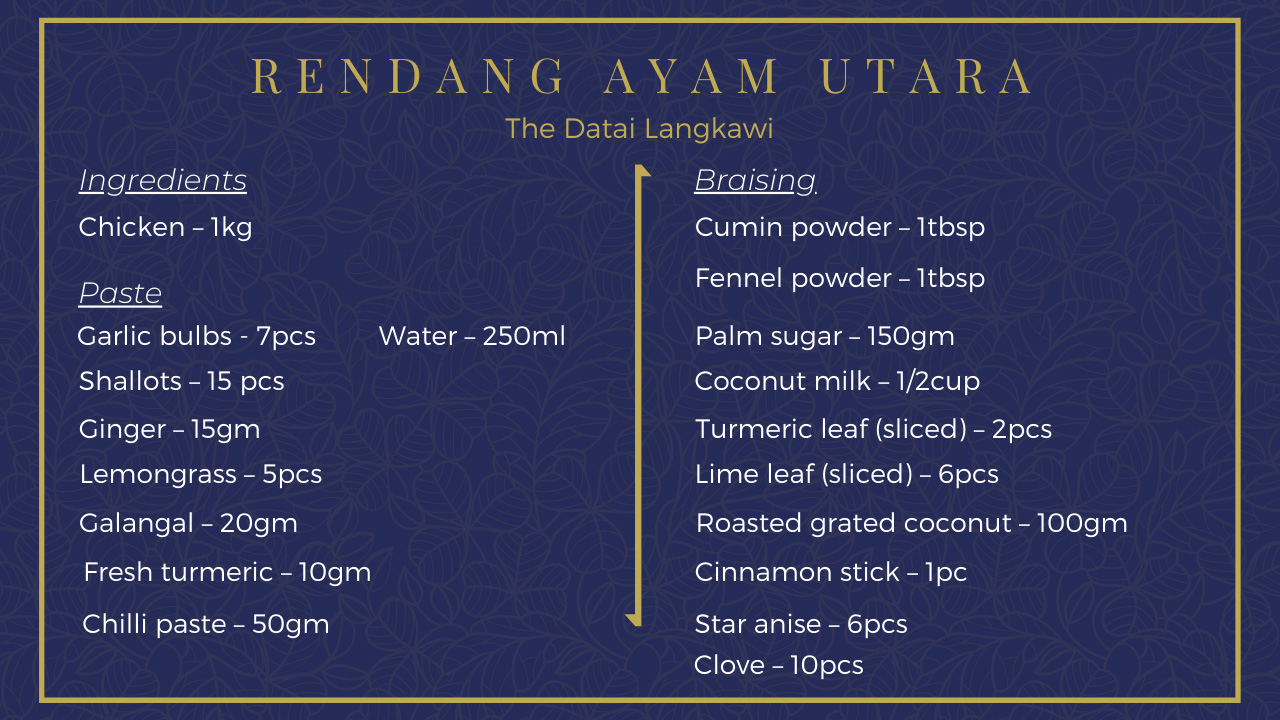 Perfect for the festive season, this delicious northern-Malaysian chicken rendang is made using slow cooked chicken, lemongrass, galangal, roasted coconut, turmeric leaf and local spices.
Recipe
What you need:
Please refer to the recipe card in the next slide above.
How to make it:
First, cut the chicken into pieces. Next, blend together all the paste ingredients. Heat a pot, add the paste and cook until boiling, bearing in mind to keep stirring to avoid any burning. Add in turmeric leaves, lime leaves, cumin powder, fennel powder, cinnamon stick, clove, star anise, palm sugar and coconut milk and continue stirring. After a few minutes, add in the chicken and braise slowly until chicken is tender. Add in roasted coconut and keep stirring until the oil has separated before finally seasoning with salt and sugar to taste.
---
Armani Hotel Milano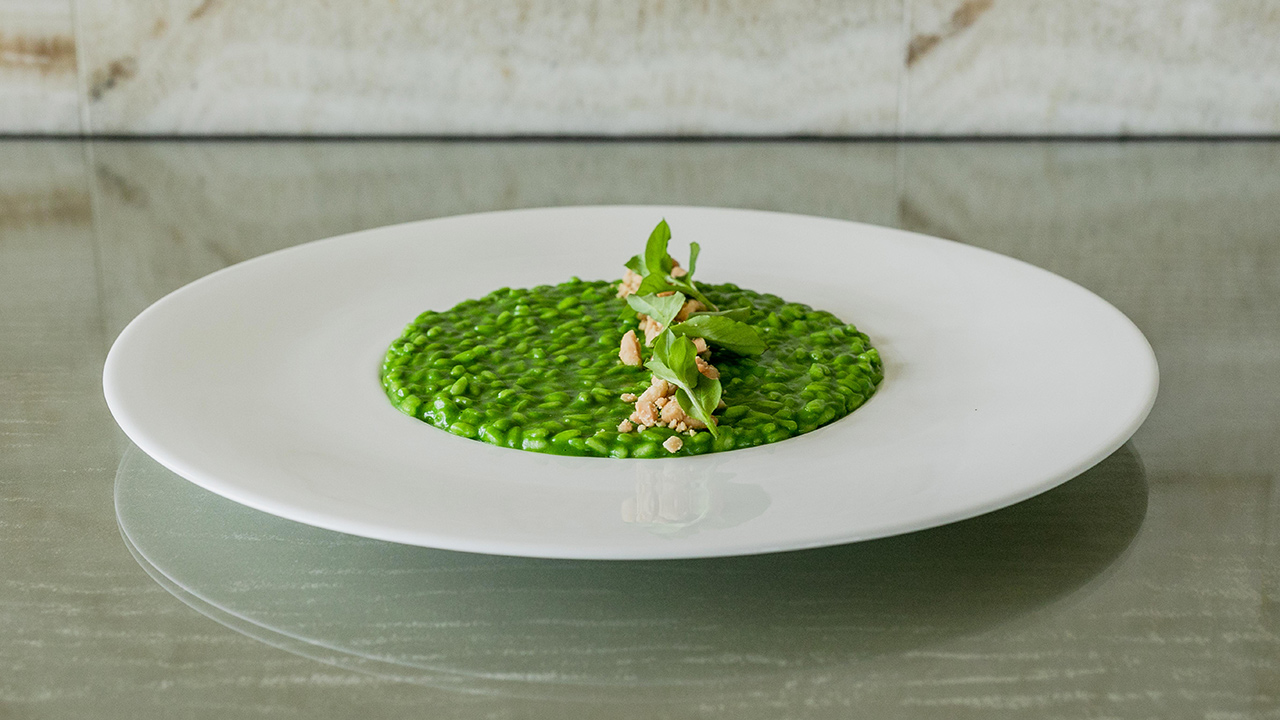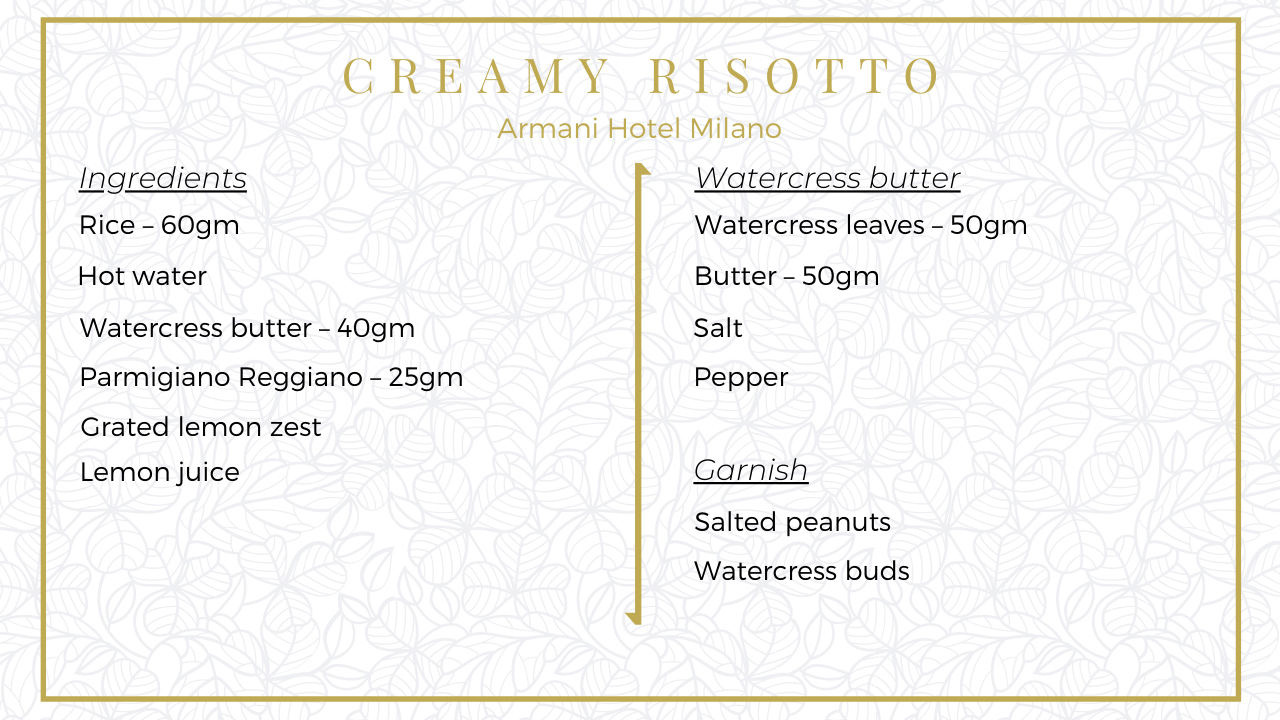 A fresh tasting risotto is perfect for any meal of the day and Armani Hotel in Milan has a winning recipe for a creamy watercress and salted peanut risotto that's big on flavour.
Recipe
What you need:
Please refer to the recipe card in the next slide above.
How to make it:
Start by making the watercress butter, which requires you to blanch the watercress in salted boiling water. Next, chill it in a mixture of cold water and ice, wring it and then blend it together with melted butter. Season with salt and pepper. To prepare the risotto, begin by toasting the rice with fine salt, wetting with water and cooking it for 12 minutes, gradually adding hot water little by little until desired consistency. Once the rice is cooked, mix it with watercress butter, grated lemon zest, lemon juice and reggiano parmesan cheese. Garnish with watercress buds and salted peanuts before serving.
---
Trisara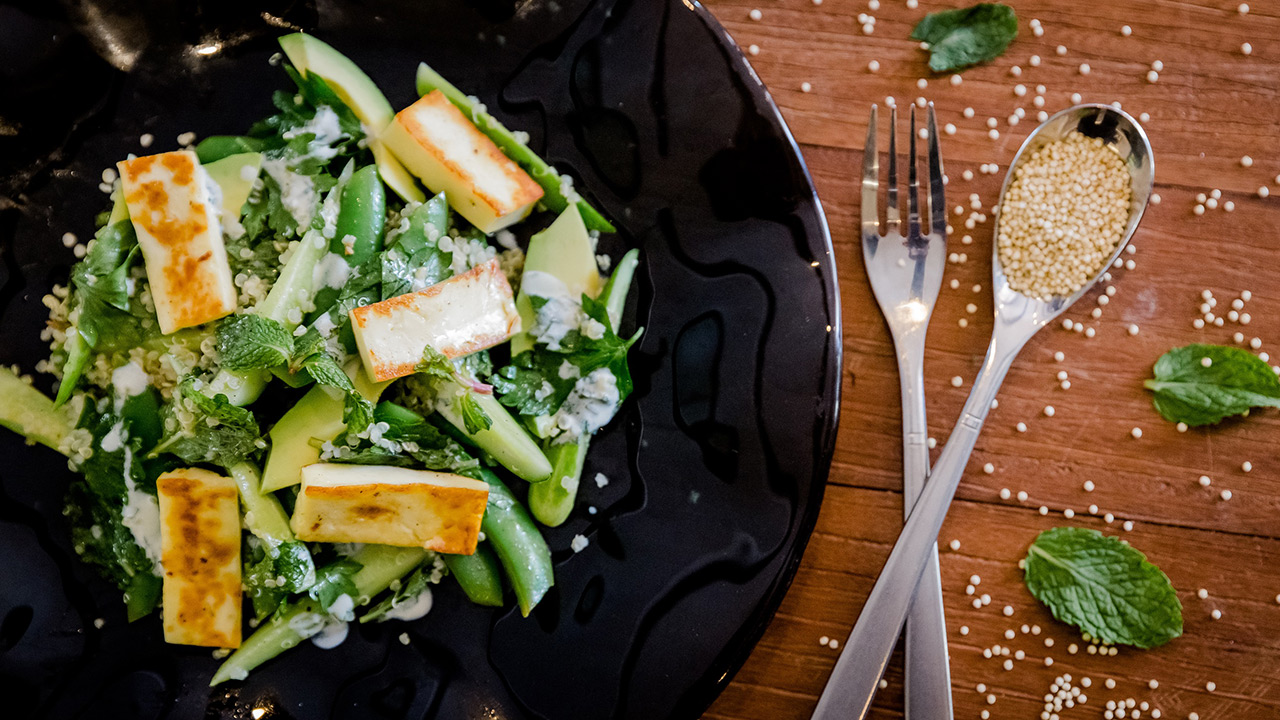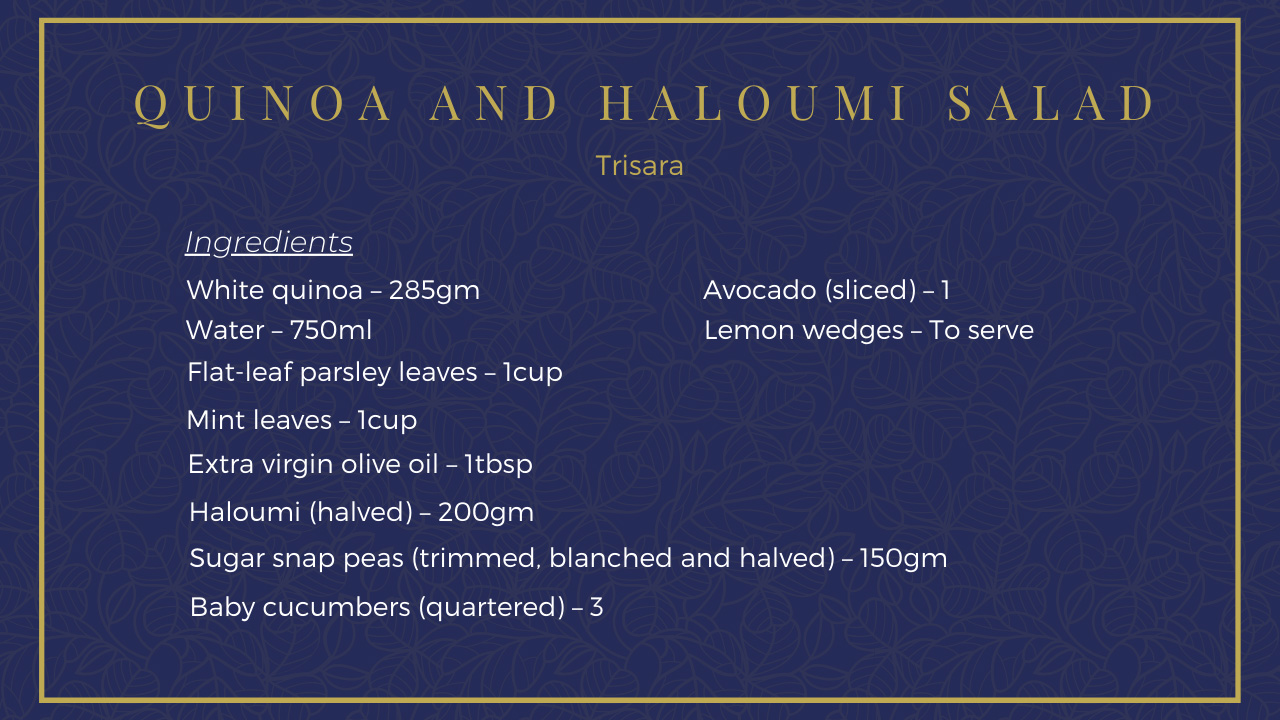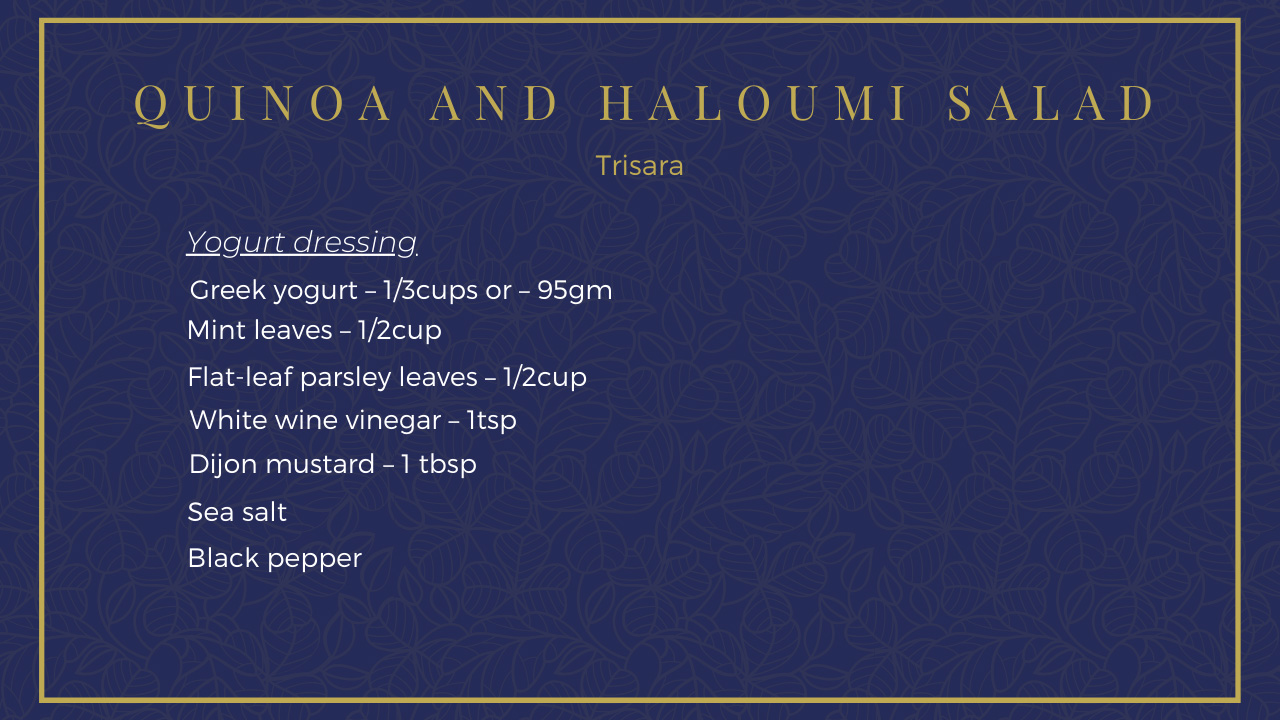 A quinoa and haloumi salad is filling and nutritious, giving you all healthy boost of energy for lunch that will last you throughout the day while leaving you light on your feet.
Recipe
What you need:
Please refer to the recipe cards in the next slides above.
How to make it:
Place the quinoa and water in a large saucepan over high heat and bring to the boil. Reduce heat to low and shift to making the yoghurt dressing. Place the yoghurt, mint, parsley, vinegar, mustard, salt and pepper in a small food processor and process until smooth and set aside to rest. Next, place the quinoa, parsley, mint and half the dressing in a large bowl and toss to combine. Heat oil in a small frying pan over medium heat. Add the haloumi and cook for one to two minutes each side or until golden. Remove from heat and slice. Divide the quinoa, sugar snap peas, baby cucumber, avocado and remaining dressing between the plates. Top with the haloumi and serve with lemon wedges.
---
Bardutt's Palace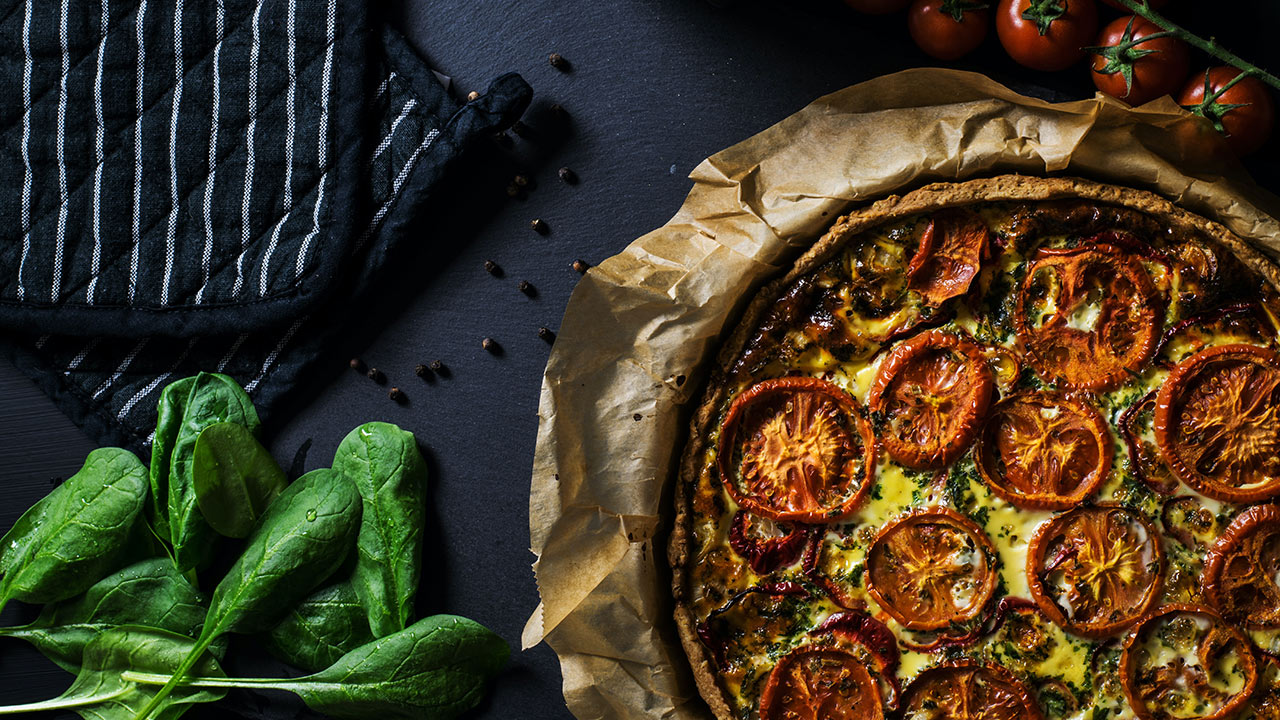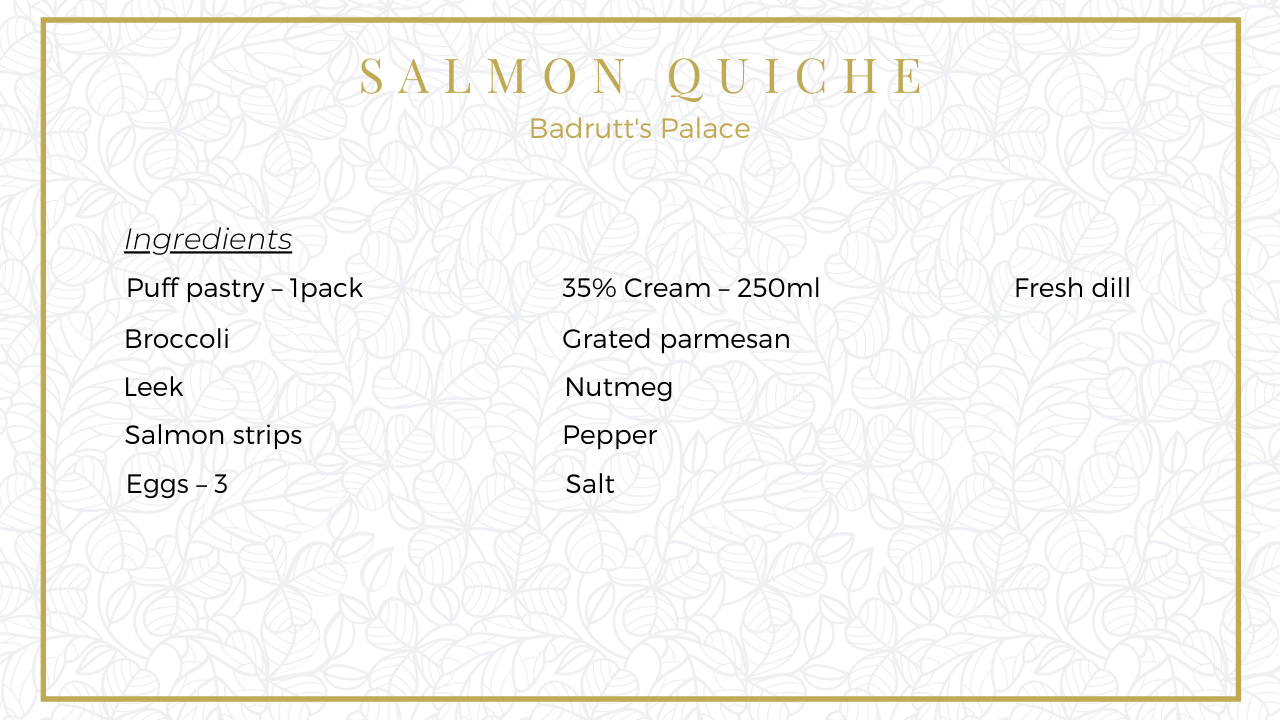 An easy oven-made dish that will please the family, salmon quiche is versatile enough to enjoy on its own as a meal or to pair with other dishes such as pasta, salads and soups. Don't be afraid to pour yourself a cold dry white wine, which will go perfectly with the flavours of this dish.
Recipe
What you need:
Please refer to the recipe card in the next slide above.
How to make it:
First, fry the leek gently in a pan. To make the base of the dish, put the puff pastry into a circular form before placing strips of salmon, broccoli and leek inside the form. Next, mix eggs, cream and parmesan, fresh dill, add salt & pepper and pour the mix in to the form. Grate some nutmeg on top and set to bake in the oven at 180 degree celsius for about 30 to 35 minutes.
---
Baccarat Hotel New York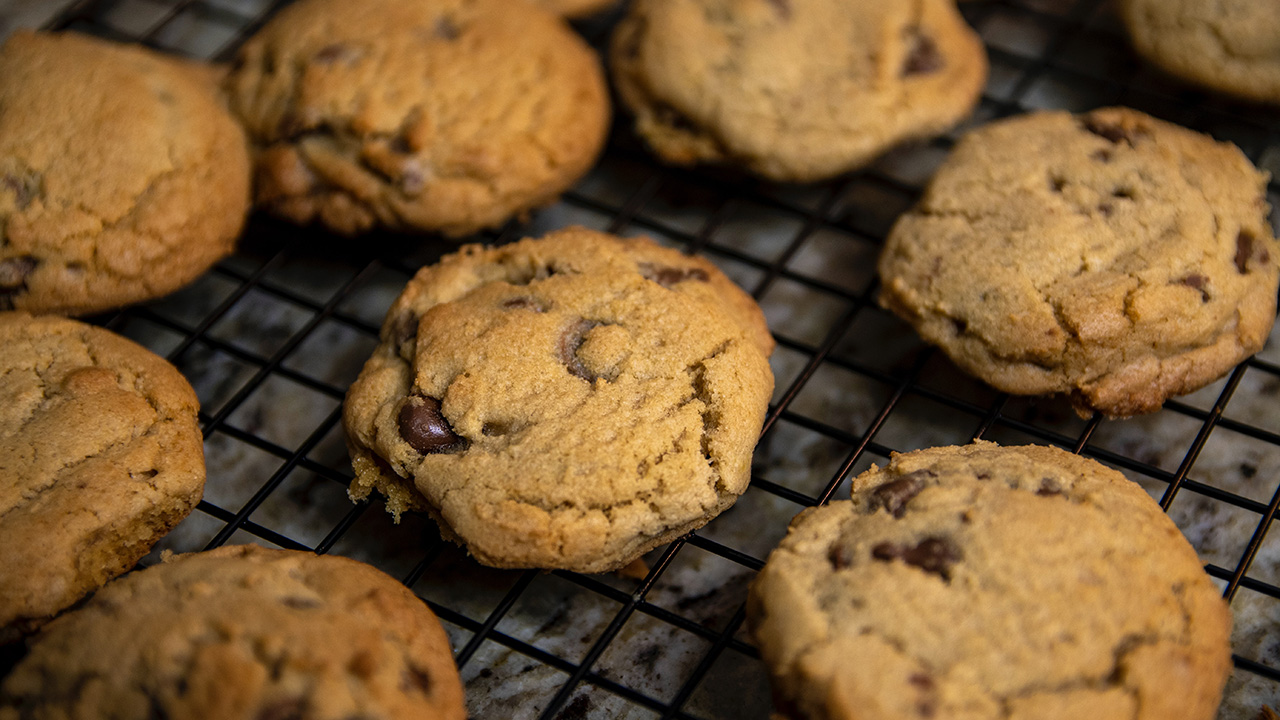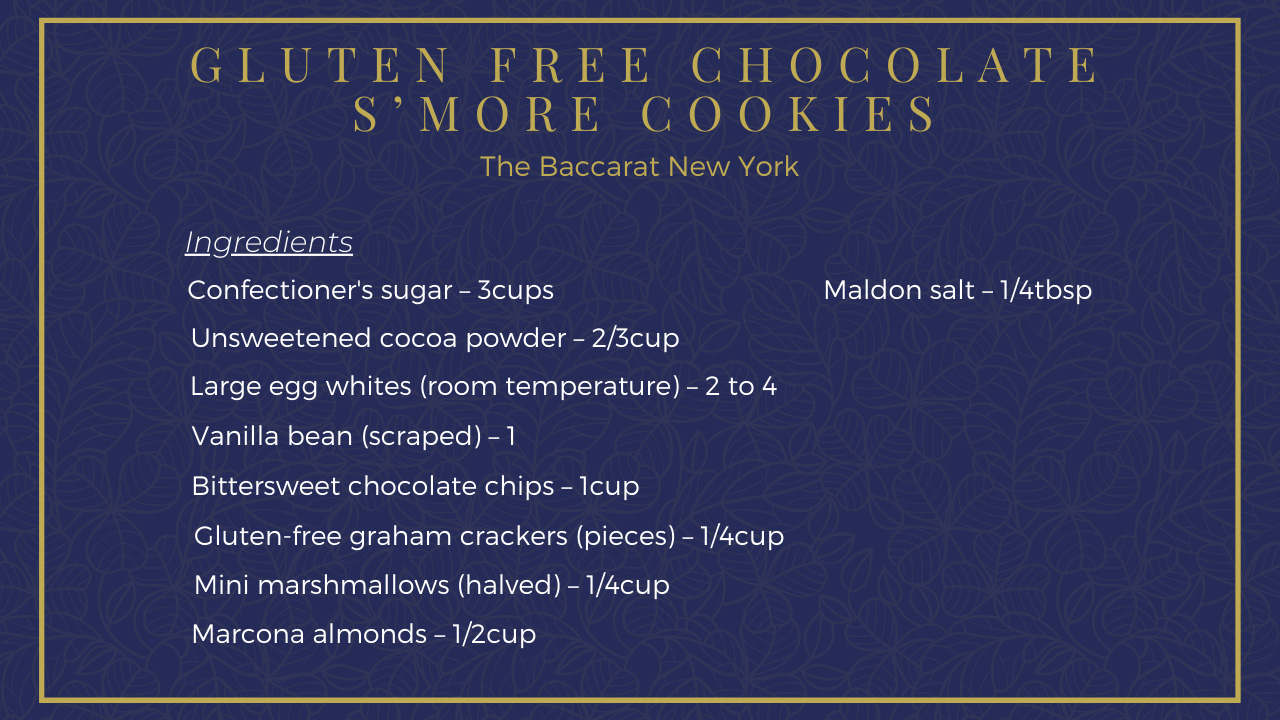 Make a batch of chocolate s'more cookies that will please the entire household during these trying times, courtesy of a recipe straight from the Baccarat Hotel in New York's Grand Salon. This recipe makes approximately 20 cookies,
Recipe
What you need:
Please refer to the recipe card in the next slide above.
How to make it:
Start by preheating the oven to 180 degree Celsius. Once that's taken care of, line a baking sheet with a silpat baking mat or parchment paper and then cover cooking spray. In a stand mixer, whisk together confectioner's sugar and cocoa powder. Add in two egg whites and vanilla. If the batter is too thick, add another egg white until it becomes moist but still retaining a thick consistency.  The batter should not be runny, but if it happens, add another ¼ cup or so of confectioner's sugar. Next, fold into the batter the chocolate chips, graham cracker pieces, mini marshmallows, and marcona almonds. Place about one and the half tablespoons of batter for each cookie on the baking sheet and sprinkle a pinch of Maldon salt on each cookie. Bake for 10 minutes and cool completely before removing from the baking sheet.