How does one follow up an act like The Godfather? Al Pacino did so with a second iconic gangster film, Scarface, and now so is Jacob & Co. Last year at Baselworld, the New York-based jeweller and watchmaker unveiled a special edition of its musical Opera watch, one based on the 1974 film. The Opera is a head-turning high complication timepiece, where the triple-axis tourbillon is somehow the less impressive feature—the star of the show is the two-comb, two-cylinder music box that, on demand, would play the film's main theme. 
This year, Jacob & Co follows up with one dedicated to Scarface. The musical piece this time is the upbeat theme that plays when Tony Montana first meets cocaine kingpin Alejandro Sosa at his opulent Bolivian estate. Upon activating the pusher at 10 o'clock, the watch will play a 120-note rendition of that theme, while the entire dial rotates 120 degrees. During this action, the time display will remain correctly oriented towards the wearer thanks to a patented differential system. Other film-related elements are the red lacquered gold plate in the image of the film's classic poster, and rose gold 'The World is Yours' globe styled after the entrance hall centrepiece of Montana's Miami mansion.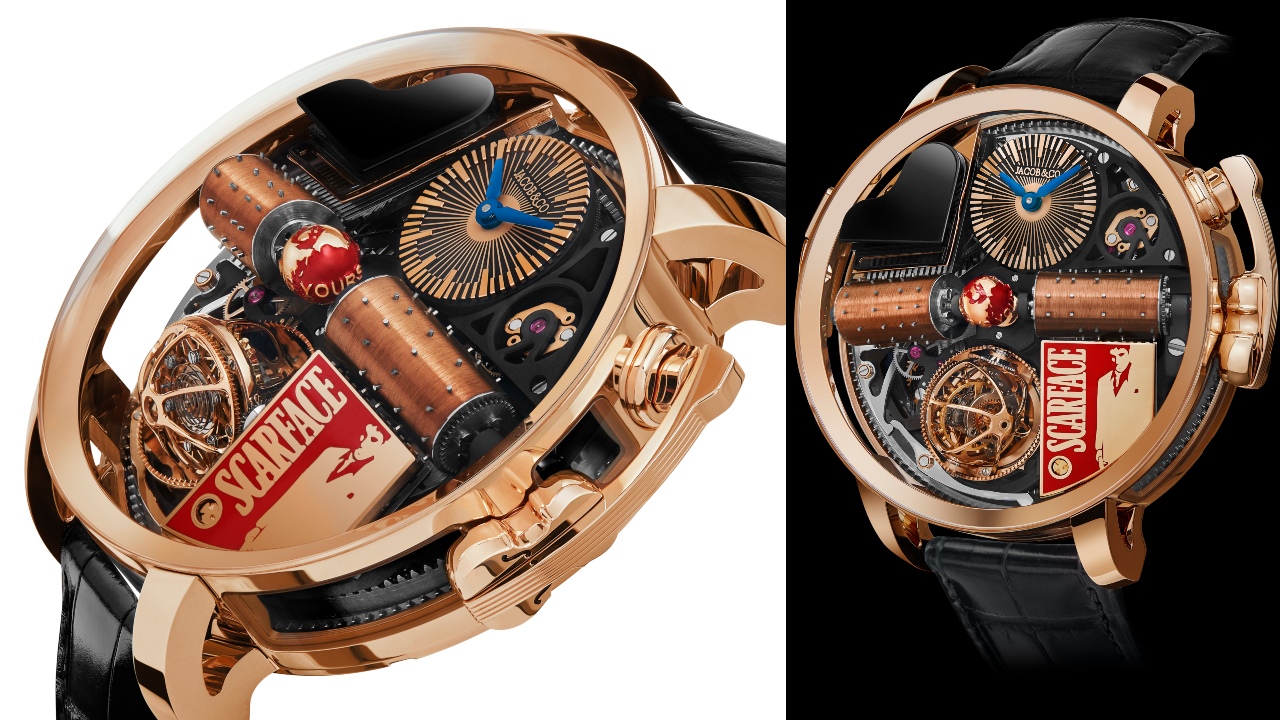 Otherwise, the Opera remains one of today's most arresting timepieces. The 43mm case includes a deeply domed sapphire crystal with more sapphire panels in the case middle, for an unimpeded view of the 658-component mechanism. The movement is wound via the violin-shaped crank on the right side of the watch, and has separate power reserves for the time and music—42 hours maximum for the former, and up to three times for the latter.
The Jacob & Co Opera Scarface is released in two limited editions of 88 pieces each: titanium black case (US$330,000/approximately RM1.5 million) and rose gold case (US$360,000/approximately RM1.6 million).