When the first glimpse of a building is as remarkable as the views from its highest floors, you can bet that you're dealing with a special piece of architecture. In the heart of Kuala Lumpur's Golden Triangle, Eaton Residences rises from the urbanscape with its curvilinear glass facade, already establishing itself as a landmark – even before its completion in the first quarter of next year.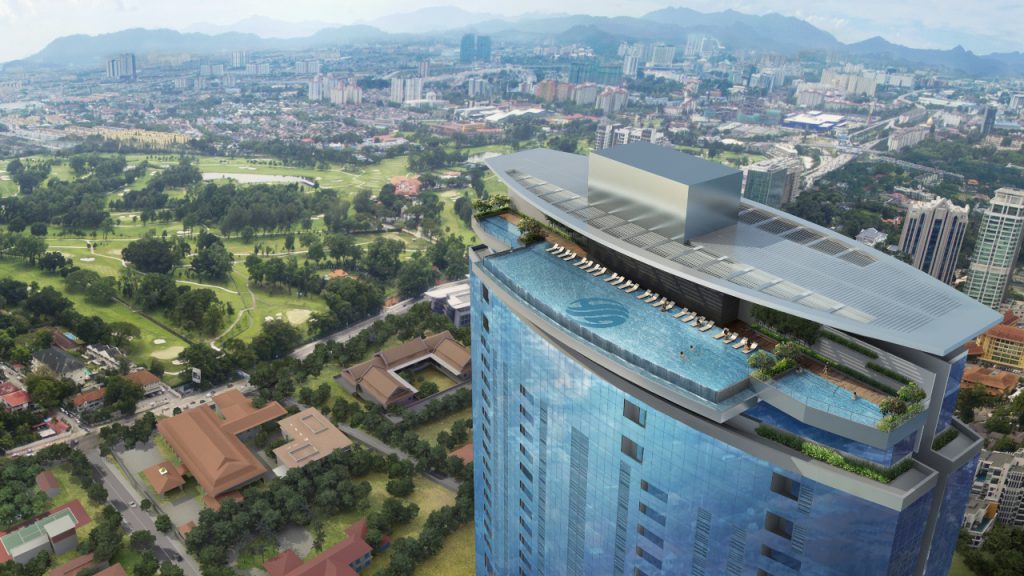 Since its launch in 2016, the 52-storey Eaton Residences has become one of the most sought-after residential developments due to its exceptional value proposition and in part because of an undoubted star attraction: the first, longest and highest cantilevered infinity 'sky pool' in Malaysia. Developed by City View Ventures – a wholly-owned subsidiary of SGX mainboard-listed GSH Corporation Limited – Eaton Residences' genesis came in 2014 when GSH Corp completed the acquisition of Equity Plaza at Raffles Place in Singapore. According to its CEO Gilbert Ee, the rebuild of Equity Plaza from its previous flat granite exterior required deep contemplation on achieving a higher efficiency of use.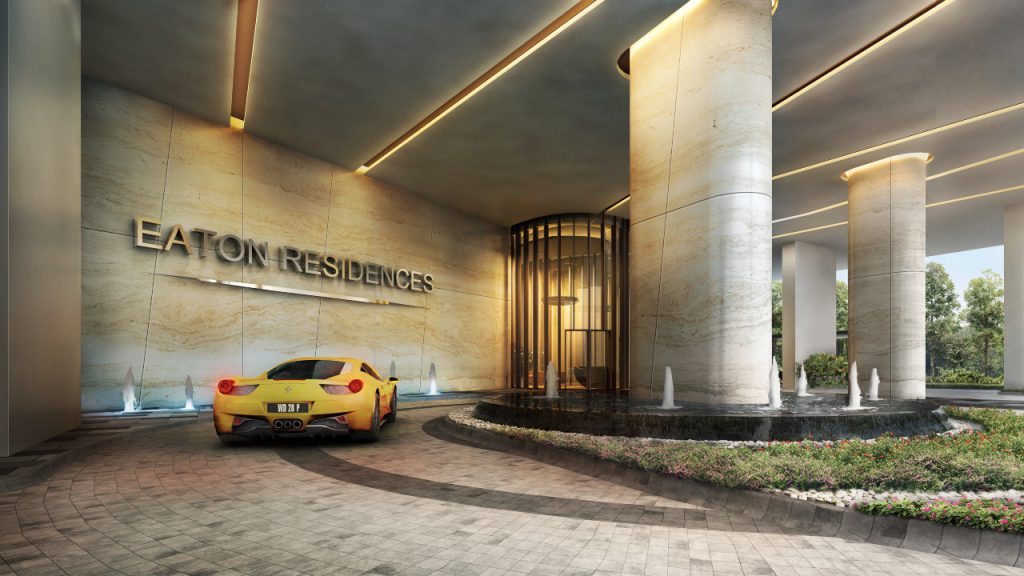 Ee proceeded to spend three days in the starchitects' playground of Dubai – where deep pockets fuelled imaginative realities in the built-up landscape. He returned with over 200 images of buildings and decided, together with his team, to install curtain wall glass over the now-renamed GSH Plaza, keeping only its internal core. 
When the opportunity duly arrived with Lot 28 on Jalan Kia Peng – located within the triple-A precinct of Kuala Lumpur's Golden Triangle – GSH enlisted the help of international architect Yap Teak Sing, managing director of YTS Architecture. Together they proposed the same glass facade – down to the same shade of blue – for Eaton Residences. Yap, who has designed buildings in over 20 countries from North America to China, states that the site's sensitivity dictated design considerations into how Eaton Residences would enhance the overall area's value. For neighbours, Eaton Residences boasts the world-famous Petronas Twin Towers as well as numerous state palaces, over a score of embassies and just two kilometres away, the upcoming Tun Razak Exchange mega project – a hub of finance and commerce converged with residential spaces. The 1.3-million-square-foot TRX Mall, scheduled for completion by the end of 2021, will augment the plethora of nearby shopping, entertainment and F&B options in an immediate vicinity that already contains the famed Bukit Bintang retail precinct. 
"An architect's greatest challenge is always to achieve the effect of timelessness, in that five or 20 years later, the buildings do not look dated," Yap points out. This extends to the rather prosaic need of upkeep, in which an annual cleaning of the glass exterior will restore the building's original glory as opposed to extensive repainting and repair works on most other high-rise residential developments. "Glass is glass," Yap says. "It doesn't fade and will maintain its natural colour throughout."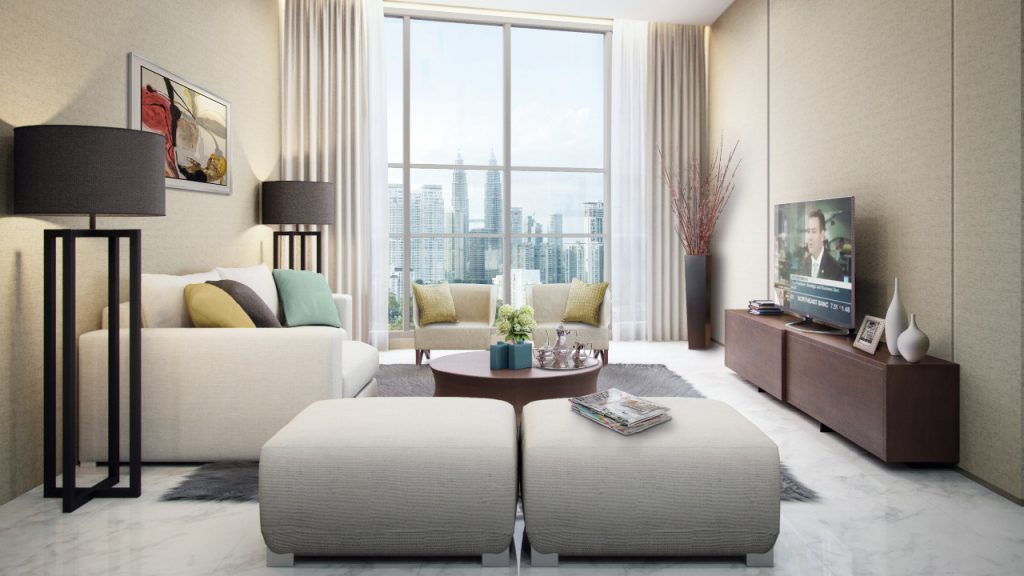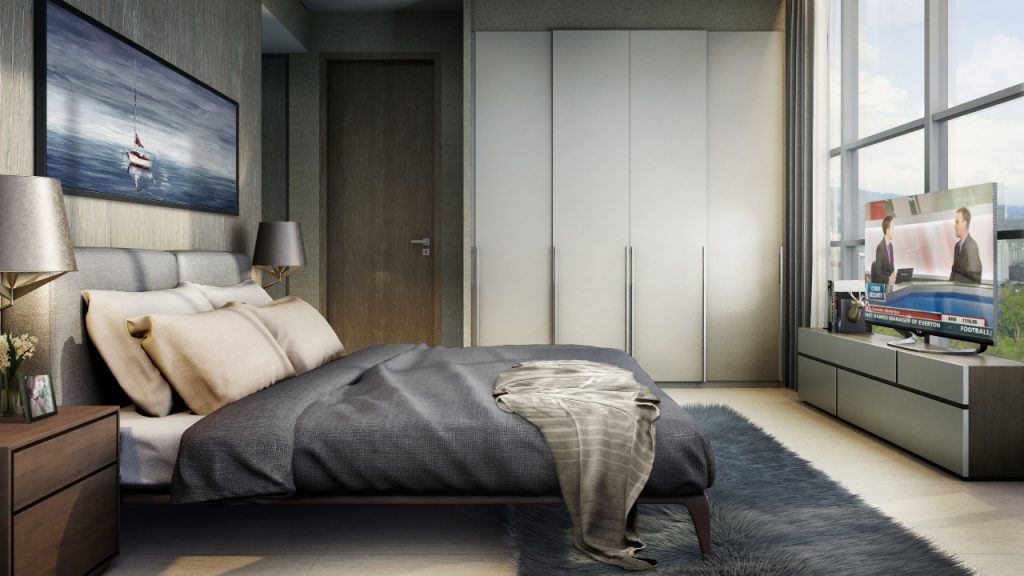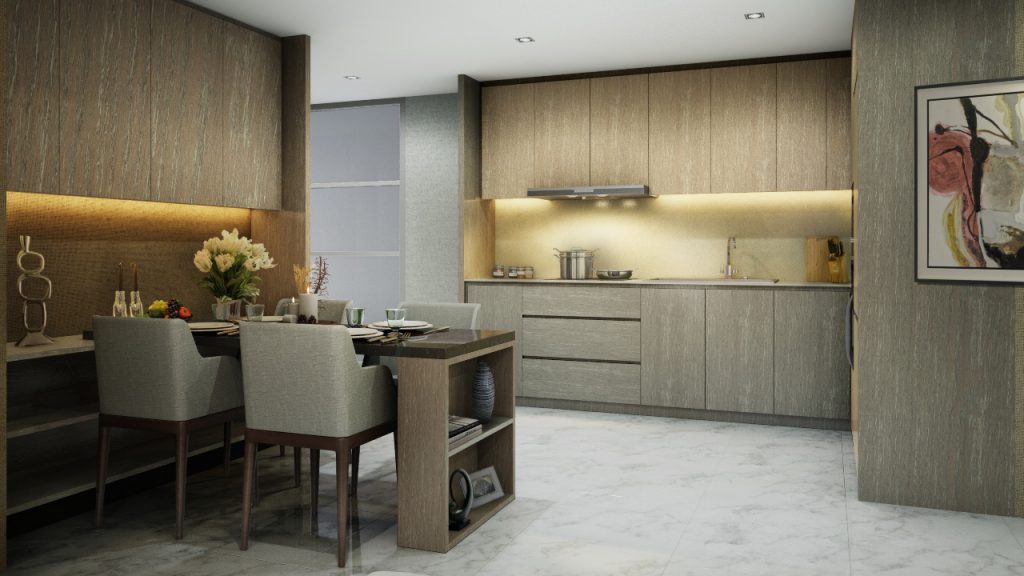 The curtain wall construction, while considerably more expensive in construction costs (estimated at 50 percent pricier than traditional brick and mortar), has the appeal of offering a full panorama for residents, with floor-to-ceiling views and providing greater natural illumination for the homes. 
Thus, the slightly curved facade of Eaton Residences was decided upon, with glass louvres employed as slats on air-conditioning compressor ledges to maintain its signature facade. A slight curvature was applied to blend into the surroundings and reflect both the kinetic city views as well as the 120 hectares of green at Royal Selangor Golf Club. "When you can achieve the simplicity where all the detailing, colour schemes and function meld into a unity of form – you are one step closer to nature which has established the most perfect forms in our environment," Yap says, observing that in nature, nothing is superfluous and forms are almost never angular but have rounded edges.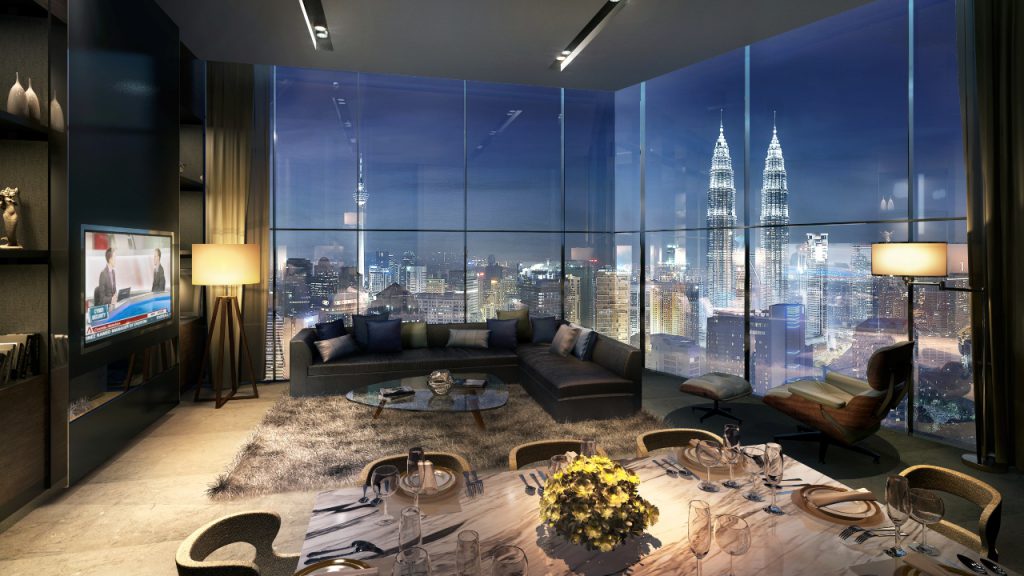 When it launched in 2016, Eaton Residences defied market forces and sold its initial offering of 432 units rather quickly. Now, its final release of 200 remaining units will likely be sought-after for its competitive pricing, courtesy of the developer's farsighted prep work and prevailing government measures and incentives. The choice of units range from one-bedroom units at 635 sq ft to four-bedroom units at 2,982 sq ft with an average price of RM1,700 per sq ft. Among the most favoured are the two-bedroom corner units with master bedrooms opening up 270-degree viewing angles of the surroundings.
In addition to a fairly favourable acquisition price of the land parcel, Eaton Residences benefited from being ahead of the curve in its usage of Volakas marble – used to confer a cool elegance to mainly prestigious bungalow projects due to its zero iron-ore content, which eliminates risks of corrosion. This white marble from Greece was proposed as the choice finishing on the interiors for all the 632 units, and duly became the single largest order of Volakas marble from Malaysia.
The order necessitated four warehouses in Greece to be dedicated to the storage of the Volakas marble flooring, and a representative stationed there to check, test lay and number each piece. The result was that the marble inspected at the source would fit the exact floor size, with precise considerations to the marble's natural veins, and ensuring natural cracks as well as inconsistent tonality would not occur. An additional representative from the supplier's side handling the importation of the marble also had to be present in Greece to sign off on the final selection of marble by the developer's representative.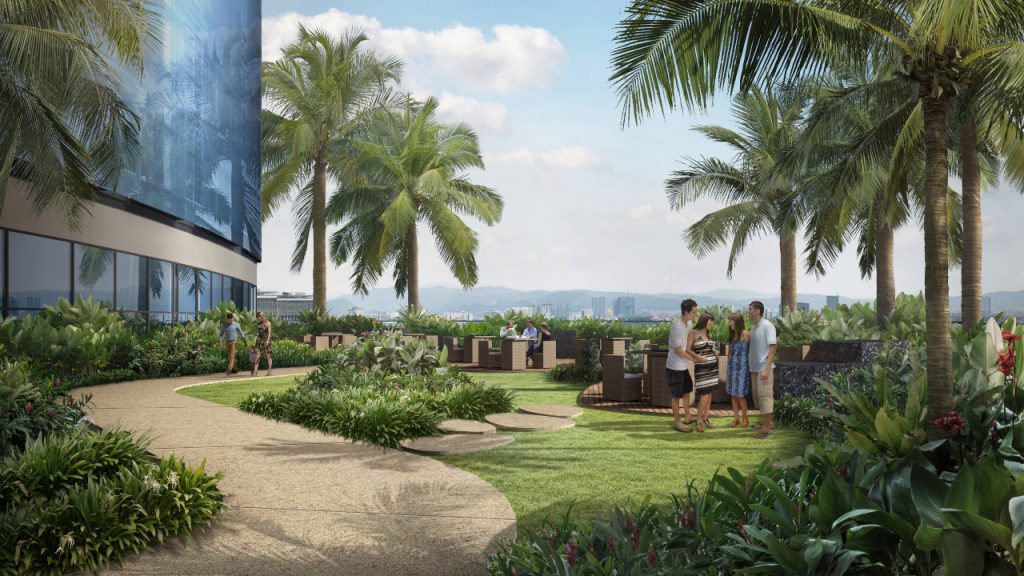 Ee concedes that this method was the most fail-safe approach, instead of rejecting the marble which would otherwise have to be sent back to Greece from Malaysia. "I'm not sure we would do a marble fit-out again at this scale and certainly not at this price," Ee admits, adding: "and now suddenly, all the high-end projects in this region started looking at Volakas, causing its prices to soar by another 50 percent because China is buying up everything." 
In bedrooms, engineered timber flooring creates a natural pattern and tone, while the kitchens and bathrooms – the areas that are traditionally the most cost-demanding – have already been fitted with the necessary fixtures, cabinetry and appliances. In the bathrooms you find Grohe showers and Roca sanitaryware, while the kitchens offer soft-close drawers, and Bosch ovens and hoods that exhaust smoke directly to the outside instead of recirculating it into another area of the unit. Larger accommodation include refrigerators as well as washer/dryers. Installed ceiling ducted air-conditioning systems also offer a seamless moving-in experience, with acoustic boards making it easy for eventual servicing and to mute the compressors' decibels.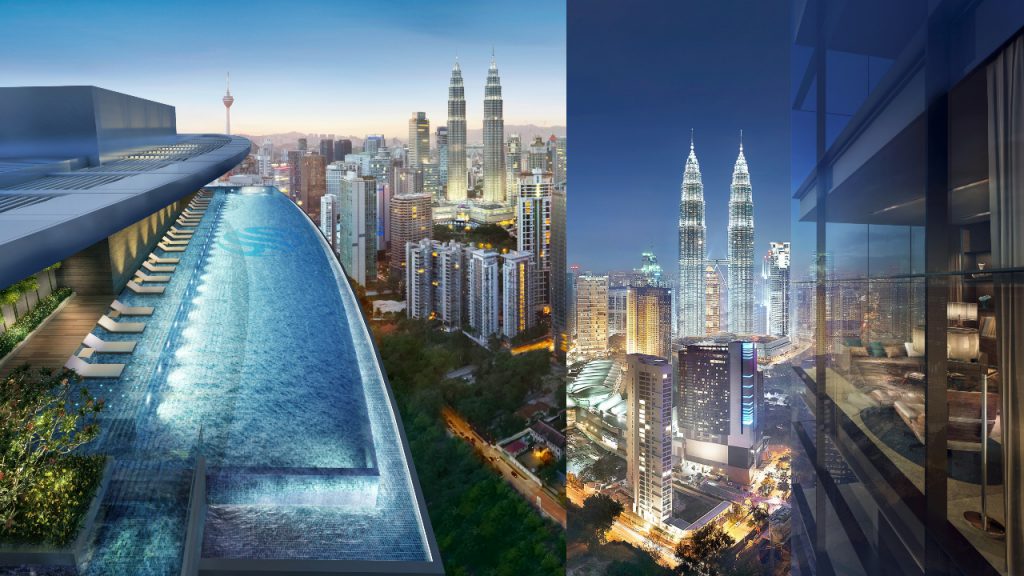 Of course, the dreamiest highlight at Eaton Residences is in the city's highest cantilevered infinity pool which extends out of level 51, providing a stately panorama of Kuala Lumpur and 121 green hectares of the adjacent golf club. "Urban living is catching on," Ee says. "Our pitch is that with traffic ever increasing, you don't want to stay far from where you work – city centres don't move much but just get bigger."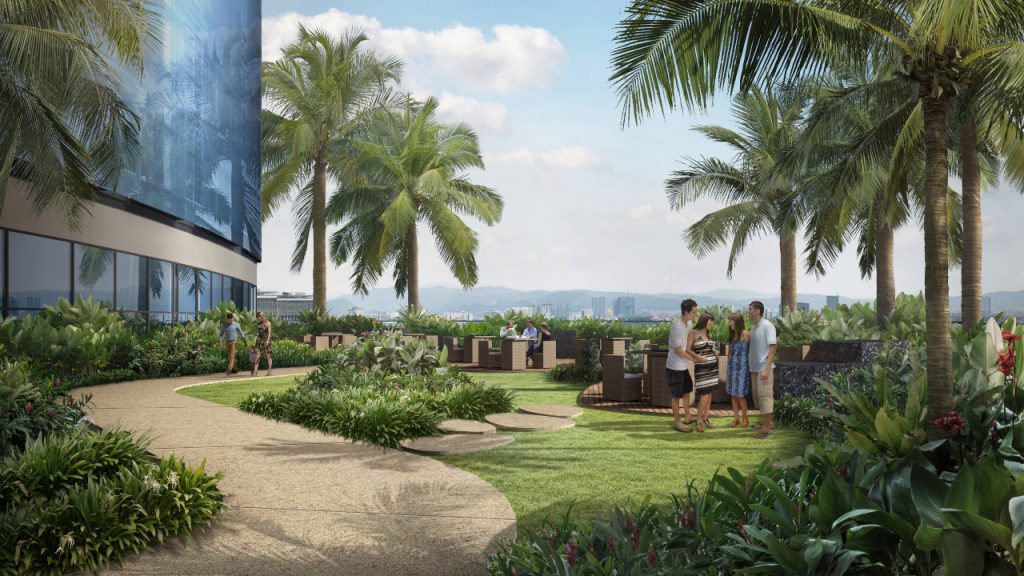 He points out that there is an increasing trend of people commuting by MRT for its convenience, even though they may have their own vehicles. With Eaton Residences located less than 130m from the nearest MRT station, this looks to be a highly valuable option for its future residents. "It's just so much more efficient to save your time commuting for weekdays and only head out on weekends when the city empties out. It really brings down the stress levels."
With that, Eaton Residences has added a collection of amenities that offers residents plenty of options to unwind. This includes an anti-gravity yoga room and sky gym at level 50, a garden of day beds on Level 33A, an adventure meadow on level eight with barbecue pods and children's playground, and jogging trails on the ground floor. "We are really proud that we achieved a lot of firsts with this project – from the sky pool to managing the marble finishes, and we're happy that the market has recognised this in the awards we've won," Ee says.