On the outside of the box is a reminder of what the real Ferrari 488 GTE can do: a top speed of 310km/h, and its twin-turbo V8 powers the endurance racer from 0-100km/h in 3.0 seconds. It also says it is for over 18s. An engineering degree is not required, but it would probably be helpful. This is, after all, part of Lego's Technic series, meant for the most meticulous and dedicated builders. This model, item number 42125 and fully known as the Lego Technic Ferrari 488 GTE 'AF Corse #51' (RM799.90) is the first of the Technic series to be designed after a Ferrari.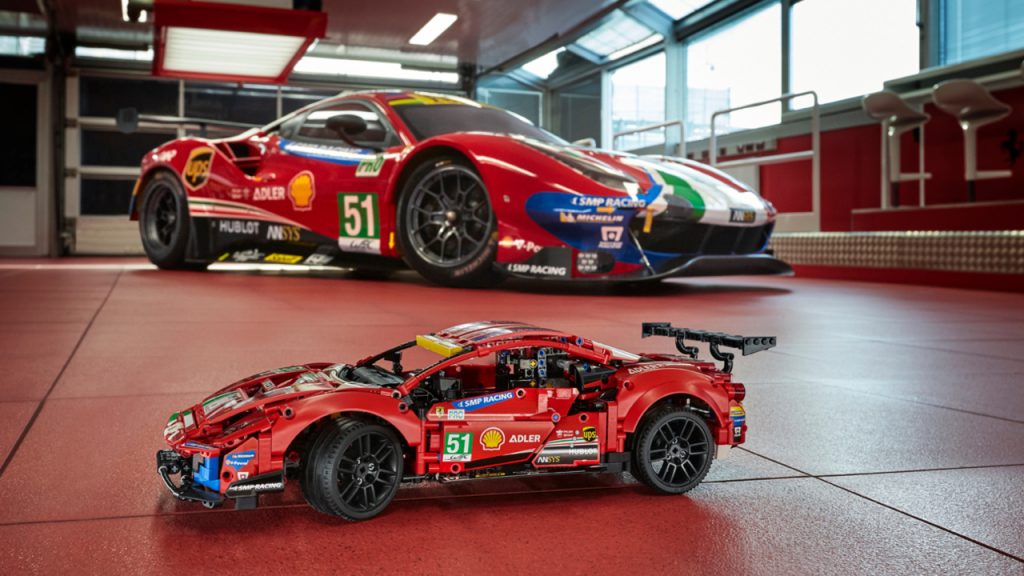 Inside, sealed in numbered plastic bags, are the 1,677 pieces that will eventually become a detailed and surprisingly functional model of the namesake car, measuring 48cm long by 21cm wide and 13cm high. There is also an instruction book – 'book,' not 'booklet' – which is about the size and heft of an actual car manual. The introduction gives some context: the actual Ferrari 488 GTE was a 592bhp competition endurance racer that served from 2016 to 2019. At the end of its tenure, it had participated in 70 races, counting 26 victories, 18 pole positions, 70 podium finishes and four championships within that.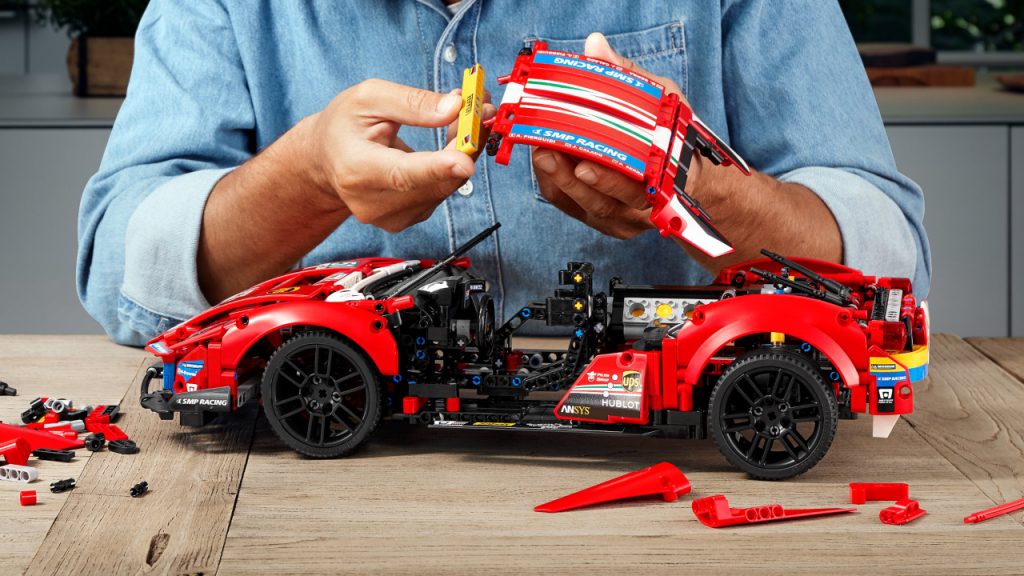 The instructions themselves are wordless, a dissertation communicated through the language of Swedish flatpack furniture. They are unambiguous, but reward patience and careful study – spotting a mistake late means a demoralising and time-consuming bout of backtracking.
The knowledgeable will be able to recognise the real-world components they are about to put together, albeit in simplified plastic miniature representations. But go in blindly and there is still a satisfying, unthinking fun in simply following directions. Before you know it, you have assembled a differential and connected it to the rear drive axles and multi-link suspension around it (complete with shock absorbers and coils) and you have fit eight adorable, yellow-topped pistons to a crankshaft and have dropped them into their housings. And those pistons do indeed churn up and down as they power the rear drive axles through the differential, little plastic gears working in facsimile of the real thing.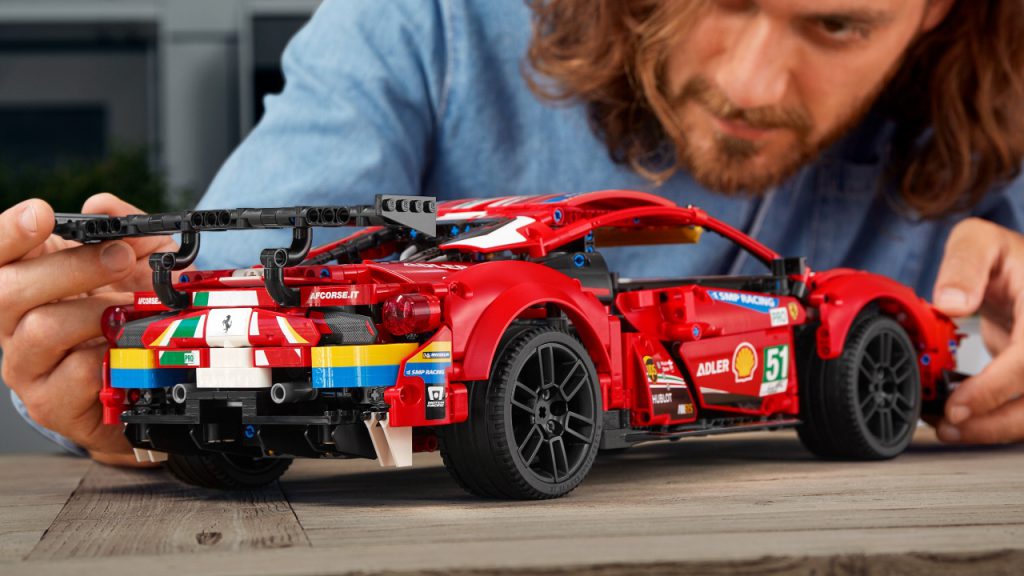 It is not quite a fully functioning model of a car, but there is a plenty to play around with. It is impossible not to admire and marvel at your work, testing the double wishbone suspension at the front, or twisting the the steering wheel and watching the rack and pinion system transfer that motion to the front wheels. Technic may not be for children, but there is a childlike joy to playing with such things – and you might even learn a thing or two.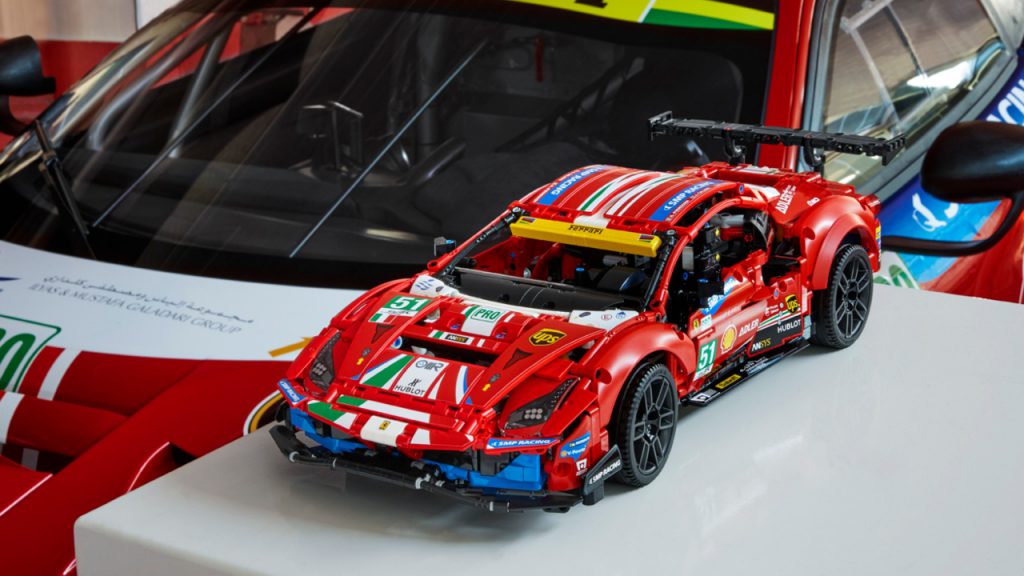 It is almost a shame when it comes time to install the bodywork, as it conceals the mechanics that were laid bare up to now. But it is starting to look like a Ferrari. It may be blocky and segmented, but there is no mistaking the graceful curve of the bonnet, the snub nose, or the vivacious flare of the wheel arches. 
The victory lap involves stickers. There are 57 of them, and when you are done the car will – like the real thing – be plastered with sponsor logos, accurate to the #51 Ferrari 488 GTE that took part in the 2018-2019 World Endurance Championships. The shortest races of that season were six hours long and assembling this Lego Technic model will likely take you a good bit longer than that. But the time it takes is part of the fun.