Designers are letting their imaginations run wild with incredible earrings featuring precious gemstones in bold, sometimes contrasting hues. In these unique pieces, some of the world's most iconic jewellery houses such as Van Cleef & Arpels and Chopard, are revisiting iconic motifs from the archives in modern and abstract ways, while buzz-worthy new designers like Vania Leles of Vanleles, let the stones speak for themselves in a play on contrasting but nearly matching hues. Mismatched designs and complementing colours have set the tone for statement earrings in both 2020 and 2021. Whether you're looking for a twist on a classic piece or a bold and modern design, you'll find the perfect pair in this selection of knock-out statement earrings.
Vanleles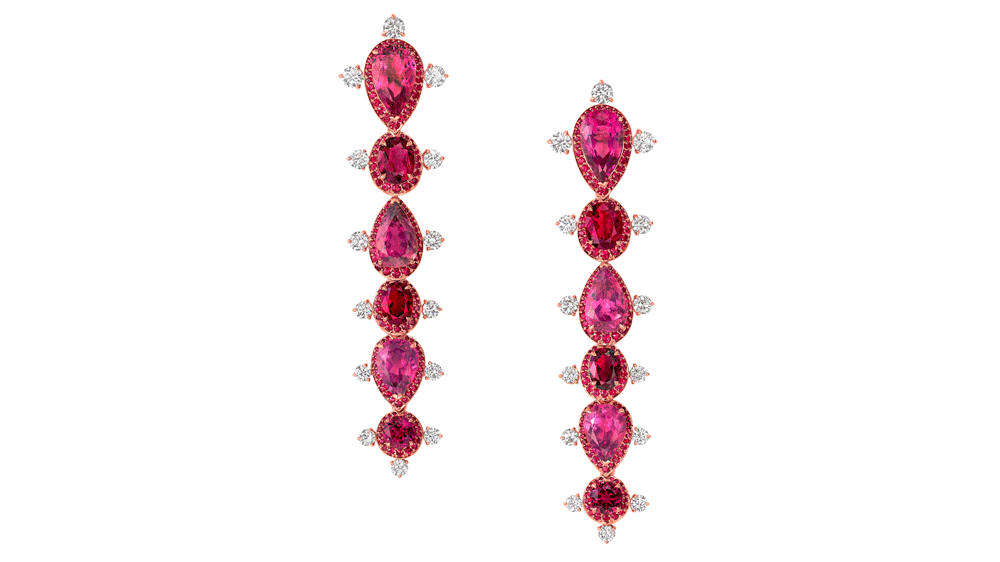 London-based fine jewellery designer Vania Leles launched her brand, Vanleles, to tell the story of Africa through ethically sourced and responsibly mined jewellery. A gemologist who has worked for houses including Graff and De Beers, she brings impeccable taste and craftsmanship to her pieces. The Out of Africa collection focuses on responsibly sourced ruby and rubellite from Mozambique, and these 18-karat rose gold Stiletto earrings alternate the complementary stones in 10.24 carats of rubies and 19.10 carats of rubellite, which accentuates their similar but distinct pink and red hues. Adding diamonds to the side of each stone adds an extra touch of sparkle.
Ara Vartanian
Brazilian jewellery designer Ara Vartanian honours his country's heritage and craftsmanship, while focusing on incredible gemstones (his father was a gemstone dealer) such as Paraíba tourmalines, which are only found in his native country. He is also known for adding an edgy twist to fine jewellery by using reverse-set stones and black diamonds. These contrasting earrings feature large pear-shaped Paraíba tourmaline and rubellite, and even the metals are mismatched in 18-karat white gold and 18-karat yellow gold to highlight the colours of each stone.
Cartier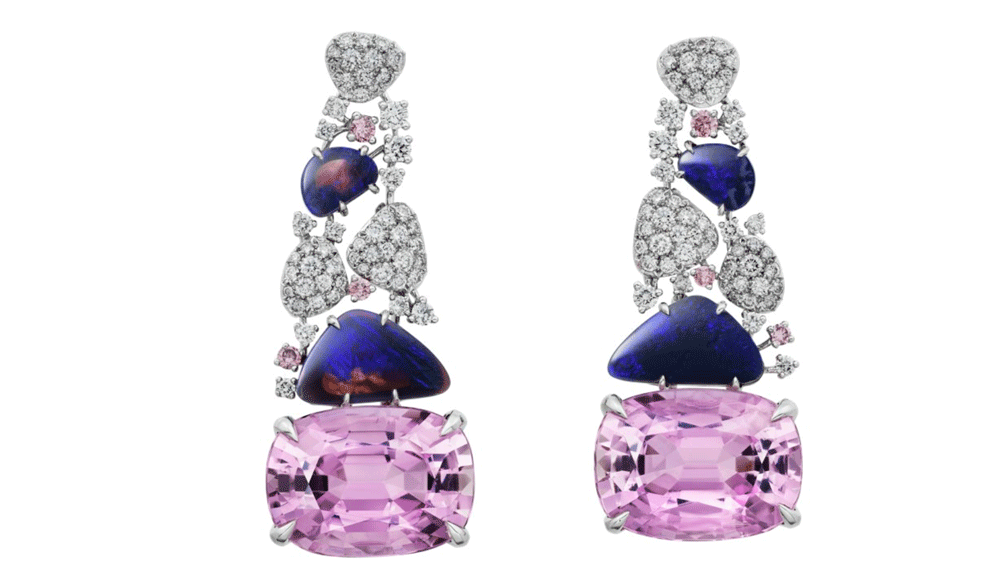 Cartier's [Sur] Naturel high-jewellery collection brings a supernatural approach to designs inspired by the natural world. The Hemis suite reinterprets the house's most enduring motif: the panther. These abstract earrings use opals and pavé diamonds and touches of pink diamonds set in platinum to represent the sleek cat's spots. Two stunning pink kunzites, weighing nearly 30 carats, complete the design.
Chopard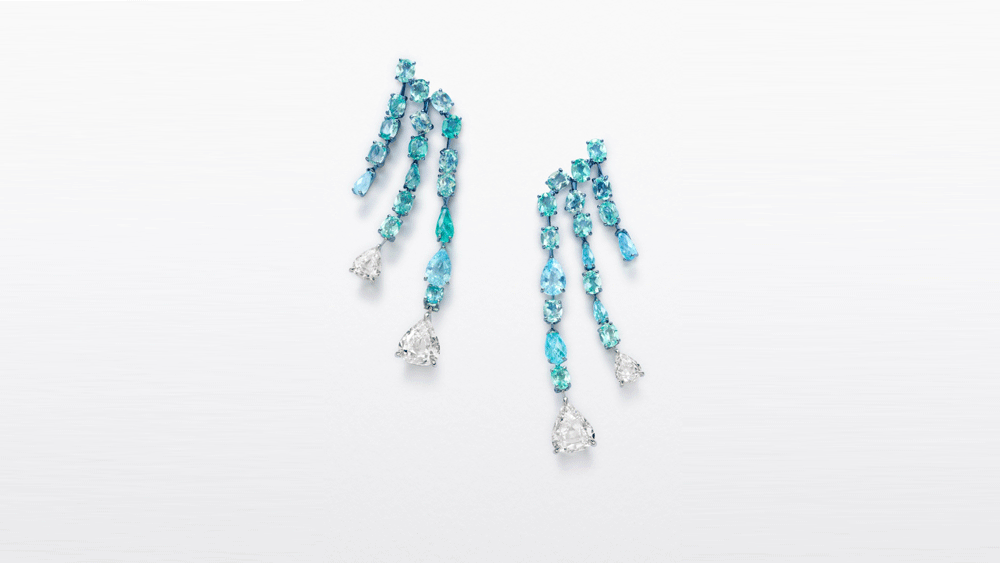 Every year during the Cannes Film Festival, Chopard releases a sensational high-jewellery collection and uses the red carpet to debut the pieces on international A-listers. While last year's Red Carpet collection didn't have the chance to shine in the spotlight, the pieces are no less spectacular. These gorgeous earrings showcase the many unique shades found in tourmaline and the stones are set in blued titanium to add extra emphasis to their rich hues. Two of the tourmaline strands on each earring are topped off with a total of 8.29 carats of pear-shaped diamonds.
Thelma West
Thelma West is one of the jewellery world's Renaissance women. In addition to her eponymous jewellery house where she designs bespoke jewellery for discerning clients, she is also a certified gemologist, a diamond dealer, and founded a gemological grading laboratory in London. Her trained eye and extensive network allow her to source incredible stones that inspire each of her bespoke designs. The Eden drop earrings feature 2.3-carats of rich and almost crystal clear-looking Colombian emeralds topped off with pink and white diamonds.
Van Cleef & Arpels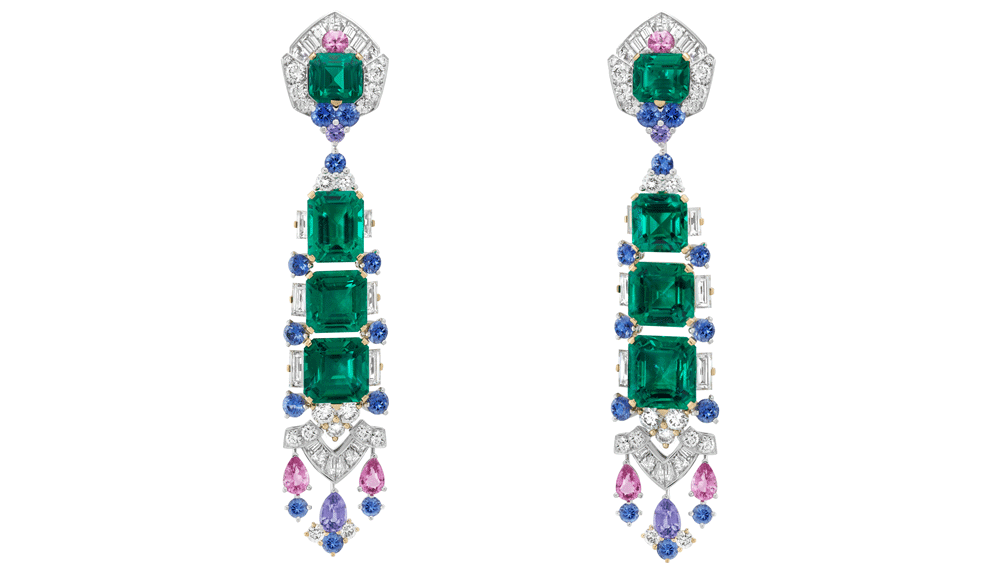 Van Cleef & Arpels uses thematic high-jewellery collections to tell romantic and poetic tales through some of the world's most stunning gems. A recent collection focuses on the love story between Romeo and Juliet, and these 18-karat white gold Maitri earrings symbolise their love in a design inspired by archival pieces from the 1950s and 60s. The 28.71 carats of emeralds are said to indicate hope, while Juliet is represented in pink sapphires, and Romeo in blue sapphires. What could be more romantic than a gift inspired by the greatest love story of all time?
---
Previously published on Robb Report.