Penang is well-known for its culinary offerings consisting mostly of street food but times are a-changing and there is a growing clamour for more heightened experiences from its local epicureans and visitors. Capitalising on this, Chef Benny Yeoh, a native to the island, marries his heritage and culinary skills in a fine dining offering unlike any other at Restaurant Blanc at the Macalister Mansion.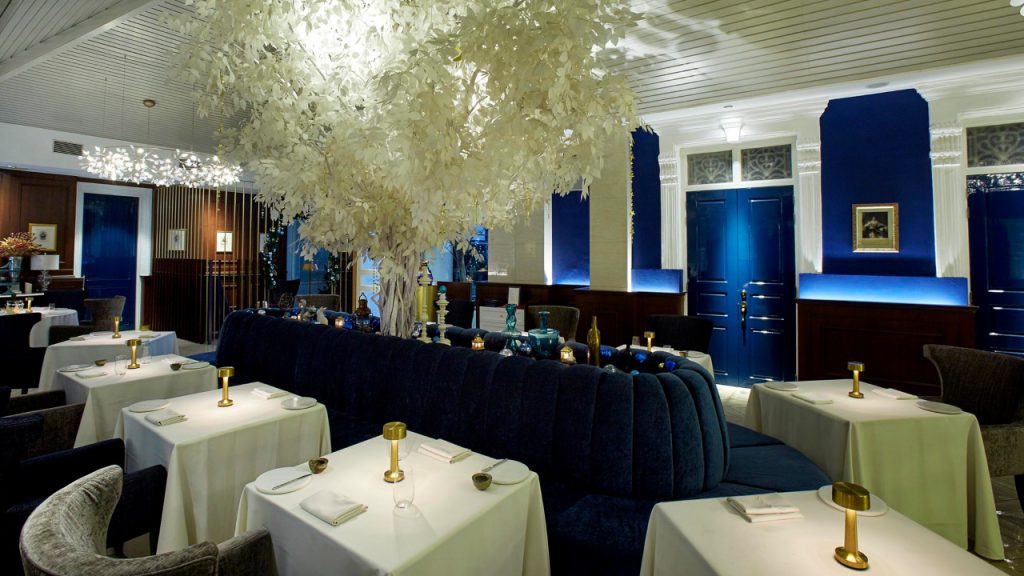 He brings an extensive experience of award-winning restaurants such as the Michelin-starred Corner House in Singapore as well as knowledge of European culinary management to guests sitting down for a meal at the stylish 42-seat Restaurant Blanc, located in the heart of the wondrously restored Macalister Mansion. 
Its latest seasonal menu takes familiar flavours from the region and combines it with French cooking techniques resulting in a cornucopia of flavours. On each dish, the chef teases the imagination by taking some classic favourites and experimenting with both local and western ingredients. He incorporates his love of Penang and his Peranakan heritage with modern European cooking. The resulting courses such as the Onion Tea (soup served in a teapot) offer the comfort of onion soup with the refinement of Chinese tea ceremony.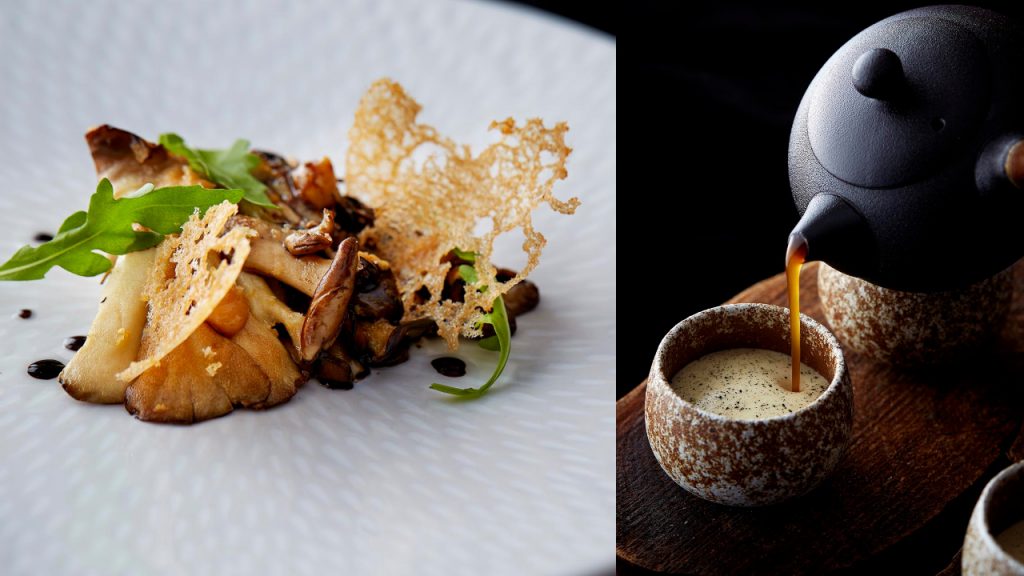 The restaurant's menu is themed based on their star ingredient. Right from the beginning, the utterly charming "Flower" Crab is a beautifully cooked crustacean decorated with edible flowers such as the zucchini flower, chamomile, and Osmanthus. 
This is followed by an entirely different texture profile with the Smoked Hamachi. Again, Chef Yeoh highlights the taste of the sea from the fish but plays with crunchiness of seaweed crackers, while infusing as much umami as possible with added ikura roe and scallion cream.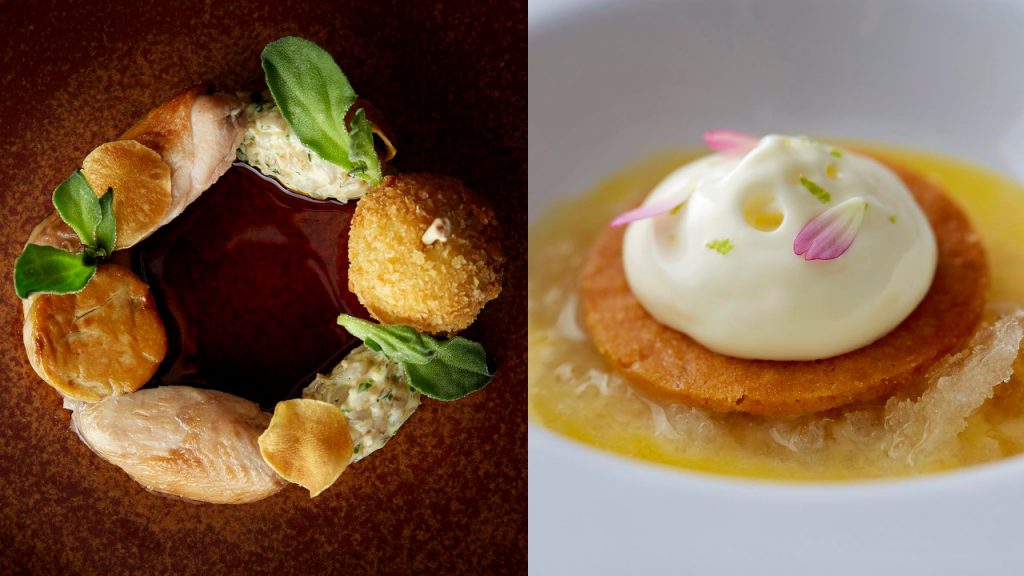 As you work your way toward the main-course, a whimsical vegetarian dish will set your taste buds 'dancing'. The "Maitake" mushroom was named as such because it was said to have earned its name when ecstatic Japanese farmers started dancing upon finding the giant mushroom in the wild. A single cluster of these giant fungi can weigh as much as 100 pounds! Served with miso puree, buckwheat and balsamic, just like its namesake, the surprises keep unfolding with every bite. 
For mains, there is a choice of quail, pork and wagyu. For the adventurous, we recommend the Duo of Quail with Foie Gras, Jerusalem artichoke and spelt, in which the chef passes the true test of extracting maximum flavours from oft-tricky game meat. 
For the true-blue Malaysian, the olive pork 'pongteh' is a nod to Chef's Peranakan roots and as every discerning local would know, a good pork belly with distinctive local spice is always the mark of a chef's aptitude.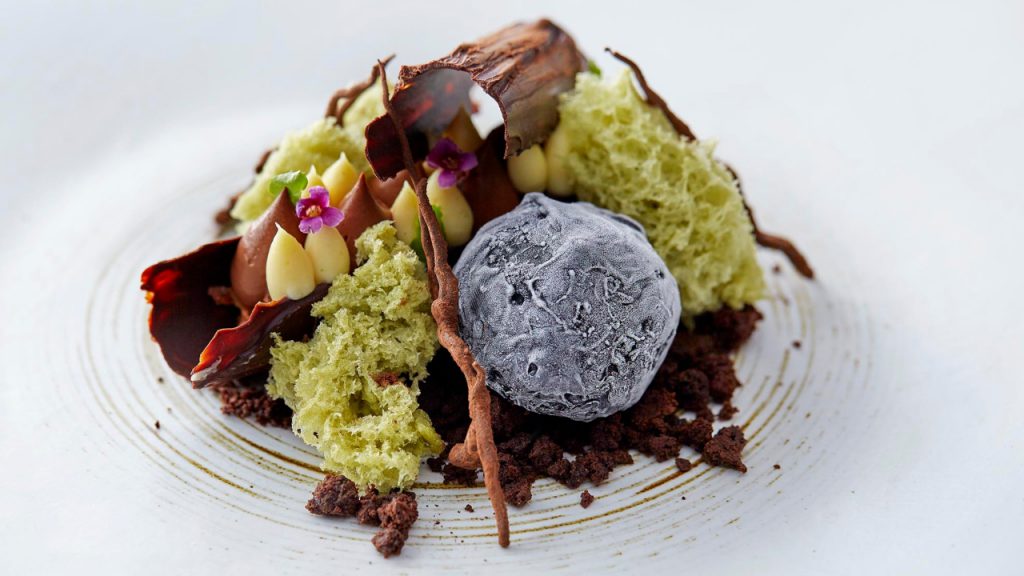 End your culinary journey through nature with the Rainforest; a chocolate log adorned with pistachio sand and flowers with a charcoal milk pebble, redolent with a medley of citrus and rich dark chocolate.
Chef Benny Yeoh's culinary journey is presented via a 4-course Discovery Menu (RM278+) and 6-course Degustation Menu (with 2 additional starters) priced at RM368+. Wine pairing is available at RM130+ and the premium wine pairing is an RM230+ addition to the menu price. 
---
Due to the current Movement Control Order (MCO), Blanc's opening hours may have changed. Please check their website or call +6019 239 9818