It should be said that with the whole pandemic and work from home (WFH), our living space has taken on greater importance, contributing to our sense of well-being in many senses. Just like your Zoom background, the art found in your home also says a lot about your tastes and personality. Since its introduction in 2017, Samsung's Frame TV has had twin objectives: entertain you with a spectacular picture and enhance your room's décor and in that, it has achieved clear success with over a million units already sold.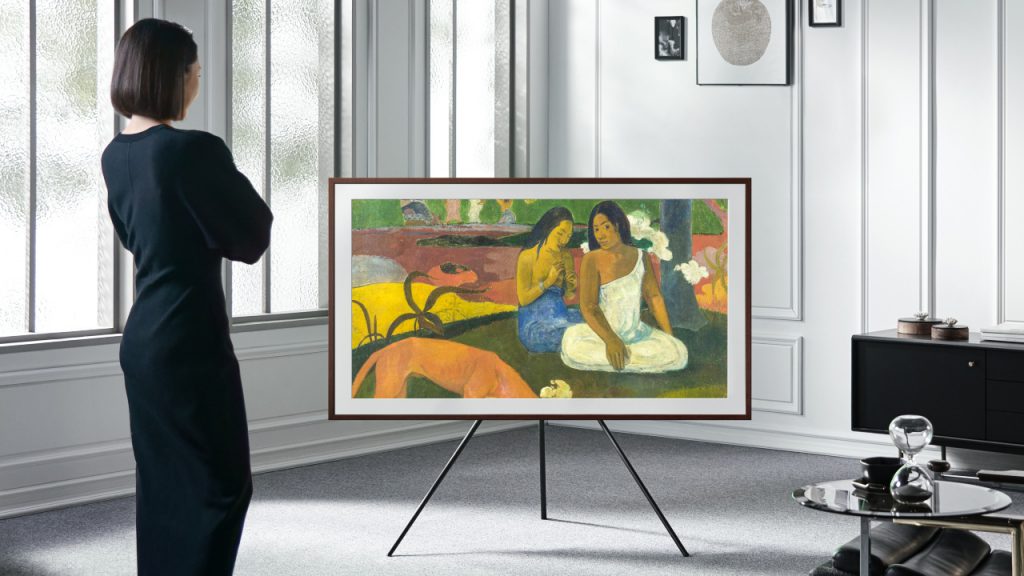 The 2021 edition of The Frame for the 32" (RM2,999) and 43" (RM4,999) will be rotatable while its larger-sized formats; 50" (RM5,799), 55" (RM6,999), 65" (RM9,499) and 75" (RM13,499) will display in landscape only. While the overwhelming majority of video content is available in widescreen format, this unique feature will presumably allow the set to be used for more than just binging your latest favourite show.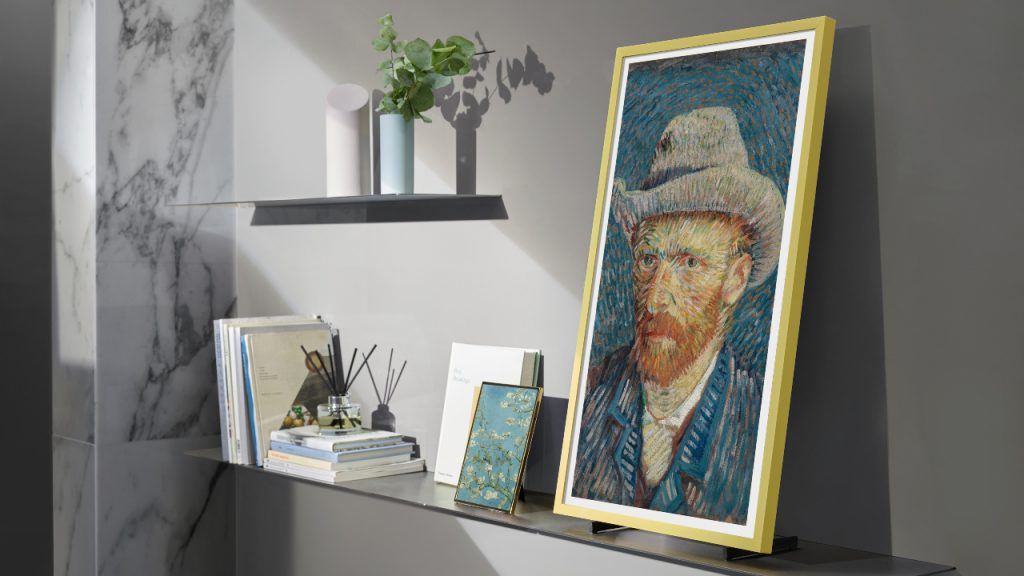 You can now use The Frame for other purposes, like displaying art or streaming content in vertical formats – something we are already used to with our mobile devices. It's easy to see why Samsung is betting that there's at least some segment of the TV market that craves a set with portrait mode. After all, this isn't the company's first rotatable TV; the feature was also offered on the 43" Sero TV (RM6,999) before.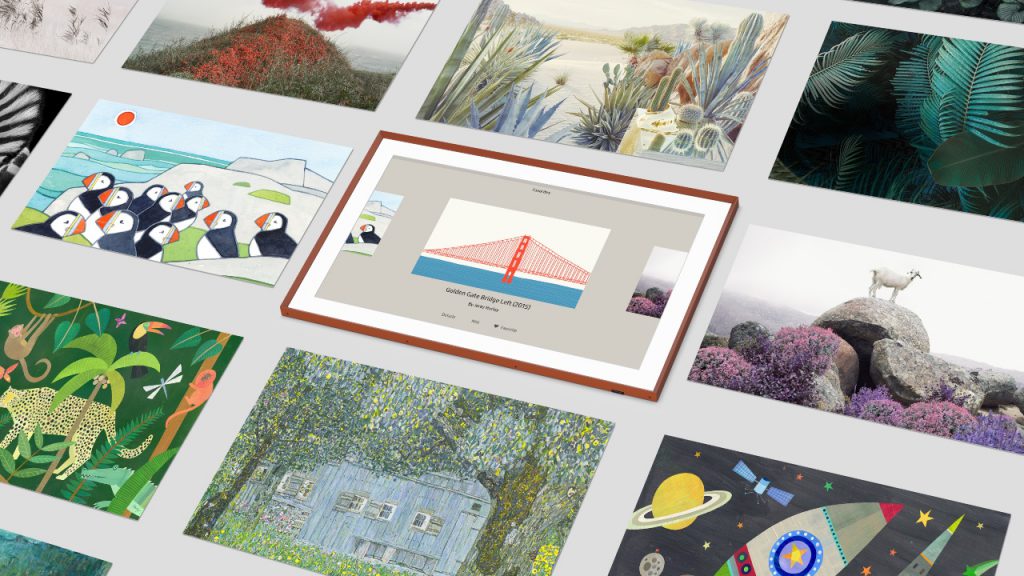 With The Frame, owners and art lovers can enjoy Samsung's Art Store, a subscription service that features more than 1,400 carefully curated pieces of world-class art, where The Frame owners can download works of their favourite Old Masters and contemporary stars for display. This year, its Art Store has also added to the amount of vertical-oriented art works, to capitalise on The Frame's rotatable capability and lending a whole new dimension to both your home and office.  Among its enviable range of gallery partners are Madrid's Museo del Prado, The Albertina, Saatchi Art, Artspace, Sedition, Magnum Photos and Lumas, with many more to be announced in future. 
With this generous repository of art pieces, you can define your living in a way not possible before, with The Frame offering an always different mood-enhancing element to your daily WFH ritual. Have a big hall? Then maybe a series of The Frame TVs will recreate the lost feeling of touring the Musée du Louvre or The Metropolitan Museum of Art. Best of all, these artworks, when displayed, will attain the lustrous quality provided by Samsung's proprietary QLED tech, which offers a billion shades of colour with its powerful picture processor and Quantum Dot technology. 
This year's release will be much thinner than previous iterations, measuring just 24.9 millimeters thick – a 46 per cent reduction in thickness from its 2020 cousin – which is about the same thickness as your average picture frame. And just like a picture frame, you decide on its bezel with either the Modern (in a choice of white, teak and brown colours) or the new bevelled bezel (in white and brick red). The latter offers elegance on its bezel's 45-degree angled inner edge. These customisable bezels are sold separately.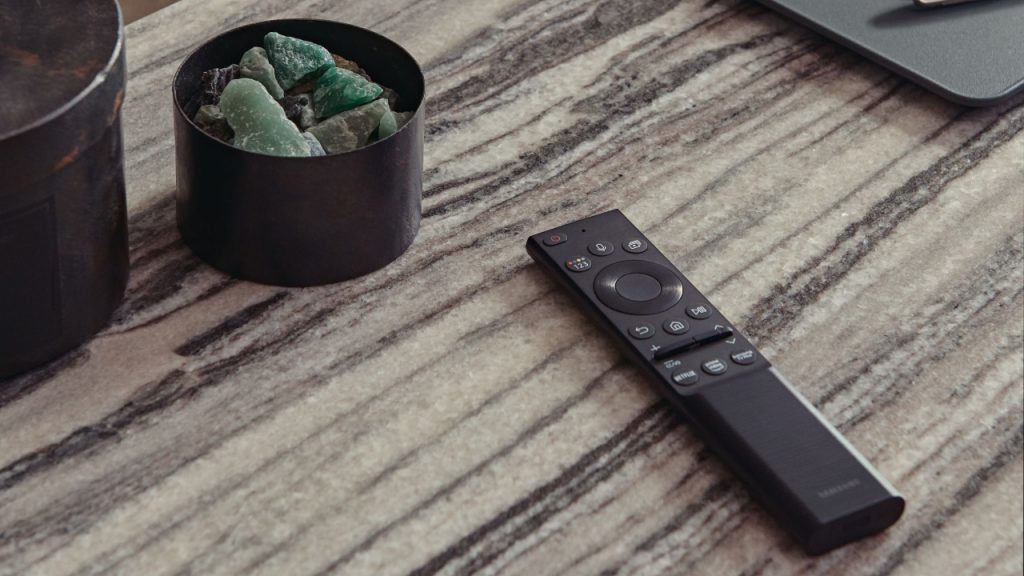 The 2021 version of The Frame also features improved AI to help curate selections from the Art Store that match your taste. Using data generated from The Frame's built-in sensor, its SpaceFit Sound analyses the room's acoustics, automatically tailoring its sound to fit the space. Meanwhile, its Adaptive Sound is a triumph in man-made intelligence, a feature which heightens your enjoyment of The Frame's audio output, whether you are running through that jazzy evening playlist or watching regular programming, and optimising it with a deeper bass or clearer dialogue respectively. Other convenient features include mobile mirroring, multi-view and a simple tap to connect function which is as easy to do as it sounds. With these functions, The Frame's luxurious expanse and high resolution becomes your primary screen to view photos, watch videos or even review spreadsheets with ease.
Best of all, the remote control which comes with your new Samsung TVs are now made from recyclable and 24 per cent upcycled plastic. These solar cell remotes help reduce a projected 99 million AAA batteries in landfills over seven years. Furthermore, the sustainable eco-packaging approach means that over 200,000 tonnes of corrugated boxes can be upcycled yearly. A QR code on the box offers users a step-by-step guide, following the dot matrix design printed on the boxes, to turn these boxes into cat houses, magazine racks, small end tables or shelves for household items.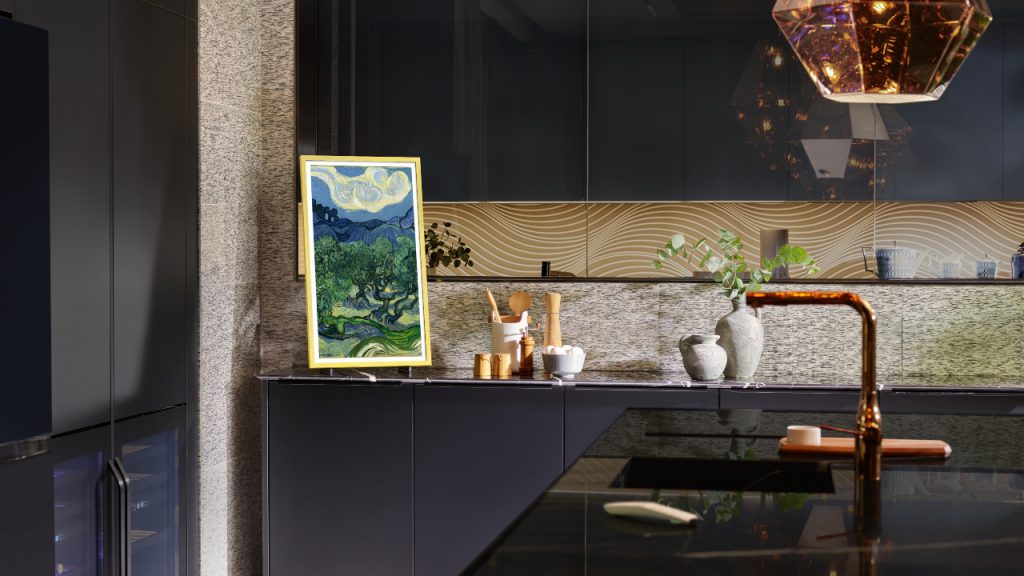 The Frame's packaging also minimises graphic imagery and text, eliminating the need for oil-based ink usage on the boxes. All this is part of Samsung's stated and continuous approach to ensure it decreases its overall carbon footprint in manufacturing, packaging design and product power usage.
---
Adapted from a previously published story on Robb Report.