Bulgari has long been in the public consciousness, a pillar of jewellery and luxury accessories. This includes watches, generally in the vein of elaborate women's pieces that coil seductively around the wrist. But in the past two decades or so, the brand has become notable not just for making watches, but for watchmaking. Case in point: in the last seven years, Bulgari has released no fewer than seven timepieces that have broken the world record for ultra-thin horology, on the back of the Octo Finissimo men's watch collection.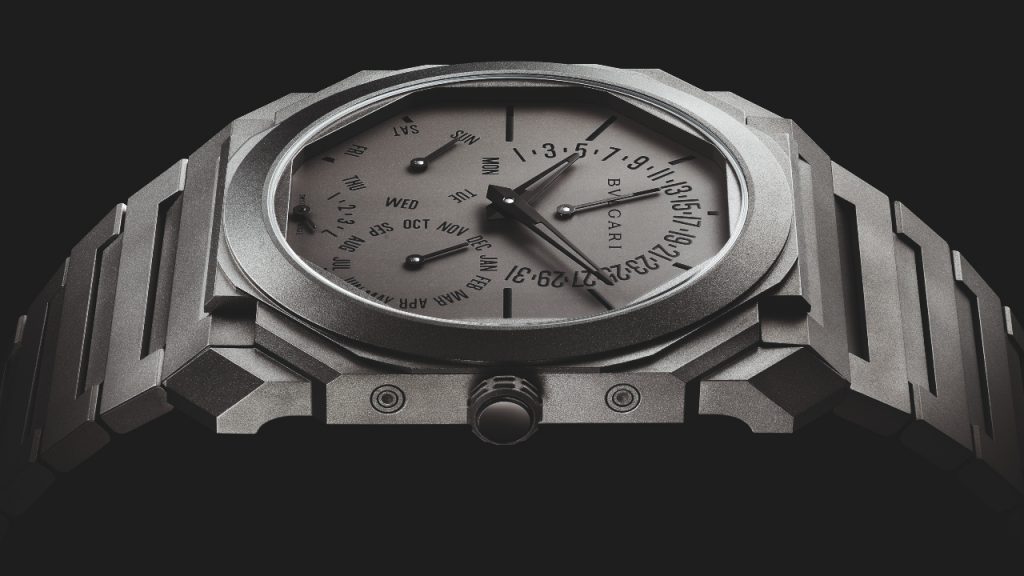 "We have demonstrated that we have the skills and the innovation power to compete among the elite of Swiss watchmaking," says Antoine Pin, managing director of the Bulgari Watch Division. "In this, we have created a territory where we prove our contribution to the Swiss watch industry and also prove ourselves year after year. But besides the question of perception, I believe that this quest for records has helped us build a real philosophy; a unique watchmaker culture that is now nurturing us and motivating us to push ourselves all the time."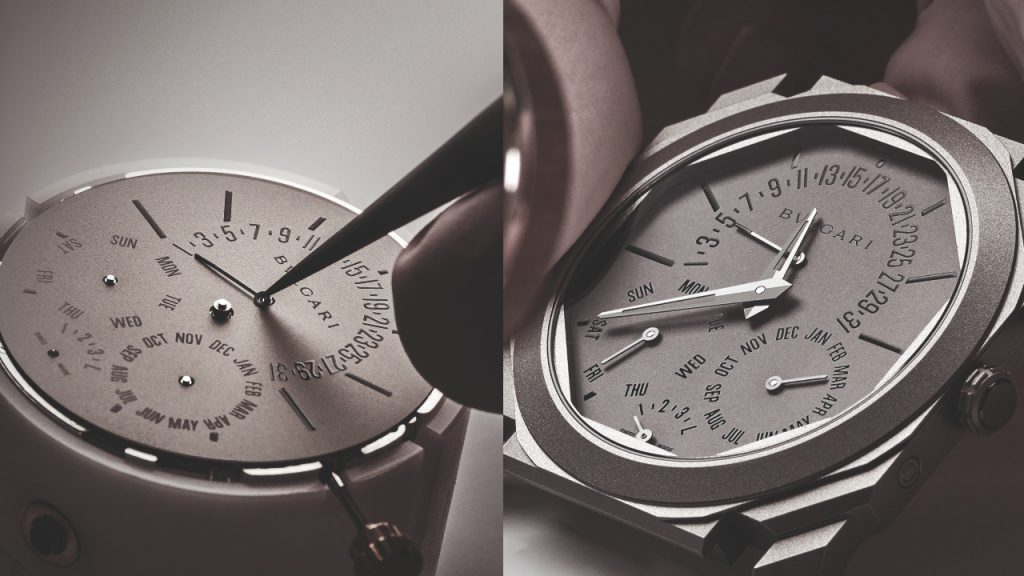 The success did not come overnight. Bulgari has a long investment in Swiss watchmaking, maintaining its own horological centre in Neuchatel, Switzerland, since 1980. In 2000, it acquired the studios of Gerald Genta and Daniel Roth, and with it, workshops of artistic, design and technical pedigree – an observer may have predicted the brand's breakout.
To most, though, the Bulgari renaissance started in 2014. That year, the maison introduced the Octo Finissimo Tourbillon, at the time the thinnest tourbillon watch ever created. Its platinum case was a mere five millimetres thick; the movement within somehow fit a tourbillon carriage in a space no deeper than 1.95mm. It was the sort of timepiece one may have expected from a Swiss brand with an established technical history – yet this milestone arrived via Rome.
Bulgari would very quickly go on to prove that it was no fluke. In 2016, it released the Octo Finissimo Minute Repeater, the world's slimmest minute repeater, followed by the Octo Finissimo Automatic in 2017, the thinnest self-winding watch. The latter won a Grand Prix d'Horlogerie de Geneve (GPHG) prize in the Men's Watch category, the same year a skeletonised version of the Octo Finissimo Tourbillon also picked up the Tourbillon and Escapement Watch prize.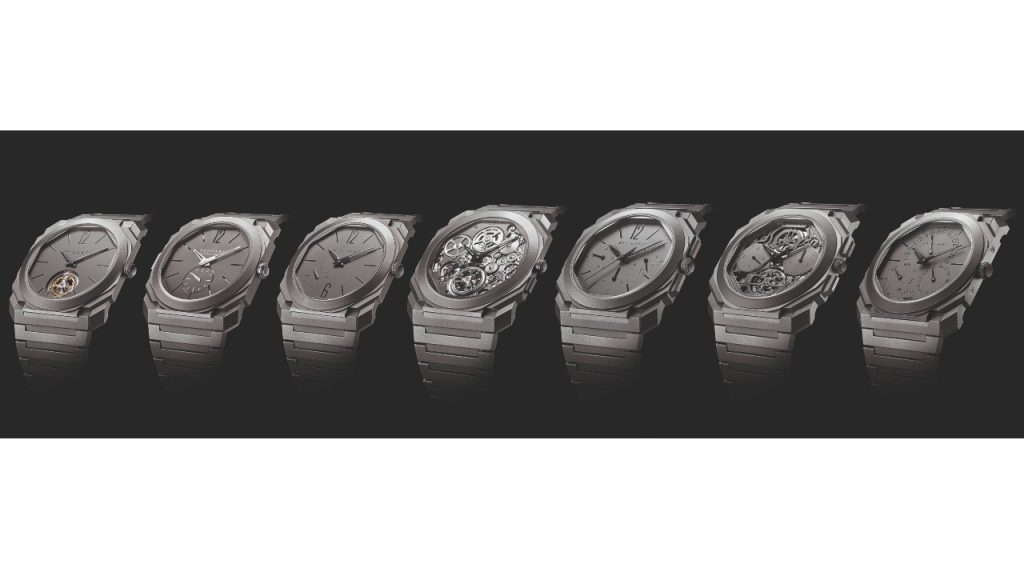 In 2018, Bulgari made its most ambitious release in the Octo Finissimo Tourbillon Automatic, which broke three records at once: thinnest automatic, thinnest tourbillon – these two previously held by past Octo Finissimo models – and thinnest automatic tourbillon.
By now, Bulgari's reputation was building up and the horological community began to wait expectantly to learn what ultra-thin world record the maison would take aim at next. It was the thinnest chronograph in 2019, in the form of the Octo Finissimo Chronograph GMT Automatic. It bagged another GPHG prize as well.
There were practically no trade shows in 2020 due to the pandemic, but Bulgari spearheaded the smaller, inaugural Geneva Watch Days event where it introduced the Octo Finissimo Tourbillon Chronograph Skeleton Automatic and claimed yet another record for thinnest chronograph tourbillon. And now, it has set its sights on the thinnest perpetual calendar, with the Octo Finissimo Perpetual Calendar (RM234,000 for titanium case) debuting at the digital Watches & Wonders event in April. Its 40mm case is only 5.80mm thick, while its 408-component calibre is reduced to only 2.75mm.
This makes seven standing world records for the Octo Finissimo collection in about as many years, and Pin is especially proud of this latest release. "This complication is magical since it aims at mastering the flow of time. Besides the philosophical connection to this development, the challenge this time was to deliver extreme thinness with one of the most complex horological constructions, and (we had to come up with) a very innovative way to display the information on the dial, with two retrograde hands."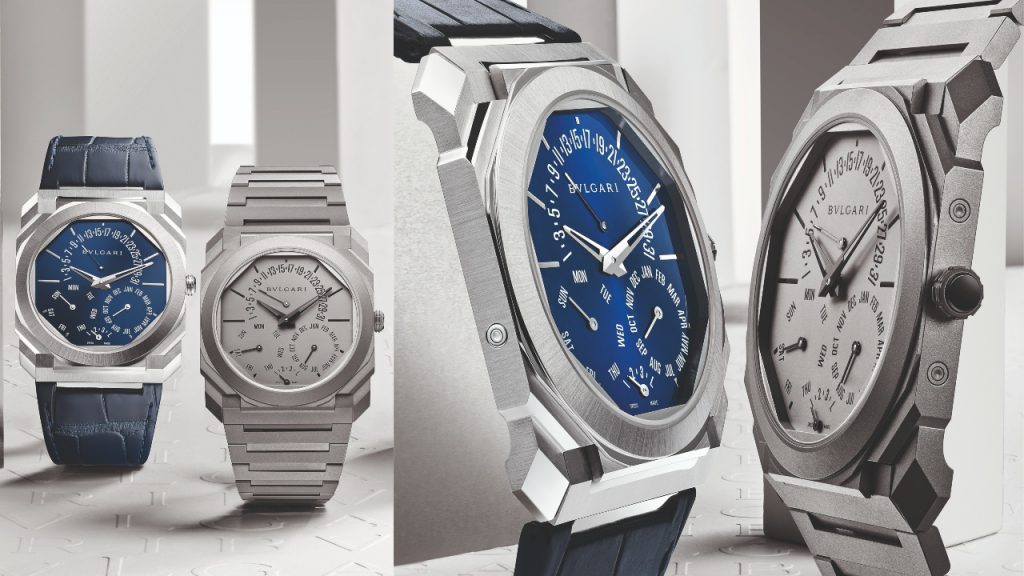 However, he adds that various Octo Finissimo record-breakers had their own challenges, no matter how complicated the result may have been. "It may seem trivial, but the Automatic's three-hand movement was probably harder to finalise than our first world record, the Octo Finissimo Tourbillon," Pin says, adding that the experience gained with each release would go on to help successive generations. "The basic challenge is thinness, the available internal volume of the case to integrate a complicated movement and its components. The challenges relate to the ways we revise and re-think the construction of the calibre, to secure the complicated functions with fewer but more optimised components. Another challenge is of course the reliability of the watch: a perpetual calendar is made to run for more than a century without interruption. So you have to develop components of very limited dimensions, but that are very resistant. We have no choice but to dig into the world of new materials and alloys to meet sometimes antagonistic constraints.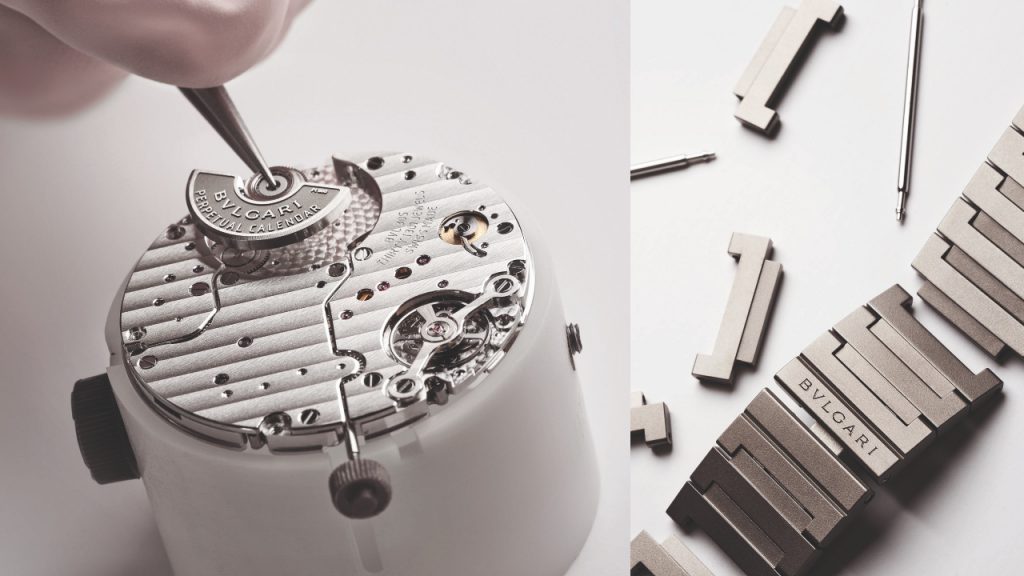 "When you pass from a classical standard complication which is housed in a thick case as it has been for decades to an ultra-thin, you cannot follow the same processes. The standard tolerances and gauges are not sufficient anymore. You must be more precise throughout the whole development process, from construction and evaluation of energetic balances to the assembly of the movement. We specifically have to improve our knowledge in the physics of materials for the design of new components matching ever more challenging constraints and our assembling processes and support tooling." 
Other than its technical accomplishments, the success of the Octo Finissimo is also because of its distinctive look. It took the braceleted sports watch template and honed it through a lens of facets and geometry. The result is a highly recognisable and contemporary watch, especially in its signature monochrome colourway that is typically expressed through sandblasted titanium. Its slimness seems to be a natural part of its allure, rather than a mechanical undertaking just for the sake of it.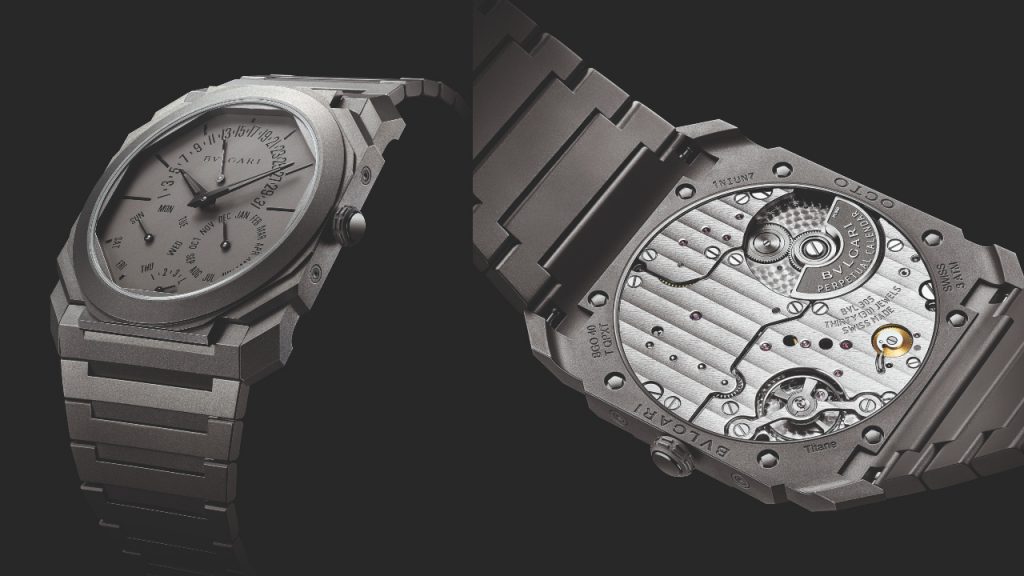 "You need to go deep into the culture and the brand's Italian identity to discover the inspiration of Finissimo," Pin says. "We are Swiss watchmakers of Italian origins. In every Italian soul, there is a sense of elegance and style. No true Italian individual would go out without checking their appearance. When it comes to men specifically, you think of the slick perfection of fine garments that subtly follow every move, that make their owner feel at ease and look impeccable. 
"Italian elegance seems effortless because it relies on perfectly designed outfits and accessories. The idea of Octo Finissimo started from this inspiration: a great timepiece should be beautiful and elegant. And with thinness comes this perfect effortless fit to the wrist that expresses elegance."
A TIMELINE OF TRIUMPS 

In the ultra-slim category, Bulgari has broken many watchmaking world records, with nine world records surpassed since 2014. In this time, it has also broken its own records set the ultra-slim category twice, and currently holds seven world records.A chronology of its past and present world-record holders, as follows. 
---
Shop a selection of Bulgari Octo timepieces from this online catalogue. Complete your home shopping via secure payment through CosmoPay, provided to you by the client adviser. Delivery is available nationwide, as is self collection at your nearest Bulgari store.