There are few icons of style more recognisable than the Louis Vuitton trunk. Its iconography has defined travel since the late 19th century and transcended its original category to encompass modern-day fashion, high horology, scintillating jewellery and swish lifestyle spaces such as the Louis Vuitton L'appartment. All of this began with the birth of Louis Vuitton two hundred years ago in the month of August 1821. Louis Vuitton was born in Anchay, in the remote French Jura mountains near the Swiss border to a family which, for five generations, had been skilled in the metier of carpentry, joiners and millers while farming the land.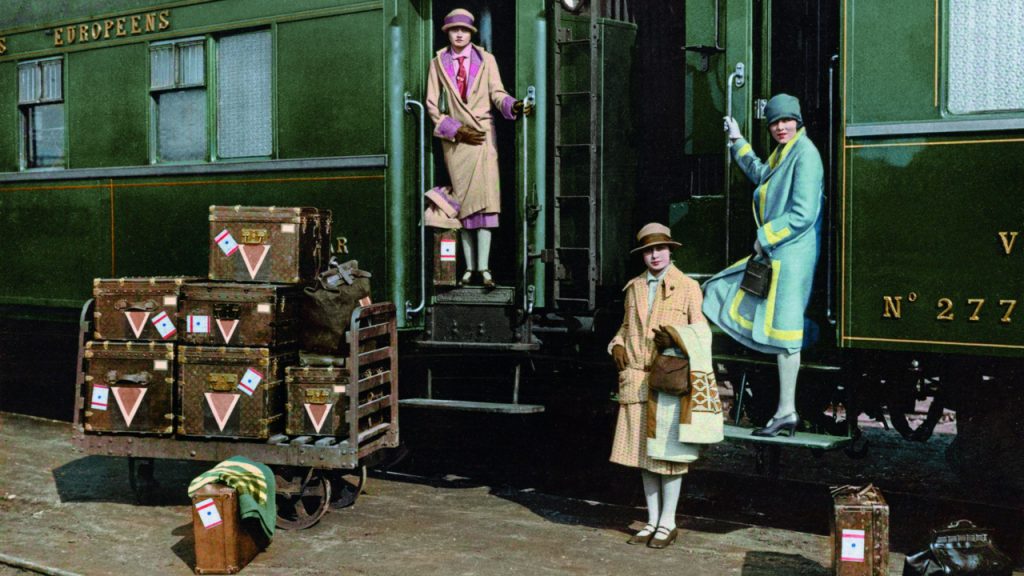 In 1835, at 13 years of age, he undertook his first trip, a personal mission. He set off for Paris on foot to be the apprentice of renowned trunk maker and packer Romain Maréchal. Vuitton spent two years walking the 250-mile route, stopping along the way to earn money by performing woodworking tasks. The experience shaped his life, and travel became his passion and his calling.
It would be a full 17 years before Vuitton struck out on his own, enjoying the patronage of Empress Eugenie – consort to Napoleon III, the last monarch of France. Vuitton also struck up a friendship with Charles Frederick Worth, the founder of Parisian Haute Couture. Thus in 1854, his atelier was founded on 4 rue Neuve-des-Capucines, in the heart of the Place Vendome – the prime neighbourhood of all major fashion houses in late 19th-century Paris. The famed Gris Trianon innovation came soon after – a coated canvas to make luggage waterproof. His early advertising posters promised that his eponymous trunks would 'securely pack the most fragile of objects', much needed in the golden age of travel. At the time, dome-shaped steam trunks prevailed but Vuitton ingeniously fabricated square luggage which was stackable, allowing for garments to be hung upright and ultimately leading to a worldwide revolution of flat-top luggage.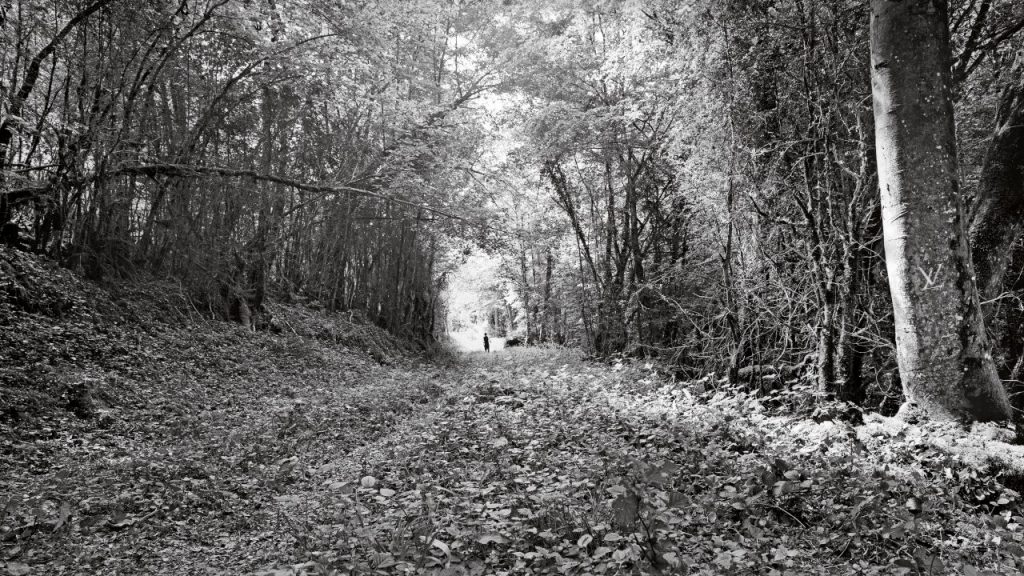 By 1859, having achieved success as a trunk maker in Paris and becoming the favourite 'packer' of Empress Eugenie, Vuitton prepared to expand his company, which had outgrown its city atelier. He moved his manufacturing operation to nearby Asnières, the quiet rural town located on the banks of the Seine.
In the 1870s, he built his own home near the workshop – a charming house in the Eiffel style of glass and steel which five generations of his descendants inhabited until 1984 (Louis Vuitton passed on in 1892). His son Georges would contribute another significant touch to the maison's growing repute in 1896, blending his father's initials with geometrical and floral patterns for the legendary Monogram canvas which has endured till today.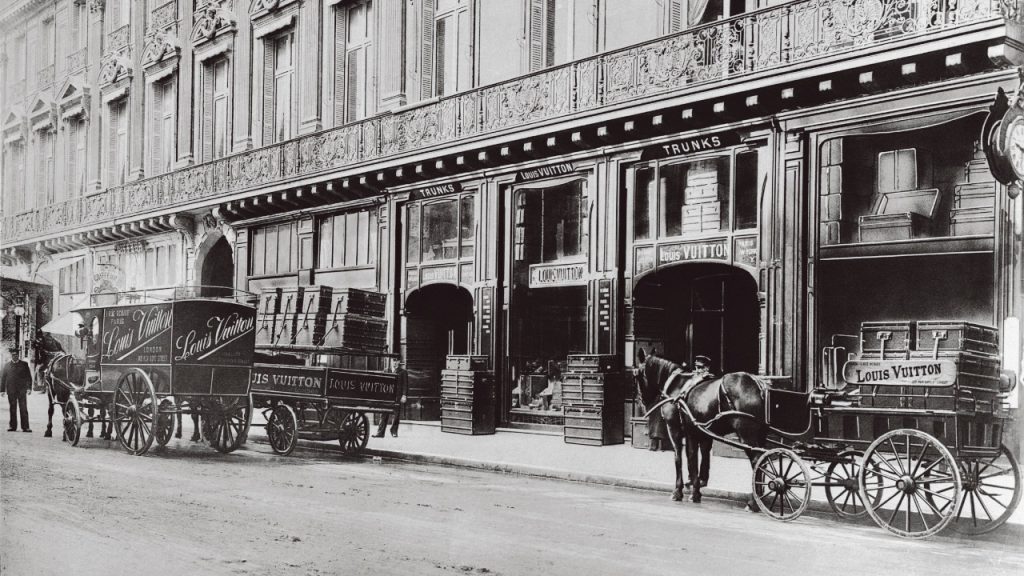 In the present day, the ground floor of the generational Vuitton house still retains a residential ambience; its dining room and living room are decorated in Art Nouveau style, with period furnishings and personal touches such as Vuitton family portraits.
The top floor of the residence houses a museum dedicated to luggage. Here, the company displays the travel-oriented collection of Louis' grandson, Gaston-Louis Vuitton. His assemblage of international treasures includes antique trunks, jewellery boxes, and portable desks — some of which predate Louis Vuitton by centuries. The museum also exhibits some of the company's most prized special-order pieces.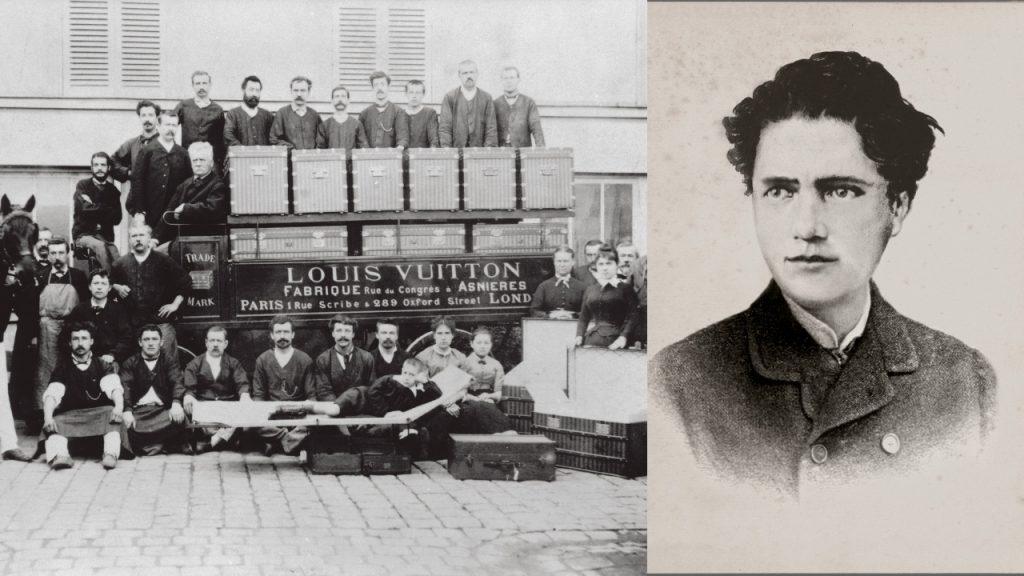 Custom commissions have been a cornerstone at Louis Vuitton since the early days of the founder's career, when Empress Eugénie tapped him to construct her travel accoutrements. The explorer Pierre Savorgnan de Brazza — who in 1883 founded Brazzaville, the capital of the Congo — commissioned a bed trunk containing a fold-out cot for his African expeditions. Vuitton used zinc in the crafting of the trunk to protect its contents from temperature extremes, sand, rain, and humidity. The interior employed camphor wood to repel insects. In 1926, the maison produced a tea trunk in grained leather for the Maharajah of Baroda, whose valet would take onto a Rolls-Royce motor car, horseback or on elephant.
This tradition of special orders continues to thrive in Asnières, where Patrick-Louis Vuitton, a fifth-generation family member, supervises the custom workshop. Tastes have changed since silent-film stars such as Douglas Fairbanks placed orders for toiletry cases replete with an array of crystal bottles and tortoiseshell combs. Another 1925 travel kit for Polish pianist and statesman Jan Paderewski used a snake leather interior to contain crystal bottles with silver stoppers and brushwork in silver and Macassar.
In more recent times, you would hear of some fanciful trunks such as the celebrity-commissioned case to house an iPod docking station and a collection of 20 iPods. A collaborative project with sonic French maison Devialet led to the DJ Trunk (complete with twin turntables), repurposed from a 1930s writing-desk trunk in the house's archives. British contemporary artist Damien Hirst also had his turn, dreaming up twin medical trunks in black Nomade leather printed with butterflies. Meanwhile, its Malle Coiffeuse beauty trunk and the Maison Vivienne Dollhouse trunk continue to elicit wonder and awe, with the latter even containing a bijou Louis Vuitton trunk in its bedroom compartment. Most recently, the historic win of the Milwaukee Bucks in the 2021 NBA Finals – their first in half a century – saw them presented with the Larry O'Brien trophy in a bespoke Louis Vuitton Trophy Travel Case.
Of course, the department still handles more routine projects, including gigantic watch trunks with watch winders, travel bars appointed with Baccarat crystal, and elaborate wardrobe cases, including one designed to hold 30 shirts, 60 coordinating ties, and an assortment of cuff links. A series of programmes dedicated to commemorating the tapestried – some would say monogrammed – life of M. Louis Vuitton will launch this month. Among them are Louis Vuitton store windows showcasing the iconic trunks transformed by 200 contributors. A video game with embedded NFTs will also be released on the App Store and Google Play for Android systems. Meanwhile, streaming platforms will offer the Looking for Louis documentary that retraces the life of the young pioneer turned global name. From 21 September, la Galerie – the former family home of the Vuittons, will reopen to the public every weekend till end October.
Louis: The Game can be downloaded now on the App Store and Google Play.
---
Photos: Louis Vuitton