When Edra was founded in 1987, it had several advantages at its very beginning. Firstly, it was situated in the town of Perignano, amid the beautiful Tuscan countryside steeped in centuries-old history, art and culture. Here, the area's industrial heritage allowed many craftsmen to produce their pieces at an impressive scale. Most fortuitously, to its founding Mazzei family, the art of furniture was not a new one, having inherited a family furniture business which began in 1949. They chose the word Edra, a modification of the Greek word "exedra" which meant a place for philosophical discussion.
With that in mind, Edra launched its debut I Nuovissimi collection, with relatively unknown and young designers who had submitted their designs for the series. The man whom the Mazzei family had identified as its artistic director was architect and design critic Massimo Morozzi who sought to challenge the norms of the furniture industry. Soon after, Morozzi would be responsible for Edra's nascent collaborations with a mid-30s Zaha Hadi and Japanese designer Masanori Uchida on sofa designs such as Wave and Woush in the 80s, long before they had become household names.
In tandem with Brazilian brothers Fernando and Humberto Campana, Edra also birthed the iconic Vermelha chair in 1998, the outcome of Morozzi contacting the then-unknown duo after seeing a version of this chair in a magazine. The Vermelha showcased the creativity of materials and design through the use of aluminium wire, wood slats, bast and fabric scraps.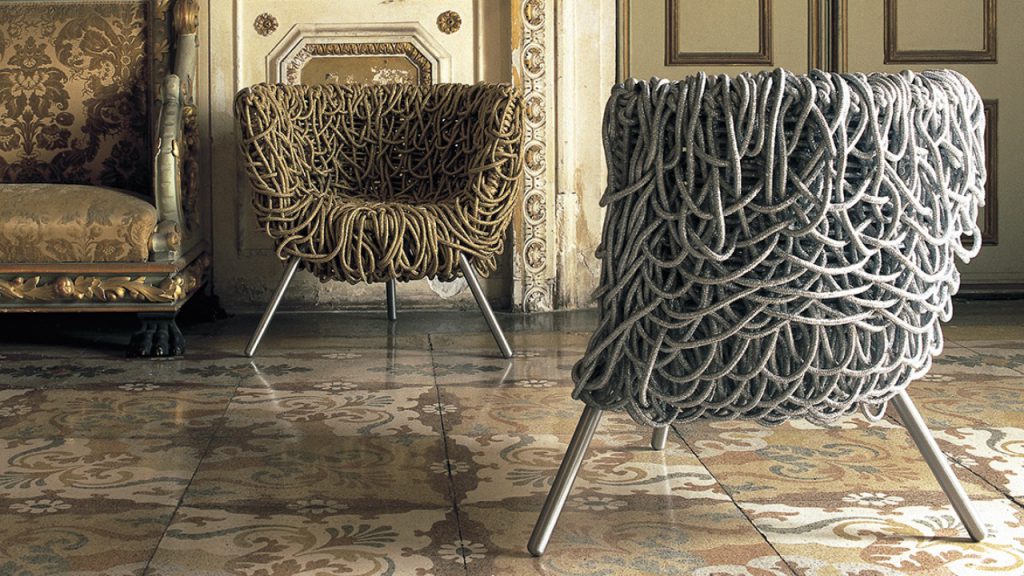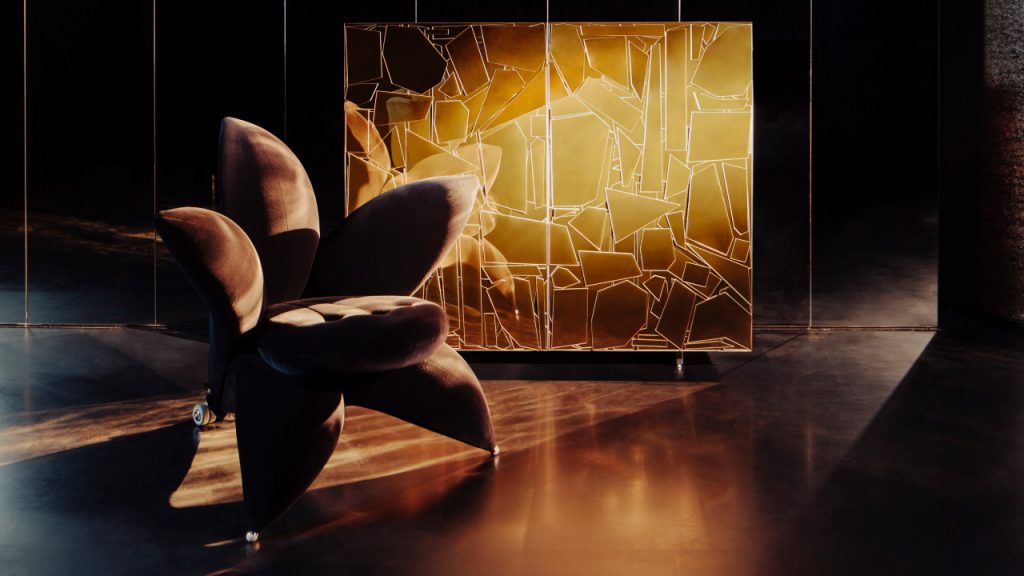 In time to come, Morozzi's art inclinations saw upholstery makeovers on sofas with Swarovski crystal-augmented fabric. Stellar names joined the Edra cast from Welsh designer Ross Lovegrove to Egyptian star Karim Rashid.
In the present day, Edra pieces, which retail exclusively at SPACE Kuala Lumpur's showroom, portray a depth of artistic notion. Much of this is traced to Edra's origins and namesake, focussed on the development of fresh, contemporary ideas. It employs a high-tech fatto a mano (handmade) approach to its pieces as showcased by the Gina chair which recalls precious handmade embroidery. Each piece, formed by a polycarbonate, is unique and adds a play of light to living spaces as daybreak transitions to dusk.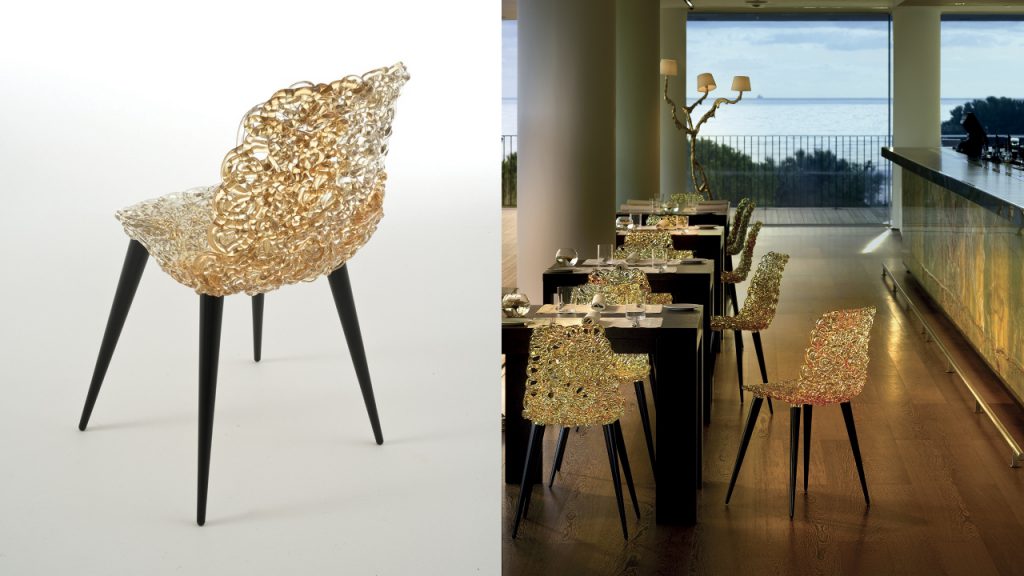 Italian designer Jacopo Foggini, the designer behind the Gina, also worked on the Gilda chair, an approximation of transparent crystal. Both the seat and back are a single body of polycarbonate and mounted on semi-glossy blackened legs. Foggini also transposes the imagery of nature into the flower-like Ella chair, employing hues of green, blue, gold and anthracite as petals atop a dark stem – with each unique piece shaped by hand.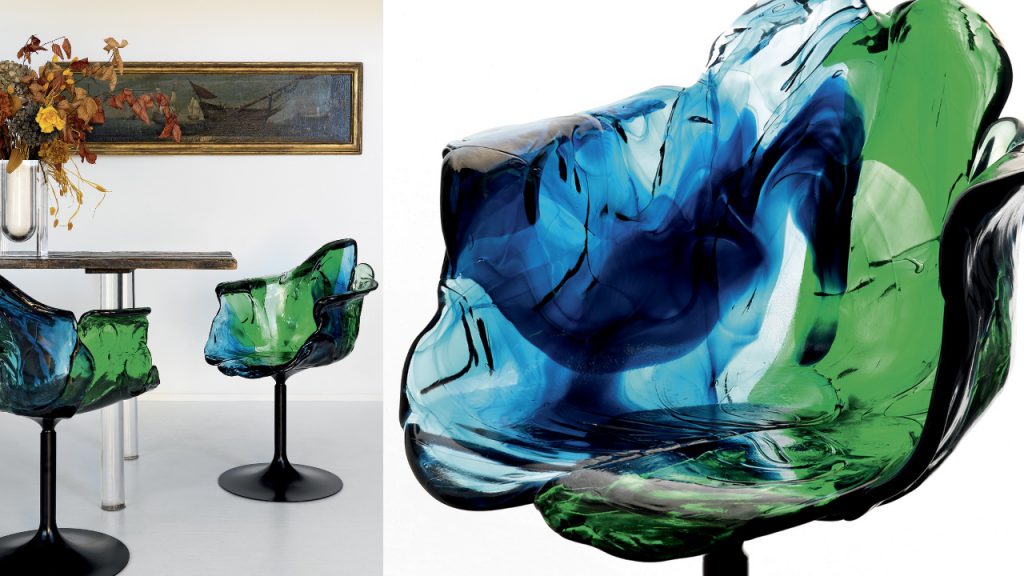 "I like it when someone creates a beautiful object that is also functional, because it becomes something that is a pleasure to use. Beauty and functionality, elegance and timelessness, must live together," says Valerio Mazzei, the founder and president of Edra. This has meant that Edra has consciously sought to avoid the "museumifaction" of its designs by enabling utility. Having said this, perhaps by virtue of its designs and expression of timelessness, Edra collections have ironically formed part of the permanent exhibitions at New York's MoMa, and in Paris, at the Georges Pompidou Centre, and the Musée des Arts Décoratifs.