London-based Heron's Ghyll merges formal wear with an unlikely concept: comfort. The up-and-coming brand recently launched its first collection, along with its flagship product, the Meridian Suit, an Eastern-inspired and laid-back take on the traditional suit. And with this came overwhelming demand for private commissions and custom fits, a clear sign that its eclectic style has found purchase in the fashion capital. Its founder Mark Francis, a former banker, has always been interested in clothes for many reasons. But more significantly, it is his preoccupation and search for identity from a young age that hooked him into the world of sartorial style. "I learnt you could acquire clout based on what you wore, which helped me to survive the battlefield that was my adolescent experience," he recalls. When he grew up, his view of clothes as a means of imposing influence and power let him to delve deeper into the rabbit hole. "As a banker, I used to get suits and shirts made regularly and remember enjoying the process of picking out fabrics and trims. I would drop by the tailor just to pour over fabric bunches while dreaming up what to make next."
In 2019, Mark Francis made the bold decision to leave the corporate world and chart his own part. He named his company Heron's Ghyll – named after a hamlet in the English countryside, to ground it with a sense of place, and to dovetail it with the made in London and made in the UK identity which defines the tailoring which he applies on his fashion label.
His first product, the Meridian suit (starting from £495), duly launched in July. Its most noticeable feature is the lack of a lapel and the trademark "V" shape of a suit. Rather, it is built more like a Nehru jacket, with the suit buttoned up to the throat. Instead of lapels, it features an elegant Ogee collar in place of a Nehru's stand collar. "The defining feature of the business suit is the lapel so I knew I wanted its diametrical opposite," Francis explains. Most importantly to him, the Ogee collar, or the stand collar in general, had no specific connotations, which is the product's main principle. The whole suit is cut in a boxy silhouette with it, and the trousers' elastic back, serving to prioritise comfort and throwing out traditional tailoring's concerns of hugging body contours. The front of the trousers, however, keeps a flat front, maintaining a clean and sharp look, as do the bagged trouser cuffs. Finally, in keeping with its casual nature, the suit is made of either Irish linen, brushed and hand loomed cotton, or British denim.
View this post on Instagram
Mark Francis had designed his suit based on an alternative principle, one that separates the Meridian suit from typical suits, which he dubs "cosmopolitan tailoring". He describes his Meridien suit as "providing an alternative to the business suit-centricity that has come to define formal everyday clothing, one that's free of cultural specificity and much more apropos of our increasingly interconnected world." Outside of professional contexts, the image of traditional suits is that of rich men smoking and drinking in clubs. The Meridian suit is designed to eschew that connotation.
Growing up in Malaysia has also influenced the garment in different ways. "(Superficially), the Baju Melayu, mandarin/Tang jacket, and kurta all have a stand collar, so… at some subconscious level, that's where the idea was planted." In terms of the ethos of the brand however, Malaysian culture, which in Francis's view is inclusive and welcoming, has had an impact on the product and the brand itself. "A dynamic, fluid, and pluriversal approach to culture is central to the Heron's Ghyll brand and my experience of growing up in Malaysia has definitely inspired this."
With the pandemic changing the face of fashion, for better or for worse, the Meridian suit couldn't have come at a better time. Traditional business suits, already bleeding out over the past decades, drew its dying breath once work-from-home protocols were enforced. With no need to look sharp for the office, those suits were left behind in the closet, with the majority of people working in largely relaxed formal or semi-casual wear. The Meridian suit, formal enough for the webcam and office, but casual enough to relax in, fits this new terrain of fashion like a glove.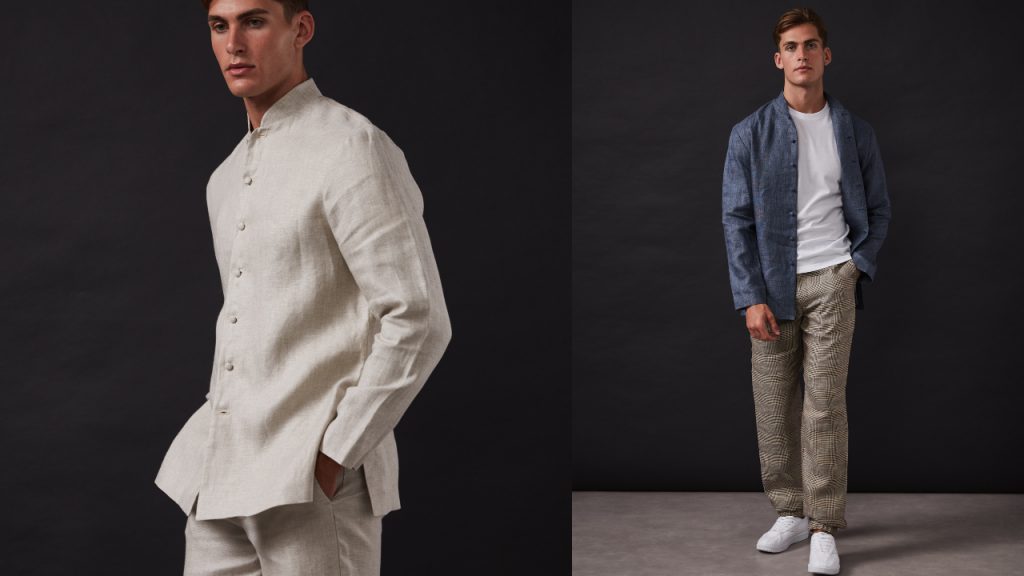 For his next move, Mark Francis plans to increase variety in the Meridian Suit collection by offering it in different fabrics such as Italian bamboo and ultralightweight wool, and to launch e-commerce soon.
View this post on Instagram

The journey to establish Heron's Ghyll has been challenging Francis reflects. Various hindrances such as the pandemic, self-doubt, and personal tragedy almost led Francis to give up on his dreams. But as he looks into the future, he envisions Heron's Ghyll as a full-fledged luxury brand and media platform that "explores and advocates for cosmopolitan identity through craft and storytelling". Believing in the power of immersive experiences, he plans to open a flagship store in London, the irony being utilising traditionally Saville Row materials to create a product that is more accessible to present-day norms. But for now, "the broader plan is to keep doing what we've been doing," says Francis, adding, "which is engaging our community in co-creating the narrative of Heron's Ghyll while building our brand slowly and meaningfully".
---