In the latest Bond instalment No Time To Die, the character played by 33-year-old Cuban actress Ana de Armas slinks into the room wearing a long black dress, accentuated by the ravishing sparkle of jewellery. These haute joaillerie pieces, from Chopard's Green Carpet Collection, mark the continuation of Maison Chopard's collaboration with EON Productions – the UK-based production company that has been making the James Bond films since 1962's Dr No.
At the start of last year, Chopard commemorated its EON Productions collaboration with a new Happy Hearts – Golden Hearts collection, reinterpreting the golden leitmotif of several Bond films with its favoured ethical rose gold. This use of Fairmined gold – dedicated to ensuring that the gold producers receive equitable value – featured in a series of bracelets, earrings, pendant and a sautoir necklace.
This continuing importance of using sustainably mined materials and ensuring that the producers –many of whom are small stakeholders – receive a commensurate value for their goods, is a mainstay of Chopard's responsibility as a jewellery, with its most famous example being the Palme d'or filmmaking award at Cannes crafted with Fairmined-certified gold.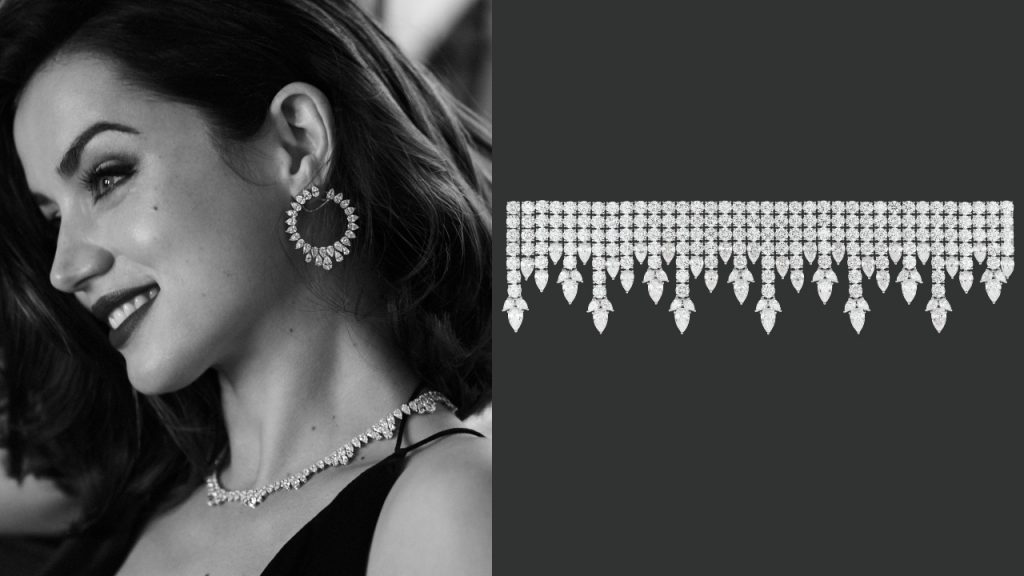 Now with this 25th Bond flick, the result of Chopard's journey to sustainable luxury is extended onto one of the world's most famous movie franchises with the trio of jewellery adorning de Armas. For her, the Bond films represent: "glamour and a universe of fantasy." Her character 'Paloma', a Cuban agent who helps Bond on his trail of a mysterious villain, captures the imagination through action scenes where she works her way out of danger while wearing the Chopard 18k white 'Fairmined' necklace with the 43 carats of ethical-certified diamonds, as well as matching earrings with 14 carats of diamonds and a sumptuous bracelet set with brilliant-cut and pear-shaped diamonds for a total of 82 carats.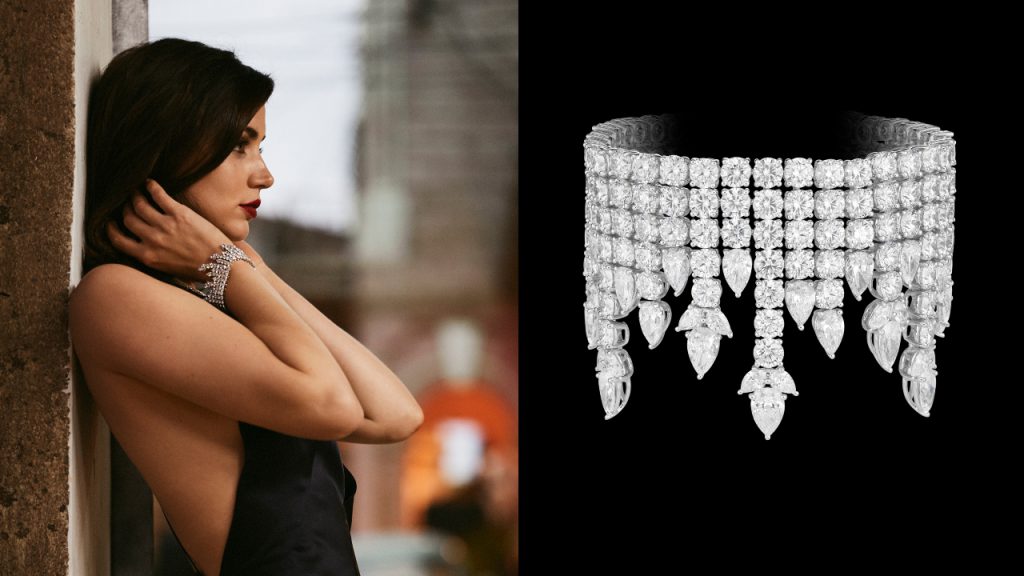 "We knew that the action was so intense that we had to be practical about it," Ana de Armas notes of her choice of Chopard jewellery shown in the film. "We didn't want to have anything that was too big or dangerous for myself or someone else, that I could hurt someone with my diamonds," she recounts, adding, "we had lots of Chopard pieces to choose from, it was really hard – but we were lucky to find these three pieces that had the right amount of sparkles, and they were just really beautiful."
---
Photos: Greg Williams