At its world premiere at the Pebble Beach Concours d'Elegance in 2018, the special series Ferrari 488 Pista Spider ascended the throne as the Prancing Horse's most powerful series production spider in the marque's history. Its V8 engine is the powerful result of a twin lineage; race-developed ancestors consisting of the 488 Challenge and 488 GTE track cars. The outcome is the 488 Pista Spider's twin-turbo V8 with torque on tap for miles, a winner of the 'Best of the Best' title for V8 engines across the last 20 years, and phenomenal headline stats such as a century sprint of 2.85 seconds and a lap time of just 1' 21" on the Fiorano circuit.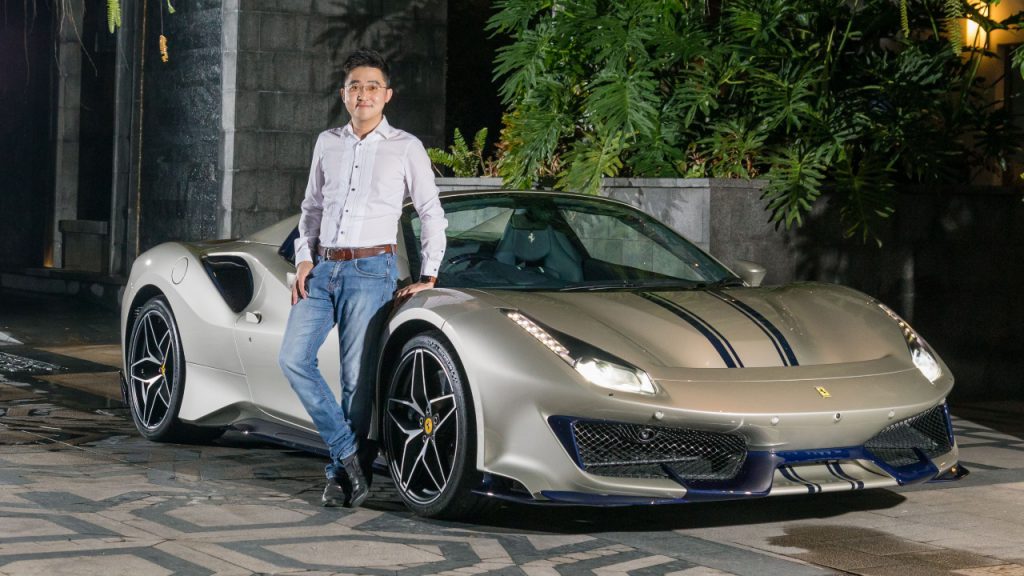 Enter Kenny Ang, who most recently received delivery of a long-awaited Ferrari 488 Pista Spider, but one with the added allure of being a Tailor Made, a select process of configuration which enables owners to include a host of customisation not made available to other Ferrari buyers.
Ang, who began driving his father's Ferraris when he was 19 years of age, acknowledges that his journey with the marque of the Prancing Horse has been a dream come true. "I inherited the love of cars from my dad and driving them, being in convoys, that felt and came very naturally." For Ang, the journey to his Ferrari 488 Pista Spider Tailor Made is a significant notch in his progression as an automotive enthusiast and collector. "We began with mid-engined sports series such as the 360 Challenge Stradale and 430 Scuderia, and from there – moved into GTs which were better as daily drivers."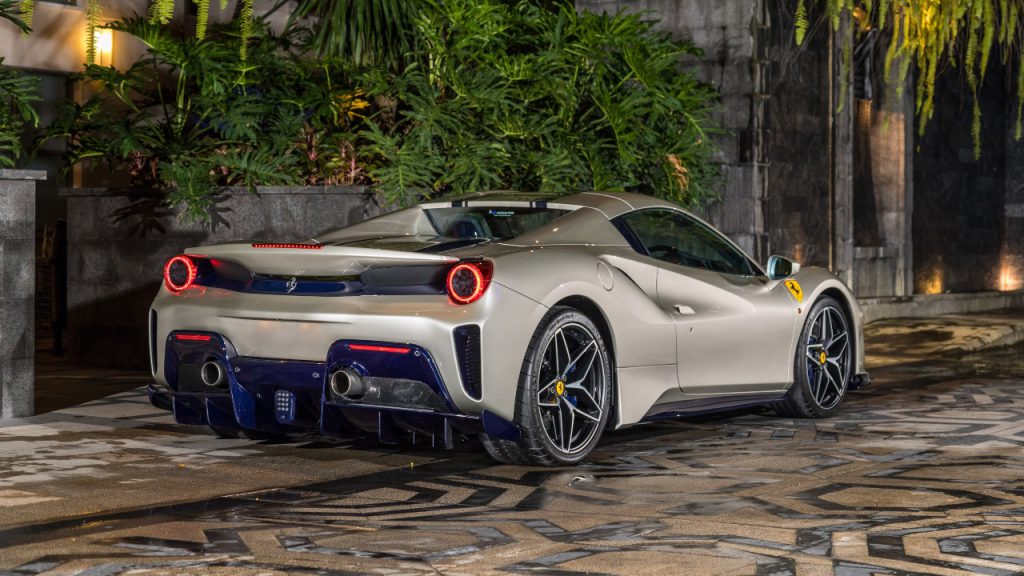 "It's a learning curve; buying, owning and driving Ferraris because each Ferrari is different," Ang reflects. "That is why it's useful to explore the various models in Ferrari's production to fully understand the different personalities and design concepts which these cars possess."
With Ang's track record of being valued client of Naza Italia – Ferrari's sole and official importer in Malaysia – the opportunity came along for an allocation of the Ferrari 488 Pista Spider and to have it as a Tailor Made. He describes it almost as a triple jump – the first being the allocation of a much-coveted Pista, the second of it being a spider and the latter being the rarest treat of the lot. In pre-pandemic times, selected owners for the Tailor Made programme would be required to travel to Maranello, the home of the Prancing Horse and sit in with members of Ferrari's design studio to fully immerse themselves in options not available to other buyers.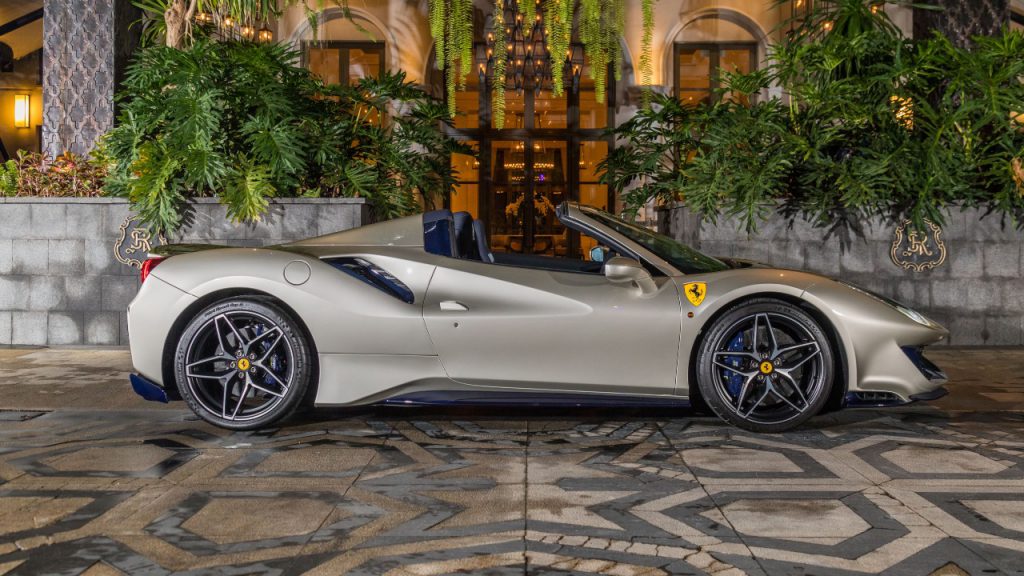 With only two studios operating 300 days a year, and a set limit of two bookings per day, approximately 600 global buyers of the approximately 10,000 Ferraris produced each year have the privilege of being able to possess a Tailor Made version. Of this number, only a small percentage would comprise 488 Pista Spiders, from the approximately 600 Tailor Made units, making Ang one of a select group of owners worldwide and only one of two in Malaysia.
The process of Tailor Made began in Kuala Lumpur, as Ang was given an explanation into the multitude of options offered by the Ferrari factory. His biggest challenge? The colour of the car which he admits was a decision that went down the line until he was in the design studio at Maranello. The chance to have a truly individual piece of art eventually led to Ang deciding on Grigio Ingrid for the exterior, a paint colour which translates from Italian as the shimmery grey of clouds on a rainy day (Grigio) and a description of a feminine beauty (Ingrid), a popular name descended from Old Norse. Upon the vehicle's handover, it turned out even better than expected. "I was stunned by the colour," Ang says upon laying his eyes on the car for the first time, adding that the real-life result was even better than what was rendered on the screens in Maranello. "On the screens, you don't get to see the interplay of shadow and light – which are the real emotional aspects present in the real car."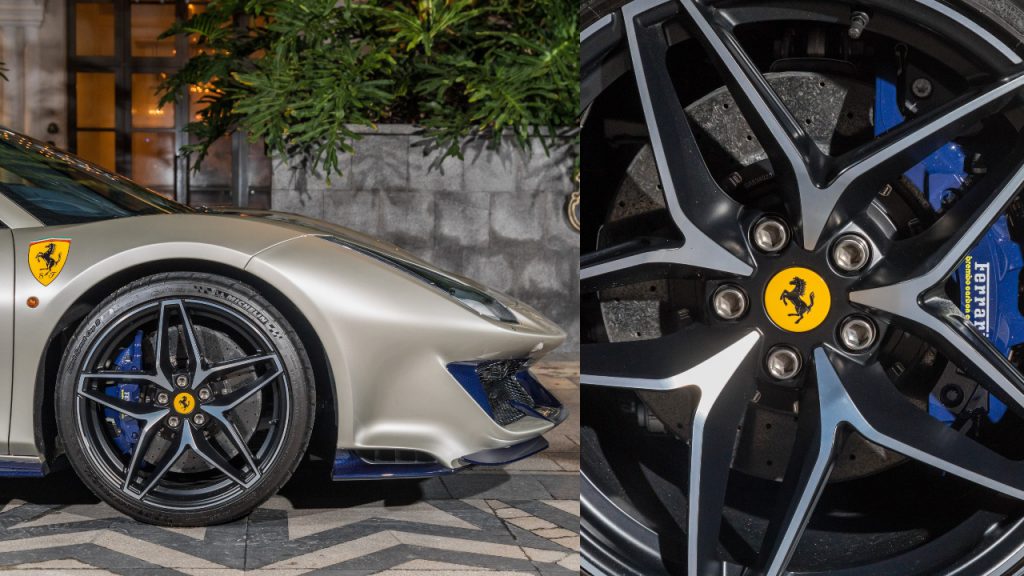 In total, about 16 special options were added to this 488 Pista Spider. For Ang though, that's not how he would see it. "When you're behind the wheel, it's almost like a validation of your life – an examination results slip of straight As." An example of a visible specification of the Tailor Made addition is the airbrushed Scuderia Shields on the Fenders which, at 15cm+ in diameter, is more than double of the standard variant. The fact that it is applied directly onto the body, as opposed to just affixed, is another standout feature that makes viewers do a double take.
Ang's choice of trim on his 488 Pista Spider is also telling of an owner who is unafraid of straying from the template. Through the Tailor Made programme, he has chosen livery in Blu Pozzi, an electric theme which infuses a serenity into this mechanical horse; carpets and floor mats come in Apollo bright blue, as does the piping and tone-on-tone stitching and perforated leather on the dashboard (usually black). This blue moon imagery even extends to the loudspeaker grilles to match the Blu Sterling leather. To cap it off, one only has to open the door to discover the standout sill kick – otherwise known as tread plates – in glossy carbon fibre emblazoned with the Tailor Made logo in a matching Grigio Ingrid and Tricolore.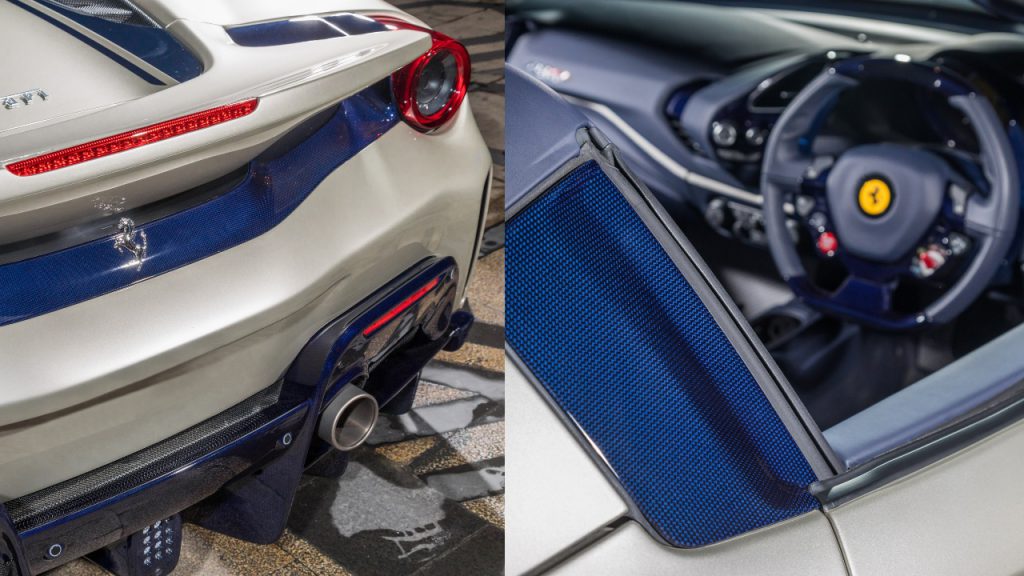 Perhaps his biggest learning is the fact that the tripartite relationship between owner, authorised dealer and manufacture has its long-term benefits. Ang has been a first-hand party to Ferrari's many track events locally and international ones such as the Corso Pilota on Ice in New Zealand and Finali Mondiali – which celebrates the end of the Ferrari owners' racing season. "I've never thought of buying a car to impress others – it's really about buying what you like and that in itself is rewarding because you are already moving beyond the mainstream." Next on his Ang's list? Ferraris of course; the 296 plugin hybrid V6, a Competizione and, even before he knows of its actual name, the Prancing Horse's first-ever SUV, known by its working title, Purosangue.
---
Photos: Naza Italia