With the Lunar New Year 2022 quickly approaching, we've compiled 12 of the most exciting restaurants for you and your loved ones to 'lou sang', celebrate and feast during this festive season.
YEN at W Hotel Kuala Lumpur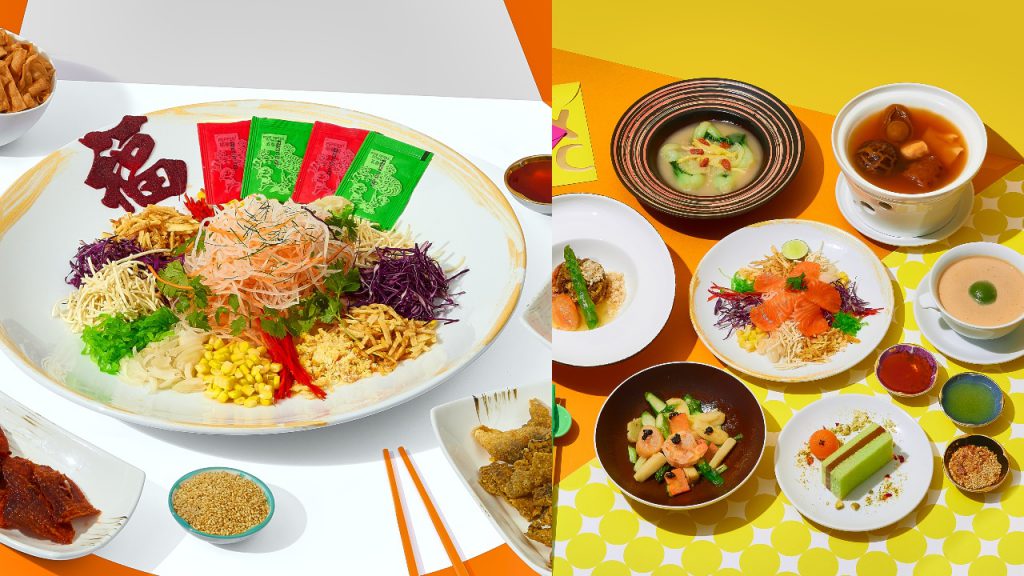 W Hotel's contemporary Chinese restaurant, YEN, is dishing out plenty of favourites for Lunar New Year 2022, opening with an impressive line-up of Yee Sang to choose from including one rich with caviar, gold flakes, truffle oil and abalone (priced at RM498, serving 6-10 people). Other dishes to look forward to, both available a la carte or on set menus, are their steamed tiger grouper fish with fried bean curd, crispy chicken roulette paired with a homemade barbeque sauce, and steamed nian gao served with gula malacca. Also on offer are YEN's weekend Dim Sum brunch for dumpling aficionados, the WOOBAR's Properi-Tea Afternoon Tea set, and a selection of handsome gift hampers filled with Lunar New Year treats that comes complete with a choice of wine or liquor.
Book Now: Call +6012 347 9088 or or email at [email protected].
---
The Majestic Hotel Kuala Lumpur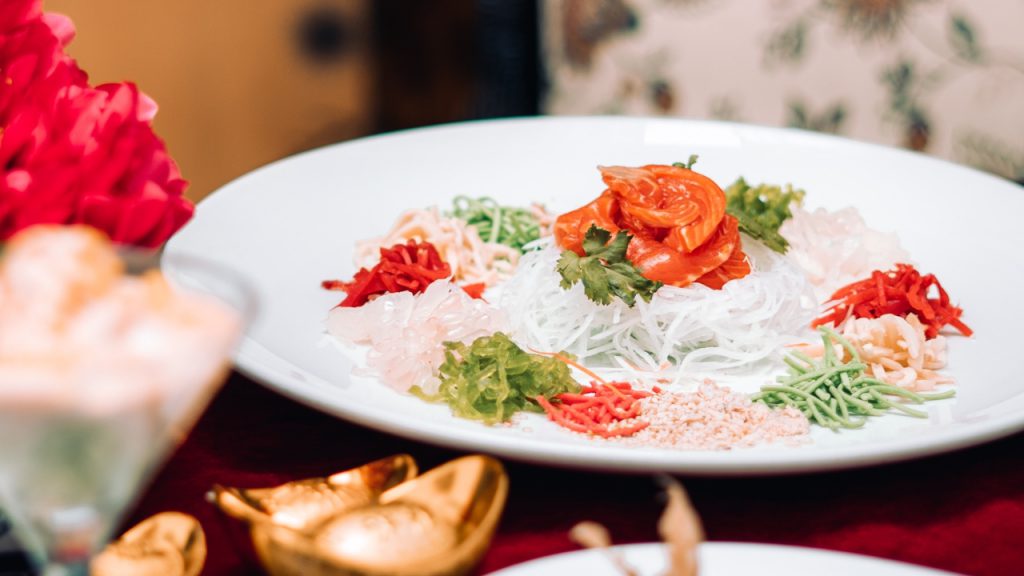 Reunite with loved ones under the ambient and contemporary setting of The Majestic Hotel's Contango restaurant. Toss to good fortune and indulge in an all-you-can-eat buffet that offers everything from grills and pizza to the nostalgic flavours we know and love. Alternatively, enjoy a sample of the Colonial Café's classic prawn cocktail, Hainanese chicken chop, and baked honey-glazed cod, in their dining room's timeless interiors serving the perfect backdrop for more intimate gatherings. The Contango Buffet starts at RM118 per person for lunch and RM148 for dinner, while the Colonial Café sampler starts at RM180 per person. Both offers are available from now until 15 February 2022.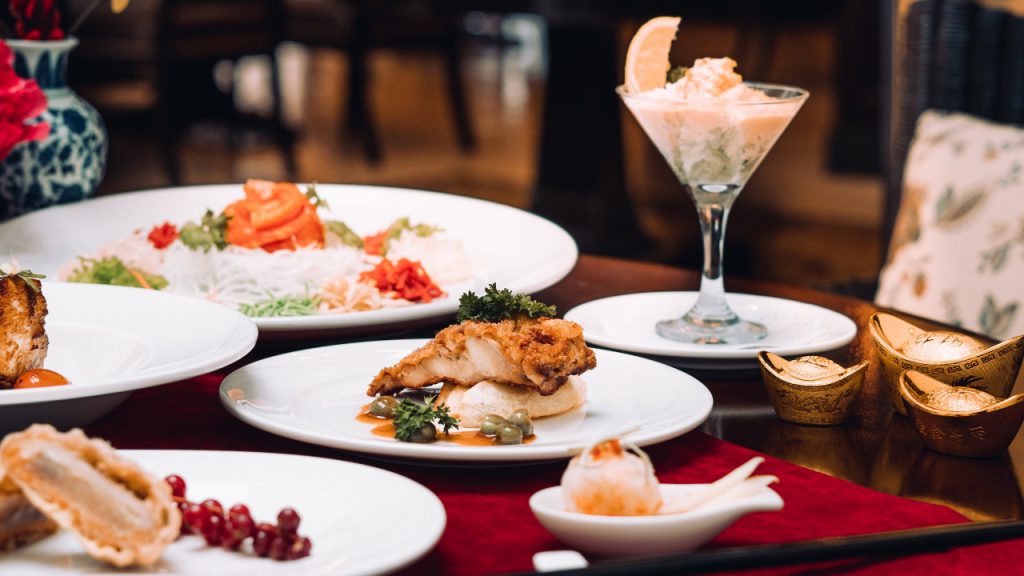 Book Now: WhatsApp +6014 647 1060.
---
Mandarin Oriental Kuala Lumpur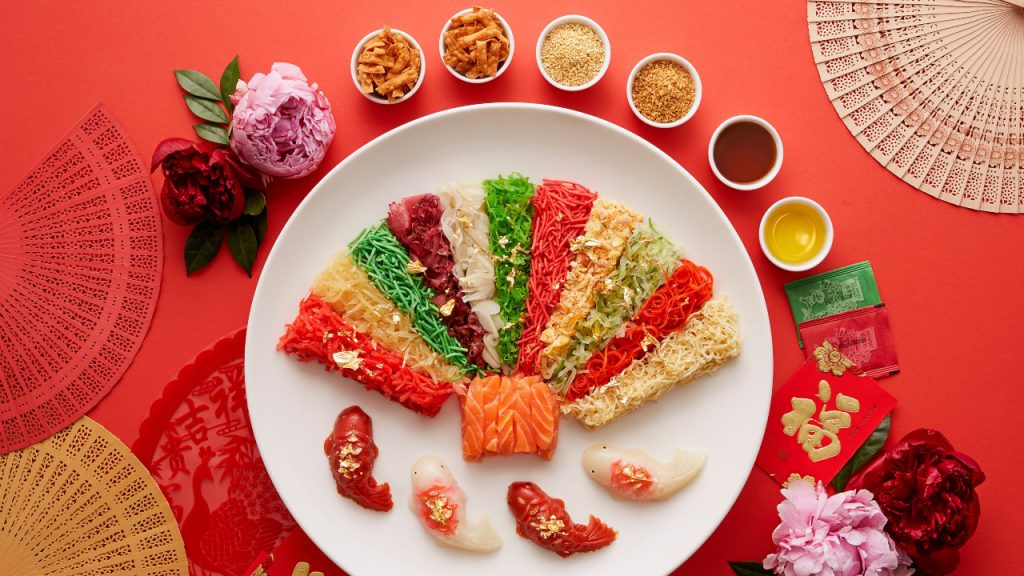 Exuding the fortunate spirit of the God of Wealth this prosperous season, enter Mandarin Oriental's award-winning Chinese restaurant Lai Po Heen's Auspicious Fan Yee Sang – a harmonious bouquet of salmon, sea urchin, black truffles, salmon roe and gold leaf presented in the hotel's signature fan logo, priced at RM1,000. If you're seeking something less extravagant there are other options available featuring luxurious ingredients such as Australian Abalone, soft-shell crabs, and more with a starting price of RM336 per portion. Not forgetting Lai Po Heen's elaborate reunion menus, which includes a delightful line-up of oven-baked Australian baby lobsters, braised South African five head abalone, and Hong Kong-style steamed grouper fillet, ranging from RM288 to RM888. Also on offer are their exclusive dim sum set menus, curated by the dim sum masters at Lai Po Heen, as well as a Chinese New Year-themed buffet at Mosaic and an Oriental Afternoon Tea at Lounge on the Park. Guests dining from 31 January to 3 February 2022 can expect a live guzheng performance and a lion dance to celebrate Lunar New Year 2022 with a bang.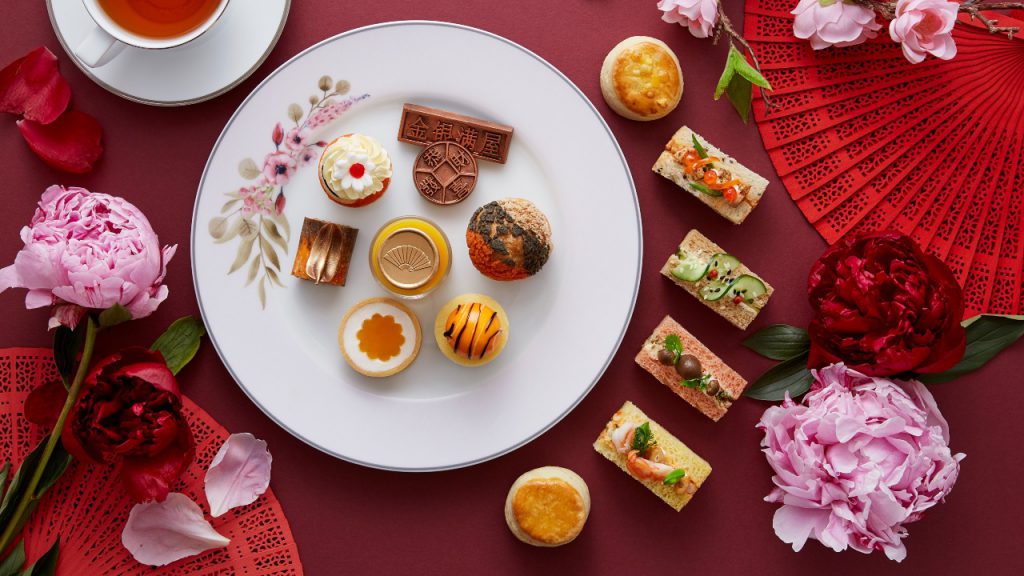 Book Now: Call +603 2179 8885 or email [email protected].
---
The RuMa Hotel and Residences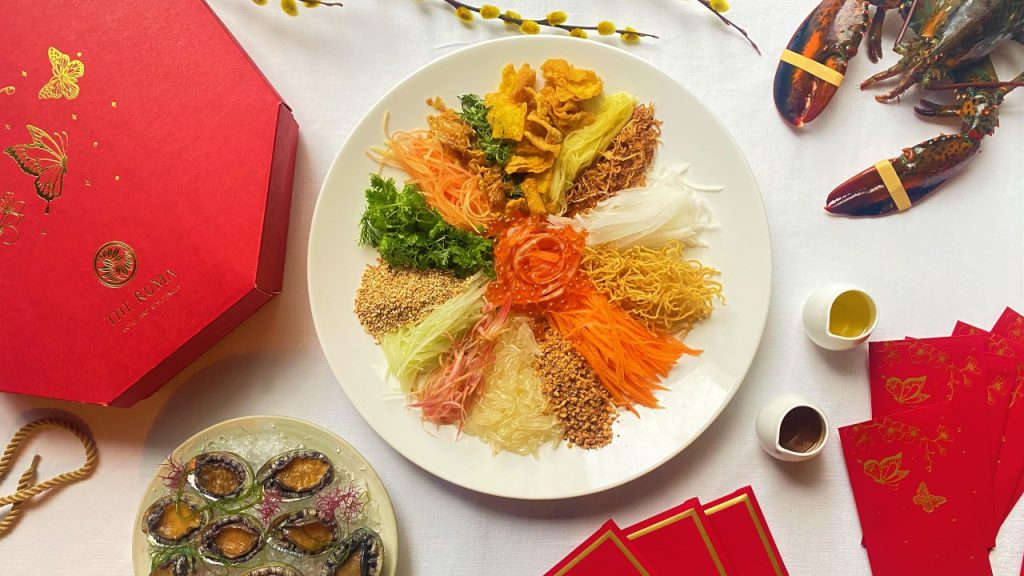 Join the RuMa in celebrating the Year of the Tiger with their in-house restaurant ATAS' Chinese inspired six-course degustation menu. Enjoy a contemporary twist on traditional favourites like Lapsang Souchong smoked ocean trout, roasted chicken dashi with chicken and foie gras dumplings, and roasted duck served with duck neck sausage. Their Yee Sang also features a more local flair with the addition of ingredients such as the fragrant pucuk paku and betel leaf, and sweet plum tamarind dressing to top it all off. It is even served with the choice of salmon, abalone, or a whole lobster. If you're feeling a bit peckish after, sample from a variety of savoury and sweet treats with the RuMa's Chinese Inspired Afternoon Tea that comes with roasted duck crepe, fried mantou with oyster, cherry blossom entremets, and mandarin and vanilla profiterole.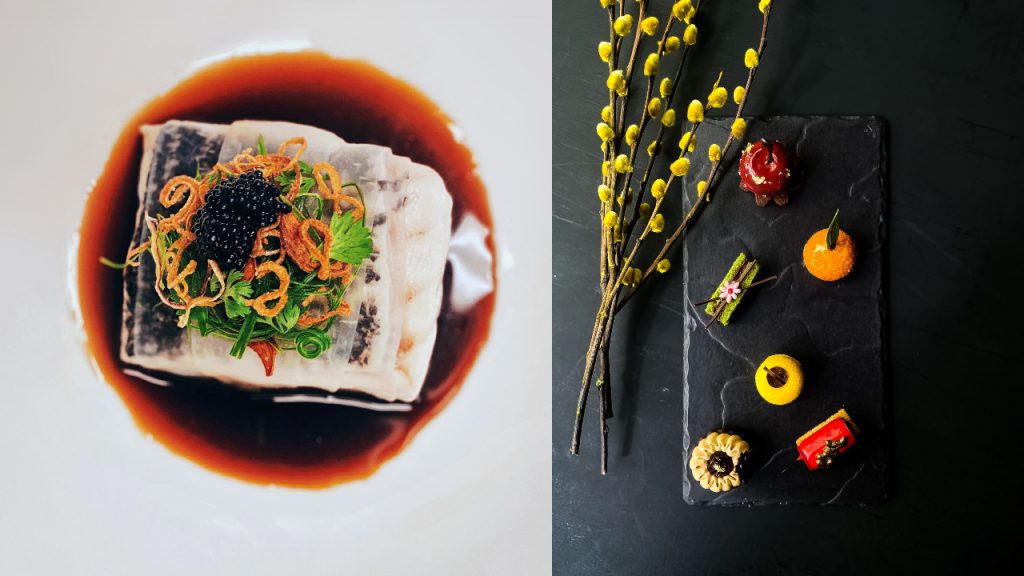 The tasting menu starts at RM348 per person and is available until 6 February 2022, while the Yee Sang and afternoon tea is available until 13 February starting from RM148 and RM158 respectively.
Book Now: Call +603 2778 0888 or email [email protected]
---
The St. Regis Kuala Lumpur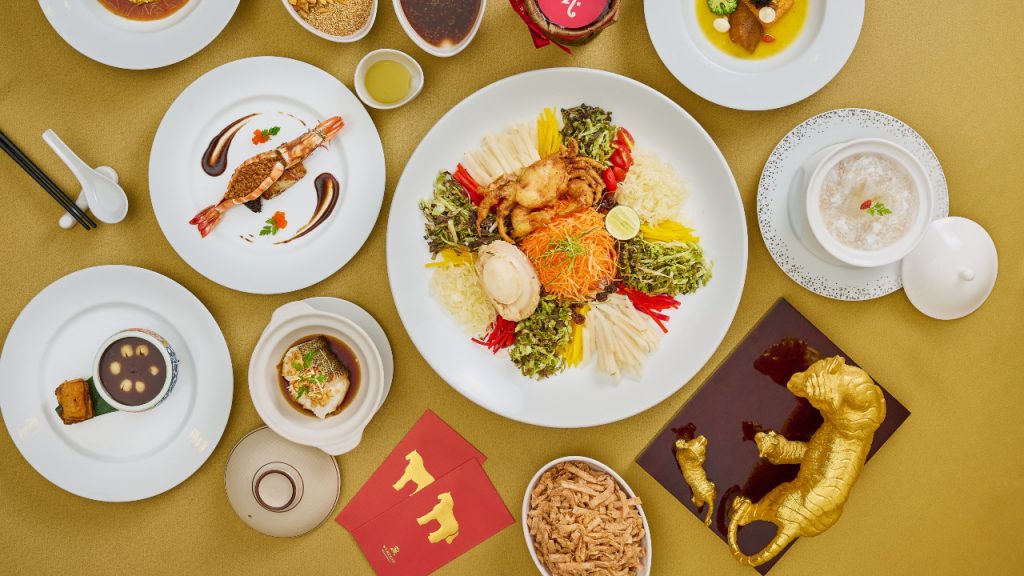 If you're looking for a lavish dining experience, look no further than The St Regis Kuala Lumpur's offers. Guests at The Brasserie will have the opportunity to kick off the new year with their Prosperity Yee Sang, a recipe straight from the owning family's ancestral kitchen, filled with an abundance of fruit, vegetables and assorted nuts and seeds. It is served with a choice of abalone and soft-shell crab, salmon and jellyfish or top shell and jellyfish. For the reunion meal, choose between The Astor Rooms or the Grand Ballroom and tuck into an extravagant feast of family recipes from Chef De Cuisine, Cheong Boon Fei, including braised bird's nest soup with chicken, garlic sea tiger prawn served with dried shrimp radish cake, steamed tiger grouper with spicy preserved vegetables, and more. For those who have a soft spot for the classic desserts, savour their traditional red bean soup sweetened with dried tangerine peel and lotus seed, and deep-fried yam nian gao, just to name a few. Also on offer are the hotel's Chinese New Year Afternoon Tea at The Drawing Room and Chinese New Year Sunday Brunch at The Brasserie.
The Yee Sang starts at RM228 per portion, serving 10, and the Signature Chinese New Year Set Menus start at RM368 with the option of Yee Sang. Both are available for dine-in and takeaway from now until 15 February 2022.
Book Now: Call +6012 280 1303 or email [email protected].
---
The Golden Phoenix Pop-Up At EQ Kuala Lumpur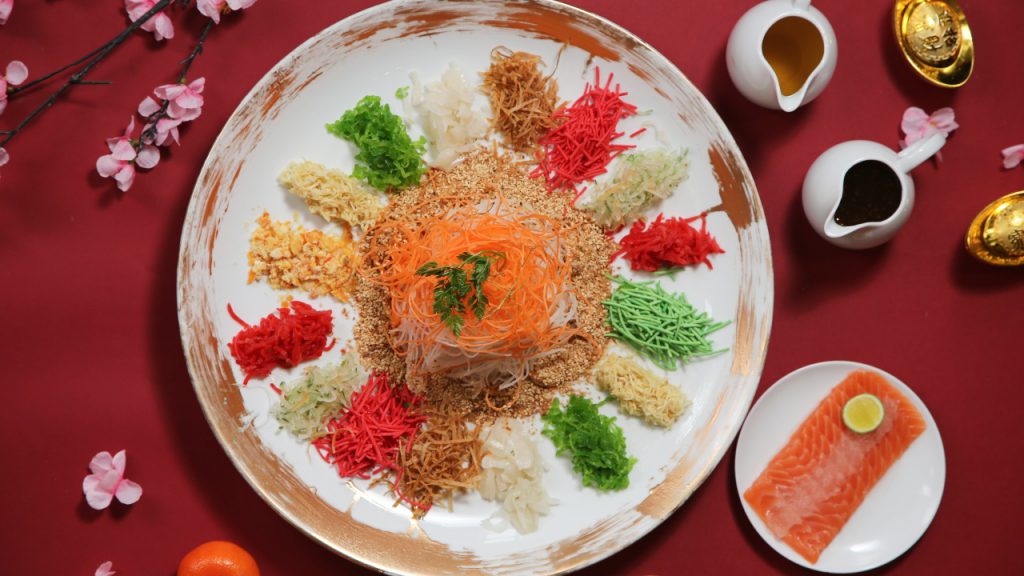 The Golden Phoenix has been well-loved for its Cantonese and Sichuan cuisine since its establishment in 1974 at the former Equatorial Hotel. When the hotel reopened after its renovations, foodies and fans alike were saddened to find it was no longer there. For Lunar New Year 2022, EQ is bringing the Golden Phoenix back from its ashes with a pop-up restaurant, while adding a contemporary flair for both older and newer audiences. Guests can choose from three different sets of mains or the a la carte menu, featuring an extensive selection of dishes including a hearty Monk Jumps Over the Wall, roast goose with black truffle and golden dried scallop sauce, deep-fried Soon Hock, and other assorted classics. If that wasn't enough excitement, the restaurant boasts five types of Yee Sang platters featuring premium ingredients like Hokkaido scallop and Ikura, as well as abalone and caviar, among others. Not to mention the iconic Poon Choy meticulously crafted with premium abalone, king prawns, smoked duck, Japanese dried scallops and all the traditional accoutrements.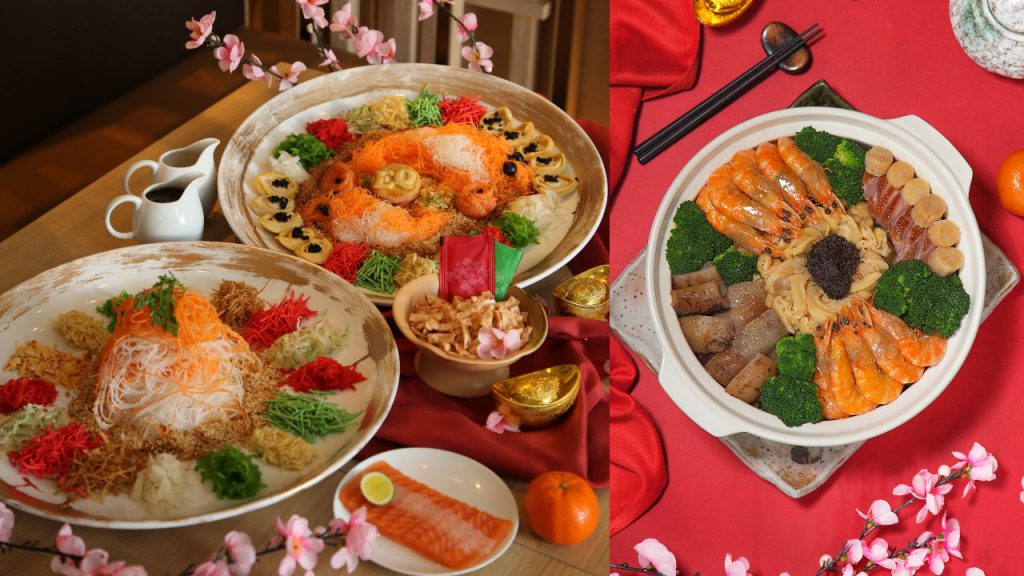 The Golden Phoenix pop-up restaurant is open from now until 15 February 2022 with its set menus starting at RM238 per person, serving a minimum of six. Their Yee Sang, ranging from RM98 to RM228, and Premium Abalone Poon Choy, priced at RM888 serving six people, are also available until 15 February 2022.
Book Now: Call +603 2789 7839 or email [email protected].
---
Li Yen at The Ritz Carlton Kuala Lumpur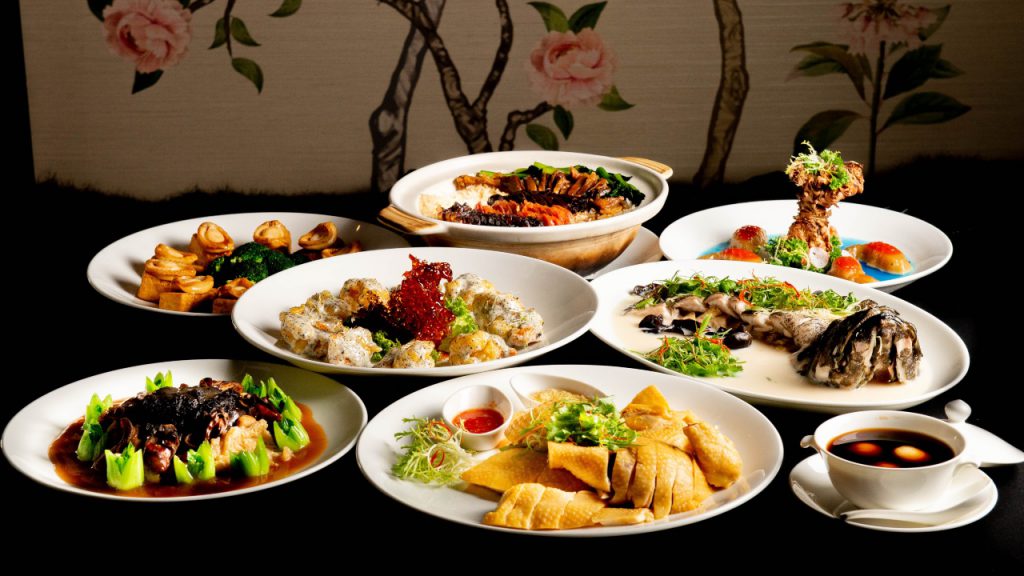 Set in an elegant ambience of a blossoming garden, guests at The Ritz Carlton's award-winning Cantonese restaurant, Li Yen, will be treated to a specially curated set menu – The Reunion Stars. The collection of dishes is centred around the traditional flavours that we all know and love, and guests can expect to enjoy signature reunion delicacies including the beloved Hong Kong-style waxed meat clay pot rice with Chinese sausages specially imported from Hong Kong, as well as, the classic Cantonese favourite, Poon Choy featuring abalone, fish maw and dried oysters. For dessert, guests are treated to an auspicious scene of steamed traditional glutinous cakes, resembling goldfish swimming in a pond with their Steamed Goldfish Nian Gao.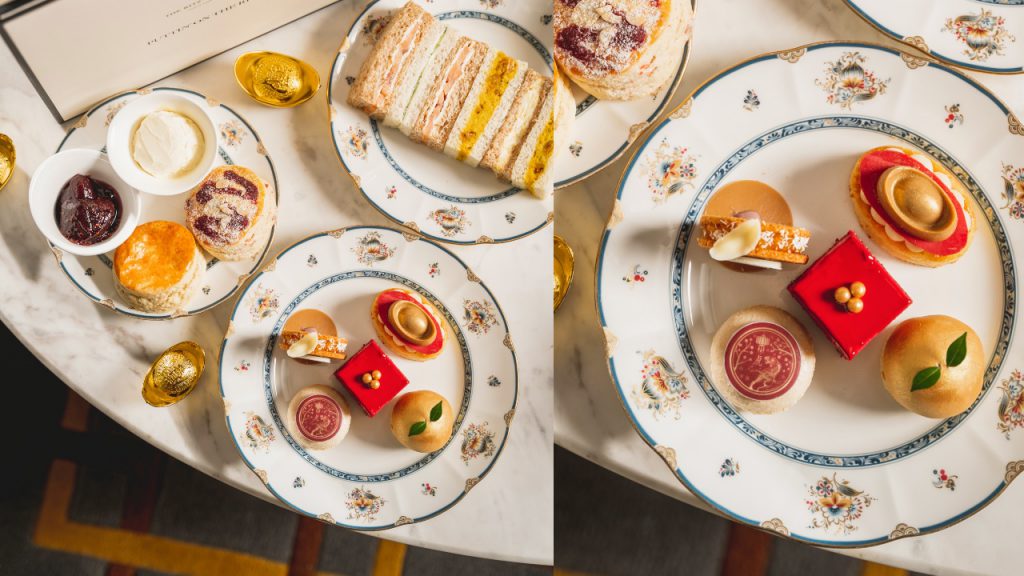 The set menus for Lunar New Year 2022 are priced at RM148 per person for lunch and RM2,080 per table of 10 for dinner, available from now through to 15 February 2022.
Book Now: WhatsApp +6018 646 8033, WeChat @LiYenKL or email [email protected].
---
Shanghai at JW Marriott Kuala Lumpur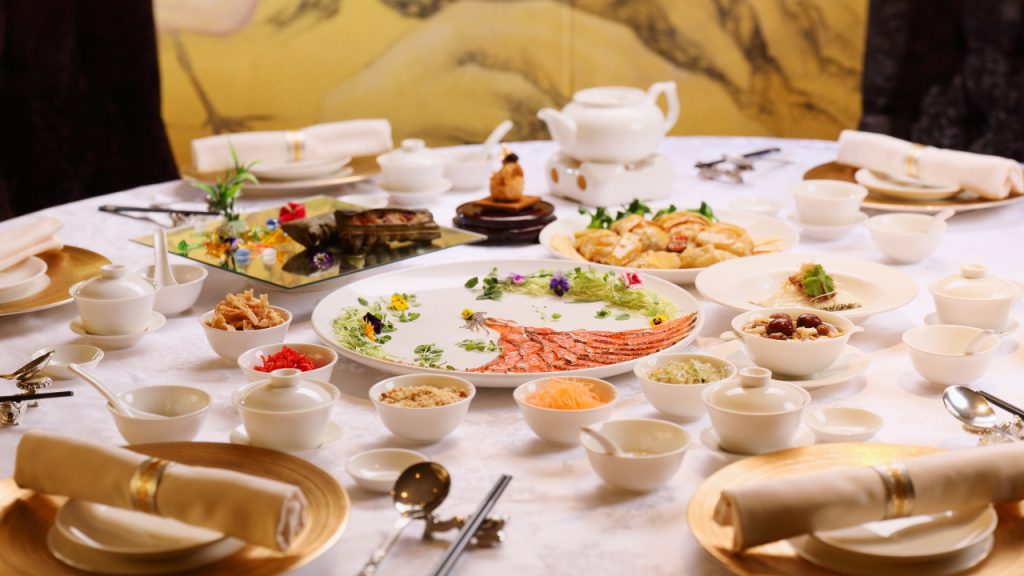 JW Marriott Kuala Lumpur is celebrating the Year of the Tiger with an extravagant banquet led by Shanghai native Executive Chinese Chef Wong Wing Yeuk and his dedicated team. Starting with The Art of Yee Sang, guests are invited to toss to the new year with a selection of ingredients that emphasises good luck and fortune, topped with the chef's secret-recipe sauce. Guests can also choose to add on lobster, geoduck, abalone, jellyfish, salmon, and fresh fruits of their choice.
For the main meal, with set menus starting from RM238 per person, guests can expect an abundance of classic Shanghainese delicacies to offer such as deep-fried mandarin fish with sweet and sour sauce, and braised Spanish pig' trotters with sea moss.
Book Now: WhatsApp +6018 591 9537, WeChat @shanghaijwmkl, or email [email protected].
---
Luk Yu Tea House at The Starhill Dining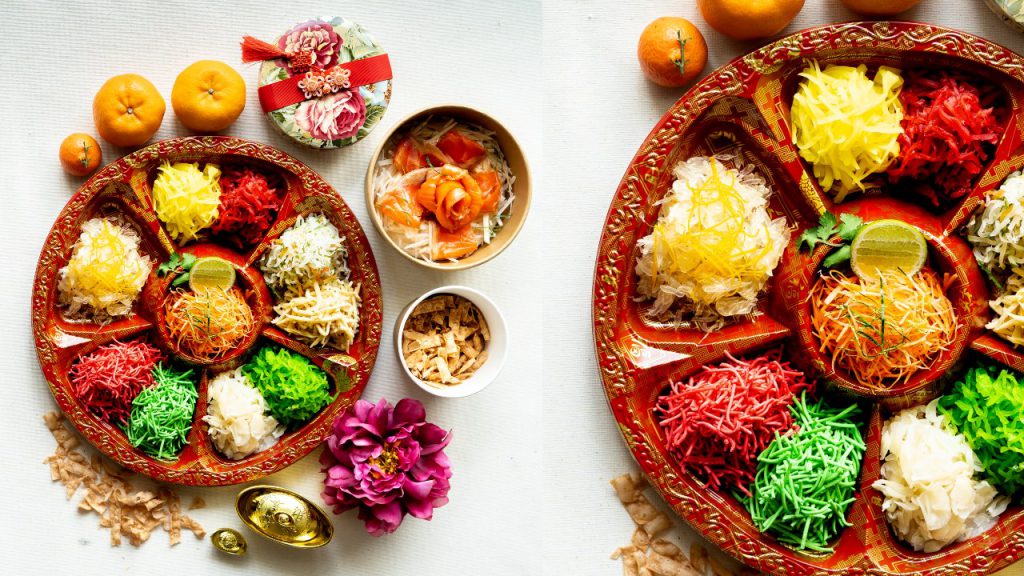 Reunite with loved ones in the stylish and dreamy Chinoiserie-inspired interiors of Luk Yu Tea House. Alongside fine crafted Yee Sang platters and delectable dishes of dim sum, starting at RM138 and RM128 respectively, the restaurant offers an elegant Chinoiserie set menu featuring soul foods like braised Superior Soup with sun-dried scallops, crab meat and enoki mushrooms, and steamed pomfret with sour plums and tomatoes. Topping it all off is their delicate and indulgent deep-fried crispy nian gao. The set menu is priced at RM888 for a table of five and RM1,800 for ten and is available from now till 15 February 2022.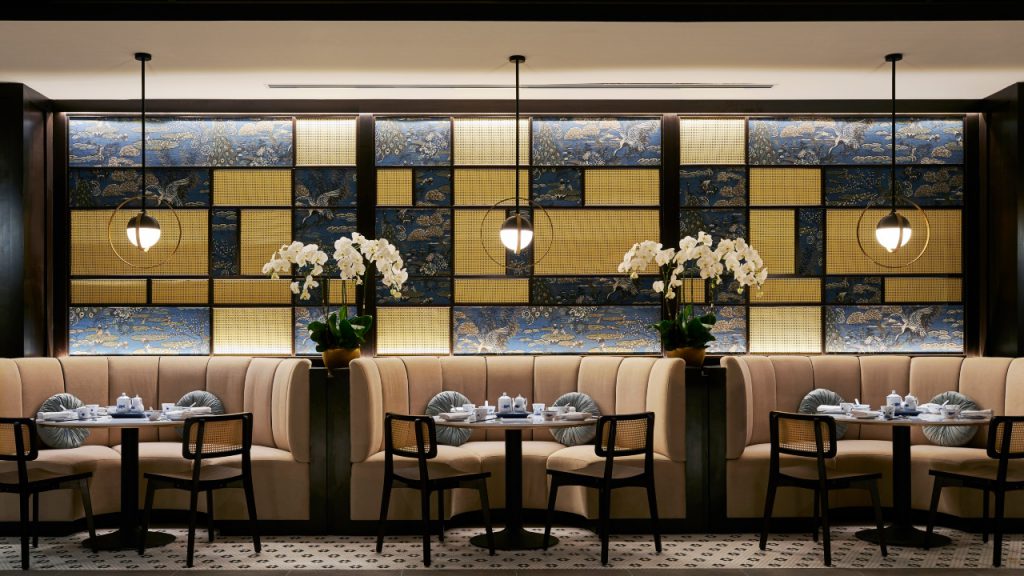 Book Now: WhatsApp +6018 632 8060 or email [email protected].
---
Club Chinois at The Starhill Dining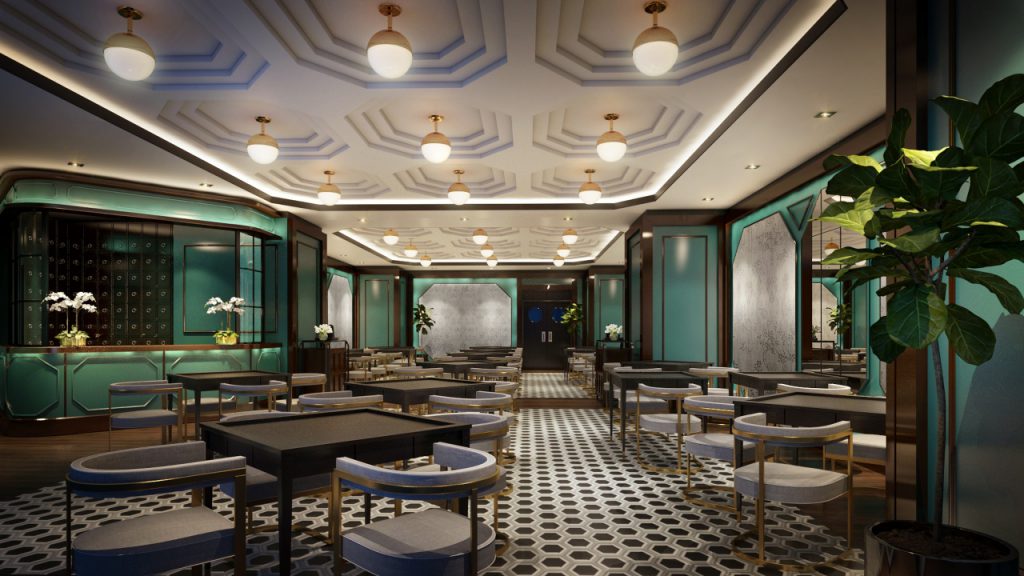 If you're looking to host an exclusive get together, whether that involves an intimate or larger party, in a lavish venue to impress your relatives or business partners, Club Chinois is the perfect space. Fitted with modern bespoke interiors and a touch of Chinese heritage, the venue is not only impressive for its location and design but also its service. From making sure everything runs smoothly down to precise table setting, the expert team at Club Chinois alleviates the stress of event planning so you can enjoy and focus on reuniting with your guests. The elegant dining space is able to accommodate up to 40 persons, this festive season, and features Luk Yu Tea House's well-crafted Chinoiserie Lunar New Year 2022 menu.
Book Now: WhatsApp +6018 632 8060.
---
Yukibana ゆきはなat Shook! at The Starhill Dining
If you're looking for a more unique dining experience for Lunar New Year 2022, Yukibana ゆきはなat Shook!'s Chef Machi has a specially curated Yee Sang platter on offer, as part of his repertoire for the Omakase Yukibana ゆきはな. Featuring compelling ingredients hailing from Hokkaido the Yee Sang features a melodic combination of Ikura, Hokkaido scallops, snow crab meat topped with a delicate homemade yuzu and red dragon fruit sauce, that is also available in a sharing platter to toss with loved ones. Enjoy an elevated Omakase dining experience after with a choice of three set menus: Tempura, Teppan and Yukibana – each telling a compelling story that celebrates the culinary heritage of Hokkaido. The Yee Sang platter is available at RM188 for two, and the Omakase menus are priced at RM295, RM350 and RM460 per person respectively.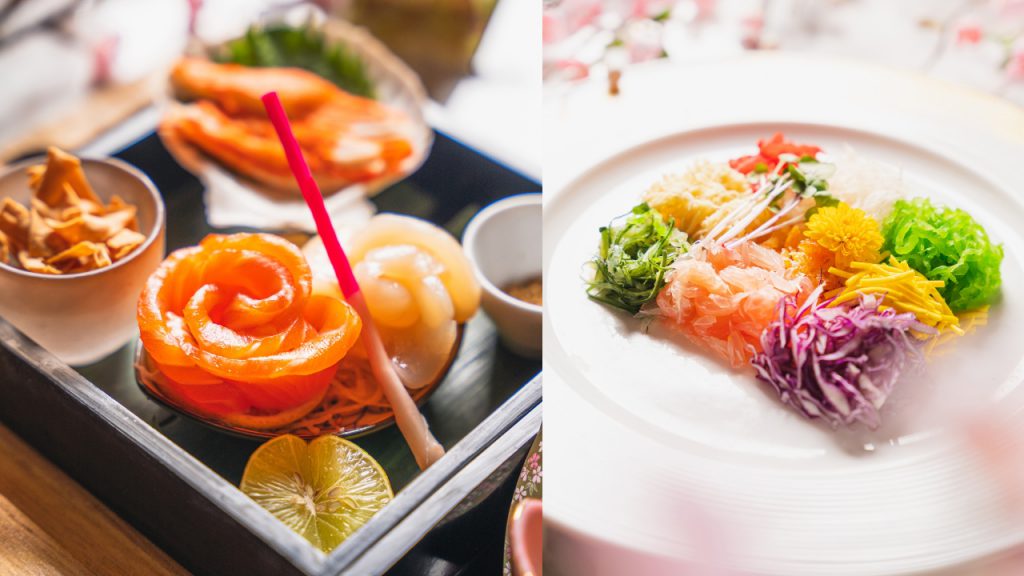 Book Now: WhatsApp +6018 632 8060 or email [email protected].
---
Grand Hyatt Kuala Lumpur
Host an intimate get together of four with a panoramic view of the city skyline, this festive season, at THIRTY8 at Grand Hyatt Kuala Lumpur with their two exclusive set menus. Toast to the Year of the Tiger with smoked salmon or soft-shell crab Yee Sang and indulge in a spread of Sichuan style steamed grouper with pickled chilli, slow-cooked stuffed 'Eight-Treasure' chicken with large tiger prawns, and lotus leaf rice with barbecue chicken. For the finale. A decadent Chinese New Year Cake. If you're shopping for gifts to give friends, colleagues or family, Grand Hyatt also has a great selection of hampers and sweet treats to choose from alongside their premium porcelain gift boxes full of traditional goodies.
The set menus will be available from now through to 15 February 2022 priced at RM988.80 and RM1,188.80.
Book Now: Call +603 2203 9188 or email [email protected].