Power is a perennial consideration in mechanical horology, and one of the most unique solutions of all lies with Jaeger-LeCoultre's Atmos table clock. Invented in 1928, it is driven by the natural, daily rise and fall in the temperature of its surroundings: a sealed gas capsule expands and contracts with that temperature. The process produces very little energy, but the Atmos, with its torsion pendulum and annular balance, is designed with efficiency in mind. Its energy needs are about a fortieth that of a typical wristwatch, and so a differential of a single Celsius can power the clock for up to 48 hours.
Despite its low-power nature, Jaeger-LeCoultre has now created the most complex Atmos clock ever, in the Atmos Hybrid Mechanica Calibre 590 (€500,000 or about RM2.3 million, and limited to 10 pieces). In addition to indicating the time, the newly developed, 443-component Calibre 590 also functions as a tellurium, which tracks the relative orientations and positions of the Earth and Moon to each other and to the sun. There are additional indicators as well for season, zodiac sign, and month; the latter is indicated via a window at 6 o'clock. Miniatures of the Earth and Moon are set into a transparent sapphire disc, rotating on their own axes. The Moon orbits the Earth according to the mean synodic month, accurate enough to only be off by one day every 5,770 years. Together, they move around the circumference of the clock face, with the Sun at its centre. This will only need adjusting in the year 2412.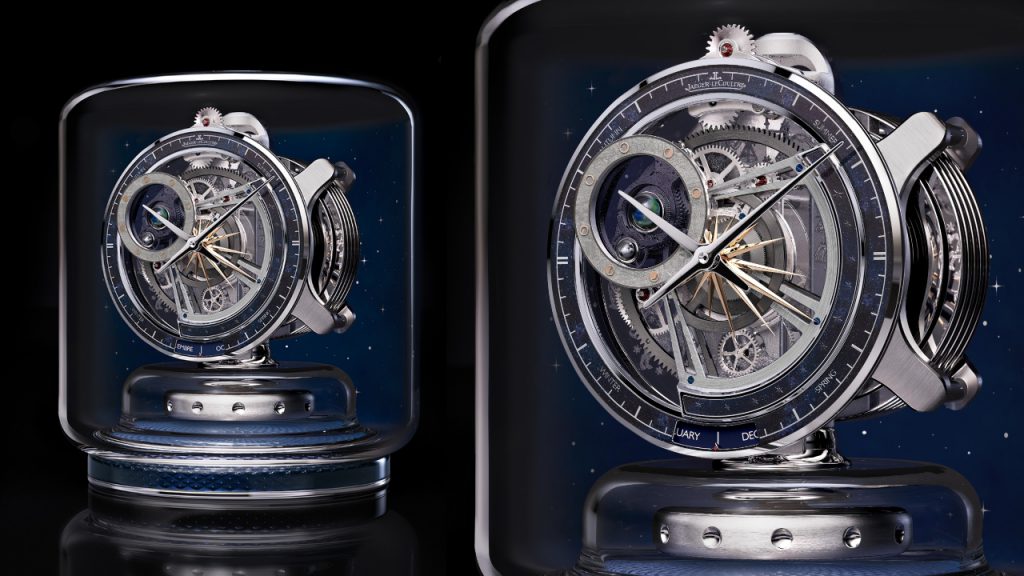 Something like a chiming system would require large, momentary power spikes that the Atmos cannot deliver – however, this sort of astronomical complications demands a low but constant flow of energy, which the Atmos indeed excels at.
Aesthetically, this Atmos Tellurium – which is its official shorthand nickname – is an understated display of craftsmanship, with elements of laser engraving, lacquering, and meteorite inlays. The Earth and Moon are detailed with miniature painting, while the glass cabinet has been hand-painted with the constellations. There is a minimalist simplicity to its visual design, despite its visible mechanical complexity, resulting in something contemporary yet timeless.
An Atmos with this level of complication also appeals to high watchmaking enthusiasts, Jaeger-LeCoultre CEO Catherine Renier says, but the general draw of the Atmos is wider. "Atmos is first and foremost a passion for clocks, a passion for extraordinary objects, a passion for decorative arts," she explains, noting that it is well-established as a gift for weddings, births, housewarmings and the like. It has also long been the official gift of the Swiss Confederation. "The relationship between the client and Atmos is quite different than a client and high watchmaking," she adds.
---